Give Homemade Bread a Second Chance–Easy Rustic Rye
For those who are regular bakers, the idea that bread-baking might need a second chance may seem surprising. After all there is nothing like a loaf of hot, yeasty bread pulled steaming from the oven.
But truthfully, even though I have baked for forever, there are times when I think, "I just can't clean the mixer tonight." That's when I turn to this easy new approach which is perfect for experienced and novice bread-makers alike!
The technique comes from one of my fellow local bloggers. Molly, from Peanut Butter and Dill Pickles, has done a number of variations on the basic technique, in which ingredients are mixed up in a bowl by hand, left to sit for 12-18 hours, then baked in a enameled cast iron dutch oven. The advantages include skipping the heavy kneading (just a light knead at the end), no real forming of loaves and an easy cleanup. The one disadvantage is the long lead time, which is perfectly fine with me because it requires no (as in zero) attention during the wait.
I've done of few of these breads myself now and wanted to try making a loaf with the flavor of old-fashioined German rye rolls—the dark fragrant rounds studded with caraway and topped with chunky salt. In my first attempt, I put coarse sea salt on the outside of the loaves before baking (just like the rolls) and discovered a strange sight the next day. Overnight, the salt absorbed water and each crystal now looked like a damp spot of mold–nooooo! So for my next try I put a generous dose of salt inside the bread. The taste was virtually identical–whew!
This bread is the 4th recipe in my Kitchen Cupboard Spring Cleaning Challenge. Back… well, I can't even remember when, I bought a 25 pound bag of rye flour and it seems like it's lasting forever. These loaves disappear quickly, so this should help a lot!
(Almost No Knead) Rustic Rye Bread
Note: the directions are for a standard round loaf, but my baker is oval so the pictures won't quite match. Also make sure your pan (especially the lid handle) is safe at higher temperatures. Some are only supposed to go to 375 or so.
Ingredients
1 1/2 c. all purpose flour, plus extra for final knead
1 1/2 c rye flour
2 tsp table salt
1/2 tsp yeast
1 1/2 c water
1 1/2 T molasses
1 1/2 T caraway seeds
Directions
1. Whisk together the ingredients in a large mixing bowl. Stir until a dough forms and no flour remains in the bottom or sides of the bowl. Cover with plastic wrap (or a bowl lid) and let sit overnight or 12-18 hours.
2. Preheat oven to 450°. When oven is preheated, place an empty enameled cast iron Dutch oven (with lid–be sure that your Dutch oven lid handle is safe at this temperature) into the oven. Set your timer for 30 minutes. While pot is heating up, turn the dough out onto a heavily floured surface and lightly knead the dough until smooth, incorporating enough additional flour so it is not super sticky and it holds a shape (this can be quite a bit of extra flour). Re-cover with plastic wrap (or lid).
3. Once 30 minutes has passed, remove the Dutch oven from the oven and drop the dough ball in to ungreased pan (or if you are chicken like me, drop it in on parchment paper). Put the lid back on and place back in the oven. Bake for 30 minutes. (Note: the Dutch oven must be hot or the bread may stick).
4. After 30 minutes, remove the lid and bake for 5-10 minutes more until the bread is golden brown and crusty. Remove to a cooling rack.
5. Eat warm or cool.
* * *
Since the Kitchen Cupboard Spring Cleaning Challenge was part of my inspiration for this and I am one contribution behind in documenting my attempts to use one "rotting in the cupboard" food every other day, I am going to add another quick "recipe". But first some background…
I had two packages of beef liver in my freezer from my last two beef purchases which I figure counts as really neglected. In all honesty, I am not fond of beef liver–even if it is organic and grass fed. And I don't even want to consider how my kids would react if it appeared on the dinner table.
So I brought it over to my much-less-picky mother who will cook it up with bacon and onions. Yes, it almost sounds good that way (but not quite).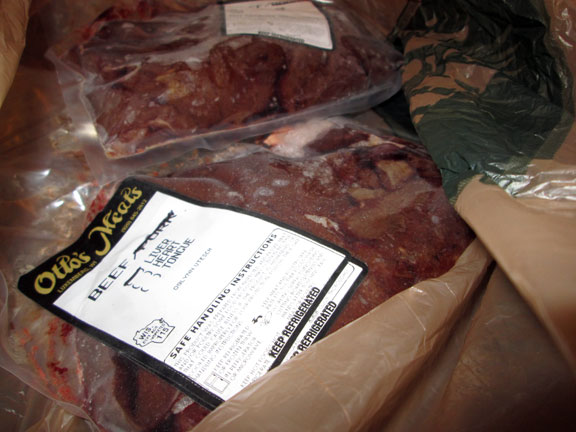 Beef Liver
Ingredients
1-2 pkg frozen beef liver
Directions
1. Remove beef liver from freezer. Place in grocery bag.
2. Drive to mother's house. Put in mother's freezer.
Expedient, right?