Greek Meatballs in Egg Lemon Broth
Tender meatballs in a rich beef broth, Greek Meatballs in Egg Lemon Broth is delicious paired with Greek Salad and crusty bread.
I still remember when one of my blogging friends made a special request. She was collecting tried-and-true meatball recipes–and I realized I had nothing to share. Yes, despite cooking all the time (it seems), I realized that I had never made meatballs!
Sometimes, I feel like the lame-est cook …
So, when I came across a recipe for Greek Meatballs on the Culinary Flavors blog, I had to give it a try. I love Greek food!
The recipe was easy to make, though it took a little time. Just mix up the meatball ingredients, simmer in beef broth, make the egg lemon sauce and serve.
I was confident I'd like this, but I wasn't holding out a lot of hope for rest of the family. I would be serving it to my picky daughter–the one who even dorm food hasn't turned around!
In the end, however, I shouldn't have worried. She liked it so much, she finished the leftovers the next day. And got excited when I told her I was making it again!
I adapted the recipe slightly and my biggest change was to omit the olive oil. The first time, I just forgot. But the dish was so rich and flavorful, I decided I could skip the extra calories permanently.
If you've never had egg lemon sauce, it is a delight. Thick, rich and flavorful, it delivers a flavor wallop with far less fat than your typical sauce.
My biggest tip is to use real lemon in the sauce. The one time I used bottled, even I had to admit it suffered. I won't tell you what my daughter said.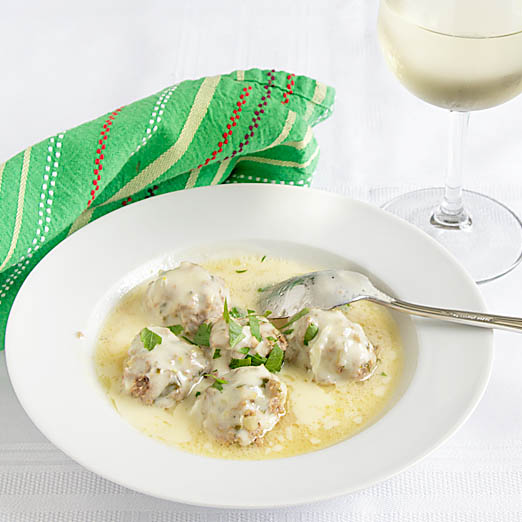 Greek Meatballs in Egg Lemon Broth
2017-08-03 14:49:05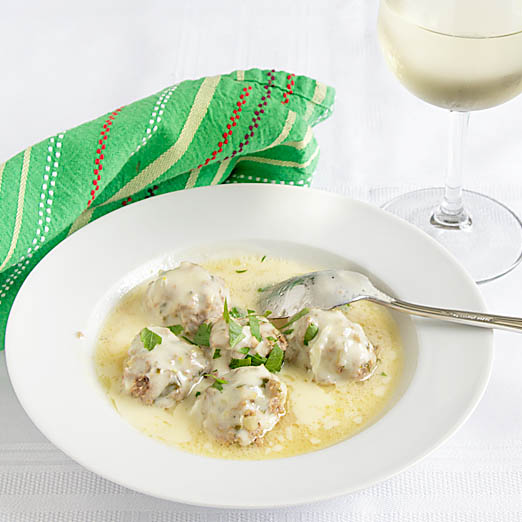 Serves 6
Tender meatballs in a rich beef broth, Greek Meatballs in Egg Lemon Broth is delicious paired with Greek Salad and crusty bread.
Nutrition Facts
Amount Per Serving
* Percent Daily Values are based on a 2,000 calorie diet. Your Daily Values may be higher or lower depending on your calorie needs.
For the Meatballs
• 1 pound ground beef
• ½ cup cooked rice
• 1 egg
• 1 slice of bread (I used whole wheat)
• 1 onion, chopped (about ¾ cup)
• 2 cloves garlic, minced
• A small bunch of parsley, chopped
• ½ t salt
• ¼ t pepper
• 3 cups of beef stock
For the Egg Lemon Sauce
• 1 ½ cup skim milk
• 1 egg, slightly whisked
• 1 cup broth from the meatballs
• Juice of 2 lemons
• 3 tbsp corn starch dissolved in 2 tbsp of the meatball broth
• Salt and pepper to taste
For the Meatballs
Soak the slice of bread in water, then squeeze the water out and crumble it.
In a large mixing bowl, combine this and the remaining meatball ingredients except the stock. Mix well (I used my hands), then form into meatballs.
In a large saucepan, bring the stock to a boil. Lower the heat to medium/low and gently lower in the meatballs.
Simmer about 30 minutes until meatballs are cooked through.
For the Egg Lemon Sauce
Pour the milk into a medium saucepan and bring to a boil.
Remove one cup of broth from the meatball pan. Add this and the cornstarch slurry to the milk. Continue cooking, whisking regularly, until the batter starts to thicken.
Remove the pan from the heat.
Add the beaten eggs and the lemon juice whisking until combined. Place the pan back on the heat and whisk for another minute until thickened. Taste and add salt and pepper if needed
Place 4-5 meatballs in a soup bowl then top with a few ladles of cooking broth. Spoon egg lemon sauce over the meatballs and broth.
Serve warm.
Art of Natural Living https://artofnaturalliving.com/