Hearty Ground Beef Vegetable Soup
This Hearty Ground Beef Vegetable Soup is loaded with lots of colorful vegetables in a rich tomato broth. Eat a rainbow!
Have you ever had a food you can't stop thinking about? Even if you haven't had it in years? Well lately I've been thinking about a delicious Hearty Ground Beef Vegetable Soup I had ages ago!
I first tasted it via a long-time friendship with some former coworkers. Even though we met a few jobs back, we stayed friends by making sure we went out together regularly.
During the last recession, however, things took a different turn. One member was working in real estate which was hit hard in the crash. Then I quit my corporate job to be with a dying father. Money was tight for everyone… and going out was an indulgence we couldn't afford.
But rather than stop, we simply moved our lunches home.
It was almost more fun! And then we could focus on healthy soups and salads!
Since then, we're back to eating out. But when I was looking for some new soup recipes to shake up my routine, I remembered this Hearty Ground Beef Vegetable Soup brought by one of my friends. I emailed her and she found the recipe again–hooray!
The soup is loaded with vegetables and full of brilliant color—eat a rainbow! And instead of a base of broth, it uses V8 vegetable juice, for even more healthy goodness. You could even take it vegan by leaving out the meat (or using a vegan substitute)!
The recipe makes a large quantity but feel free to cut it in half. I'd probably half the things that are easy to divide (V8, carrots) and stick with the full amount on those that aren't (1 lb ground beef, can of corn). Or just go for the full like us and freeze leftovers for a super easy future lunch!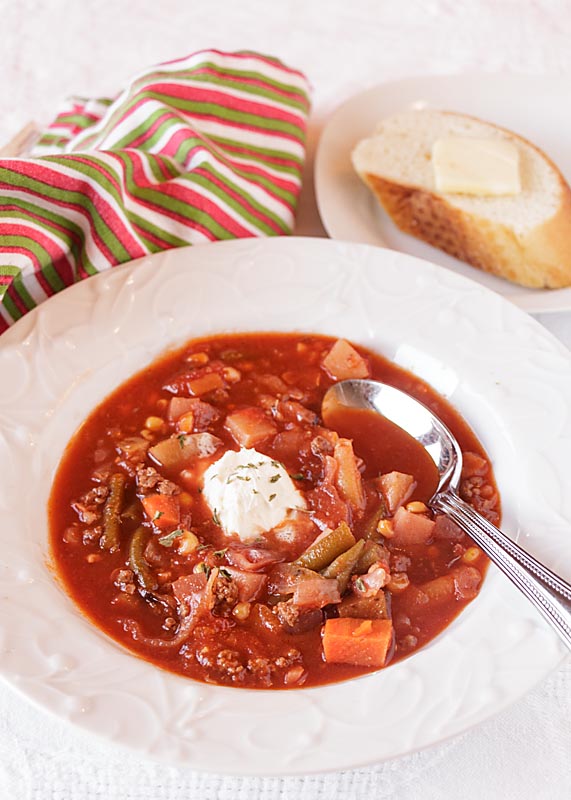 Hearty Ground Beef Vegetable Soup
2018-01-25 16:23:46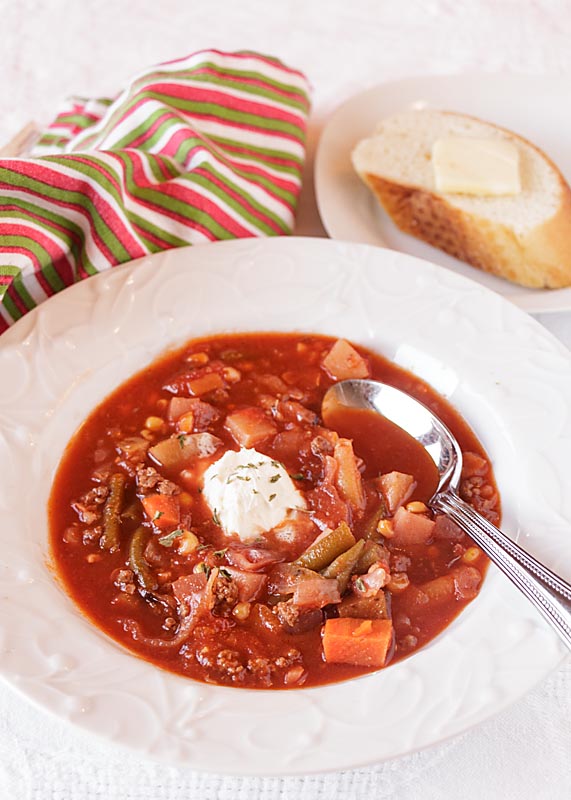 Serves 16
Nutrition Facts
Amount Per Serving
* Percent Daily Values are based on a 2,000 calorie diet. Your Daily Values may be higher or lower depending on your calorie needs.
Ingredients
2 Tablespoons olive oil
1-2 Onions, chopped
5-6 stalks celery, chopped (can substitute peeled & chopped celery root)
1 pound ground beef (or turkey)
6 carrots, peeled and chopped
2 large cans V8 juice (1 qt 14 oz containers)
1 small head of cabbage (red or green)
2 15oz cans diced tomatoes
½ bag green beans
2 lg potatoes
1 15-ounce can corn
Instructions
Heat oil in a large stockpot. Add onions and celery and cook until tender.
Add ground beef to pan and cook until browned.
Add tomatoes, juice, chopped cabbage & chopped carrots to stock pot. Bring to boil and simmer 1 hour
Add remaining ingredients and cook for another ½ hour.
Serve hot.
Art of Natural Living https://artofnaturalliving.com/