Iowa BBQ Soup (Pork & Corn)
With BBQ sauce, pork, corn & more, Iowa BBQ Soup is loaded with summer flavor. Perfect for tailgate parties, picnics or even a complete meal.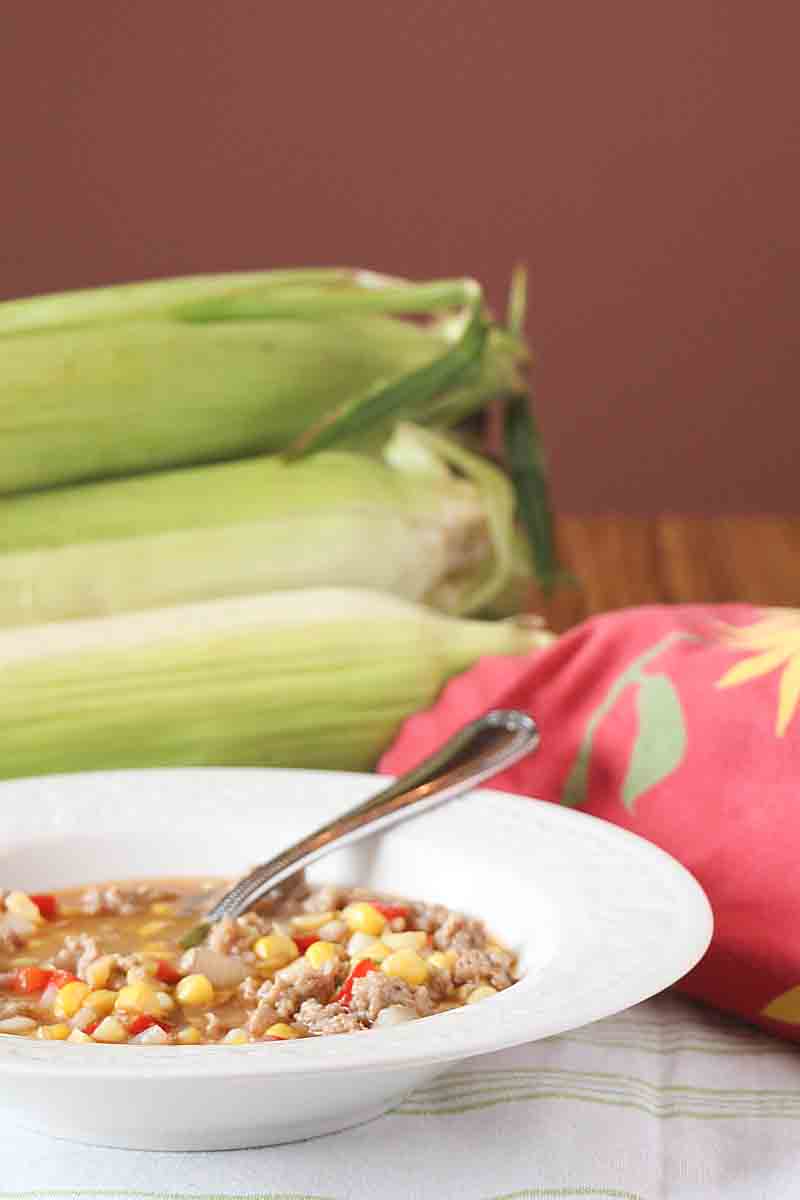 I didn't set out to create a BBQ soup when I pulled out the big kettle. But after the recipe I was making turned out… well, downright boring, I knew I needed to punch it up.
The original fiasco happened right after a trip to Iowa where we ate lots of local BBQ, pork and corn. Hmm, why not turn my disappointing corn chowder into a delicious BBQ Soup!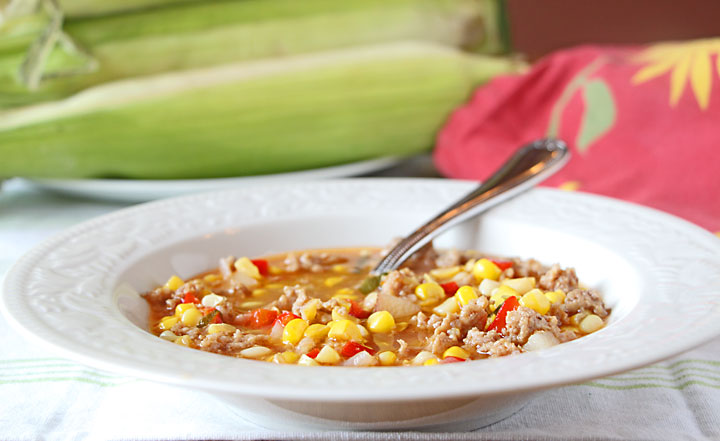 Originally published in 2016, I knew I had to repost this when my Sunday blogging group decided to do a yummy BBQ collection!
Why You'll Love This!
Flavorful. As I mentioned, this was created to punch up the flavor of a bland soup. And how to you beat the great taste of Iowa BBQ!
Quick & Easy. Just sautee up some ground pork and vegetables and it's a snap!
Healthy and Hearty. The corn and peppers add vegetable goodness but it comes off as a hearty, meaty soup. The best of both worlds!
Step by Step Directions
With just a minimum of prep, the soup is easy and fool-proof. You start by sautéing the ground pork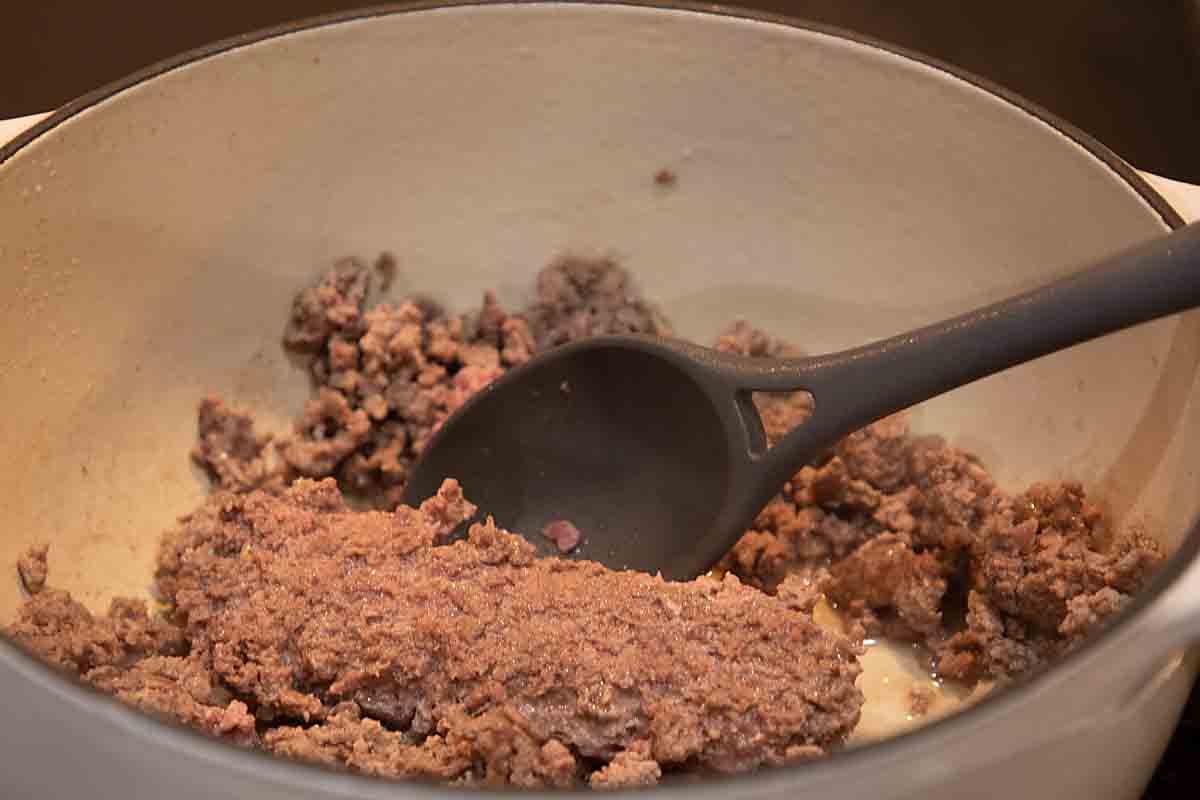 Then the vegetables.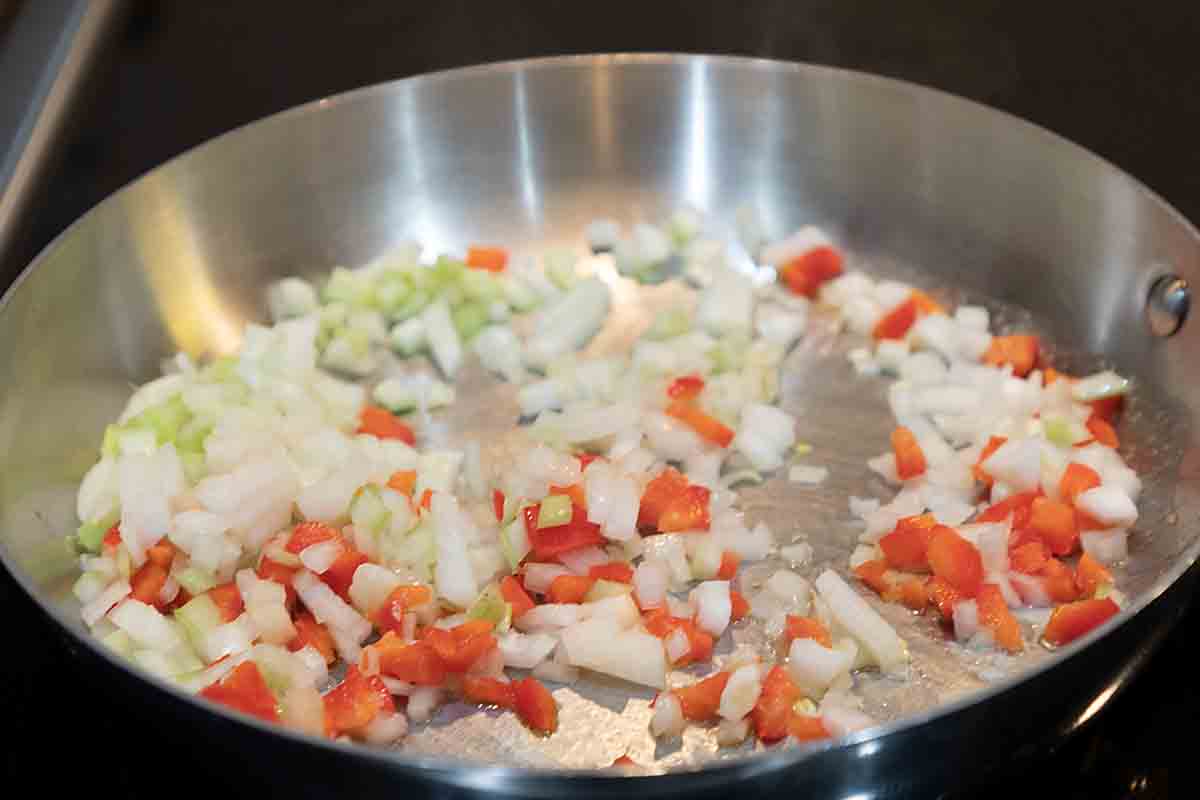 Combine everything, add BBQ sauce, then enjoy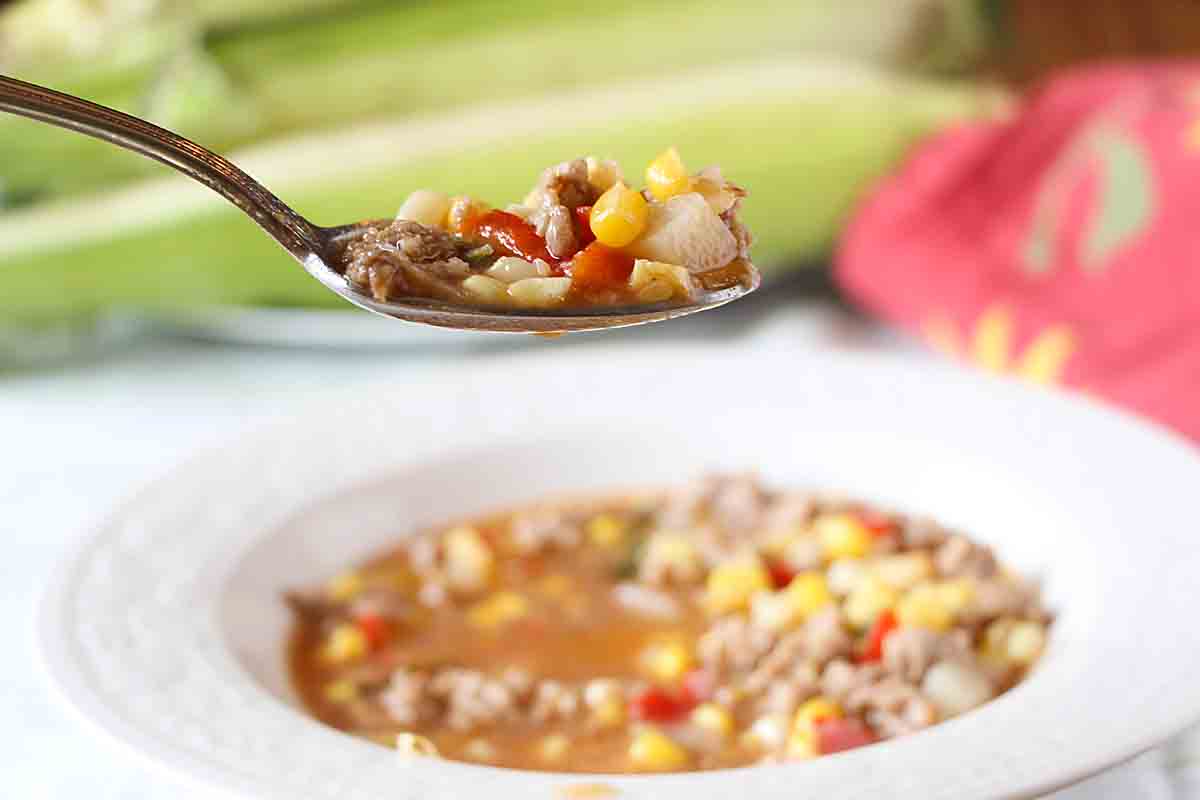 How easy is that!
Variations
While this is lovely as a BBQ pork soup, you could easily substitute shredded or ground turkey or chicken for BBQ chicken soup. Hmm, this might make a perfect Thanksgiving leftover soup!
And if you're looking for a Pulled Pork Soup recipe just use shredded pork instead of ground!
Tips and Notes
This soup is great way to use up a bountiful harvest of fresh corn but equally delicious (and even easier) with canned or frozen corn.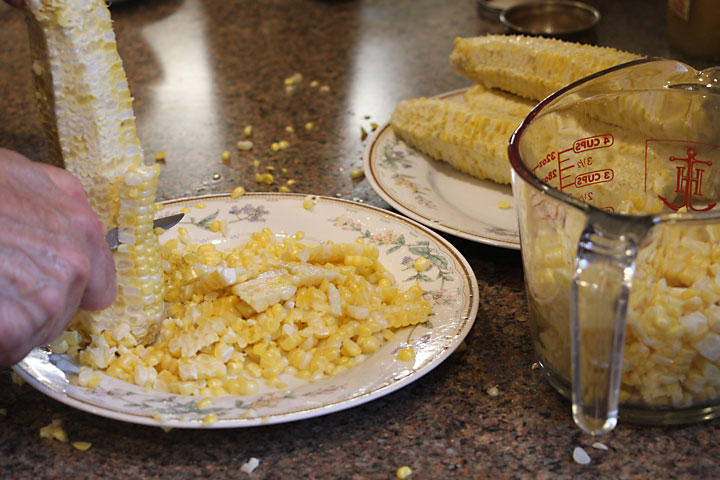 I freeze peppers whole and always have them available for last minute recipe requirements. It's super easy, just drop into a zip loc bag, no blanching required.
The BBQ sauce makes a big difference in this so make sure you use something with a lot of flavor. You might even consider homemade like this Cherry BBQ Sauce or Apple Smoked BBQ Sauce.
A small bowl of this soup works beautifully as a first course. But since it's loaded with vegetables, meat and potatoes, it even works as a complete meal, especially with the addition or bread and/or salad.
My husband (the carnivore) was pretty excited that this originally vegan soup now had meat. I was ecstatic to have rescued a recipe and create a delicious new soup option!
Iowa BBQ Soup
2016-09-11 10:34:35
Serves 8
Looking for a fun fall dish? How about this tasty Iowa BBQ Soup loaded with pork, corn, peppers & flavored with savory BBQ sauce.
Nutrition Facts
Amount Per Serving
* Percent Daily Values are based on a 2,000 calorie diet. Your Daily Values may be higher or lower depending on your calorie needs.
Ingredients
1 lb lean ground pork
1 medium onion, chopped
2 cloves garlic, minced
1 large potato, diced
2 red bell peppers, diced
4 cups of corn (if using fresh, from about 5 large ears)
5 cups broth (vegetable or meat)
½ cup BBQ sauce
Instructions
In a large stockpot, brown the ground pork. When cooked through, remove the meat from the pan and set aside.
Drain off all but about 1 tablespoon of the fat. Add the onion and sauté until tender. Add the garlic potato and diced red pepper and cook for another minute or two.
Return the meat to the pan and add the corn and broth. Bring to a boil and cook for about 5 minutes.
Stir in the BBQ sauce and serve.
Art of Natural Living https://artofnaturalliving.com/
More BBQ Recipes:
We share Recipes From Our Dinner Table! Join our group and share your recipes, too! While you're at it, follow our Pinterest board, too!