Iowa BBQ Soup (Pork & Corn)
Are you looking for a nice tailgate recipe? Perhaps something to share at a CSA party? Then consider this Iowa BBQ Soup. With corn, ground pork and a taste of BBQ, it will keep the summer alive–even if the temperature dips!
I didn't set out to create a BBQ soup when I pulled out the big kettle. It wasn't even a concept. But after the soup I WAS making turned out a little dull, I decided to punch it up. I called the resulting mix Iowa BBQ Soup—because, well, this summer I ate a lot of Iowa BBQ.
It all happened in July when my husband and I took a trip to Iowa for the American Cheese Society conference. Everywhere we went the menu had a local feel—lots of BBQ, pork and corn. Perfect summer fare!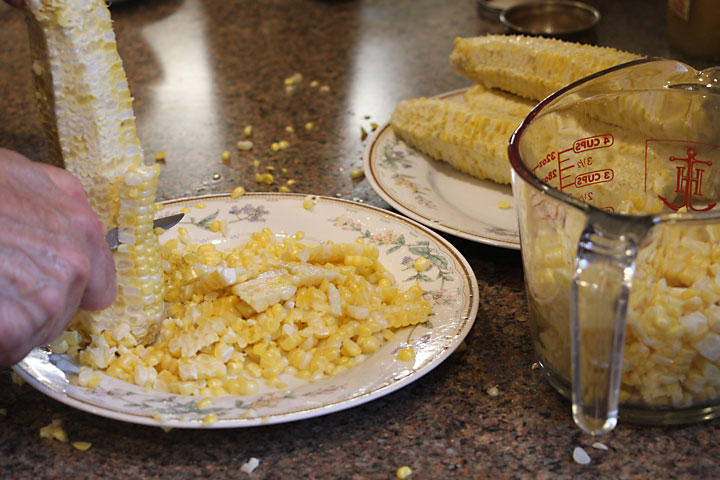 So when I looked at adding something to a dull corn soup, what do you think popped into my head? You guessed it–pork and BBQ sauce!
My husband (the carnivore) was pretty excited that this (formerly vegan) soup now had meat. I was ecstatic to have rescued a recipe in my first try! And happy to have a good excuse for one last taste of summer!
Iowa BBQ Soup
2016-09-11 10:34:35
Serves 8
Looking for a fun fall dish? How about this tasty Iowa BBQ Soup loaded with pork, corn, peppers & flavored with savory BBQ sauce.
Nutrition Facts
Amount Per Serving
* Percent Daily Values are based on a 2,000 calorie diet. Your Daily Values may be higher or lower depending on your calorie needs.
Ingredients
1 lb lean ground pork
1 medium onion, chopped
2 cloves garlic, minced
1 large potato, diced
2 red bell peppers, diced
4 cups of corn (if using fresh, from about 5 large ears)
5 cups broth (vegetable or meat)
½ cup BBQ sauce
Instructions
In a large stockpot, brown the ground pork. When cooked through, remove the meat from the pan and set aside.
Drain off all but about 1 tablespoon of the fat. Add the onion and sauté until tender. Add the garlic potato and diced red pepper and cook for another minute or two.
Return the meat to the pan and add the corn and broth. Bring to a boil and cook for about 5 minutes.
Stir in the BBQ sauce and serve.
Art of Natural Living https://artofnaturalliving.com/
Save