Apple Smoked BBQ Sauce is smoky, sweet savory, and delicious! Add it to your barbecue menu for summer cookout season!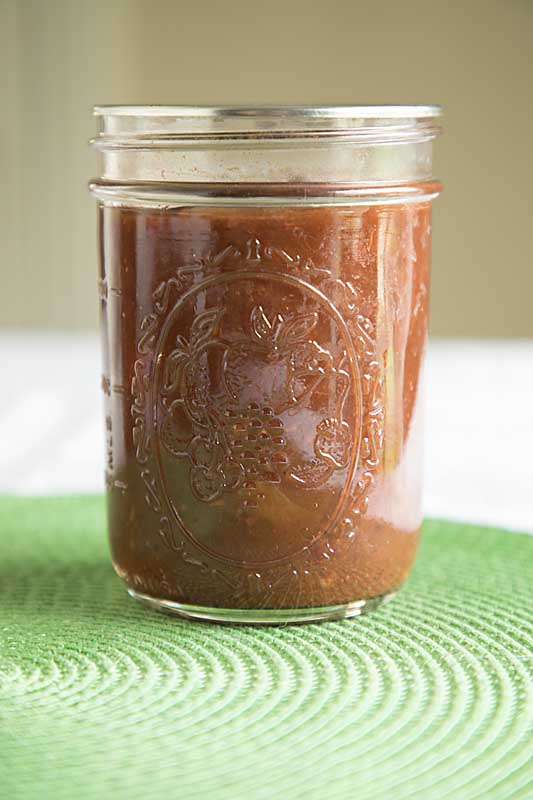 A couple years ago, I participated in the Food in Jars canning challenge. It was a lot of fun and I really increased my canning repertoire. They're doing it again this year so pop over if you want to give it a try.
One of the interesting (of many) revelations for me was that fruit can make an excellent BBQ sauce. BBQ had always felt like it needed tomato to me but well, nuh-uh, I learned. Cherry BBQ sauce was my first. And this year I decided to try an apple based sauce.
This recipe comes from the Local Kitchen blog. I like Kaela's canning recipes because they are a nice twist on standard canning recipes, that can sometimes be a little vanilla. And if she happens to throw in a little booze here and there, all the more reason to love her.
Of course, if I were not canning, I'd just improvise the heck out of the recipe. But they say never make substitutions in a canning recipe—you risk lowering the acid levels and making it unsafe. Except I just read this article on just a few changes you can make safely. If you are careful and obsessive (ahem). In fact, Kaela admits to basing this on a Ball Peach BBQ recipe.
Per all of this, I ended up eliminating the canned chipotles in adobe since my grocer didn't have this (I noted that these were not in the original so not part of the acid calculation). Instead, I substituted ¼ cup green chilis for ¼ cup of the red peppers (an approved sub) and increased the dried spices (ditto), and used a different dried chili powder (again not at my grocer).
Otherwise I was lucky regarding ingredients. My apple farmer offers bags of apple pulp for applesauce in the fall and I had canned some up with just a little sugar and cinnamon. If you don't happen to have an apple guy who brings apple pulp, you will need to core, cook, and mill some apples first (no peeling needed). I almost did this anyway to finish up the remnants of last year's apples which are pretty ugly by now.
If you aren't a canner, you can make this recipe and store it in the refrigerator (using it up before it spoils). Or freeze it. Or check here for canning 101. But with a few nice BBQ recipes–like these BBQ Meatballs or Iowa BBQ Soup, using it up shouldn't be too hard!
Happy summer!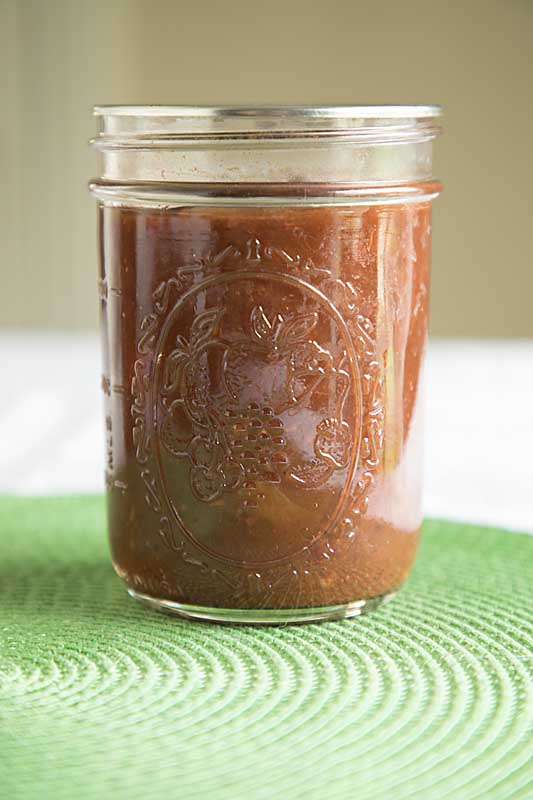 Apple Smoked BBQ Sauce
2019-05-25 17:19:08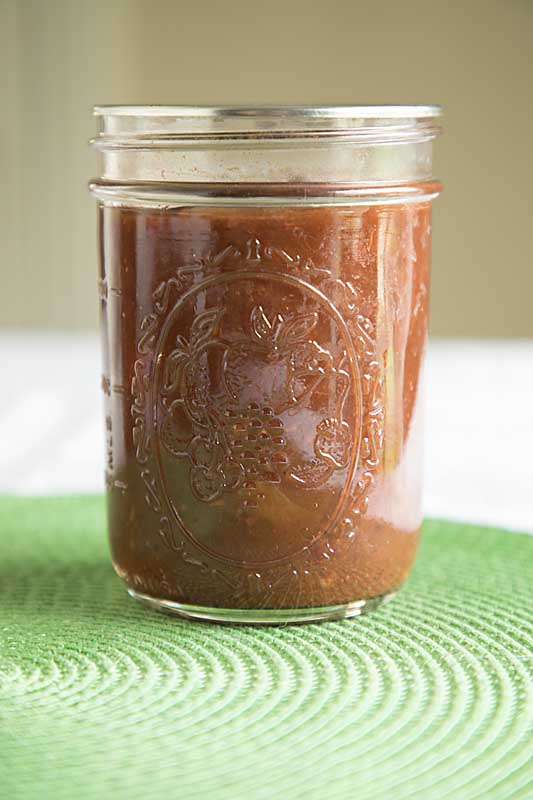 Apple Smoked BBQ Sauce is smoky, sweet savory, and delicious! Add it to your barbecue menu for summer cookout season! 
Nutrition Facts
Amount Per Serving
* Percent Daily Values are based on a 2,000 calorie diet. Your Daily Values may be higher or lower depending on your calorie needs.
Ingredients
• 4 ½ cups apple pulp, excess moisture drained, from 5-10 pounds of apples
• ½ cup + 1 Tablespoon cider vinegar.
• ½ cup bourbon, divided (optional)
• ¾ cup chopped white onion
• ½ cups chopped red bell pepper
• ¼ cup chopped green chilis
• 1 Tablespoon pressed garlic
• 1 teaspoon – 1 Tablespoon dried chili powder, to taste
• 1 teaspoon – 1 Tablespoon dried smoked paprika
• ½ Tablespoon sea salt
• 1 Tablespoon Worcestershire sauce
• ½ c brown sugar
• ¼ cup molasses
Instructions
Add all ingredients to a stockpot. Bring to a simmer and cook over low heat until mixture is thickened and vegetables are very soft, 30 to 60 minutes. Blend with an immersion blender until smooth.
Continue to simmer over low heat, stirring occasionally, until the sauce is slightly thicker than you desire (it will thicken some after cooling). Stir in remaining bourbon. Taste and adjust seasoning.
Fill hot canning jars to ½-inch head space, stir to remove bubbles, wipe rims, affix lids and adjust rings to fingertip tight. Place jars in boiling water canner.
Process for 15 minutes, adjusting for altitude. Turn off heat; remove canner lid and let jars stand in canner for 5 minutes. Remove jars and cool. Check lids for firm seal after 24 hours.
Label and store.
Notes
Note: I used the full amount of paprika and chili powder.
Serving size is 2 Tablespoons
Art of Natural Living https://artofnaturalliving.com/
BBQ Food
We share Recipes From Our Dinner Table! Join our group and share your recipes, too! While you're at it, join our Pinterest board, too!