Asparagus Gruyere Tart combines nutty gruyere cheese, savory thyme and fresh asparagus in a puff pastry tart. Perfect for a light dinner or appetizer.
Is there any food that says spring more than asparagus? After a barren winter, the welcome green shoots remind you that summer is coming—hooray!
In celebration, I like to eat asparagus in as many forms as possible. Delicious prepared simply, it shines with just a little extra attention. Perhaps wrapped in prosciutto or turned into an Asparagus Gruyere Tart.
When I decided on this as my next asparagus dish, I debated how to make the higher sides. In my earlier Cheese Danish, I score a shallow line ½ inch or so in from the outside then perforate the center. But now I tried a new technique that I loved.
This time, I actually rolled out the crust slightly larger, then cut off thin strips to make the sides. I brushed the edges with beaten egg to adhere the side strips and poked the center with a fork as usual. Although I used a removable bottom tart pan, I'm pretty sure this would work right on a cookie sheet lined with parchment (which is how I do my Danish).
I made this tart twice—once with and once without prosciutto–and decided the latter won. The thyme was really the dominant accent so without a clear advantage to the prosciutto, I figure simpler is better.
I envisioned this dish as an appetizer. But in the end, we added a salad for a simple but seriously fun light dinner!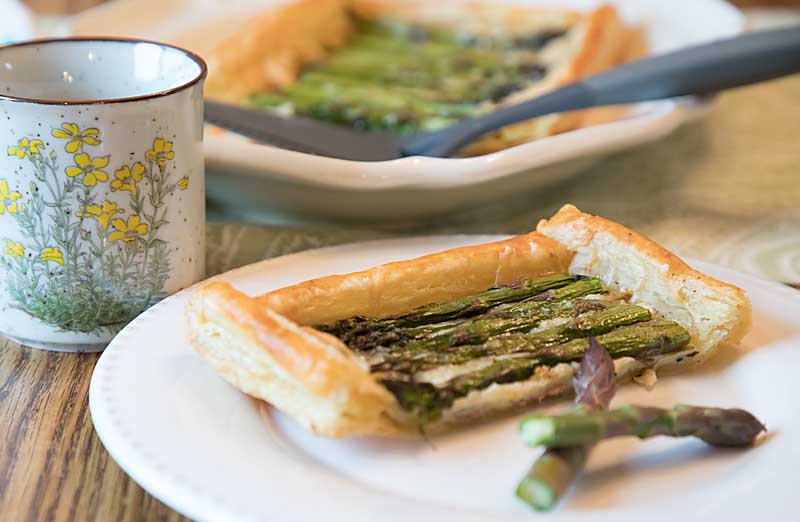 Asparagus Gruyere Tart
2019-06-01 08:46:59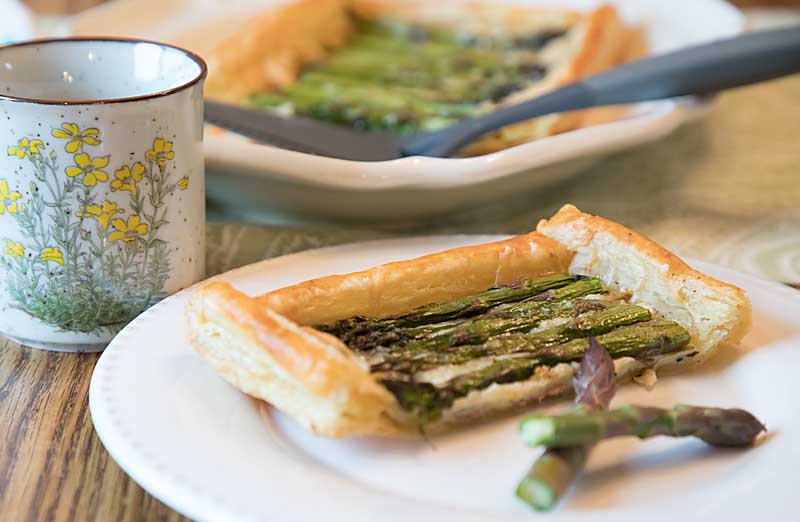 Asparagus Gruyere Tart combines nutty gruyere cheese, savory thyme and fresh asparagus in tasty puff pastry. Perfect for a light dinner or appetizer.
Nutrition Facts
Amount Per Serving
* Percent Daily Values are based on a 2,000 calorie diet. Your Daily Values may be higher or lower depending on your calorie needs.
Ingredients
8 ounce puff pastry (one of two in the package)
1 egg beaten
4-5 large sprigs fresh thyme
1 cup grated gruyere, more if feeling indulgent
½ pound asparagus
1 teaspoon olive oil
Salt pepper
Instructions
On a floured surface, roll out the puff pastry to about 11 x 9. Cut down to 11 x 7, then cut the smaller piece into four 1/2 inch strips for the sides (there will be a little extra). Brush the outside half inch of the rectangle with beaten egg then lay pastry strips on top. Prick the inside of the pastry crust with a fork (see pictures above).
Sprinkle the inside of the crust with thyme leaves, avoiding the raised edges. Follow with grated gruyere.
Remove tough ends from asparagus then cut asparagus to size. Arrange on top of the gruyere. Drizzle with olive oil, then add salt and pepper. Brush the edges of the pastry with more beaten egg.
Bake at 400 F until crust is golden, about 20-25 minutes.
Art of Natural Living https://artofnaturalliving.com/
Delicious Dairy Recipes
We share Recipes From Our Dinner Table! Join our group and share your recipes, too! While you're at it, join our Pinterest board, too!