Mussels in Mushroom Cream Sauce
Flavored with shallots, garlic, mushrooms and wine, Mussels in Mushroom Cream Sauce is a unique twist on a classic appetizer or light supper.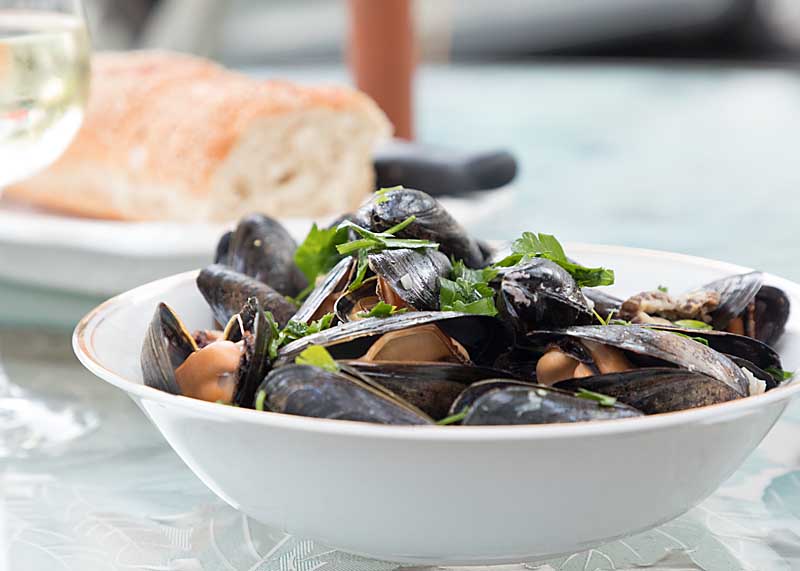 First night on the patio. Now that's an occasion to celebrate. Especially in a spring/early summer of epic lateness.
And spring was part of the reason I created Mussels in Mushroom Cream Sauce in the first place. You see, my husband had found a handful of morels in the lawn. And then, a local grocer was having a mussel sale. Sounds like a match!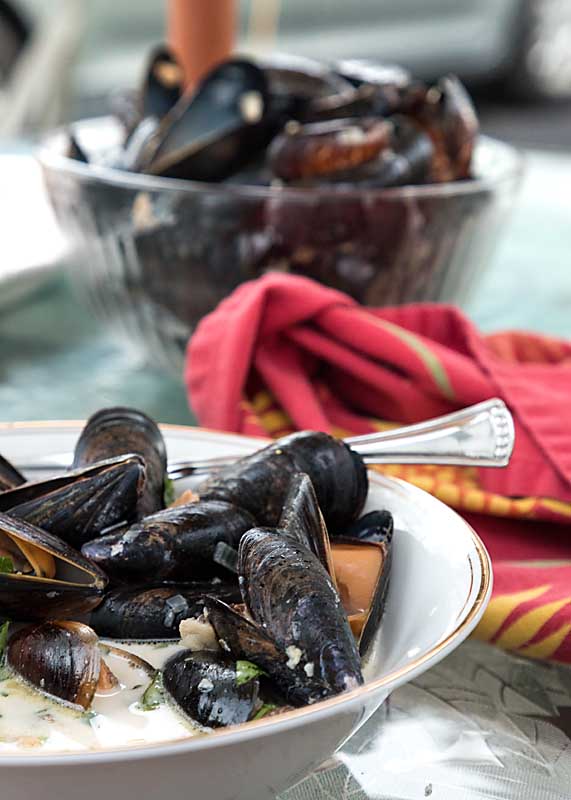 Now usually my family won't touch mussels. I have to make them as a secret lunch indulgence for myself! But this time they were willing to humor me–perhaps it was the precious morels. (Though I'd do this with other nice mushrooms in a heartbeat).
In the end, this got solid thumbs up from all. Turns out it wasn't the mussels they didn't like but the wine sauce. Add in mushrooms, cream and broth to tamp down the wine flavor and it's a different story.
If you are intimidated by mussels, there are just a couple things to remember. First buy them fresh, refrigerate, let them breathe (no sealed plastic bag storage), and use up quickly—check with your fishmonger on freshness. Second, discard any mussels that are broken or don't close when you wash them.
Finally, discard any that don't open when you cook them. Yup, take a look at my mussels in wine post for the story of when my father didn't obey the last rule! He didn't get sick but did get a rude surprise.
Serve Mussels in Mushroom Cream Sauce with a crusty bread because the sauce is served in generous portions for sopping up after. If you are serving this as a light supper, it will serve four–or eight as an appetizer. On the odd chance there is any sauce left, adding a few more mushrooms and some extra cream/broth will give you a tasty mushroom soup.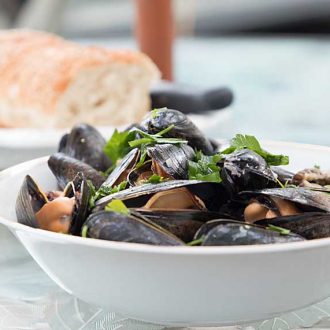 Mussels in Mushroom Cream Sauce
Flavored with shallots, garlic, mushrooms and wine, Mussels in Mushroom Cream Sauce is a unique twist on a classic appetizer or light supper.
Ingredients
2

Tablespoons

butter

2

shallots

finely chopped, or 2 T chopped leeks

6

ounces

morels or Shitake mushrooms

coarsely chopped

4

garlic cloves

minced

2

cups

dry white wine

1/2

cup

chicken broth

or vegetable broth

4

pounds

mussels

1/2

cup

half and half

or cream

1-2

teaspoon

salt

half

loaf

french bread

(optional for dipping in extra sauce)

Parsley for garnish (optional)
Instructions
Wash mussels in cold water and discard any that are broken or still open afterwards. Some may close after handling.

In a large very wide bottomed pan, sautee chopped shallots and mushrooms in butter until tender. Add chopped garlic and cook for another minute or two.

Add wine and chicken broth and bring to a simmer. Add half of the mussels to the stock and steam until they open. Remove mussels with a slotted spoon, set aside and keep warm. Discard any that don't open. Repeat with remaining mussels.

Add cream to the sauce and salt to taste. Divide mussels into 4 large bowls and top with the sauce. Garnish with parsley if desired and serve with a nice crusty bread for sopping the juices.
Notes
This makes 4 servings as a meal (with a salad & bread) or 8+ as an appetizer.
Nutrition info excludes the optional french bread.
Nutrition
Calories:
412
kcal
Carbohydrates:
18
g
Protein:
31
g
Fat:
15
g
Saturated Fat:
7
g
Polyunsaturated Fat:
2
g
Monounsaturated Fat:
4
g
Trans Fat:
0.2
g
Cholesterol:
91
mg
Sodium:
1426
mg
Potassium:
1061
mg
Fiber:
1
g
Sugar:
4
g
Vitamin A:
654
IU
Vitamin C:
22
mg
Calcium:
118
mg
Iron:
10
mg
I am not a health professional and nutrition data is calculated programatically. Accuracy may vary with product selection, calculator accuracy, etc. Consult a professional for the best information.