Whodda' thought that homemade cherry bbq sauce–sweet-spicy and full of flavor, would be so good you'd want to eat it with a spoon!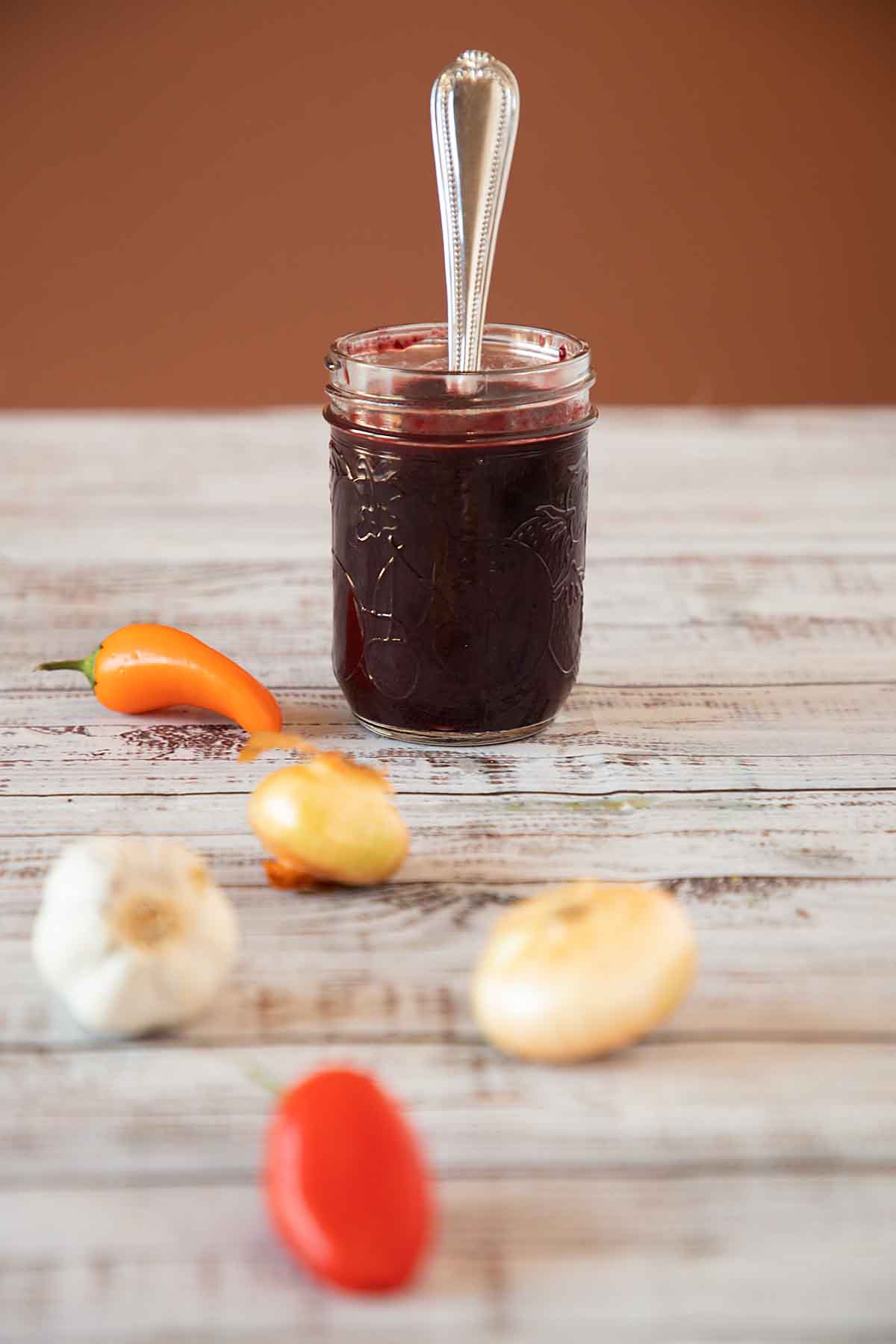 I first made this homemade BBQ sauce while participating in a canning challenge at the Food In Jars blog. The challenge involved making one new recipe a month for a year. How fun is that!
Yes, that year I got a good canning education plus some tasty new recipes like this Cherry BBQ Sauce! It's good even if you're not a canner since it can also be refrigerated or frozen.
Now, not surprisingly, many of the challenge assignments dovetailed with the changing harvest. And this recipe was perfect when I got a 20 pound box of cherries from my CSA.
Yes, that's a lot of cherries! But yum!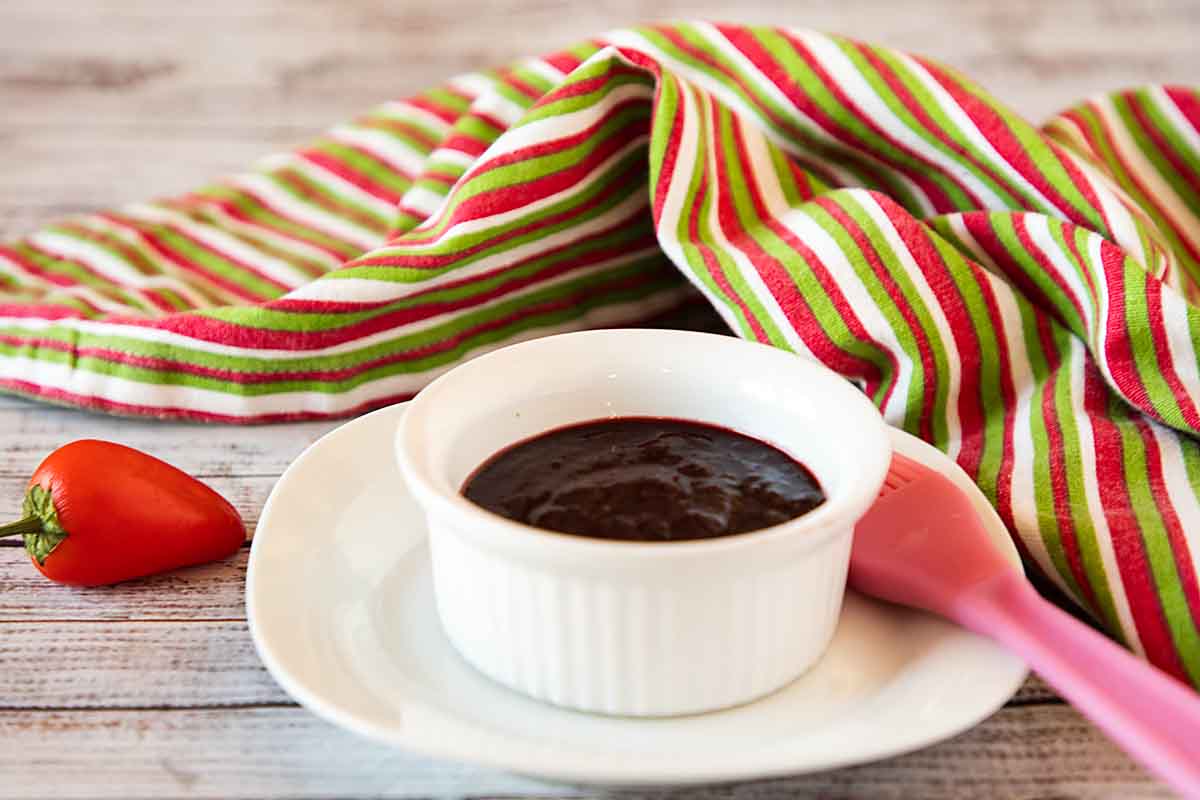 What is Barbecue Sauce
According to Dictionary.com, barbecue sauce is "a piquant sauce often containing vinegar, tomatoes, sugar, and spices, used especially for basting in barbecuing meat."
You may also see it spelled barbeque or BBQ–which I prefer since it's easier!
Very common in southern cooking, many different regions have their own take on the tasty condiment. While probably most popular topping ribs and chicken, I also use it in my tasty Iowa BBQ Soup along with pork, corn and peppers. It's even a critical component in Hawaiian pizza!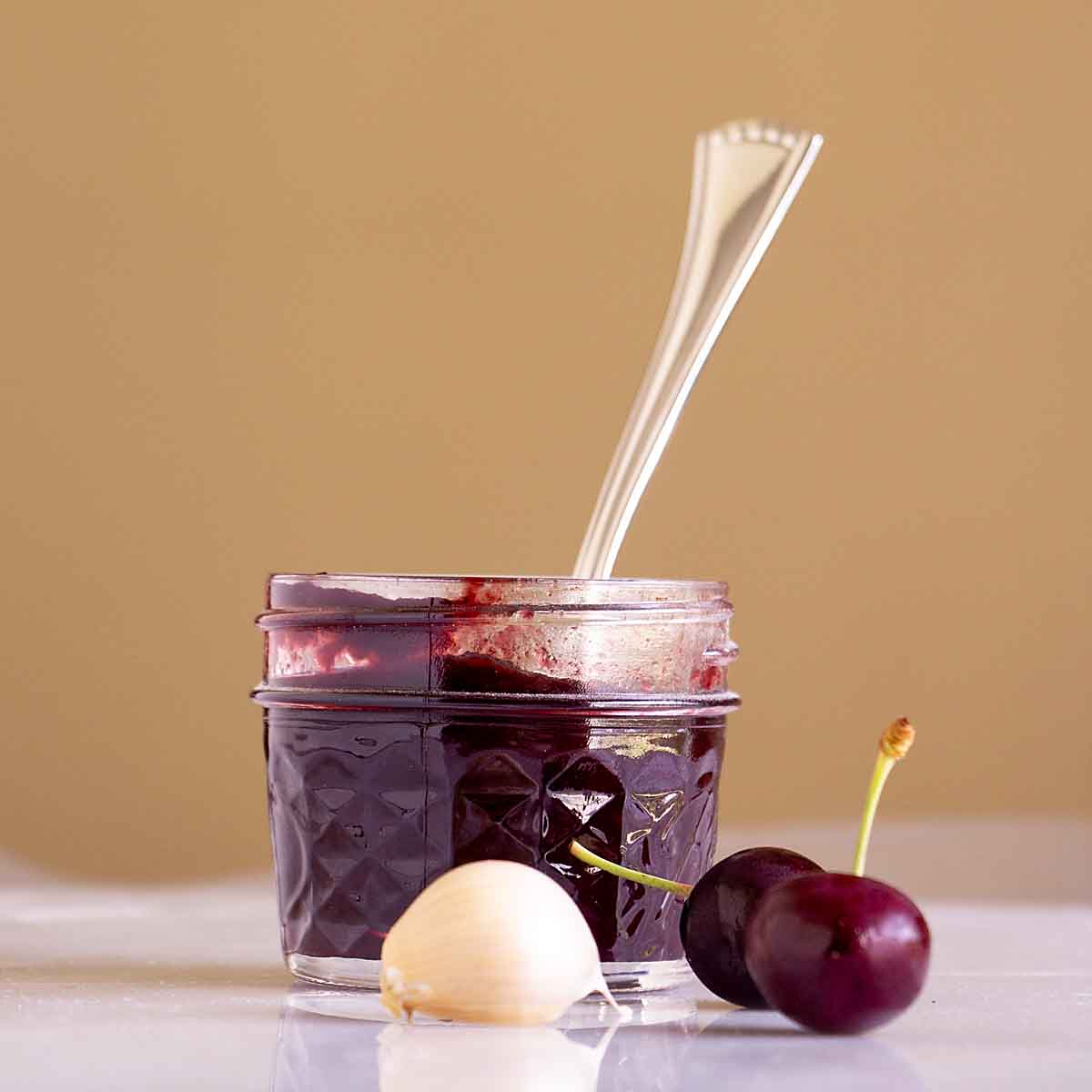 Why You'll Love This!
Tasty. Truthfully, I was skeptical of a BBQ sauce without tomato–based on cherries instead. But one taste and I was a convert! In fact I had to stop myself from eating it with a spoon.
All Natural. If you're trying to avoid high fructose corn syrup and/or preservatives, better check your commercial sauce's ingredient label. But with homemade, you always know just what goes in! You can even make organic barbecue sauce if you want!
Easy. Although there is some elapsed time for the ingredients to soften and reduce, there is very little working time required to make this. I just schedule the cooking for when I'm going to be in the kitchen!
Has Healthy Fruit. According to Time Magazine, only 7.3-15% of people (varying by state) get the recommended amount of fruit on a daily basis. I'm a firm believer in adding it any way I can, even if it's just a little here and a little there!

What You'll Need:
Ingredients:
Cherries. Cherries provide most of the body as well as flavor and sweetness. Either fresh or frozen is fine. Since cherries are typically on the EWG's Dirty Dozen list of most contaminated fruits and vegetables, I like to use organic.
Apple Cider Vinegar. This adds tartness and helps to made the recipe acidic enough to can.
Brown Sugar. This will give you the characteristic sweetness of a good BBQ sauce. Since it's brown sugar, you'll also get a hint of molasses.
Minced Onion and Garlic. These will add flavor.
Salt, Smoked Paprika, Chili Powder and Cayenne Powder. These add flavor and heat. Yes, with the smoked paprika you could actually call this a smoked cherry BBQ sauce! (For nightshade free, you'd need to omit the paprika, chili and cayenne and perhaps add cumin, molasses & liquid smoke)
Special Tools:
You'll need a blender (regular or immersion) to puree the BBQ sauce
Step by Step Directions
To start, you mix all ingredients in a medium saucepan.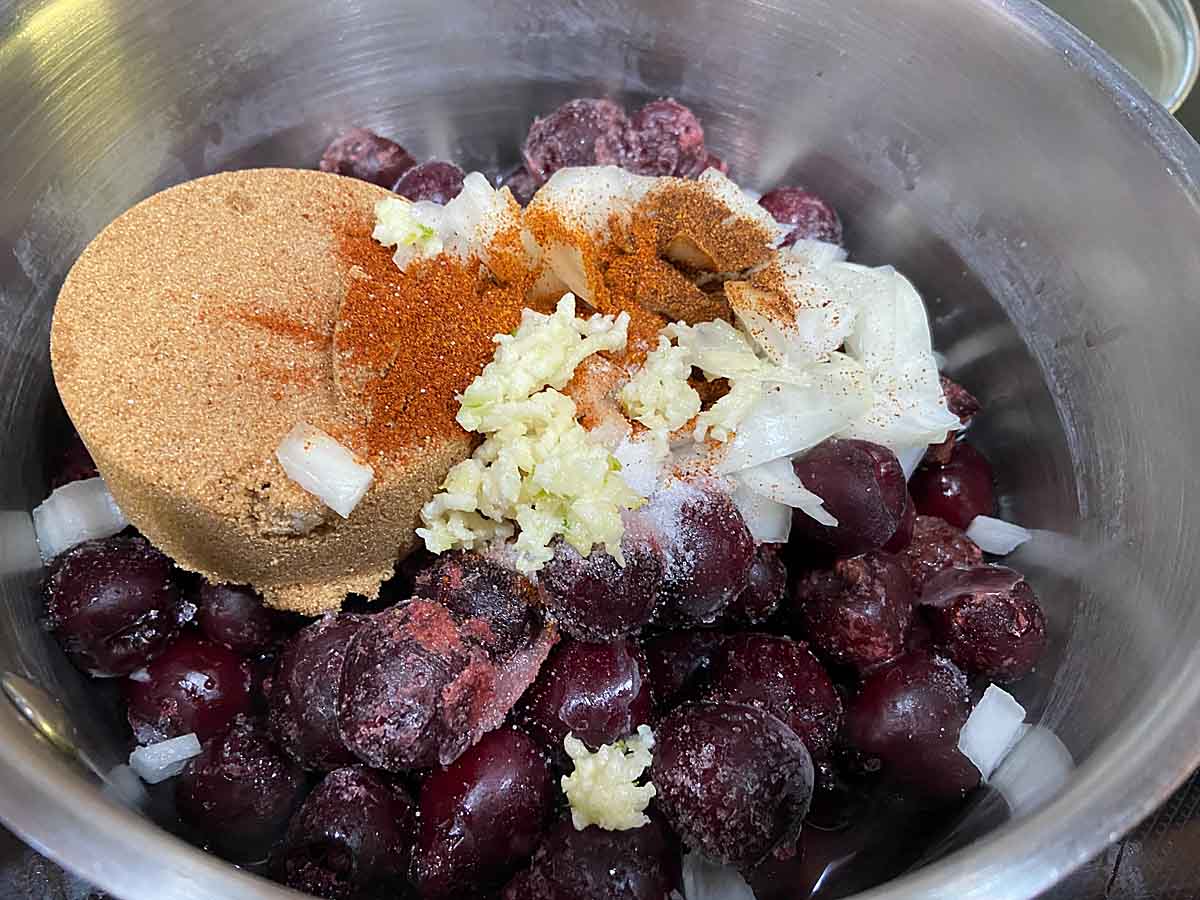 Cook until softened, then puree.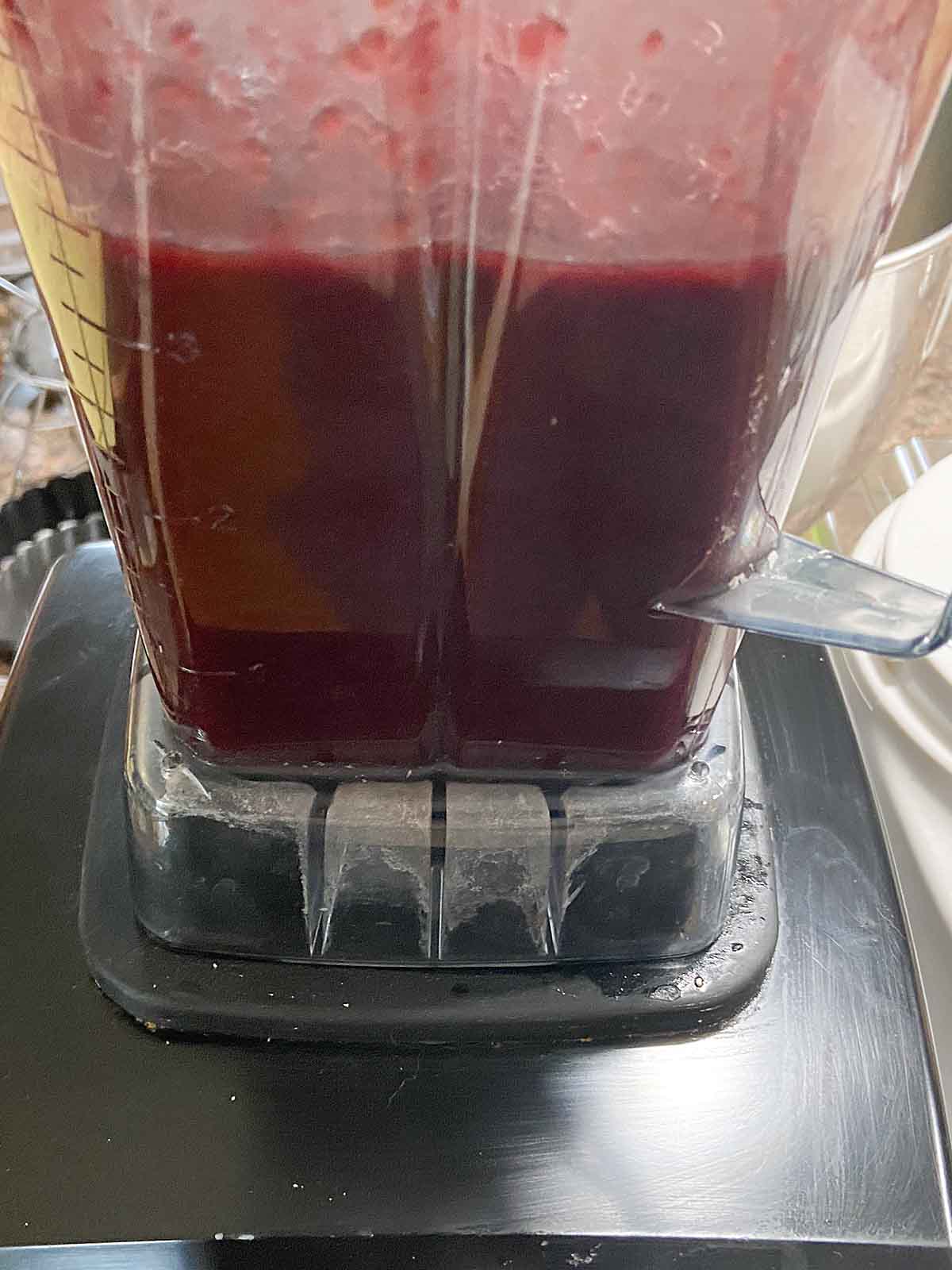 Return to the saucepan (unless purred in the saucepan) to hicken the sauce.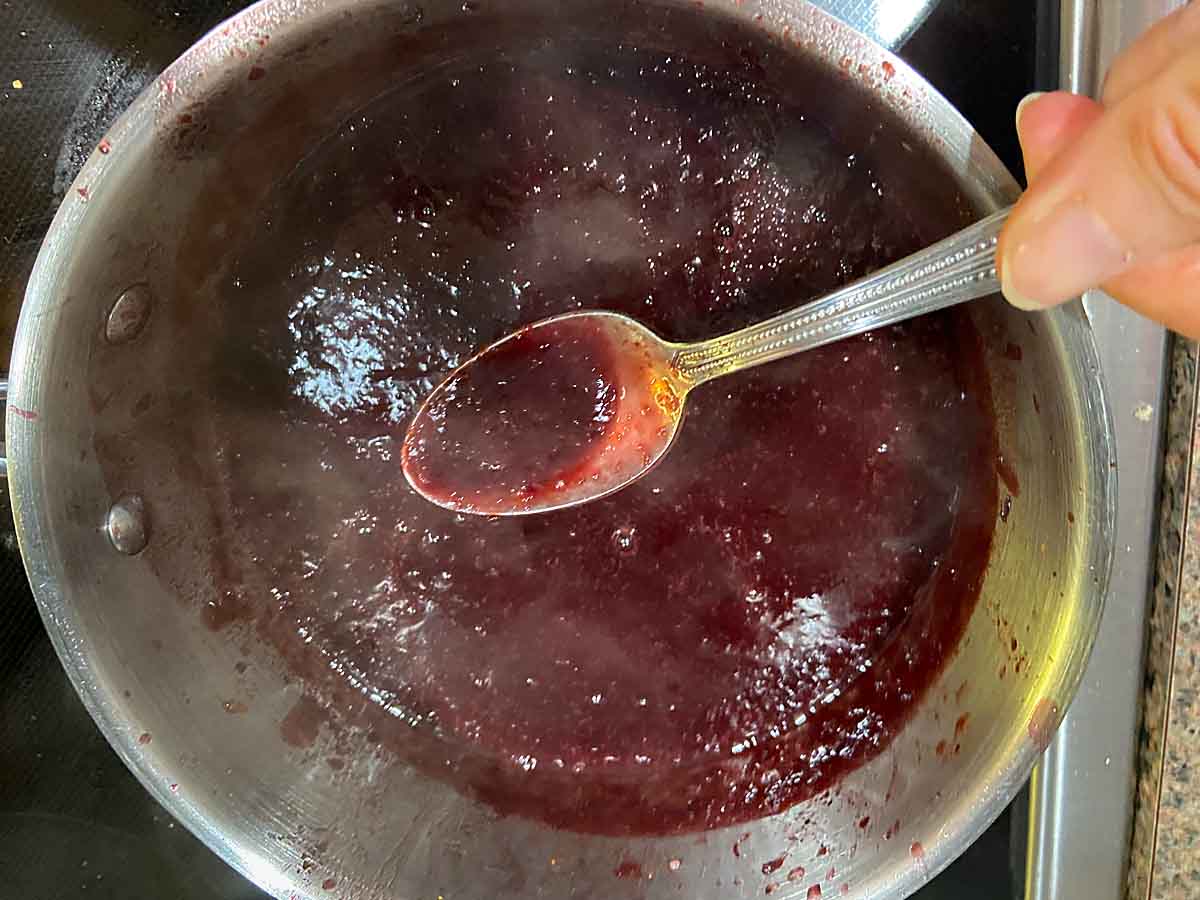 Pour into jars for canning, refrigerating or freezing.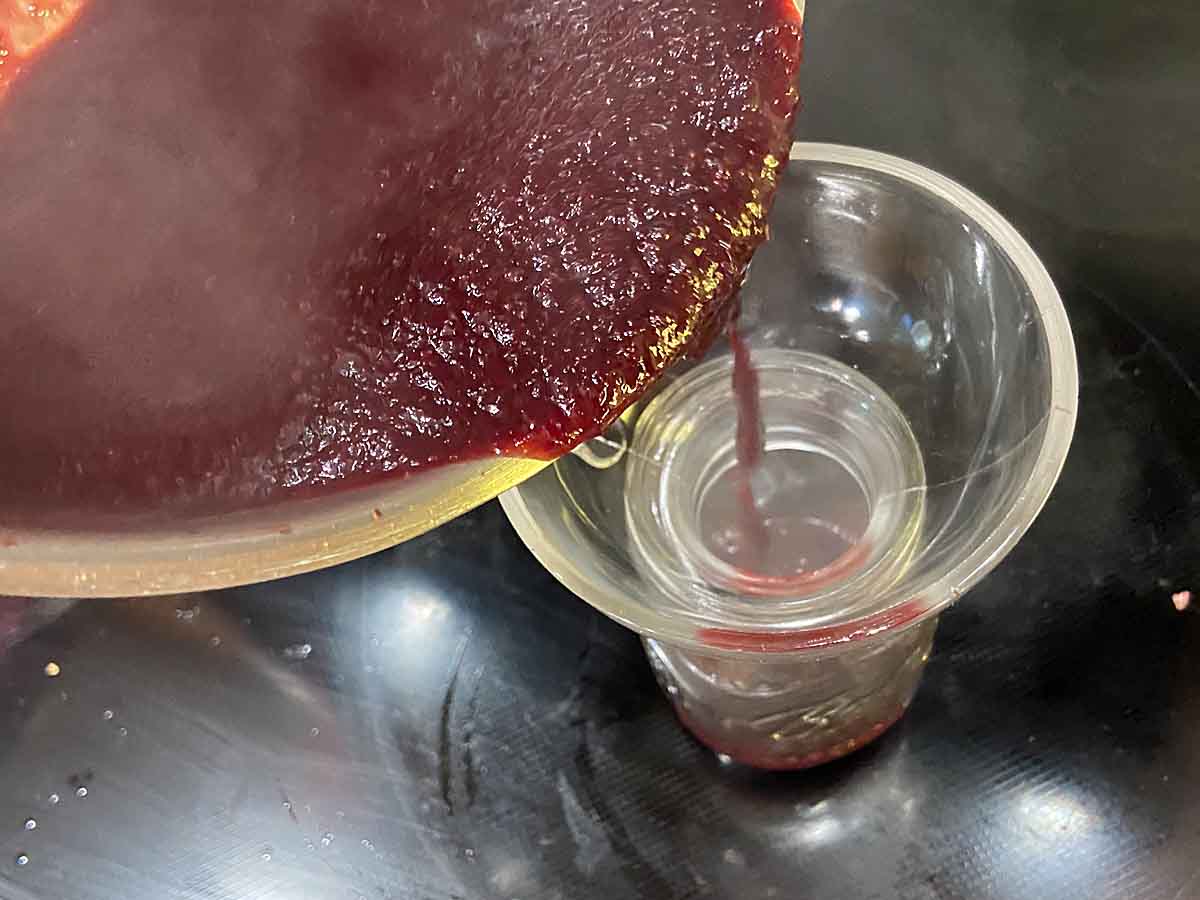 How Do I Pit Cherries?
This uses 1 ½ pounds of cherries. If you use fresh cherries on a regular basis, you may wish to acquire a cherry pitter like the one shown below. It pits 8 cherries at a time and I use it every year to pit and freeze a 20 pound box of cherries!
The device is very easy to use. You simply set the cherries in the depressions on the tray, flip the lid and a metal rod pokes out the pits. I am not a patient person (I'm the one who makes my French Apple Pie with unpeeled apples), so believe me, it's not as bad as it sounds.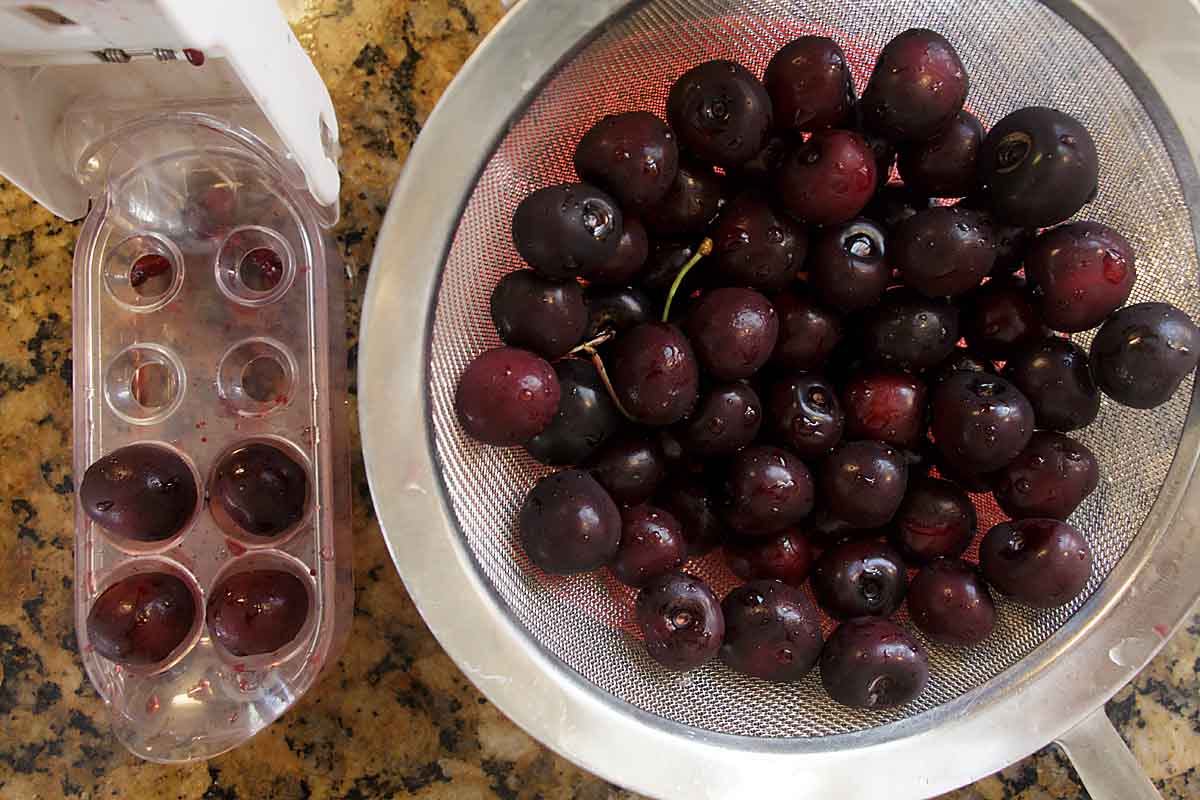 Ways to Serve
BBQ sauce is great on grilled food like the chicken below.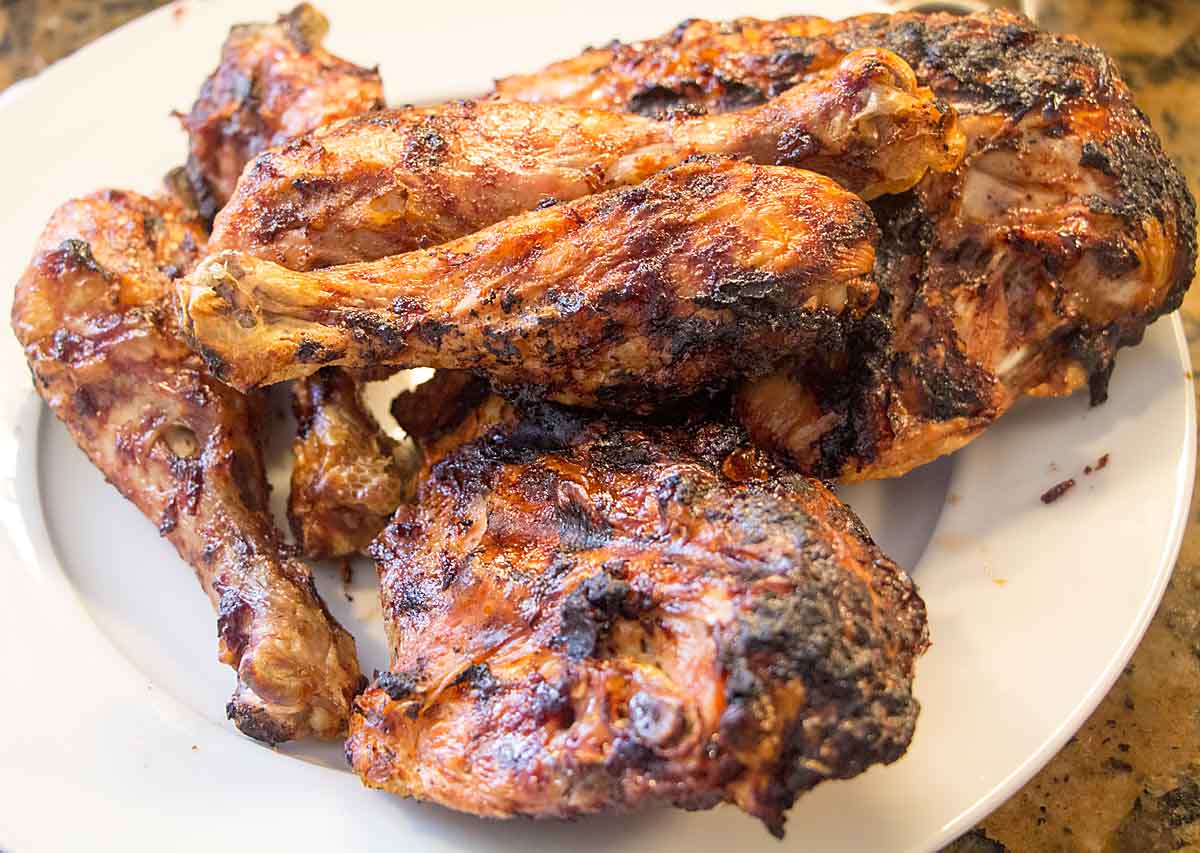 I also like it on ribs—these were oven-roasted in a Dutch Oven and never touched a grill–but the smoky BBQ sauce gave this a great flavor.
When I use it on meat, I oven put some extra on the table in case people want more for dipping.
BBQ sauce is also the "pizza sauce" if you're making Hawaiian pizza and how tasty is that! And don't forget my BBQ Soup!
Tips & FAQs
The original recipe for this came from the Food in Jars canning blog. I initially cut it in half because I wasn't sure I'd like it (that no tomatoes thing again). But I eveentually decided to make the change permanent, in case I didn't feel like canning it. The recipe makes approximately one pint (this will vary some depending on how much you reduce it), which works well for making a couple BBQ dishes.
Is this safe for canning?
This can be canned in pint or smaller jars if you make no alterations to the recipe (never alter a canning recipe—experienced canners will know the very few exceptions to that rule). But this can also be frozen if you won't be using it in a week or two. You may wish to check out the original for the full size recipe in that case.
If I'm not canning it, can I turn this into cherry jalapeno BBQ sauce?
If you're refrigerating (and using it up in a couple weeks) or freezing, you are free to experiment. Just remember that I haven't tried it with jalapenos or other alterations, so I can't vouch for the flavor (though I'd be there with a spoon to try)!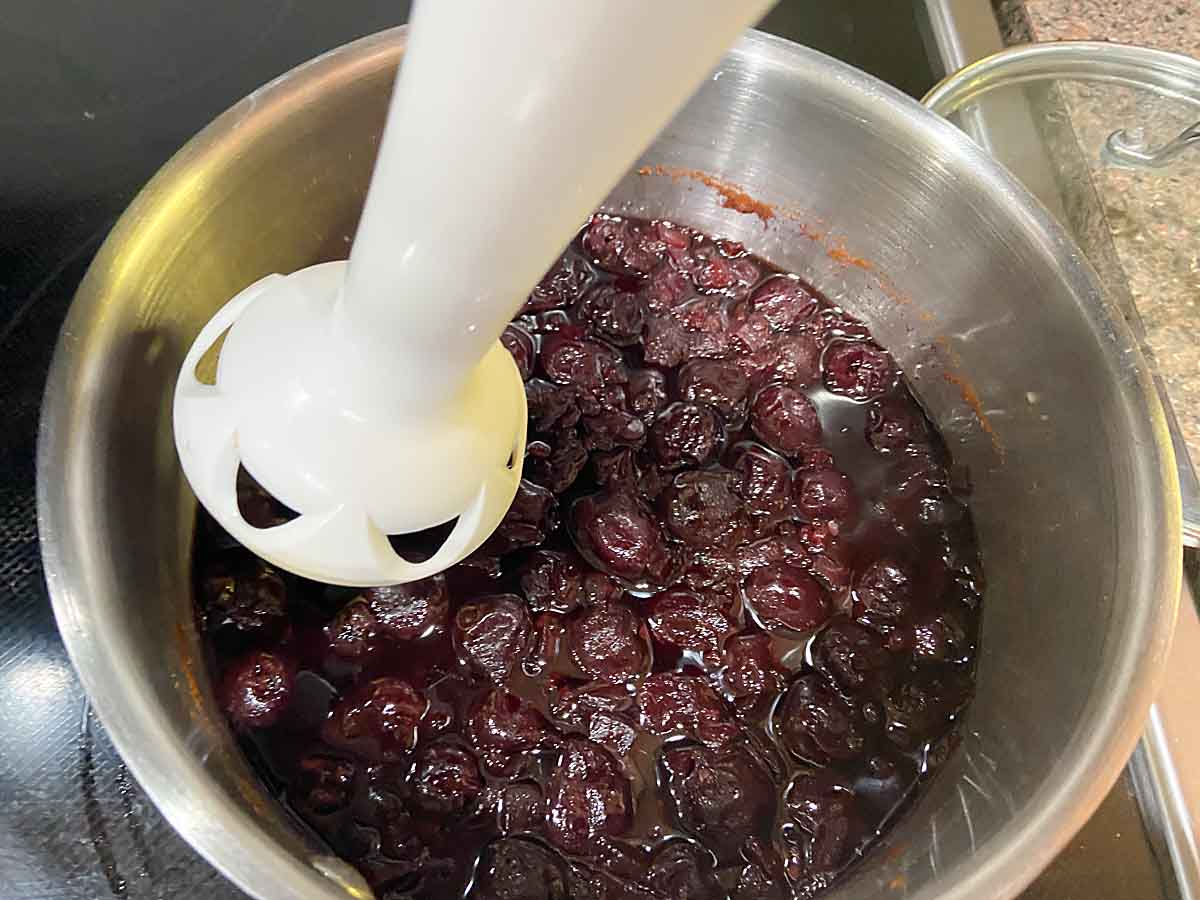 Immersion blender vs stand blender.
I actually preferred the stand blender for pureeing this (it was faster and less scary). But either way, be careful and blend on low, since this is hot and can spurt.
I am including the Food in Jars recipe below–cut in half as I mentioned, and with one teeny instruction change (I pureed mine before thickening). If you are brave and want to try the full batch, you can multiply by 2 or head on over to Food in Jars to check out the original.
Sauce it up!
We share Recipes From Our Dinner Table! Join our group and share your recipes, too! While you're at it, join our Pinterest board, too!
Homemade Cherry BBQ Sauce
Whodda' thought that homemade cherry bbq sauce--sweet-spicy and full of flavor, would be so good you'd want to eat it with a spoon! 
Ingredients
1 1/2

pounds

cherries

pitted

1/2

cup

apple cider vinegar

1/2

cup

brown sugar

1/2

cup

chopped onion

1

garlic clove

minced

1

teaspoons

smoked paprika

1

teaspoons

salt

I used lite salt

1/2

teaspoon

chili powder

1/4

teaspoon

cayenne powder
Instructions
Combine all ingredients in a medium saucepan and stir to combine.

Cook covered on medium heat until the cherries and onions have softened, about 20 minutes.

Transfer to a blender and puree (slowly and carefully, hot foods can spurt out) or puree with an immersion blender.

Return to the pot and cook, uncovered, until the mixture is reduced by approximately half and is nicely thickened, 30-40 minutes.

Taste and adjust salt or pepper, as needed.

When it's finished, ladle the sauce into prepared jars. Wipe rims, apply lids and rings and process in a boiling water bath for 15 minutes (see note).
Notes
Makes about 1 pint (I did 1 half pint and 2 half cup jars. The half cup worked perfectly to dilute with water and brush on a cut up chicken (with a little left over for dipping).
If you double the recipe and puree with a (non-immersion) blender (carefully), you should do it in batches.
Canning instructions assume you know how to can. If not, you can freeze the sauce or store in the refrigerator and use promptly--or check out canning lessons at Food in Jars.
Nutrition
Serving:

2

Tablespoons

Calories:

57

kcal

Carbohydrates:

14

g

Protein:

1

g

Fat:

0.1

g

Saturated Fat:

0.02

g

Polyunsaturated Fat:

0.04

g

Monounsaturated Fat:

0.02

g

Sodium:

149

mg

Potassium:

121

mg

Fiber:

1

g

Sugar:

12

g

Vitamin A:

107

IU

Vitamin C:

3

mg

Calcium:

14

mg

Iron:

0.3

mg

I am not a health professional and nutrition data is calculated programatically. Accuracy may vary with product selection, calculator accuracy, etc. Consult a professional for the best information.

This was originally published

Jul 20, 2017

.