Homemade Breakfast Sausage Patties
Start your day with a hearty breakfast including this recipe for spicy, savory Homemade Breakfast Sausage Patties.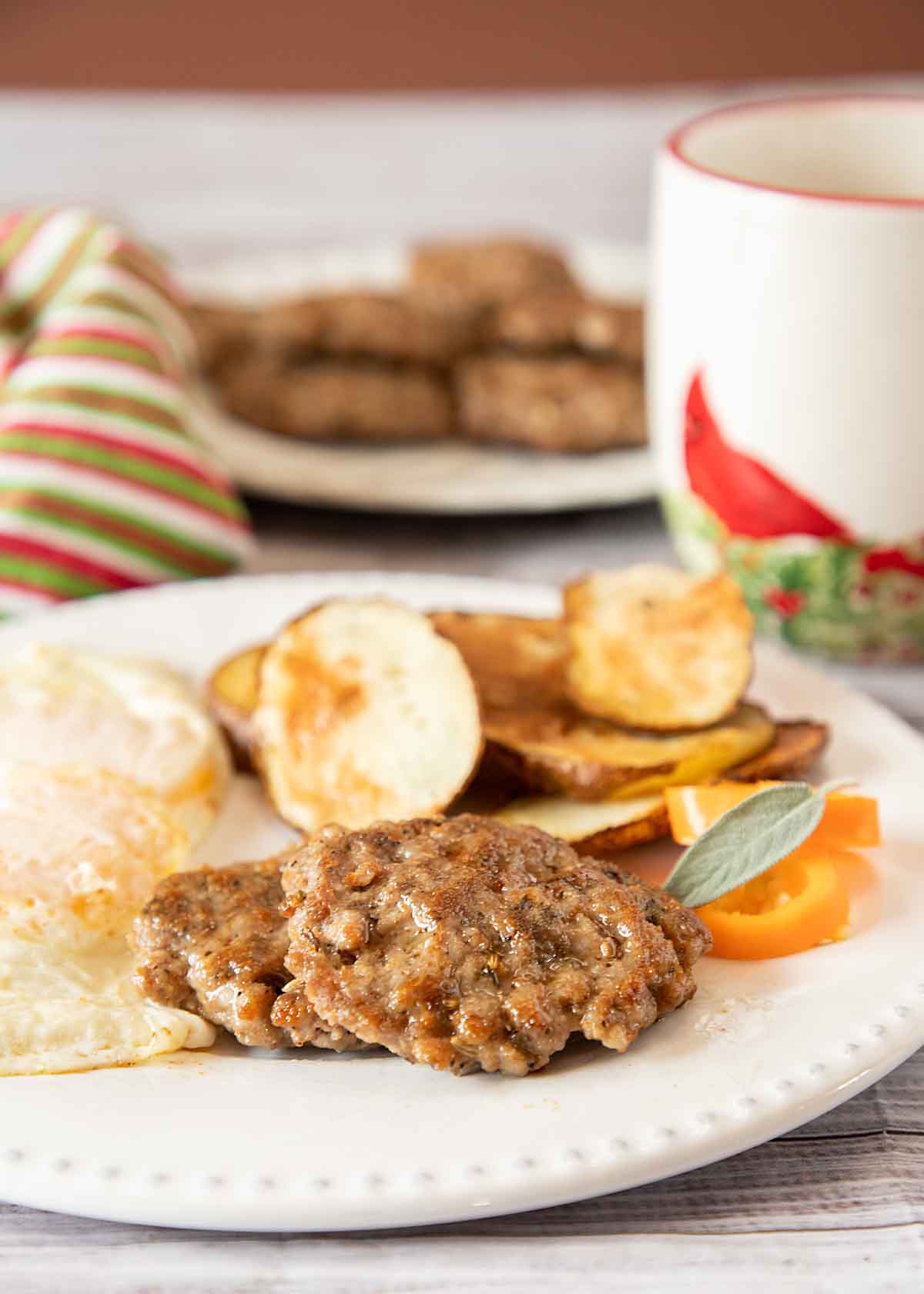 Homemade Breakfast Sausage is a breakfast side that can provide a great start to your day. While it may sound too hard for early morning, this savory dish is easy to prepare. With just ground pork, salt and an assortment of spices, it's ready in minutes and will put your breakfast over the top.
Or prepare the sausage mixture the night before and simply fry them up in the morning.
Since it's fancy enough for special events and easy enough for everyday, these Homemade Breakfast Sausage Patties are perfect for breakfast, brunch or my favorite–breakfast for dinner!
Spice up everyone's day by preparing a delicious restaurant quality breakfast right in your own home!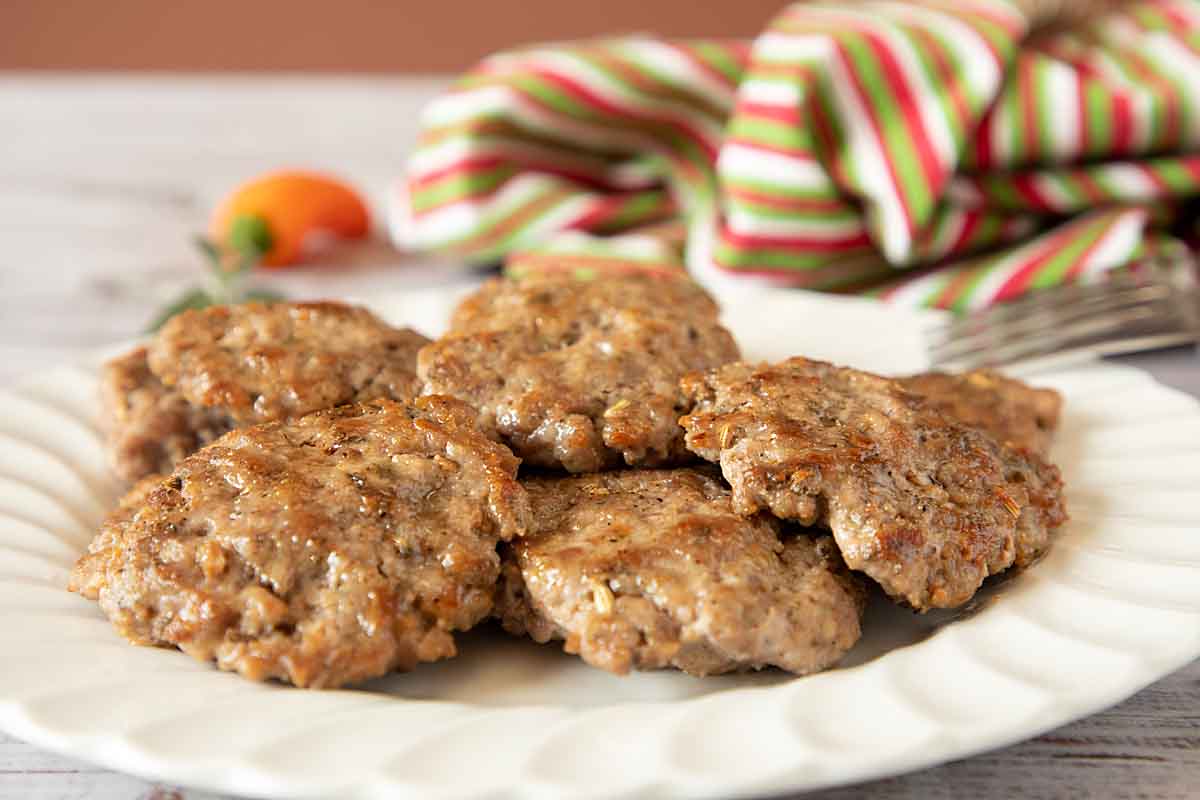 What are Homemade Breakfast Sausage Patties?
Homemade Breakfast Sausage Patties are like a flat version of your favorite meaty sausage links. With the right blend of spices and ground pork, they are an easy, homemade alternative to commercial sausage which may be loaded with preservatives and additives.
And they are delicious with a variety for breakfast foods from eggs to pancakes, served beside your morning coffee!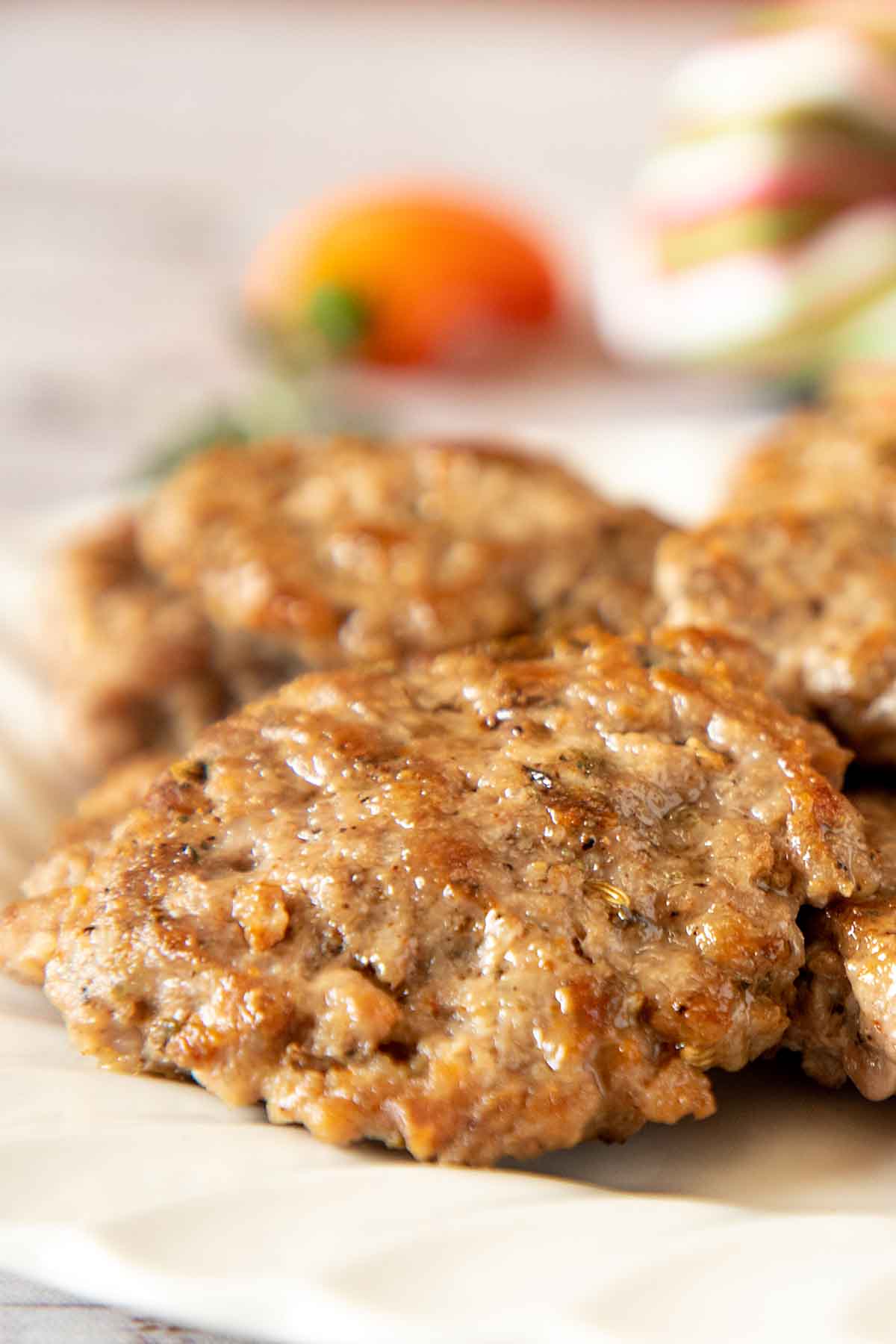 Why You'll Love This!
Here are the top reasons to get your apron, head to the kitchen, and start preparing Homemade Breakfast Sausage Patties!
Uses pantry staples. As long as your have ground pork, there's no need to do a grocery run early in the morning! . Standard spices are the only other ingredients.
Easy to prepare. No time to prepare complicated recipes early in the morning? Just mix up the pork with spices and fry. Or prepare the meat mixture the evening before and refrigerate for a special breakfast that's super easy.
Make it local, organic and pastured. Really take the quality and nutrition over the top with local, organic pastured pork.
Ready to blend some magic? Here's a quick rundown on what you'll need!
What You'll Need
Breakfast Sausage Ingredients
Ground pork. This is the main ingredient for this recipe and gives the dish its meaty goodness.
Salt. As a flavor enhancer, adding salt helps bring out the sausage flavor.
Spices (Sage, fennel seeds, thyme, black pepper, cayenne, garlic powder, ground cloves, allspice). These are the real secret to achieving a tasty pork breakfast sausage! Go up or down on the cayenne and black pepper, depending on your tastes.
Special Tools
No special tools are needed, though an instant read thermometer can be helpful to ensure the sausage patties are cooked through.
Step by Step Directions
Thoroughly mix all ingredients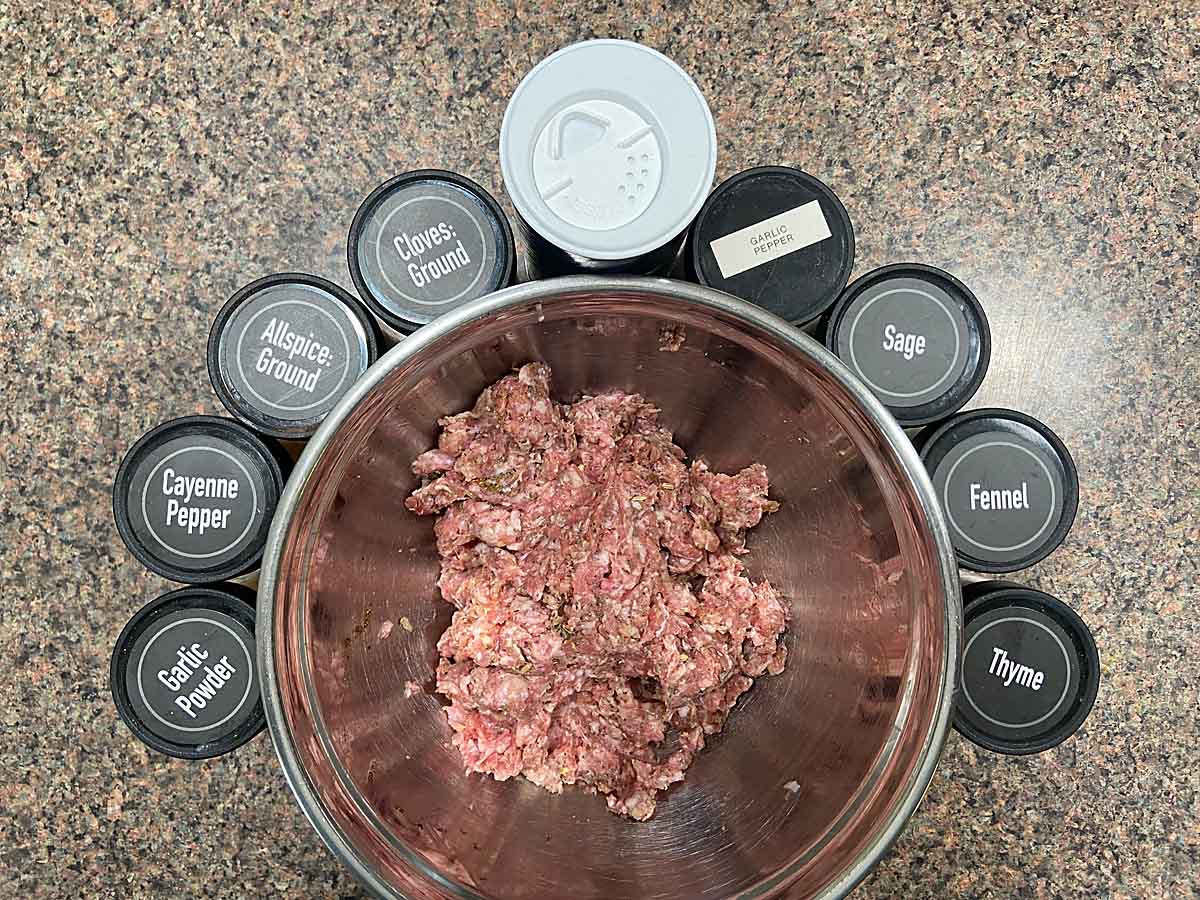 Form into patties and cook until browned on first side
Flip and cook until cooked through.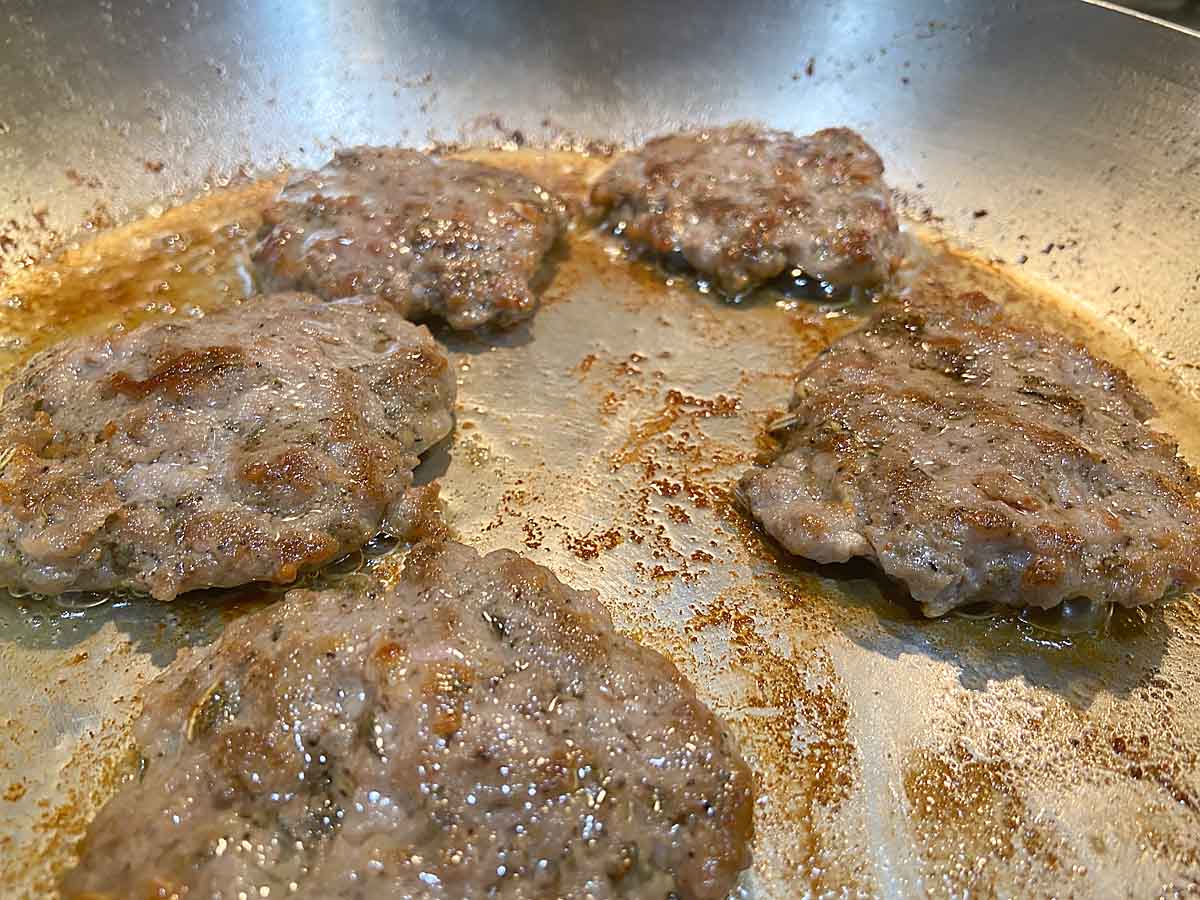 Enjoy!
How to Serve
I love serving these homemade sausage patties with traditional fried eggs and toast. And if we're especially hungry, Pan Fried Potato Slices are an easy addition that also delivers a vegetable serving. A half grapefruit or some melon slices will really put breakfast over the top.
They also delicious in a breakfast sandwich. Just top a bun or English muffin with a breakfast sausage patty and add egg and/or cheese!
For those days when I'm making a high carbohydrate breakfast, like Swedish pancakes, Dutch Baby Pancake or Blueberry Coffecake , this sausage is great on the side. It will up the protein content of the meal and help keep everyone full longer!
One reader even suggested serving them over sauteed greens! Yum!
Truly, breakfast sausage is an easy way to turn breakfast into a treat!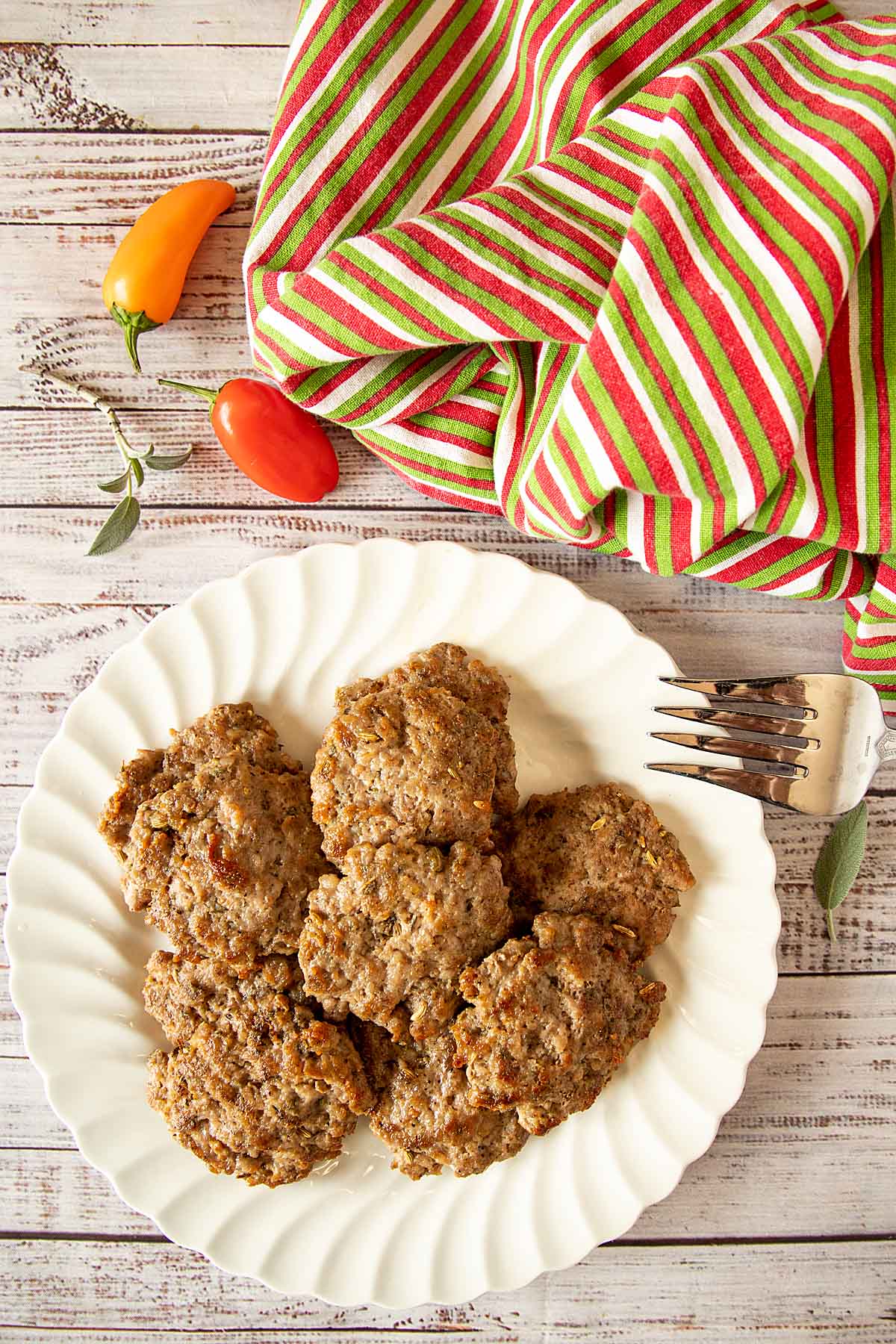 Tips & FAQs
Make ahead tips
If you'd like to save time in the morning, feel free to mix your meat and spices the night before. You could even form the patties ahead of time. Keep everything covered and refrigerated and remember that FoodSafety.gov recommends using any ground meats within 1-2 days.
Leftovers
If you don't eat up all your breakfast sausages (this has never happened in my house), the cooked sausages can be kept refrigerated for up to 3-4 days. You can reheat in a skillet or in the microwave.
Consider serving any leftovers with something new. If you had fried eggs and sausage yesterday, perhaps breakfast sandwiches would be tasty today.
They can also be frozen for longer storage, either cooked or raw.
Homemade Breakfast Sausage Patties
Yield: 6 servings

Prep Time: 5 minutes

Cook Time: 10 minutes

Total Time: 15 minutes

Start your day with a hearty breakfast including this recipe for spicy, savory Homemade Breakfast Sausage Patties.
Ingredients
1 lb ground pork
1/2 t salt
2 t sage
1 t fennel seeds
1 t thyme
3/4 – 1 1/2 t black pepper
1/4 – 1/2 t cayenne
1/4 t garlic powder
1/8 t ground cloves
1/8 t allspice
Instructions
Thoroughly mix all ingredients, using less pepper and cayenne for a milder sausage or more for spicier.
If you have time, refrigerate the mixture, covered, for a half hour or overnight to allow flavors to blend (optional).
Form sausage mixture into patties. Heat a skillet and spray with non-stick spray when hot. Cook patties on first side until browned then turn over. Cook on second side until cooked through, about 5 minutes for smaller patties. Note that laarge patties will take longer. (An instant read thermometer can be useful here)
Nutrition Information:
Yield: 6 Serving Size: 1
Amount Per Serving: Calories: 229Total Fat: 16gSaturated Fat: 6gTrans Fat: 0gUnsaturated Fat: 8gCholesterol: 71mgSodium: 250mgCarbohydrates: 1gFiber: 0gSugar: 0gProtein: 20g

Nutrition data accuracy may vary with product selection, calculator accuracy, etc. Consult a professional for the best information.

This was originally published Apr 18, 2011 and has been updated with new content and photos.