Breakfast with a Kick: Spicy Homemade Sausage
A favorite vacation restaurant serves a delicious spicy breakfast sausage.  Savory, and seasoned with pepper, it can start your day with a bang! When I found a similar recipe on the internet I decided to give it a try.  Why not have your favorite foods year round? 
I served these at a recent brunch, trying to show off both my culinary skills and green lifestyle, (having made them with organic pork and spices).  Here is the (adapted) recipe–fancy enough for entertaining and easy enough for everyday!
Spicy Breakfast Sausage
Ingredients
1 lb ground pork
1/2 t salt
2 t sage
1 t fennel seeds
1 t thyme

3/4 – 1 1/2 t black pepper
1/4 – 1/2 t cayenne
1/4 t garlic powder
1/8 t ground cloves
1/8 t allspice
Directions 
1.  Thoroughly mix all ingredients, using lower amount of pepper and cayenne for a milder sausage or higher for spicier.
 2.  Refrigerate for a couple hours or overnight to combine flavors (optional).
3.  Form into patties and cook through.  Note that smaller patties will cook faster.  
I like to serve these sausages with the traditional fried eggs or even with pancakes where they will up the protein content of the meal.  Enjoy–after all don't they say breakfast the most important meal of the day!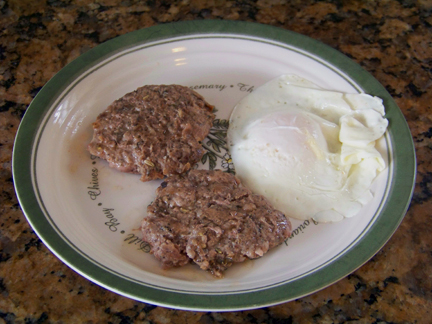 Modified from: http://www.recipezaar.com/100408