Simple and tasty, these pan fried potato slices take most of the work out of potato dishes like hash browns or American fried potatoes.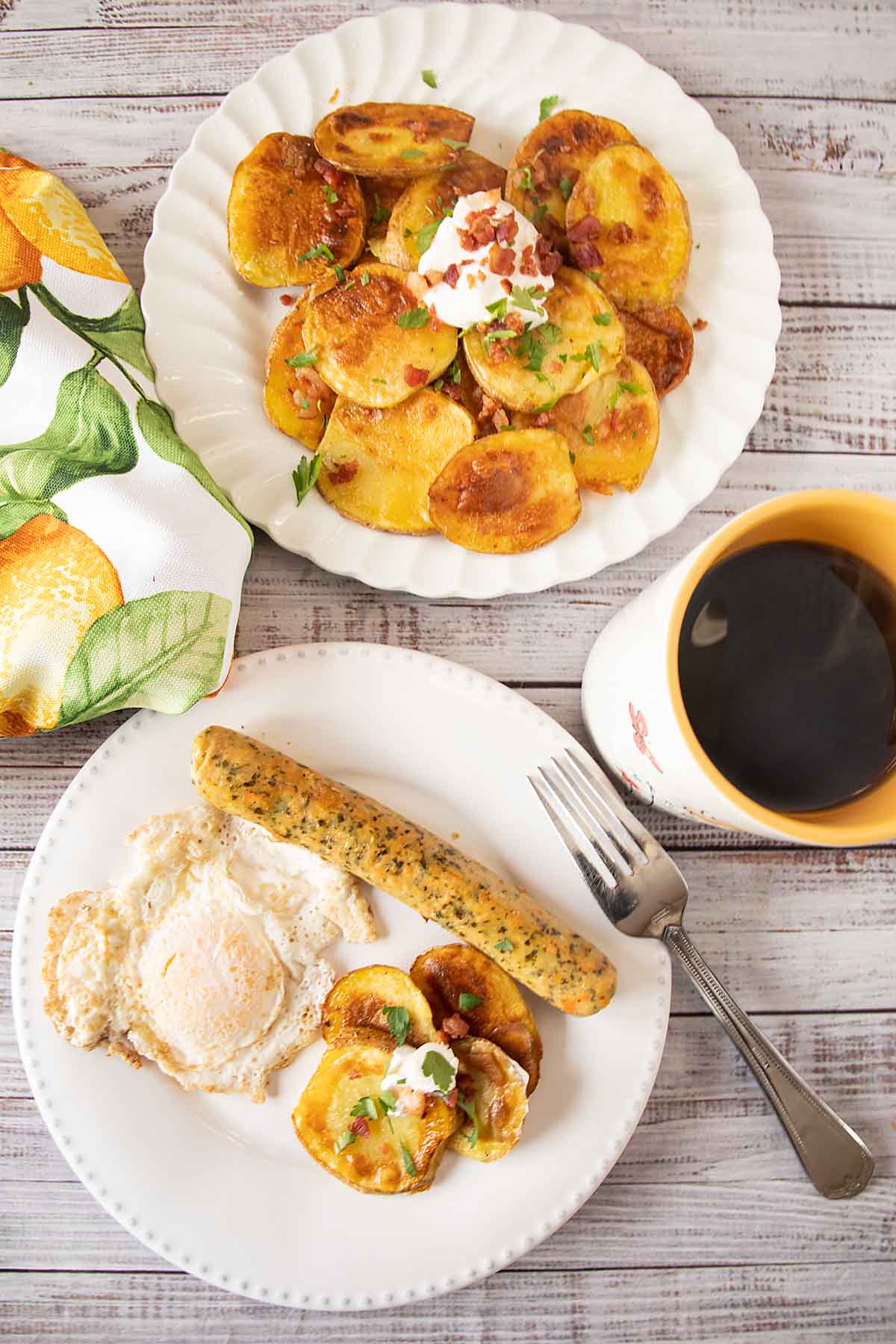 It may sound exaggerated, but these pan fried potatoes have revolutionized breakfast at our house. I even feel a little guilty calling this a recipe instead of a technique.
But it made my breakfast potatoes so easy, so fool-proof, that I had to share it with you. 'Cause who wants to spend forever in the kitchen making breakfast? (Updated from 4/20)
What Makes These Different?
In the past, my breakfast fried potatoes were always made from small-ish cubes. I'd boil the potatoes, cut them up, pat dry, then fry, taking care to turn them over properly. It wasn't bad, but it did take more energy than I sometimes have in the morning. And occasionally, they wouldn't brown like I wanted.
Now, rather than boil, I slice and cook the potatoes in the microwave on the baked potato setting. Then I pan fry them in a little oil turning them over once. And I get crispy potato slices every time!
Who'd have thought how easy fried potatoes could be!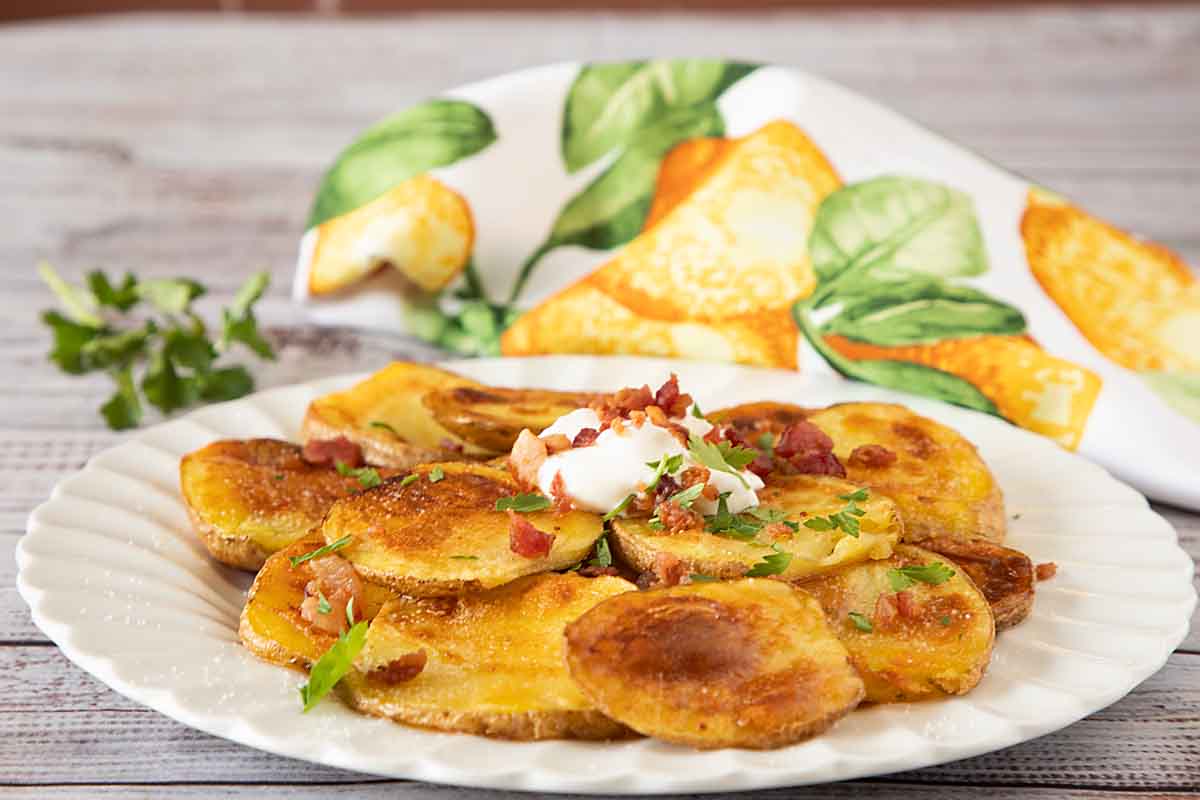 Why You'll Love This!
Pan fried potato slices are:
Quick and Easy. Pre-cooking the potatoes in the microwave, using larger potato slices and pan frying makes these quicker and easier than your usual fried potato.
Tasty. Come on, potatoes are the original comfort food!
Get a Veggie with Breakfast. Figuring that we need 3 vegetable (and 2 fruits) every day, isn't it great to have one out of the way by breakfast!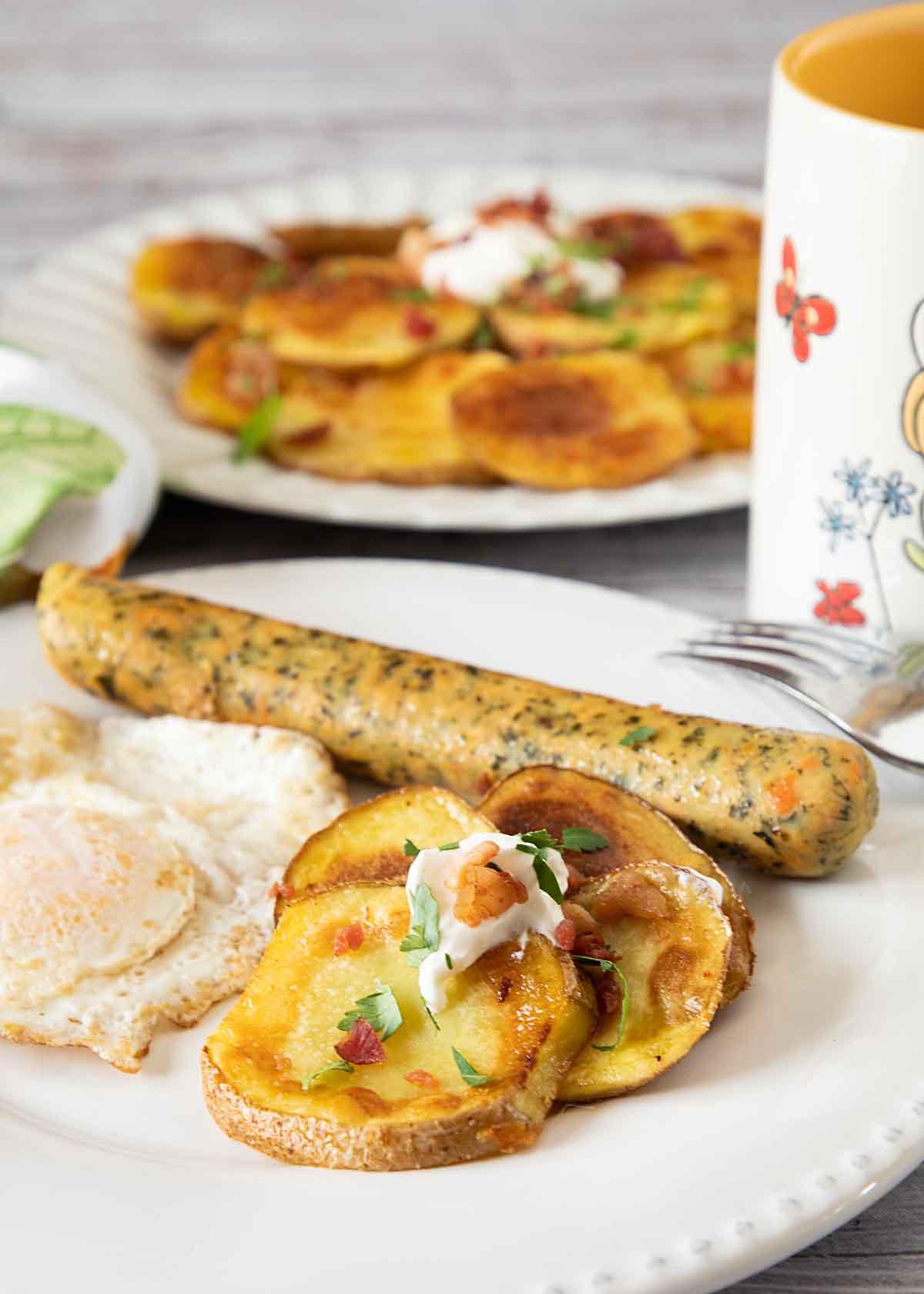 What You'll Need
Ingredients
Potatoes. I usually use a lower starch potato like red potatoes or Yukon golds since they hold together better than russets. I figure an average of 1 large potato per person. My husband eats a little more and I eat a little less. Light eaters might get more servings out of this.
Oil. My personal favorite oil for these is strained, leftover (organic) bacon grease, which adds flavor and browns well. But I've used a number of different oils with success.
Sour cream. This adds flavor and a creamy richness, but you can omit if you are dairy free. Reduced fat (but not fat free) is fine here too.
Bacon. This is optional but a few bacon crumbles are yummy!
Salt, Pepper. These add flavor and will be especially important if you forgo the optional toppings.
Special Tools
No special tools required!
Step by Step Directions
Pan fried potato slices are super eaasy! To start, you slice the potatoes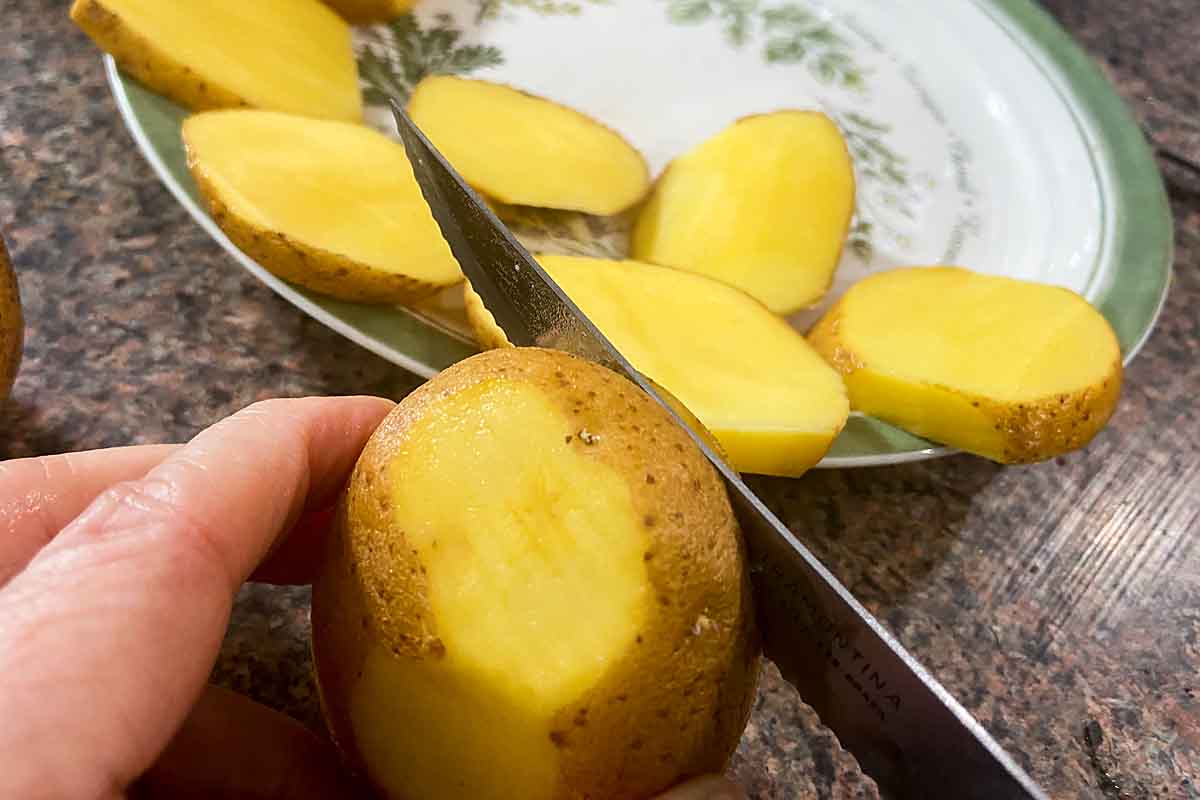 Microwave on the baked potato setting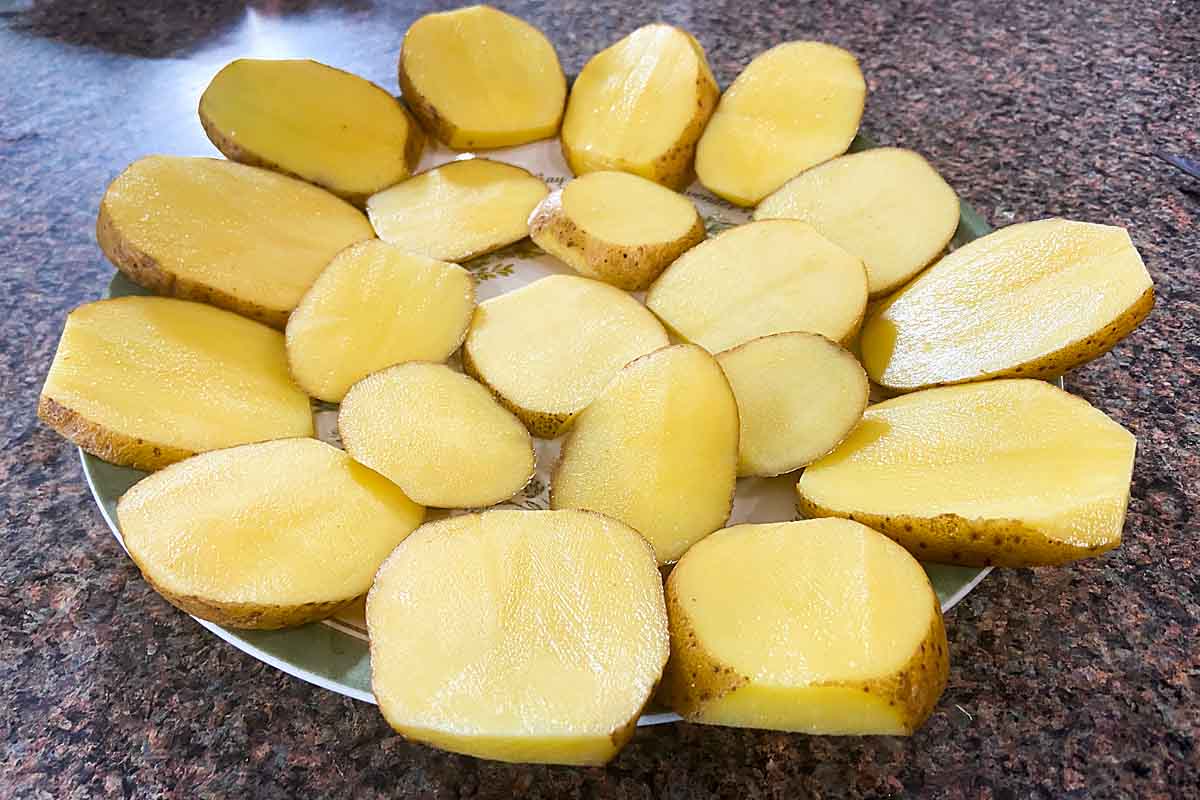 Heat oil and fry potatoes in skillet.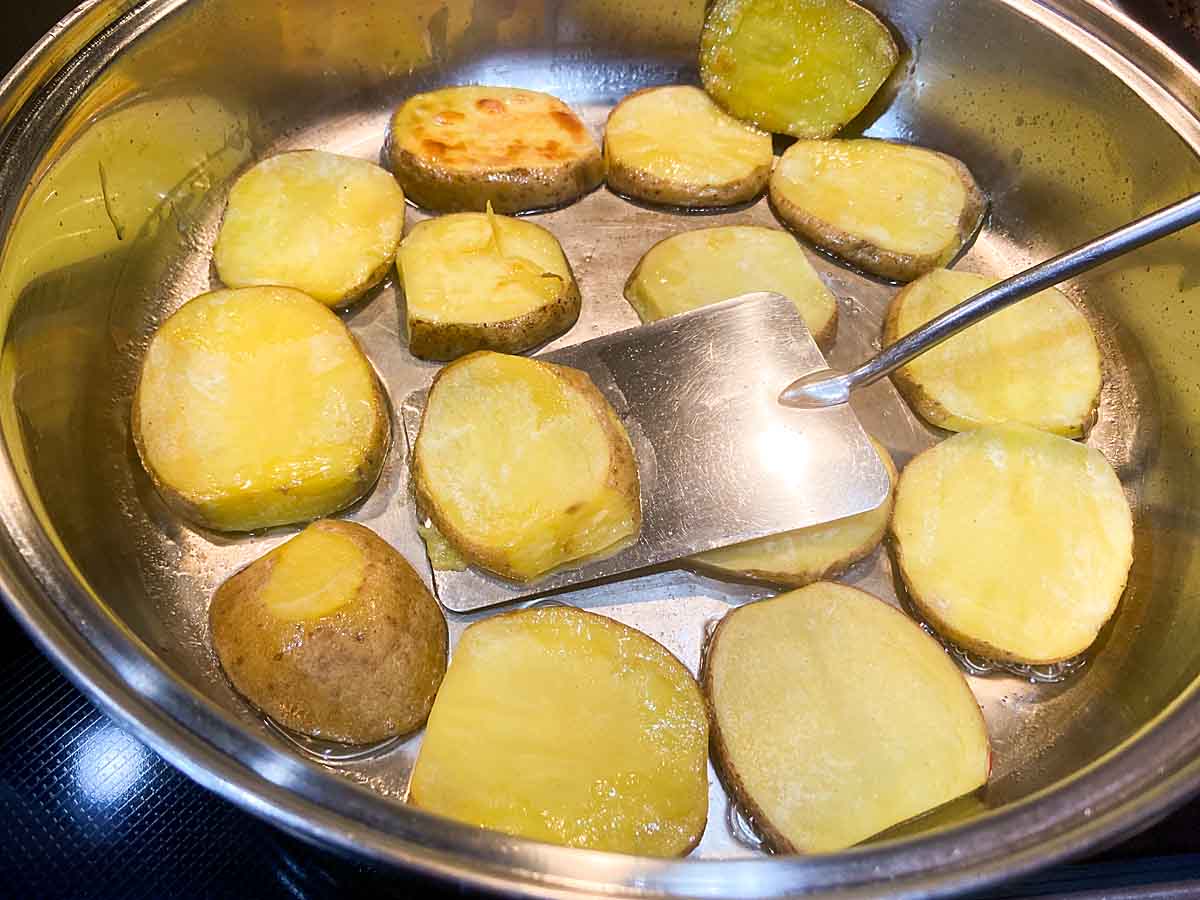 Turn when brown, then brown the other side.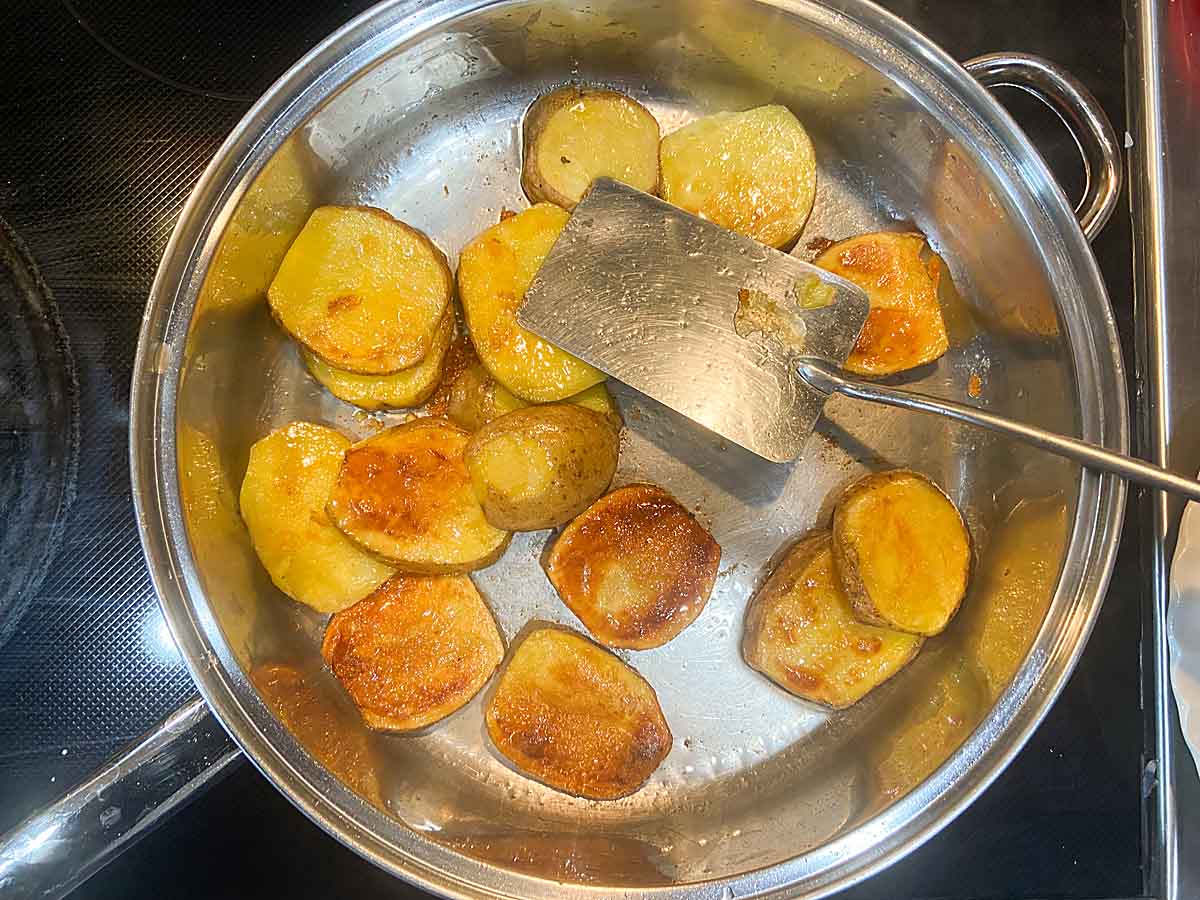 Garnish if you wish and serve!
How to Serve
I usually serve this for breakfast, alongside some eggs. I like to top them with sour cream and bacon bits for a real flavor treat but that is optional if you want a vegan side dish. See "variations" below for more ideas.
And of course there's no reason you can't fry these up for a lunch or dinner side. In that case I'd probably serve them with catsup rather than sour cream!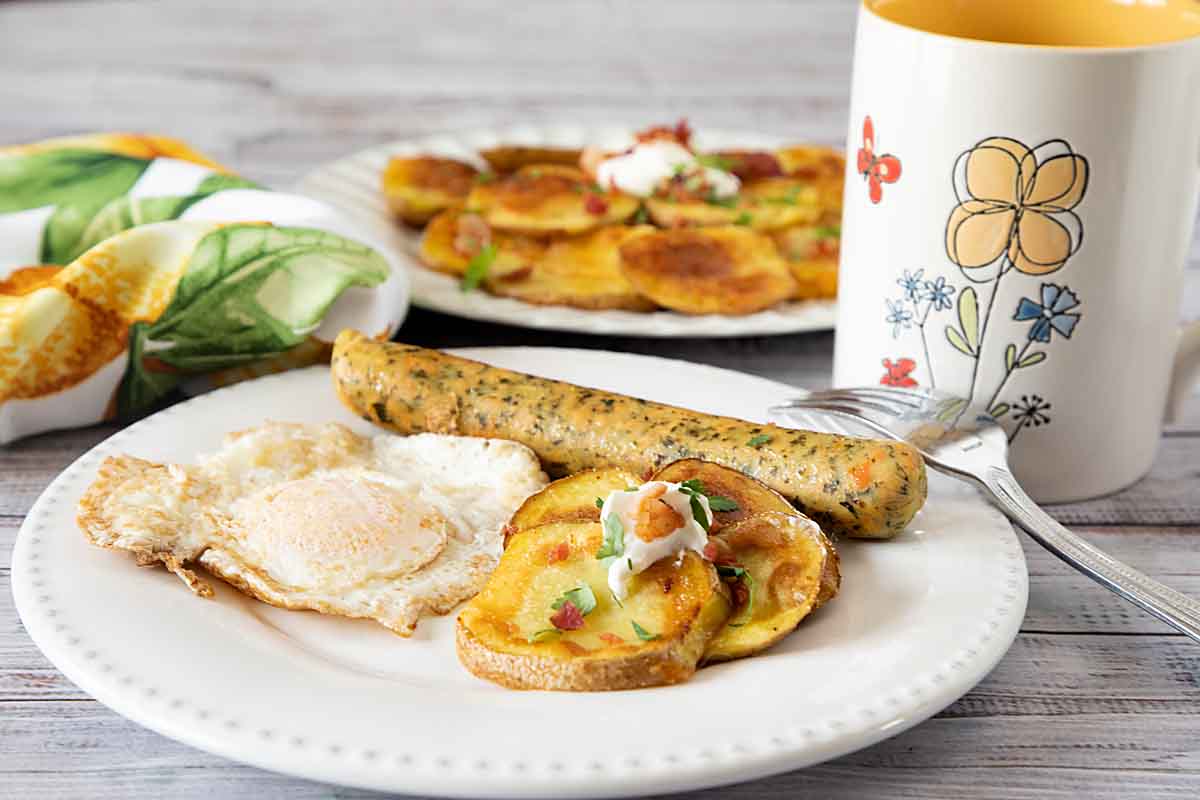 Variations
Most of my variations so far have been toppings, like the bacon I list in the recipe. When I had some leftover caviar (from another recipe—what, you don't just have caviar lying about?), I used that and it was delicious.
I'd love to try topping with jalepeno slices and/or salsa for a kick of heat (and more veggies)!
To push up your daily calcium, you can go with Greek yogurt, ideally full fat.
In the summer a generous sprinkle of fresh chopped herbs right from the garden would be amazing!
To go vegan, just use non-dairy sour cream or yogurt
Finally, I just may have to try this with sweet potatoes! Maybe with sour cream and brown sugar!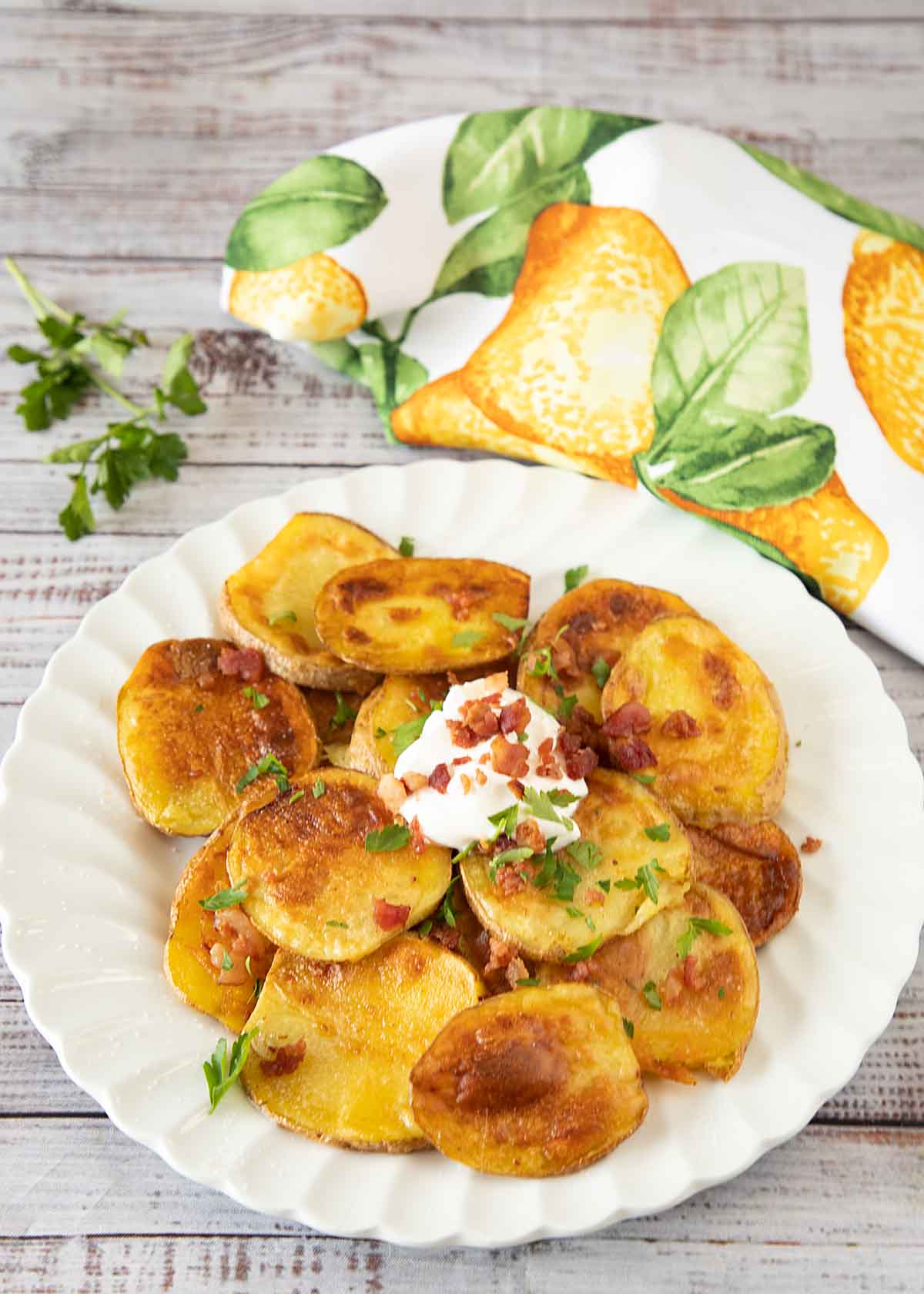 Tips & FAQs
Your cooking time will vary based on your pan temperature. These cook fast enough so you'll need to stand over them to monitor (if they aren't, turn up the heat). I regularly adjust the heat up or down to achieve the browning I want.
If you haven't discovered shelf stable (until opened) precooked bacon bits, they are life changing. You can even find some that are uncured, so no added nitrates! I have a package in my freezer all the time which makes it easy to toss a tablespoon of bacon bits on a salad, a baked potato or anything else that needs a flavor boost.
Perfect Potato Recipes
We share Recipes From Our Dinner Table! Join our group and share your recipes, too! While you're at it, join our Pinterest board, too!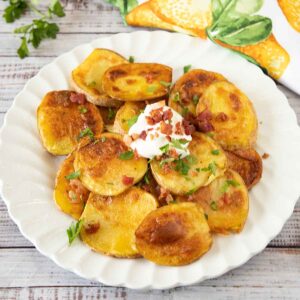 Fried Potato Slices
Simple and tasty, fried potato steaks with sour cream takes most of the work our of potato dishes like hash browns or American fried potatoes.
Ingredients
2

large potatoes or 4 medium

3

Tablespoons

oil

my favorite is leftover bacon grease

1/3

cup

sour cream

optional

2

Tablespoons

bacon bits

optional

Salt

pepper to taste
Instructions
Slice potatoes in 1/3-inch slices.  Using microwave setting for 2 baked potatoes, microwave until just tender.

In a large frying pan on medium high, heat the oil until hot.  Add the potato slices, laying them flat, and cook until bottom is golden.  Using a flat turner, flip the slices over and cook until browned on the second side.

Sprinkle with salt and pepper then top with a dollop of sour cream or other garnish(es) of your choice.
Notes
Consider topping with snipped chives, bacon crumbles and/or caviar
Nutrition
Calories:
350
kcal
Carbohydrates:
37
g
Protein:
4
g
Fat:
21
g
Saturated Fat:
2
g
Polyunsaturated Fat:
6
g
Monounsaturated Fat:
13
g
Trans Fat:
0.1
g
Sodium:
13
mg
Potassium:
897
mg
Fiber:
5
g
Sugar:
2
g
Vitamin A:
4
IU
Vitamin C:
42
mg
Calcium:
26
mg
Iron:
2
mg
I am not a health professional and nutrition data is calculated programatically. Accuracy may vary with product selection, calculator accuracy, etc. Consult a professional for the best information.