Healthy Breakfast Veggie Scramble
Get your day off to a great start with this healthy veggie scramble. With scrambled eggs, vegetables & cheese, breakfast really will be the best meal!

One of my favorite restaurants has an amazing breakfast veggie scramble. It's loaded with goodness—and I order it so much the servers make jokes! Yum!
Of course, I don't have a prep cook or a daily fresh produce delivery helping me out aat home! So I wondered… can I do something that's still super tasty, but just a little easier.
And with a little experimenting, the answer was "yes"! (Note: I received free products for review purposes).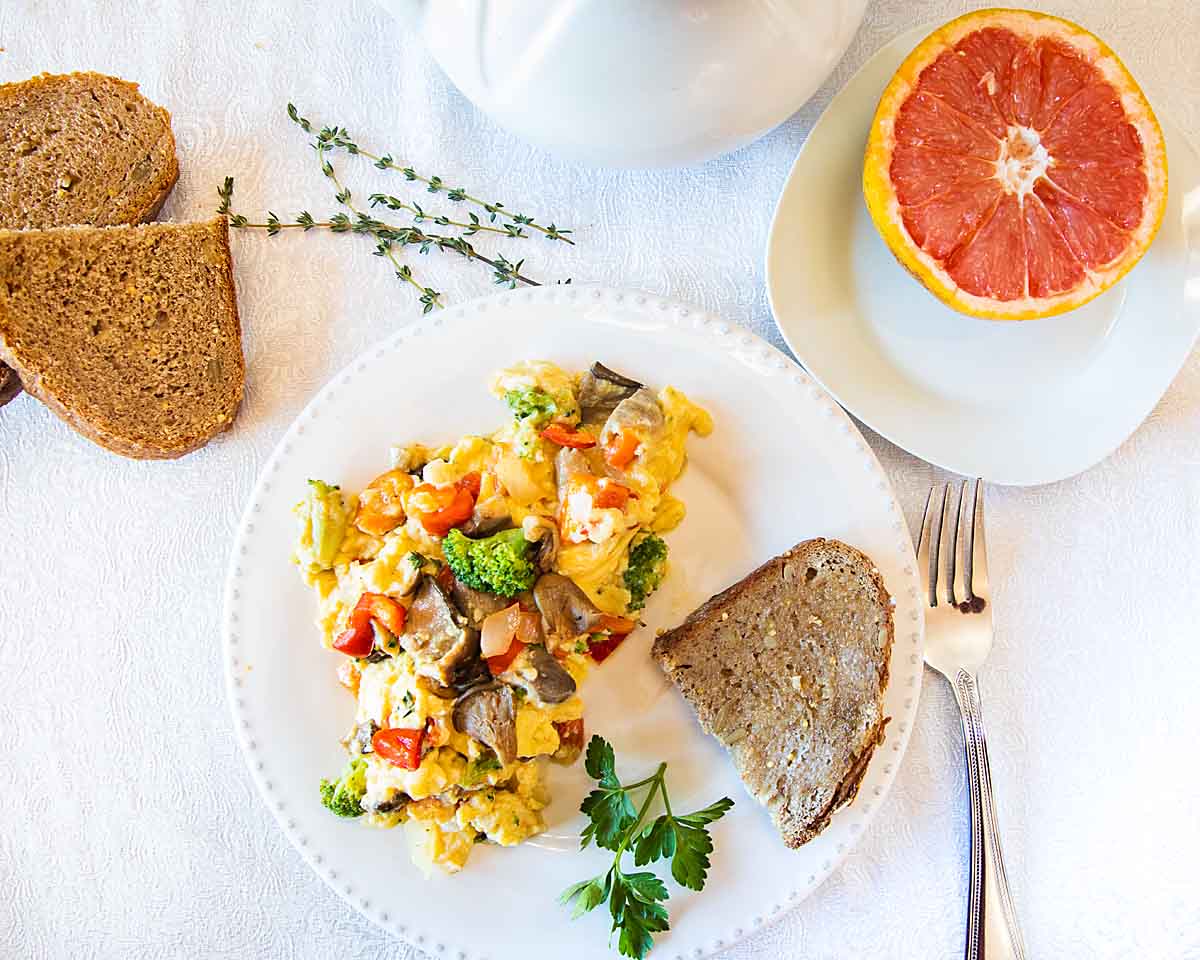 Why You'll Love This!
This veggie scramble is a winning breakfast option! It's:
Flavorful. With lots of tasty ingredients, there are no boring eggs here!
Healthy Vegetables. I always feel I have a jump on life it I've eaten veggies with breakfast! And the fat in the eggs may even help your body absorb the nutrients better! Have you had your five-a-day (fruit and veggie servings)?
Can Use Up Leftovers. I had some slightly freezer burned broccoli to help inspire me. It was revitalized in here. Clean out your freezer or fridge!
Can Scale Up or Down. This is easy to make for a crowd, or even just for one!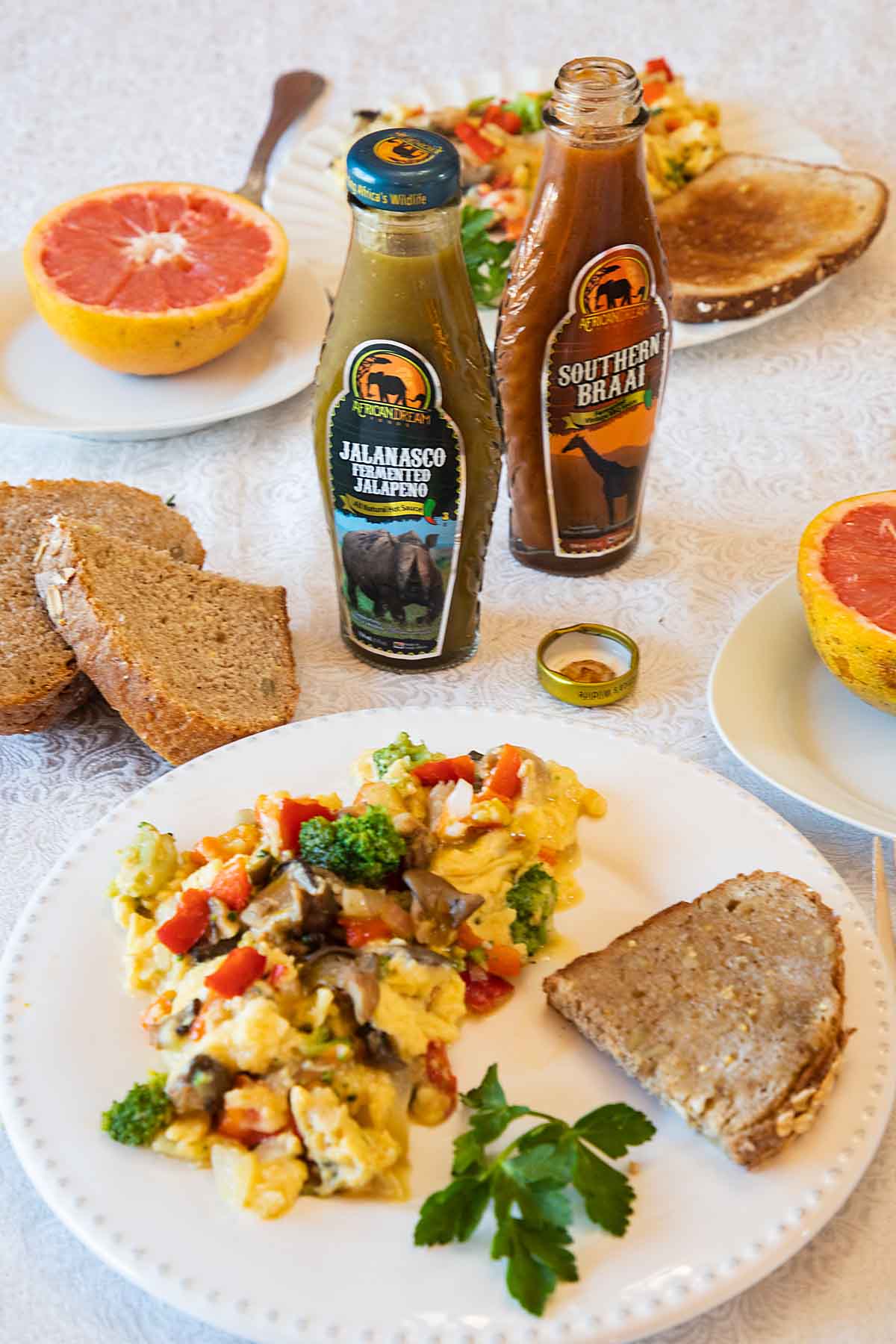 What You'll Need:
Ingredients and Substitutions
Eggs. I used 3 eggs per person but if you're cutting back, I believe (though haven't tested) that the veggie ratio will still work with 2 whole eggs and 4 whites.
Water. Real Simple says that adding water effectively steams the eggs to tender perfection. But feel free to use milk or cream if you prefer.
Broccoli. This works with fresh or frozen broccoli. I prefer to use just the florets. (See "Variations" below for substitution tips)
Red pepper. Red pepper adds a ton of flavor and nutrition. Fresh or frozen works here too.
Mushrooms. More flavor. I would normally use crimini or button mushroom, but used oyster mushrooms since I had them. Told you this was going to be good!
Onion. Yup, flavor.
Parmesan. Of all the cheeses, Parmesan is a flavor powerhouse and also adds umami flavor. But if you're out go ahead and substitute another quality cheese.
Flavored sauces (optional–see below). Yup these can go way beyond catsup
Special Tools
No special tools are needed, but see below for tips on cooking eggs in stainless steel.
Step by Step Directions
You start by prepping your ingredients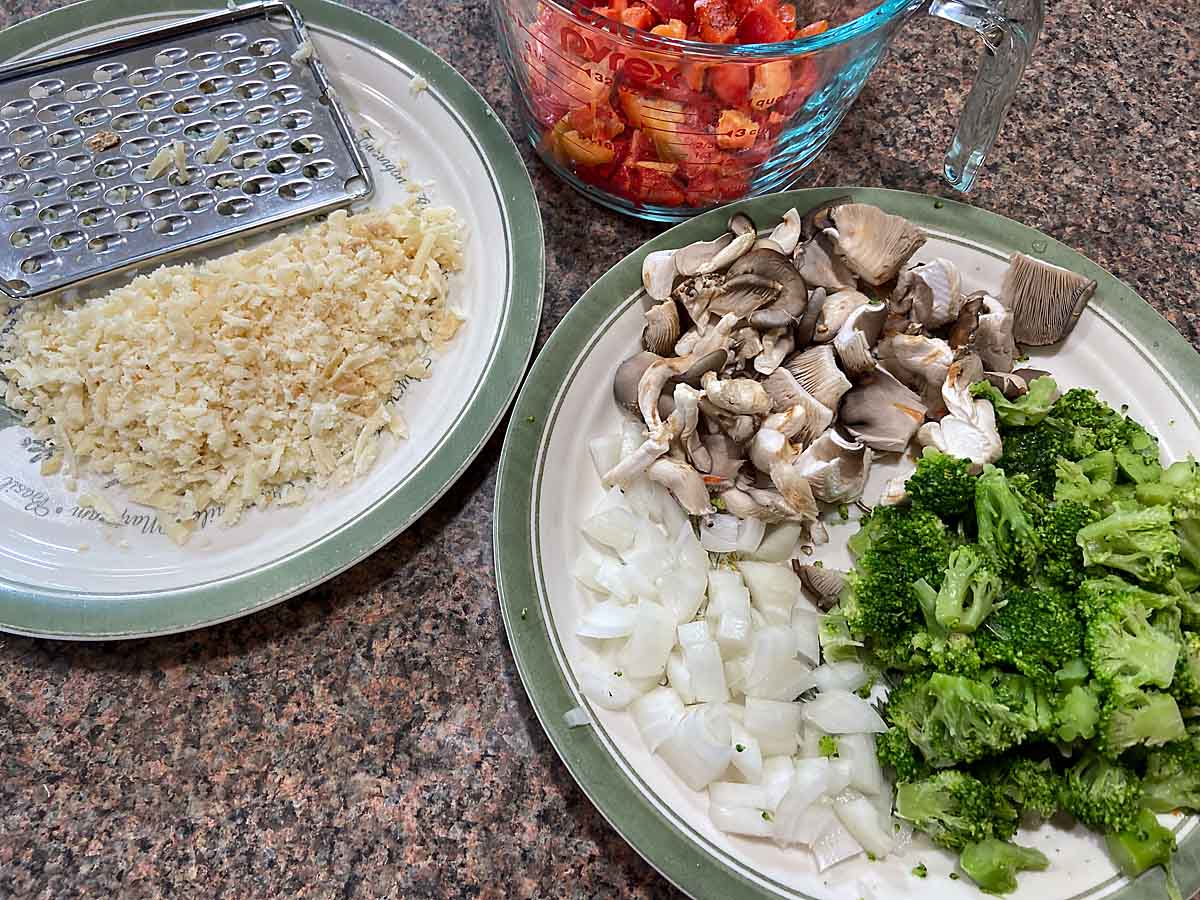 Sautee the vegetables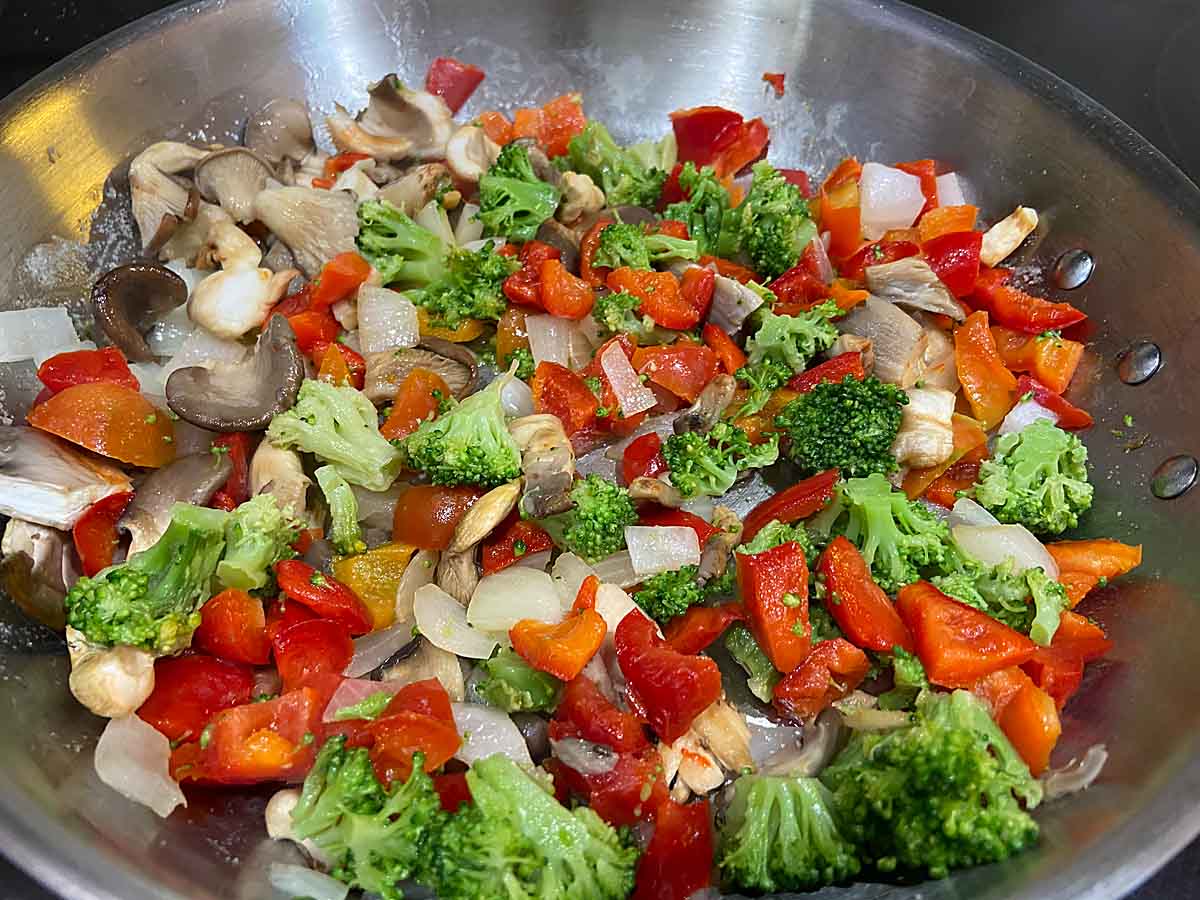 When tender, push the vegetables to the side, add beaten egg mixture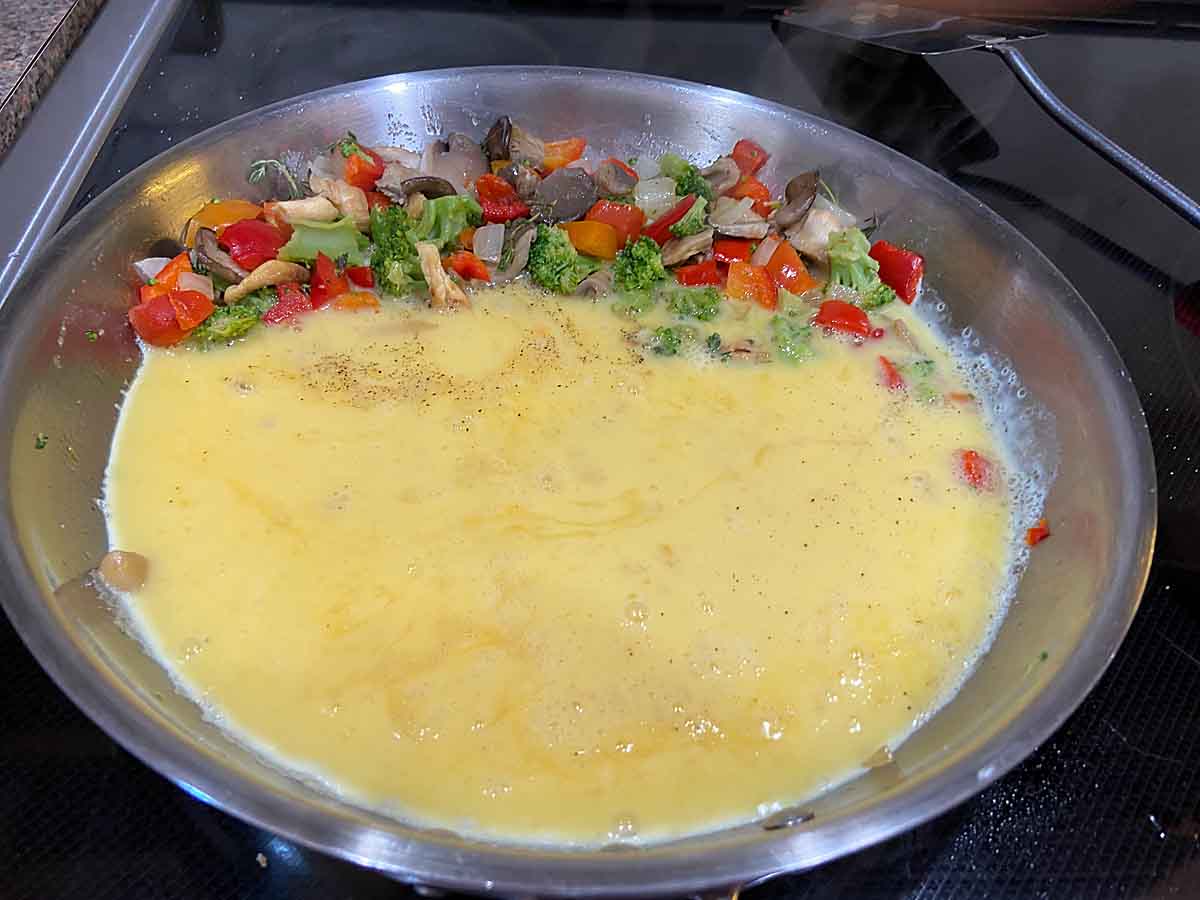 Stir eggs until almost cooked, then stir in veggies and cheese
Serve immediately.
Sauces For Even More Flavor
Have you been feeling the need to make your meals special lately? Maybe it's all the extra home cooking due to the pandemic, but lately I just can't deal with boring food.
So while this veggie scramble is plenty tasty, we decided to break into some sample products I was given for purposes of a review. They are flavored sauces and salts from a company called African Dream Foods, which is just the kind of company I like to support.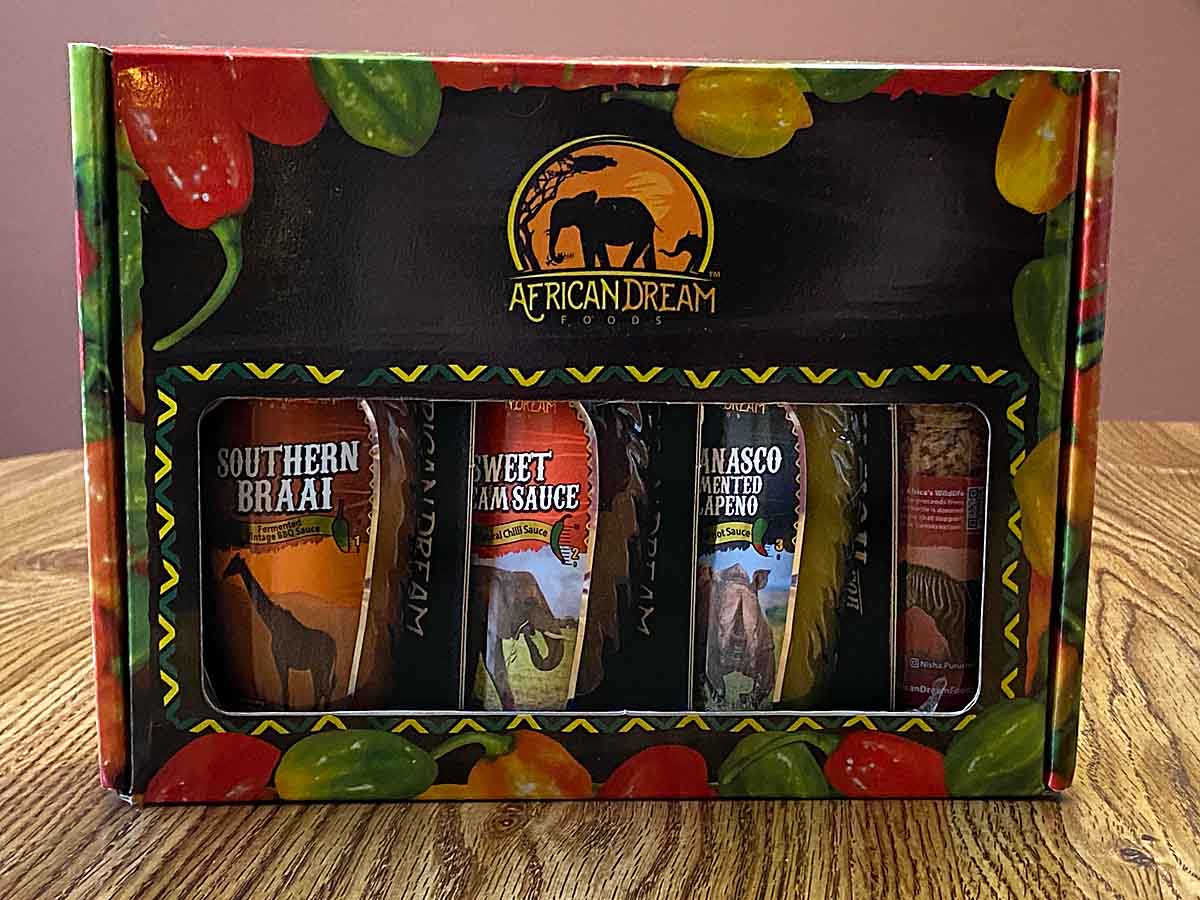 Per their website "African Dream Foods is all about using premium farm-grown ingredients to craft small-batch hot sauces and seasonings while simultaneously giving back" to wildlife conservation and environmental education efforts. Count me in!
And these sauces are different, with more complex and nuanced flavors than your ordinary sauces. Two thumbs up!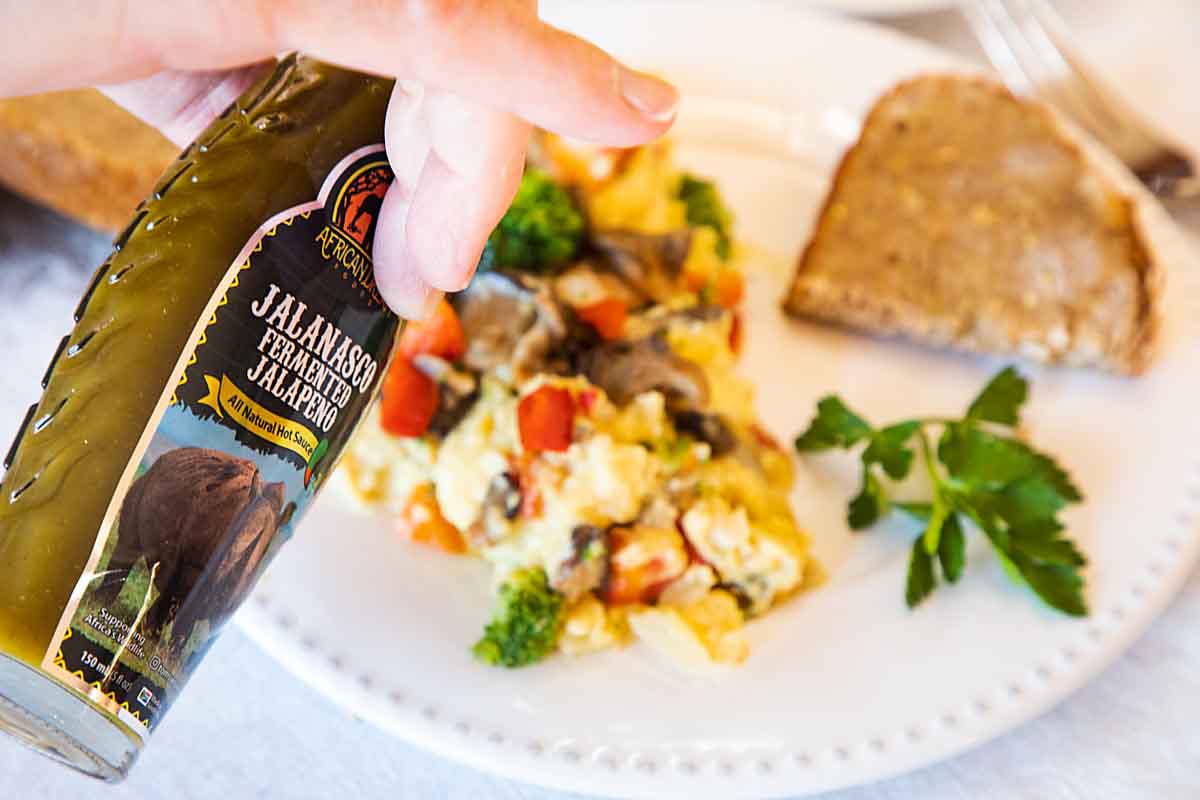 How to Serve
For a healthy breakfast, serve this veggie egg scramble with toast and fruit or fruit juice! And for something fun and unique, you could even roll up the eggs in tortillas.
And are you a breakfast for dinner fan like I am? This vegetable scramble is hearty and filling enough to easily work for a simple meal any time of the day! I might add a salad at dinner for even more health value!
Variations
Feel free to adapt this recipe according to your tastes and panty ingredients!
If you'd like to substitute different vegetables, that's fine. For best flavor and nutrition, use two unrelated vegetables (for example, don't use broccoli and cauliflower together). Even better, go with unrelated vegetables of different colors to eat a rainbow!
As noted previously, if you're worried about the number of eggs in this, you can try this with 2 eggs and 4 egg whites. Then consider making no torch crème brulee or strawberry curd with the yolks (just eat them on a different day 🙂 ).
And when summer rolls around and your herb garden is overflowing, consider herbed scrambled eggs (keep the veggies of course). Dill or chives anyone?
Make Ahead Tips
The most time consuming part of preparing healthy scrambled eggs with veggies is cutting up the vegetables. So if you want to save time, cut and optionally cook them ahead of time. Or for an even easier breakfast scramble, make extra vegetables for dinner and use those!
Can Scrambled Eggs be Reheated? Scrambled eggs are one of the easier types of eggs to reheat, since you don't need to worry about the yolks! While fresh is best, leftovers can be reheated in the microwave, oven or stovetop (cover, and stir halfway through).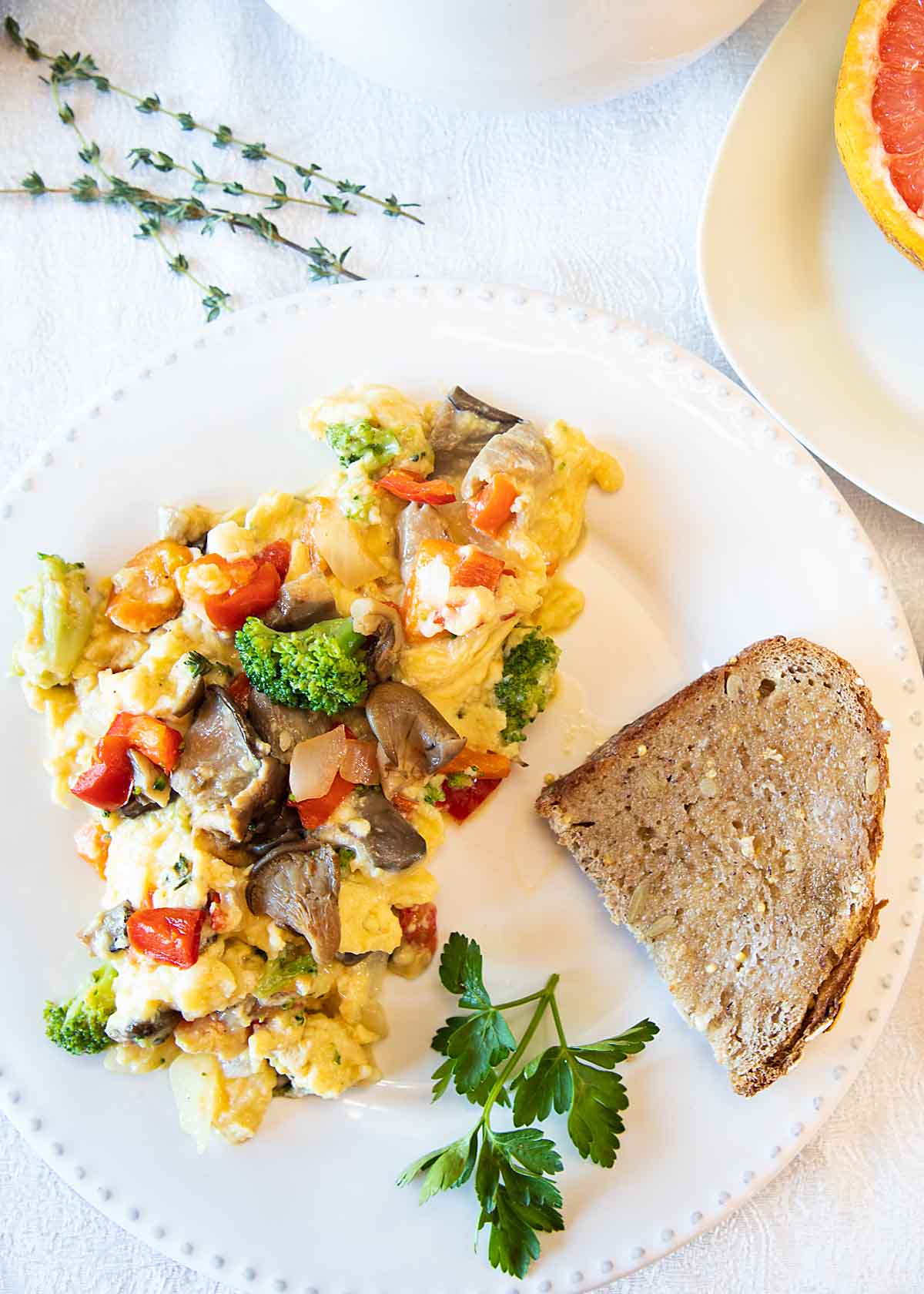 How to Scramble Eggs in Stainless Steel
Did you know you can scramble eggs in stainless steel? I do it all the time since I don't even own a non-stick frying pan (other than ceramic or seasoned cast iron). You see, while some teflon-like non-stick coatings are being phased out, many of the new non-stick surfaces simply substitute a related chemical that is equally harmful to human health and the environment. You can read more here.
But it's not hard to scramble eggs in stainless steel. My pictures are living proof! Here are a few secrets to success.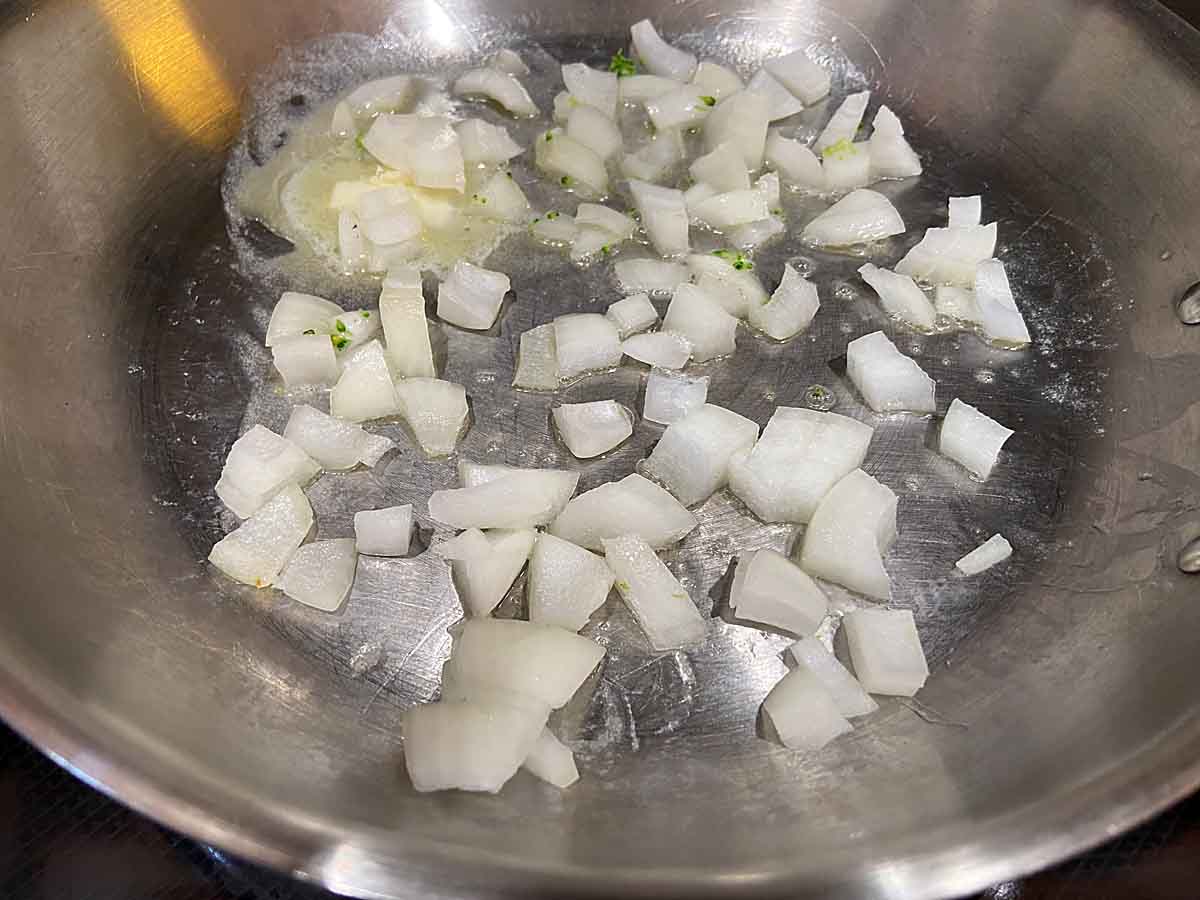 First, start with a good pan since the surface is smoother on better pans. You don't need a $200 All Clad (though those are nice)—I often use one from a reasonably priced Calphalon set. But skip the dollar store bargain.
Next, get your pan hot. If a drop of water doesn't immediately sizzle, keep heating. (If the non-stick spray in the next step immediately burns, however, your pan is too hot).
Finally, spray your pan with a non-stick spray (PAM is my favorite), which has better non-stick properties than butter and most oils. Then add your eggs.
My husband's technique is slightly different. He sprays the cold pan and then heats it until the spray on the surface becomes smooth and shimmery. See what works for you!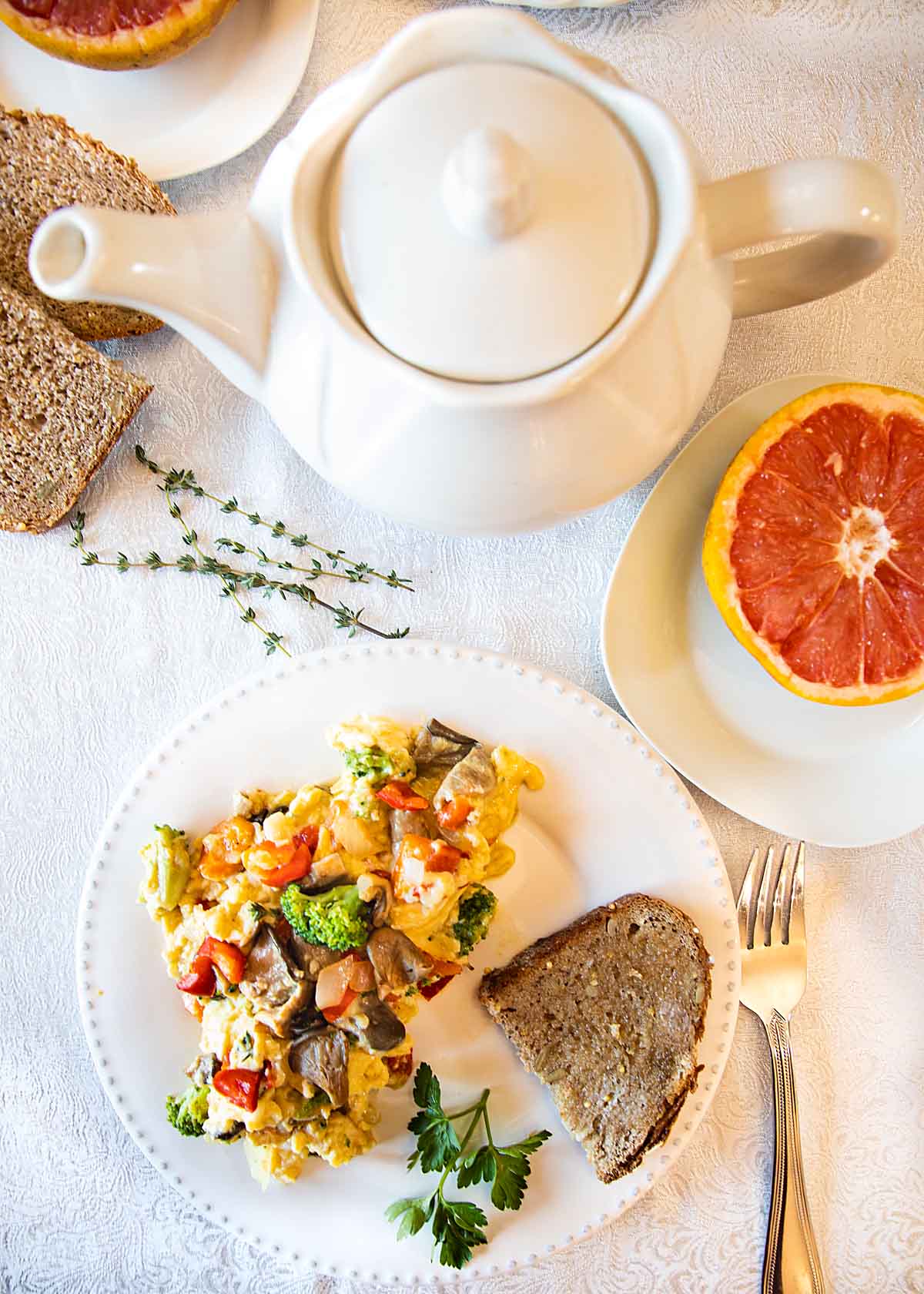 For other healthy breakfast recipes with vegetables consider: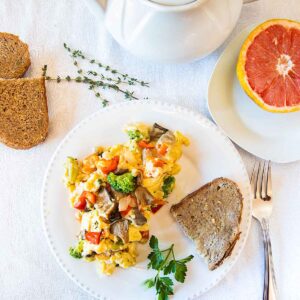 Tasty Veggie Scramble
Get your day off to a great start with this healthy breakfast veggie scramble. With scrambled eggs, vegetables & cheese, breakfast really will be the best meal!
Ingredients
6

eggs

1/3

cup

water

1

Tablespoon

butter or oil

½

onion

diced

1-2

cups

mushrooms

sliced or chopped

1

cup

broccoli

chopped

1

cup

red pepper

chopped

¼ - ½

cup

grated Parmesan

Salt

pepper
Instructions
Cut your vegetables and grate cheese as needed.

Heat butter or oil in a large skillet. Add onions and cook for about a minute. Add mushrooms and sprinkle with salt. Cook for a few minutes, then add broccoli and red pepper. Continue cooking until everything is tender.

While vegetables are cooking, mix eggs, water, and a little salt and pepper until well blended.

When vegetables are tender, push to the back of the pan. Spray the pan surface with non-stick spray, heat for a minute, then add egg mixture. Stir the eggs until almost done, then add the cheese and stir the vegetables back in.

Serve hot.
Nutrition
Calories:
348
kcal
Carbohydrates:
14
g
Protein:
24
g
Fat:
22
g
Saturated Fat:
10
g
Polyunsaturated Fat:
3
g
Monounsaturated Fat:
7
g
Trans Fat:
0.3
g
Cholesterol:
517
mg
Sodium:
475
mg
Potassium:
701
mg
Fiber:
4
g
Sugar:
7
g
Vitamin A:
3612
IU
Vitamin C:
139
mg
Calcium:
222
mg
Iron:
3
mg
I am not a health professional and nutrition data is calculated programatically. Accuracy may vary with product selection, calculator accuracy, etc. Consult a professional for the best information.