Last winter, blessed with an abundance of citrus, I made lemon curd. We spread it on scones, laced it through crepes and topped British biscuits (which I even made special trips to buy). Fast forward to summer. Strawberry season. Strawberry curd.
If lemon curd is good, strawberry curd is amazing. Like if strawberry jam and buttercream frosting had a child.
According to Wikipedia, "Fruit curd is a dessert spread and topping usually made with lemon, lime, orange or raspberry. The basic ingredients are beaten egg yolks, sugar, fruit juice and zest which are gently cooked together until thick… In late 19th and early 20th century England, home-made lemon curd was traditionally served with bread or scones at afternoon tea as an alternative to jam, and as a filling for cakes, small pastries and tarts… Curds are different from pie fillings or custards in that they contain a higher proportion of juice and zest, which gives them a more intense flavor."
The strawberry curd was a hit with everyone who tried it. In fact, I had to put a moratorium on snacking to have some left for a recipe (which you will see later if it works).
While some (specially tested) lemon curd recipes can be water bath canned for longer storage, strawberry curd cannot. Butter and egg yolks add a wonderful richness that makes curds distinctive, but strawberries do not have the acidity to compensate. Never mind though, Marisa of Food in Jars says she believes that curd texture is better if frozen than canned anyway.
And strawberry curd is easy enough to make (really), so that small batches are a snap. The awesome flavor means it won't linger long in your refrigerator, so get it while you can!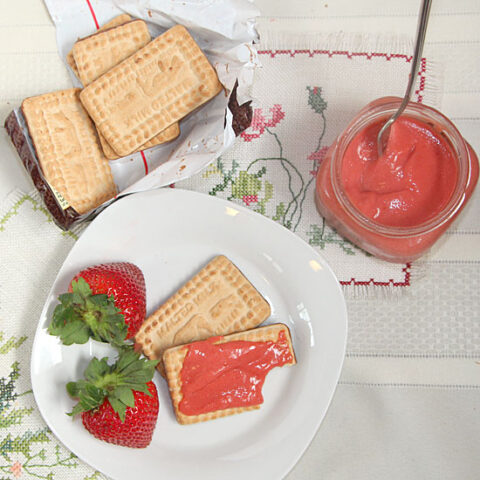 Strawberry Curd
Rich, fruity, homemade strawberry curd tastes like a cross between good jam and buttercream frosting-- and isn't hard to make!
Ingredients
12 ounces strawberries, by weight, about 3/4 of a quart
3/4 cup sugar
1 1/2 tablespoons cornstarch
1 tablespoon fresh lemon juice
3 large egg yolks, lightly beaten
6 tablespoons butter, cut into pieces
Instructions
Process strawberries in blender until smooth (seeds should grind up and not need to be strained).
In a heavy saucepan, combine sugar and cornstarch. Add strawberry puree, lemon juice, and beaten egg yolks. Cook over medium heat, whisking constantly, until very thick (approx 10 minutes). If you stir and drizzle a line of curd back into the pot, you should see a line of curd that takes a second or two to disappear.
Remove from heat; gradually add butter a pat at a time, whisking until melted. It is important to add the butter at this point (not earlier) for proper thickening.
Cool mixture slightly; cover and refrigerate for a couple hours until cool and further thickened. Store in refrigerator.
Notes
Tip: you can freeze the leftover egg whites (be sure to label with the number of whites in the container) for use in other recipes.

Nutrition Information:
Yield:

16
Amount Per Serving:
Calories:

101
Total Fat:

6g
Saturated Fat:

3g
Trans Fat:

0g
Unsaturated Fat:

2g
Cholesterol:

58mg
Sodium:

48mg
Carbohydrates:

12g
Fiber:

0g
Sugar:

10g
Protein:

2g
Nutrition data accuracy may vary with product selection, calculator accuracy, etc. Consult a professional for the best information.