Spicy and flavorful, Cajun Blackened Shrimp is delicious as an appetizer, entrée or ingredient in other dishes like tacos or pasta.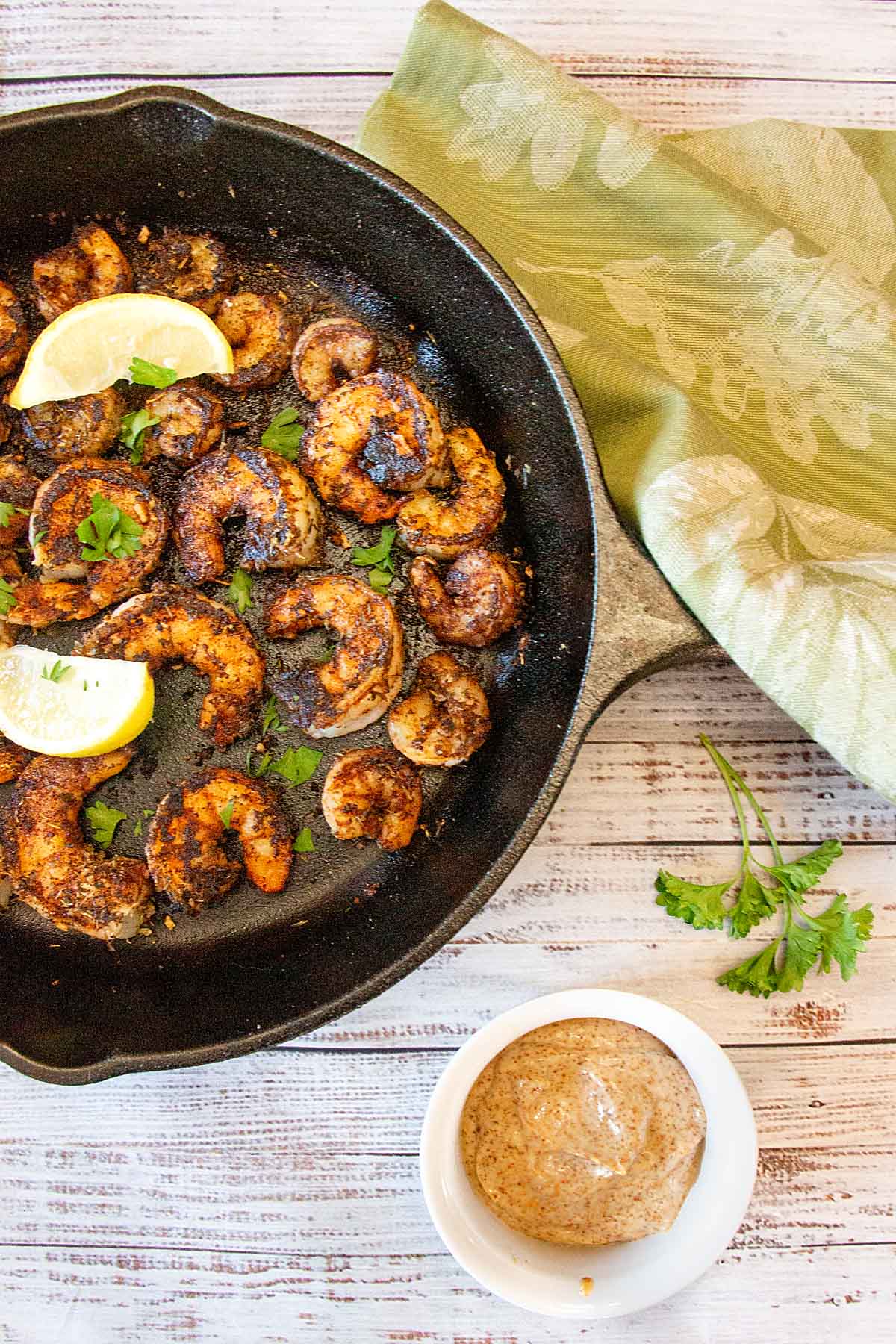 You've got to hand it to Blackened Shrimp. After all, how many recipes can work as both an entrée and an appetizer?
Just before the pandemic, I got to eat lots of tasty dishes like this when my husband and I spent an extended weekend in New Orleans. Between fun activities like jazz concerts and a swamp boat tour, we basically set out to eat ourselves into a stupor.
It was fun to try to recreate things we tried like this New Orleans Fried Oyster Salad. Though of course blackened shrimp wasn't something new to me–just new to my kitchen!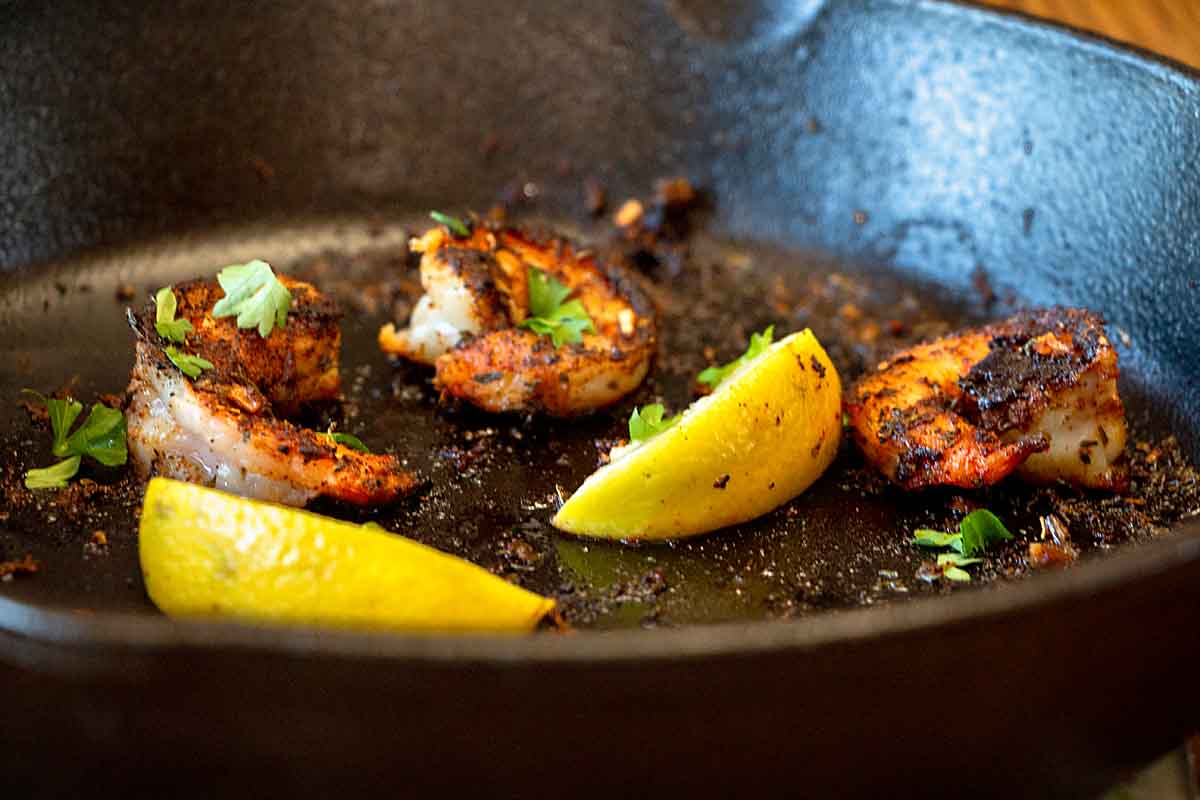 What is Blackened Shrimp
Per the kitchn "Blackening is a cooking technique most commonly used with firm-fleshed fish, chicken, steak, and other meats. This method of cooking is typically associated with Cajun cuisine…When blackened, the food is dipped in melted butter, then dredged in a combination of herbs and spices, before being cooked in a hot pan (traditionally cast iron). The result is pieces of meat or fish with a deep brown to black crust around the outside."
The spice mix is key bringing a characteristic New Orleans flavor–not surprising since the original "blackened" food was a blackened redfish done in New Orleans by Chef Paul Prudhomme.
Yes, ultimately the technique became so popular that it expanded both to other fish and meats plus all across the nation!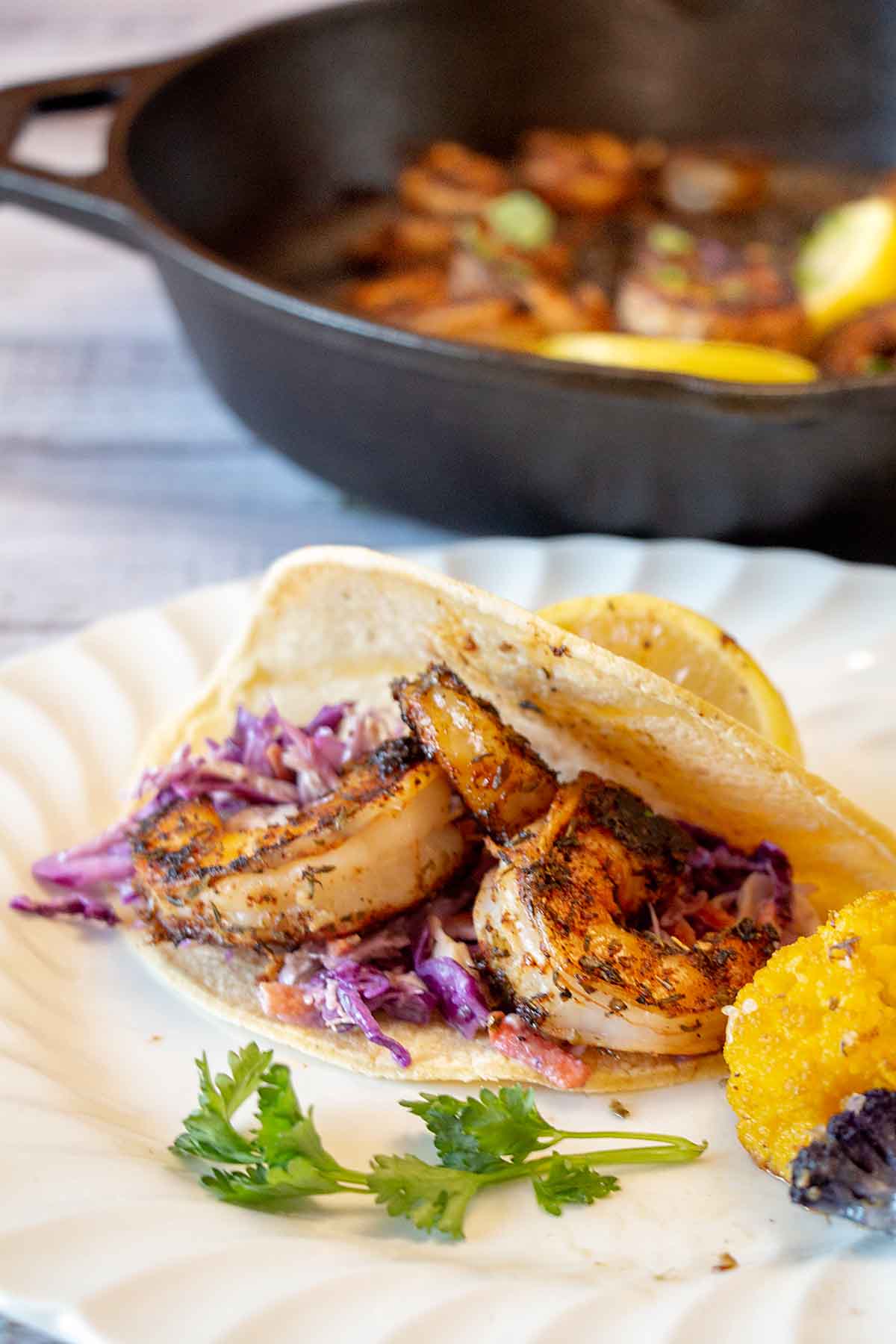 Why You'll Love This!
Quick & Easy. This is a super fast dish, that's easy to prepare and cook–in just minutes. In fact your sides may slow you down if you're not prepared.
Fun, Flavorful & Versatile. This dish is loaded with flavor plus is fun and versatile. It can go elegant for a dinner party or is equally at home for a picnic or taco night!
No special ingredients Other than the shrimp, you probably have everything you need!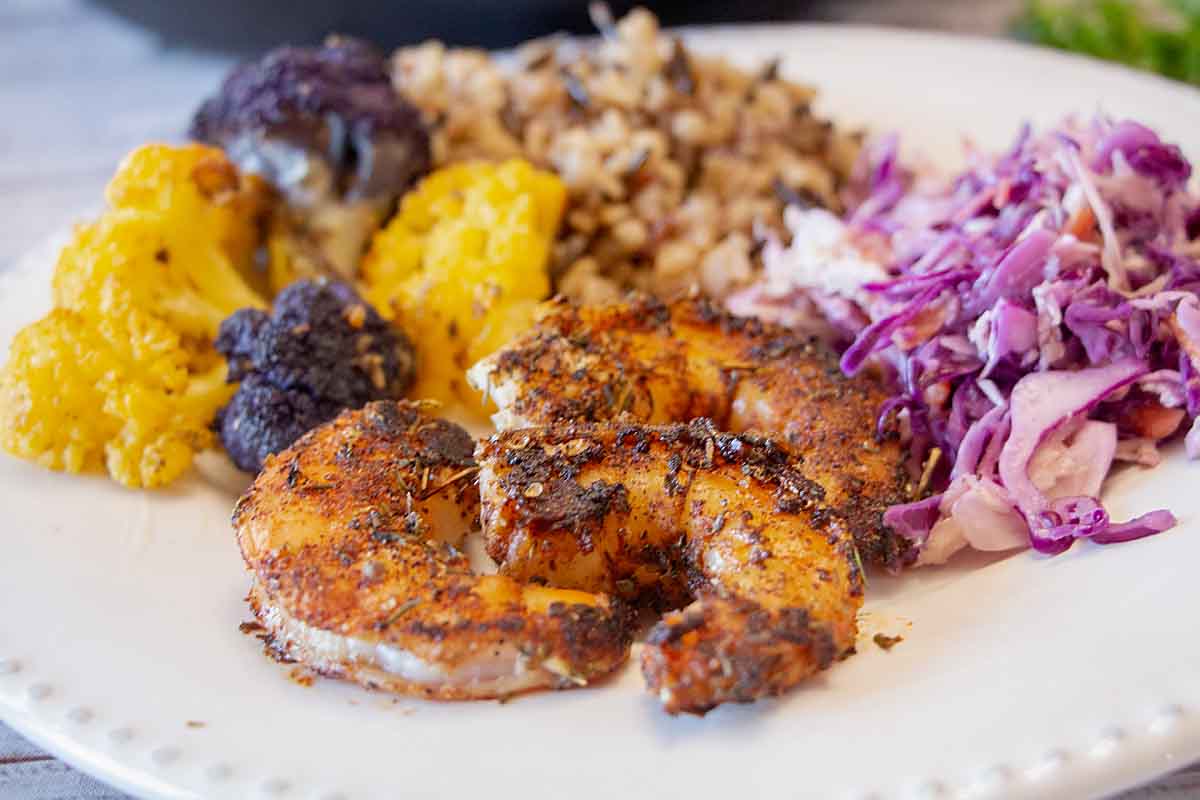 What You'll Need:
Ingredients
Shrimp. Large shrimp will be easier to work with. You use frozen or fresh, peeled or not. See FAQs below for some pros and cons of these choices.
Blackened Shrimp Seasoning. this is a mixture you can make at home with paprika, cayenne, thyme, oregano, garlic powder, onion powder, salt and pepper
Special Equipment
Frying pan that can withstand high heat, ideally cast iron.
Step by Step Directions
You start by peeling and (optionally) deveining the shrimp, then mixing up your spice mix.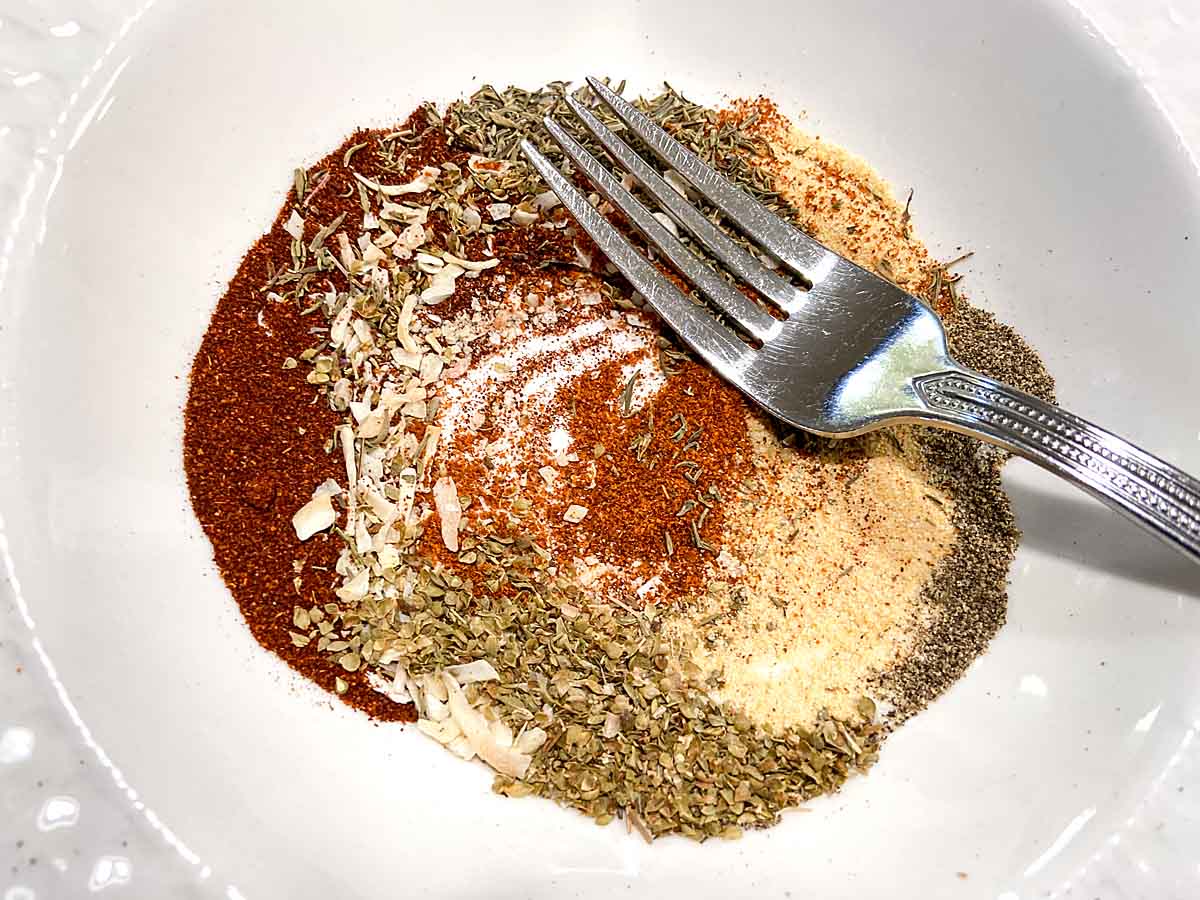 Heat your pan, then spray with non-stick spray.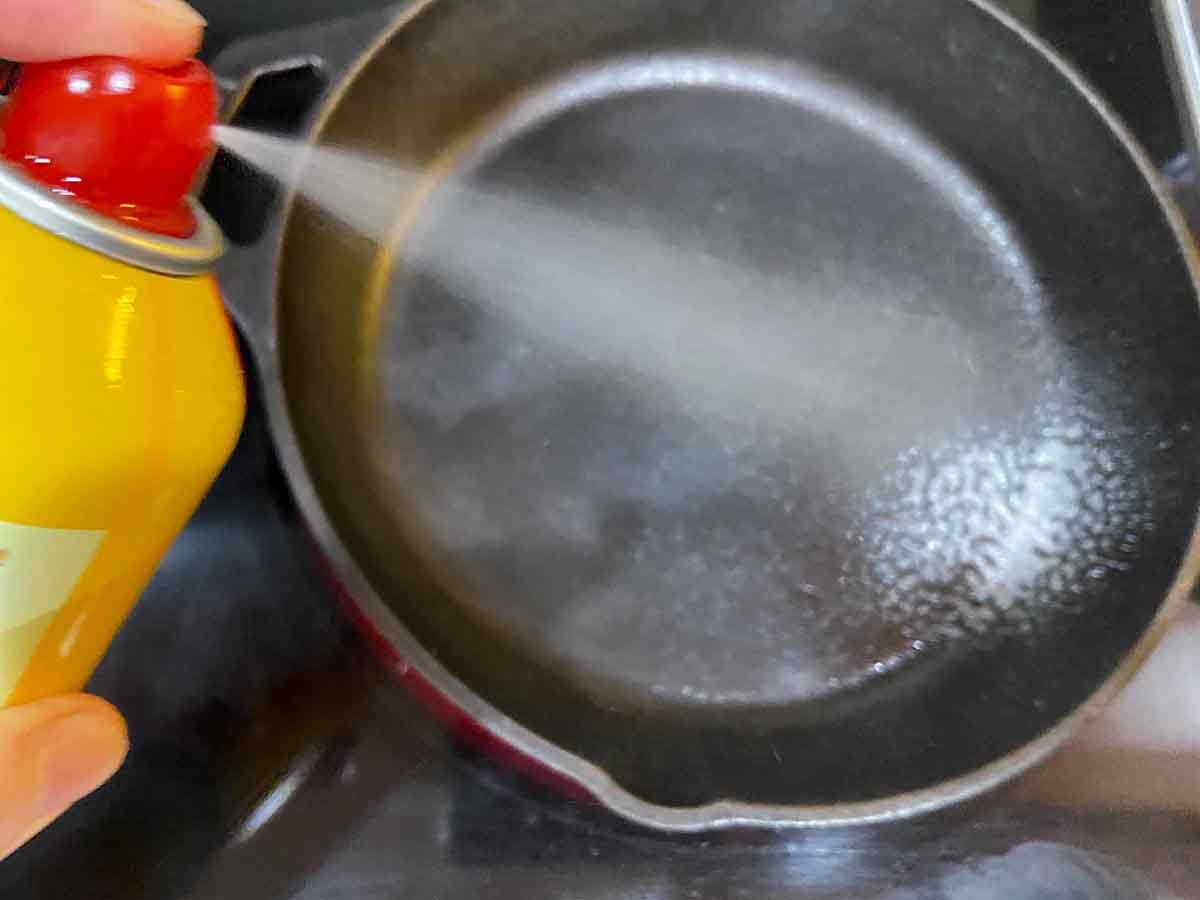 Coat both sides of the shrimp with spice mix, then cook a couple minutes on each side until blackened and cooked through.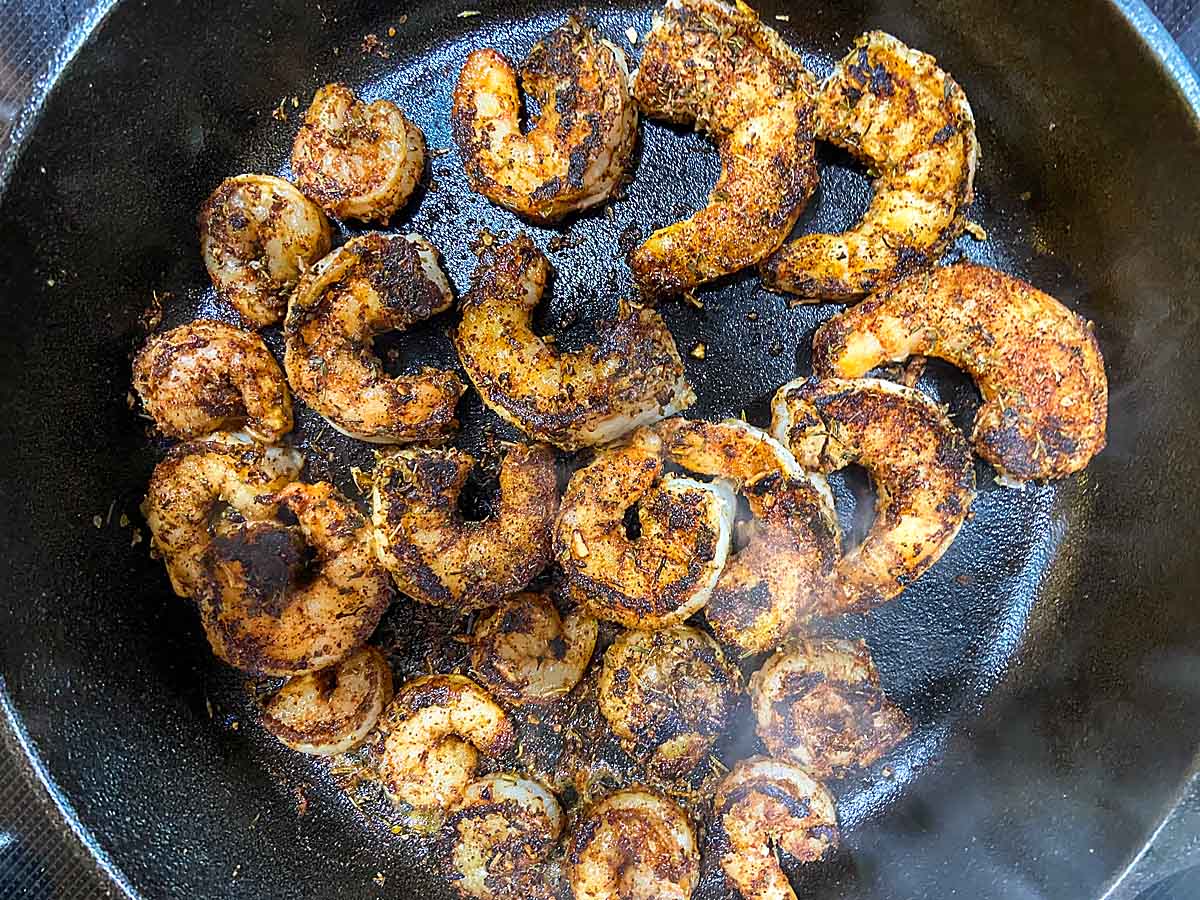 FAQs
Can I use frozen shrimp?
Yes, this can be made with fresh or frozen shrimp.
Should I use shelled or un-shelled shrimp?
My preference is to use shell-on shrimp. I think they often have more flavor and I always save the shells in my freezer until I have enough to make seafood stock!
One of my food insights from New Orleans was that using seafood stock adds a depth of flavor to seafood dishes.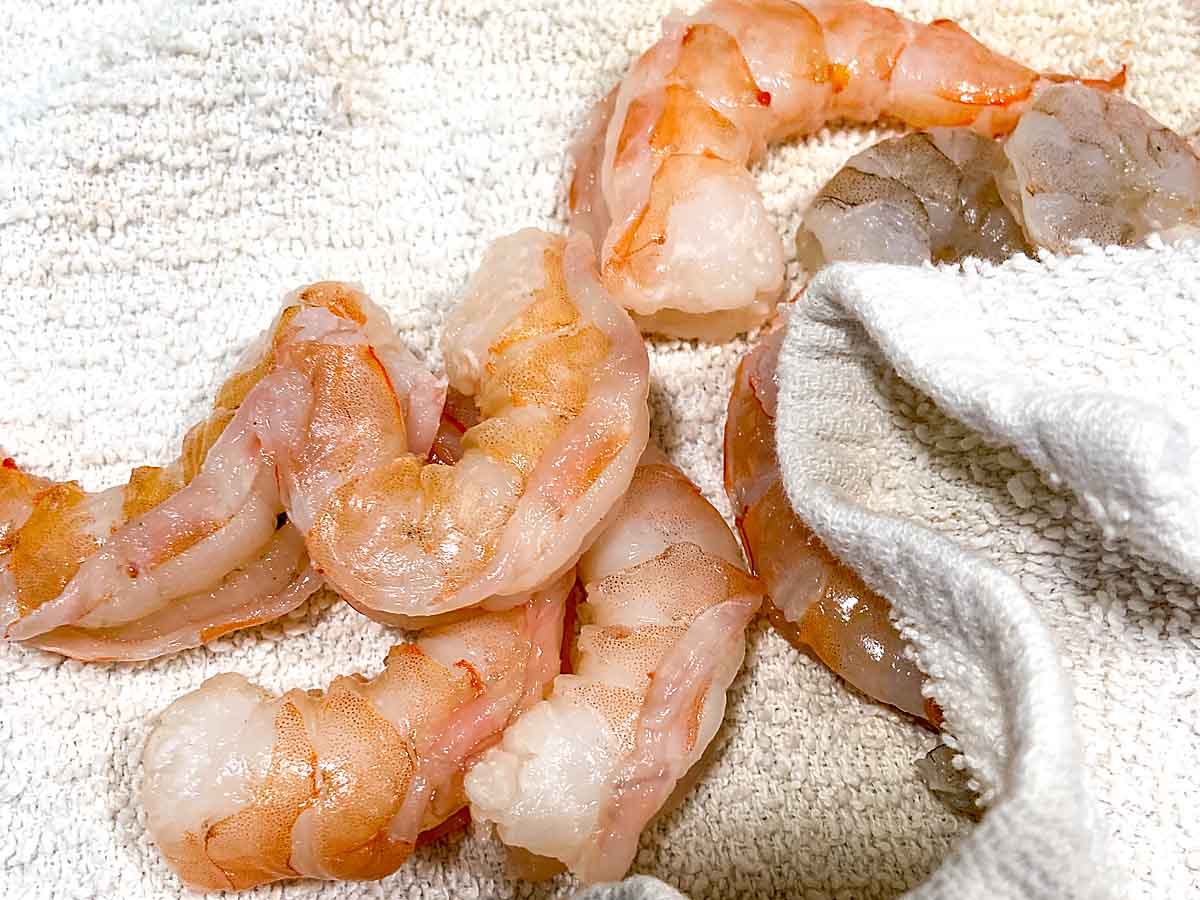 Do I need to devein the shrimp?
Did you know that the black line running down the back of the shrimp isn't really a vein but actually the digestive tract of the shrimp? And that to devein or not is actually a somewhat controversial topic?
Well disgusting as it may sound, not deveining may not actually be a food safety issue, since you'll be cooking the shrimp. So since it's an aesthetic issue, I'll let you decide for yourself!
How do I shell and devein shrimp?
With cooked shrimp, I peel them like everyone else—I start at the legs and tear the shell around the body until it is off. Many people do this for raw shrimp as well.
But I have found that the shells often shred a bit when raw, so I use a different technique then. I use a scissors to cut down the back of the shrimp, then pull the shell off in either direction.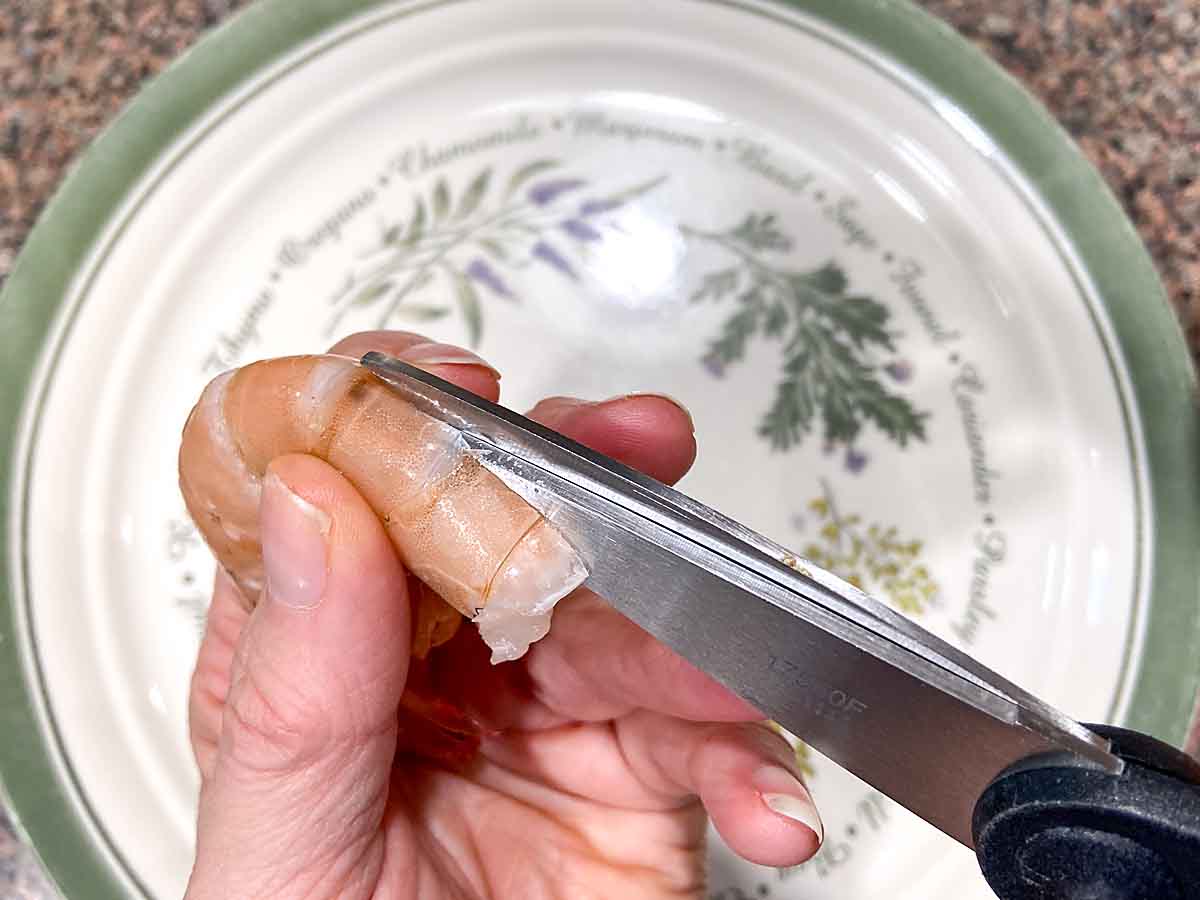 This has the added benefit of exposing the vein which is then really easy to pull out—and requires very little extra work.
But if I happen to have shrimp that I'm not peeling, or smaller shrimp, this is something I may skip.
What if I don't own a cast iron skillet?
Blackened Shrimp is traditionally cooked in cast iron but a second choice would be a quality stainless steel pan. Given the high heat, I would not use a non-stick pan.
How to Serve
Blackened Shrimp is delicious as an appetizer, an entrée, or as an ingredient in a number of different dishes.
If you are serving it as an entrée, compatible sides include rice pilaf and grilled vegetables. Blackened shrimp are also tasty over grits. And consider a remoulade dipping sauce.
Or stick with a full cajun theme and use sides like red beans & rice, cornbread, dirty rice and okra.
Finally blackened shrimp can be a delicious component in dishes like tacos, pasta (perhaps deglaze the pan with some wine and cream), wraps (lettuce or tortilla or pita), or salads.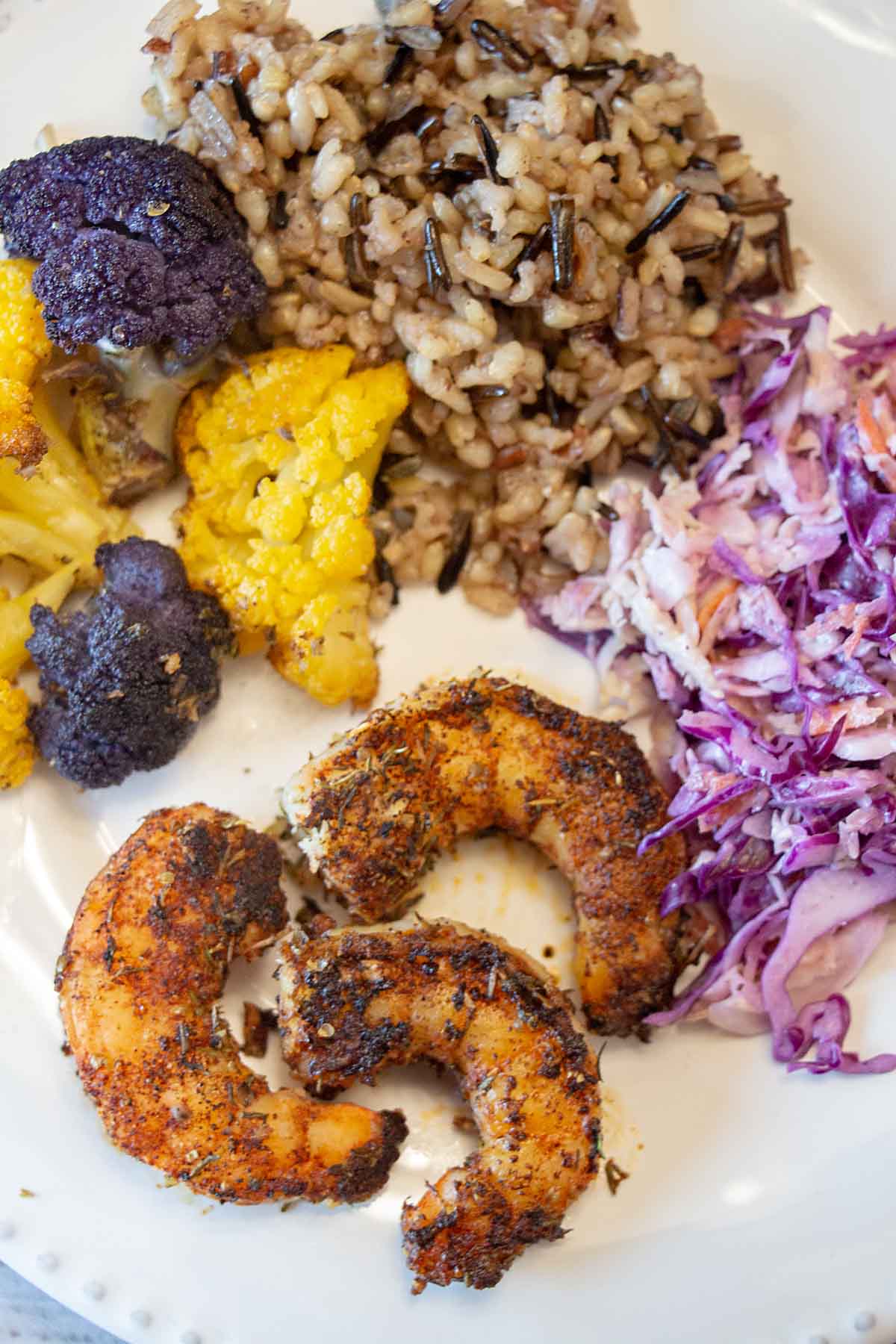 Make Ahead and Leftover Tips
If you'd like to save time there are a few things you can do ahead of time. First, you can peel and devein (if doing) the shrimp the day before, then store, covered, in the refrigerator (the USDA recommends storing raw seafood for no more than 1 or 2 days) . You can blend up the spice mix ahead of time as well. And at this point, preparation won't take much more time than reheating!
On the odd chance you have some left, store the cooked shrimp in the refrigerator for up to 3 or 4 days. It can be used in any of the dishes listed above or just eaten by itself. For longer storage, cooked shrimp can be frozen, then thawed for later consumption. Just remember that if you "used up" your 3 or 4 days of storage before you froze it, you'll need to consume it right away when you thaw it!
Final Notes
Even without using butter, this dish can be very smokey. In fact, many people recommend cooking this outside (still in a cast iron pan for the char) or at the very least temporarily shutting off the smoke detectors.
Cajun Creations
We share Recipes From Our Dinner Table! Join our group and share your recipes, too! While you're at it, join our Pinterest board, too!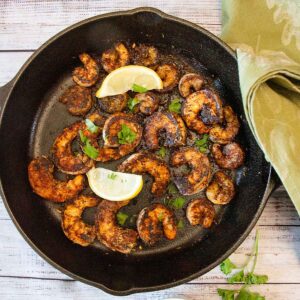 Blackened Shrimp
Spicy and flavorful, Cajun Blackened Shrimp can work as an appetizer, entréeor ingredient in other dishes like tacos or pasta.
Ingredients
1

pound

large shrimp

PAM cooking spray

or oil for frying
Blackened Shrimp Seasoning Mix:
2

teaspoons

paprika

1/4

teaspoon

cayenne pepper

1

teaspoon

dried thyme

1

teaspoon

dried oregano

1

teaspoon

garlic powder

1

teaspoon

onion powder

1/2

teaspoon

fresh ground black pepper

1/2

teaspoon

salt
Instructions
Peel shrimp and devein if desired.

Start cast iron skillet heating over medium high heat

Mix seasoning ingredients together. Sprinkle seasoning on both sides of shrimp.

When pan is very hot, spray with PAM non-stick spray. Add seaasoned shrimp to pan. Turn when charred (about 2 minutes). Cook until both sides are charred and shrimp is cooked through.
Notes
This gets very smoky and some people recommend cooking outside.
Nutrition
Calories:
90
kcal
Carbohydrates:
3
g
Protein:
16
g
Fat:
1
g
Saturated Fat:
0.2
g
Polyunsaturated Fat:
0.3
g
Monounsaturated Fat:
0.1
g
Trans Fat:
0.01
g
Cholesterol:
143
mg
Sodium:
934
mg
Potassium:
176
mg
Fiber:
1
g
Sugar:
0.2
g
Vitamin A:
767
IU
Vitamin C:
0.4
mg
Calcium:
79
mg
Iron:
1
mg
I am not a health professional and nutrition data is calculated programatically. Accuracy may vary with product selection, calculator accuracy, etc. Consult a professional for the best information.