Dutch Baby or German Pancake
With a creamy, egg-y center & puffy, crisp exterior, a German Pancake (or Dutch Baby Pancake) is perfect for breakfast, brunch or dinner.
This post may contain Amazon or other affiliate links, which can earn me a small commission, please see my

policy

page for details.
Pancakes are lucky. They get celebrated twice a year. If you miss the first Pancake Day (Britain's version of Fat Tuesday), there is another in the US. Which happens to be today.
And so I made a German Pancake, also known as a Dutch Baby Pancake.
This fun and classic dish is basically a giant popover–creamy, egg-y center, puffy, crisp sides. I've wanted to make one for my family for ages, but it never took priority. But when I acquired an 8 inch cast iron pan, right before Pancake Day, it seemed like fate.
Now German Pancakes and I go way back. When I was growing up, I'd sometimes tag along with my parents on one of their "date nights". If we went to Pandl's, a long established German restaurant, their German Pancake was top on my list of dinner entrees. Some people split it for dessert, but I just indulged. It also works great as a brunch dish.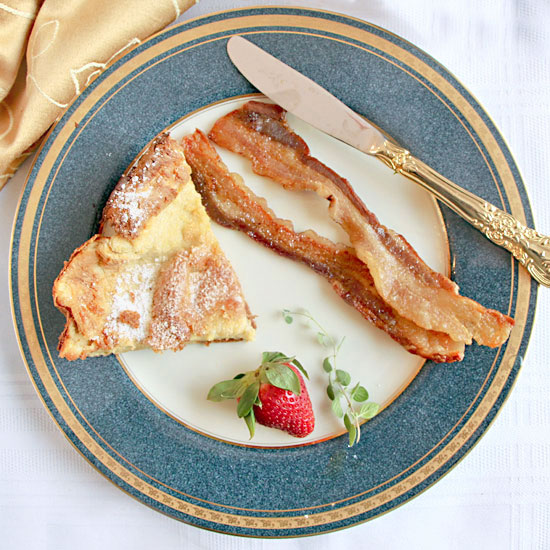 The quantities is the recipe below worked perfectly for my 8 inch pan. We added some side pork (thick uncured bacon) and split it between three people, though most people would serve it to two. I would double or triple the quantities for a 10 or 12 inch pan or a bigger crowd.
If you don't have an 8 inch cast iron skillet (or one the right size), people also make these in pie pans or stainless steel pans–just be sure it can go into the oven at a high temperature (no plastic handles, etc). But if you are in the market, Lodge is a well-respected brand and I have used both their 8 inch and 10 inch pans (and grill pan) for years.
And as rich pancake dishes go, the calories are quite reasonable–as long as you watch the added syrup!
Making this was actually super easy. Just preheat the pan in the oven, blend up the ingredients in the blender and bake. Why didn't I try this before!
I served this with powdered sugar and syrup, but next time I may go with a homemade compote or sliced fruit to up the health value. Happy Pancake Day!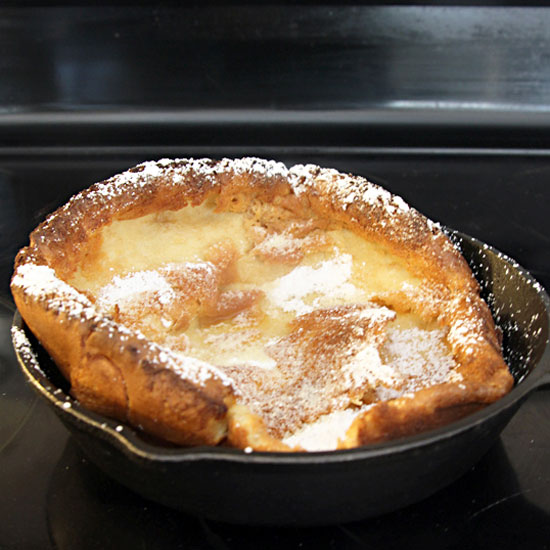 German Pancake
2015-03-03 16:55:35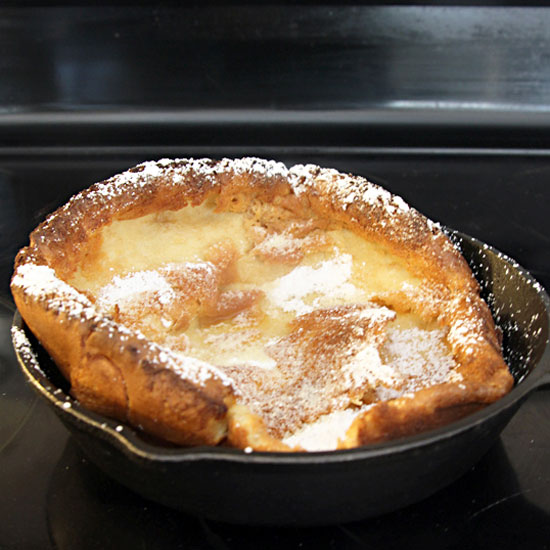 Serves 2
With a creamy, egg-y center and puffy, crisp exterior, a German Pancake (or Dutch Baby Pancake) is perfect for breakfast, brunch or a fun dinner.
Nutrition Facts
Amount Per Serving
* Percent Daily Values are based on a 2,000 calorie diet. Your Daily Values may be higher or lower depending on your calorie needs.
Ingredients
3 eggs, room temperature
1/2 cup skim milk, room temperature
1/2 cup bread or all-purpose flour
1/2 teaspoon pure vanilla extract
1 T sugar
2 T butter
Powdered (confectioner's) sugar for garmish
Instructions
Preeheat oven to 450F with the oven rack on the middle of your oven. Place an 8 inch heavy ovenproof frying pan or a cast iron skillet in the oven while it is preheating.
In a large bowl or blender, combine the eggs, milk, flour, vanilla extract, and sugar. Beat for 5 minutes until smooth and creamy.
When the oven is up to temperature, using pot holders, remove the hot skillet from the oven (or do this very carefully on the rack). Add the butter; tilting the pan to melt the butter and coat the skillet. Pour the prepared batter into the hot skillet, all at once, and immediately return the skillet to the oven.
Bake approximately 20-25 minutes or until puffed and golden brown, watching carefully. The pancake should puff up around the edges; it may puff irregularly in the center.
Carefully remove the pancake from the oven and serve immediately. For a classic German/Dutch Baby Pancake, dust the top with powdered sugar.
Notes
Note: For a larger frying pan (and more servings), you can double the ingredients.
Art of Natural Living https://artofnaturalliving.com/