Dutch Baby or German Pancake
With a creamy, egg-y center and puffy, crisp exterior, a German Pancake (or Dutch Baby Pancake) is perfect for breakfast, brunch or dinner.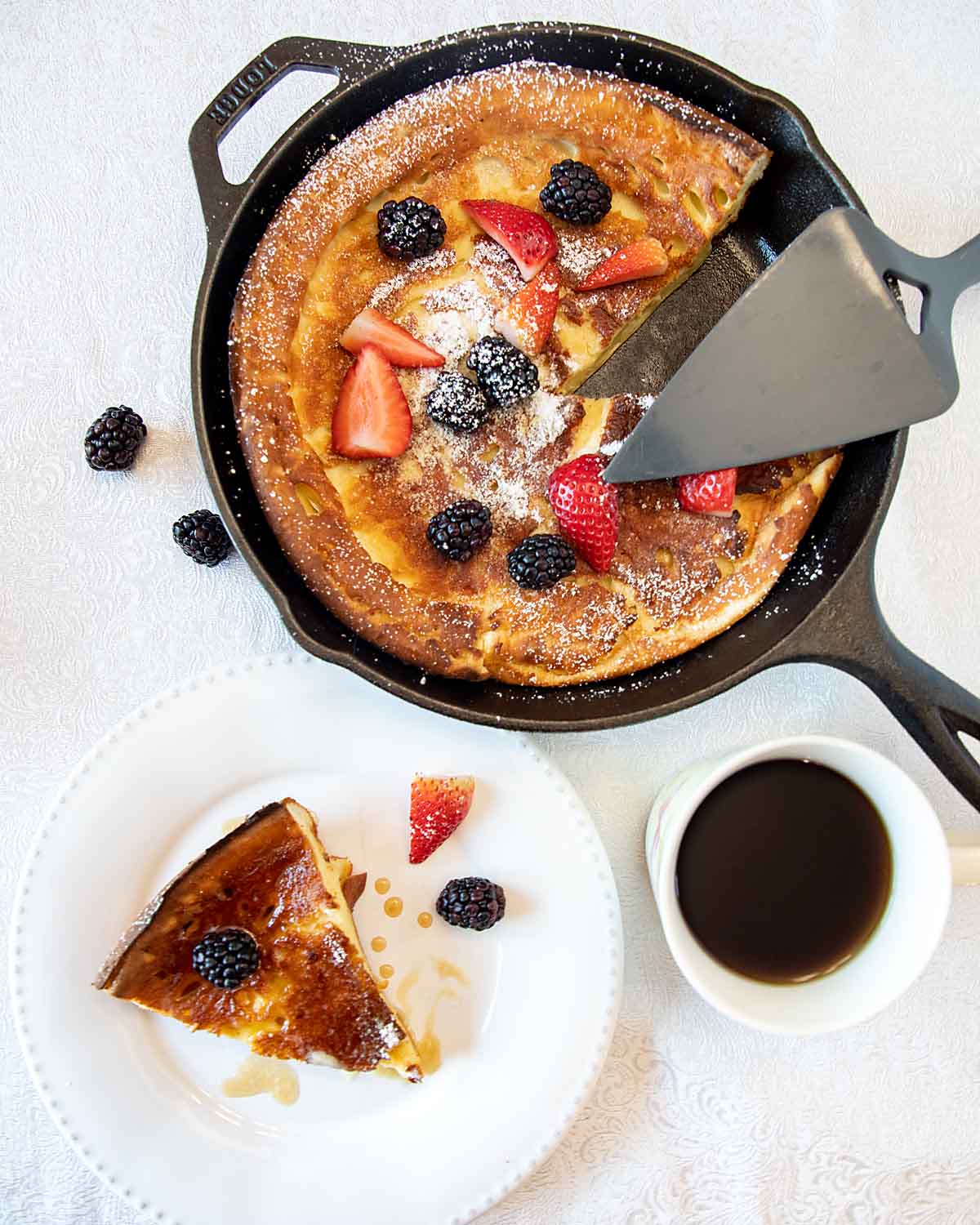 Pancakes are lucky. They get celebrated twice a year. If you miss the first Pancake Day (Britain's version of Fat Tuesday/Mardi Gras), there is another in the US–on September 26 in 2022!
And with Mardi Gras, coming up, I decided to make a German Pancake, also known as a Dutch Baby Pancake.
Yes, if you love pancakes and want to try something different, this Dutch Baby Pancake can be a new and exciting addition to your must-try recipes! With just a few simple steps, you will be able to treat your family to a fun and classic dish.
The creamy and pudding-like center with fluffy and crisp sides seem almost magical. But you'll be surprised at how easily you can achieve a special treat. With only a handful of ingredients and a few minutes of cooking time, you'll have the perfect pancake on your plate!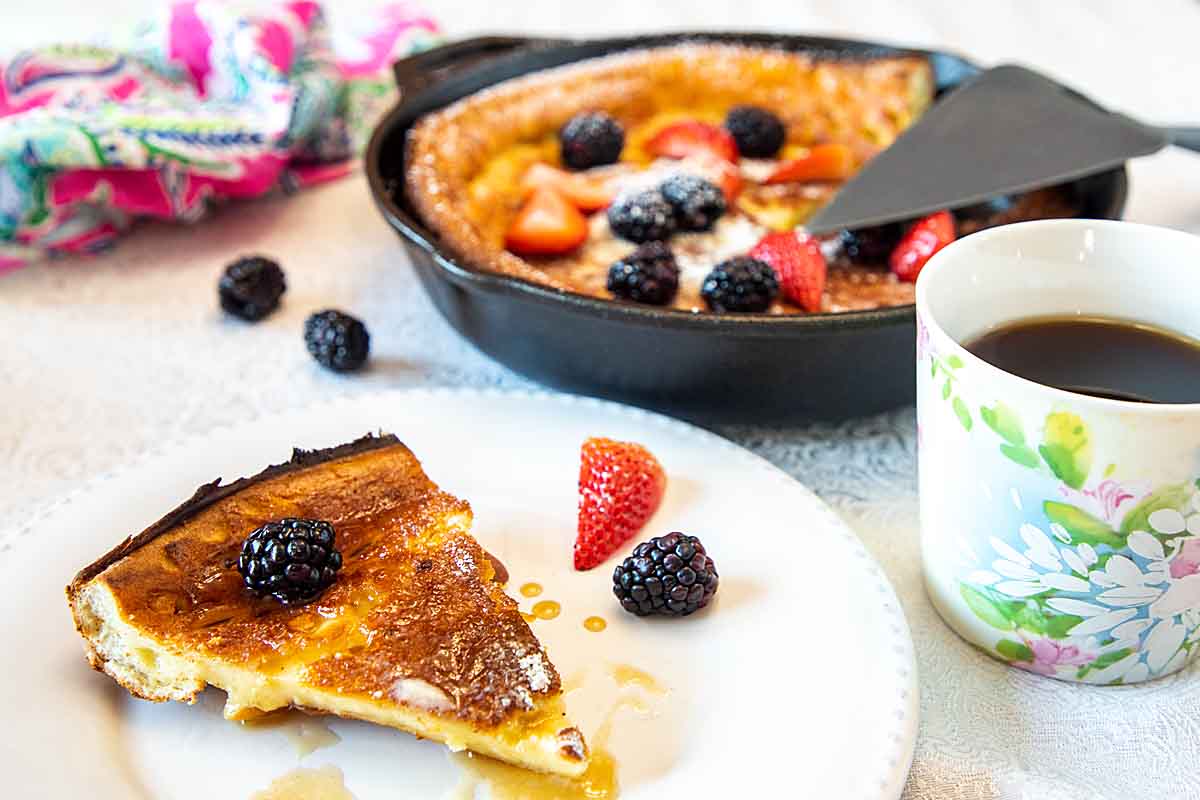 What is a Dutch Baby or German Pancake?
A Dutch Baby Pancake (or Dutch pancake or German oven pancake) is basically a giant popover – with a creamy, pudding-like center, and puffy, crisp sides. This baked pancake only requires whipping a few ingredients in a blender, pouring the blended batter into a hot cast iron pan, and baking for a few minutes.
But why two names? Per Cooks Illustrated, "German pancakes and Dutch babies are essentially the same thing, but the dish is said to have originated in Germany, not the Netherlands. The term "Dutch baby" was coined by an American restaurateur whose use of "Dutch" was a corruption of the word "Deutsch" ("German" in German). "Baby" referred to the fact that the restaurant served miniature versions."
Why You'll Love This
Easy to make. This Dutch pancake can be easily made in just a few simple steps.
Unique and fun.This is a different and exciting twist to your regular pancake. German pancakes are a great recipe to try if you love pancakes but want something new at the same time.
Uses simple ingredients. This recipe requires only a few basic ingredients.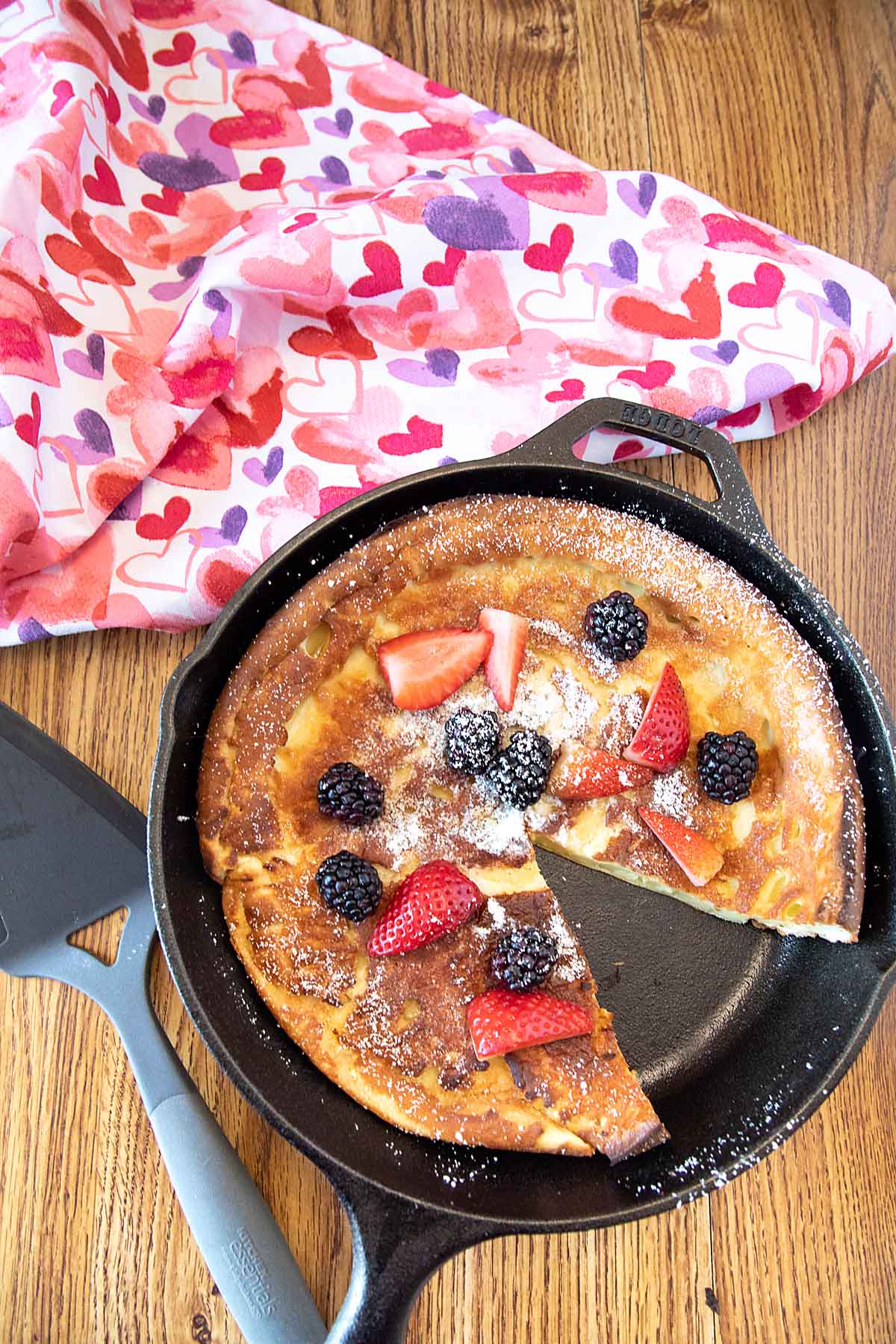 What You'll Need
Ingredients
Eggs. These will help hold all the other ingredients together and provide the custard-like texture and flavor of the pancake. It best to use eggs at room temperature. To warm eggs from the refrigerator, you can place in hot tap water for a few minutes.
Milk. I have made this with every dairy milk from skim to whole with good results. I haven't tried non-dairy milk but think it should work. If you've tried this, let me know in the comments!
Bread or all-purpose flour. This helps with the structure of your pancake and the gluten is considered an important structural component. One reader reported success with Bob's Red Mill gluten free flour as well (which probably has ingredients that compensate for the lack of gluten).
Pure vanilla extract. This ingredient helps elevate the flavors of the pancake and adds a pleasant aroma.
Sugar. To add a slight sweetness and help browning.
Butter. To be used for coating the skillet or pan.
Powdered confectioner's sugar. For garnish and flavor.
Special Tools
You'll need a blender and an oven-safe skillet.
On skillet selection
A cast iron skillet is traditional, but you can make a Dutch Baby without cast iron. Just use a quality skillet that is oven safe to 425F–including the handles. And while I have read that the straight sides are important, Cooks Illustrated used a stainless steel, sloped sided skillet that worked fine for them.
I have even heard of people using baking dishes, like pie dishes as well–again beware of their heat tolerance. If you've tried this, I'd love to hear your results.
The pan size to batter ratio is important to achieve good rise and also for a center that is moist and egg-y without being too dense. I have tested this recipe in both an 8 inch and 10 inch skillet with good results. For a 12 inch skillet, the ingredients should be doubled.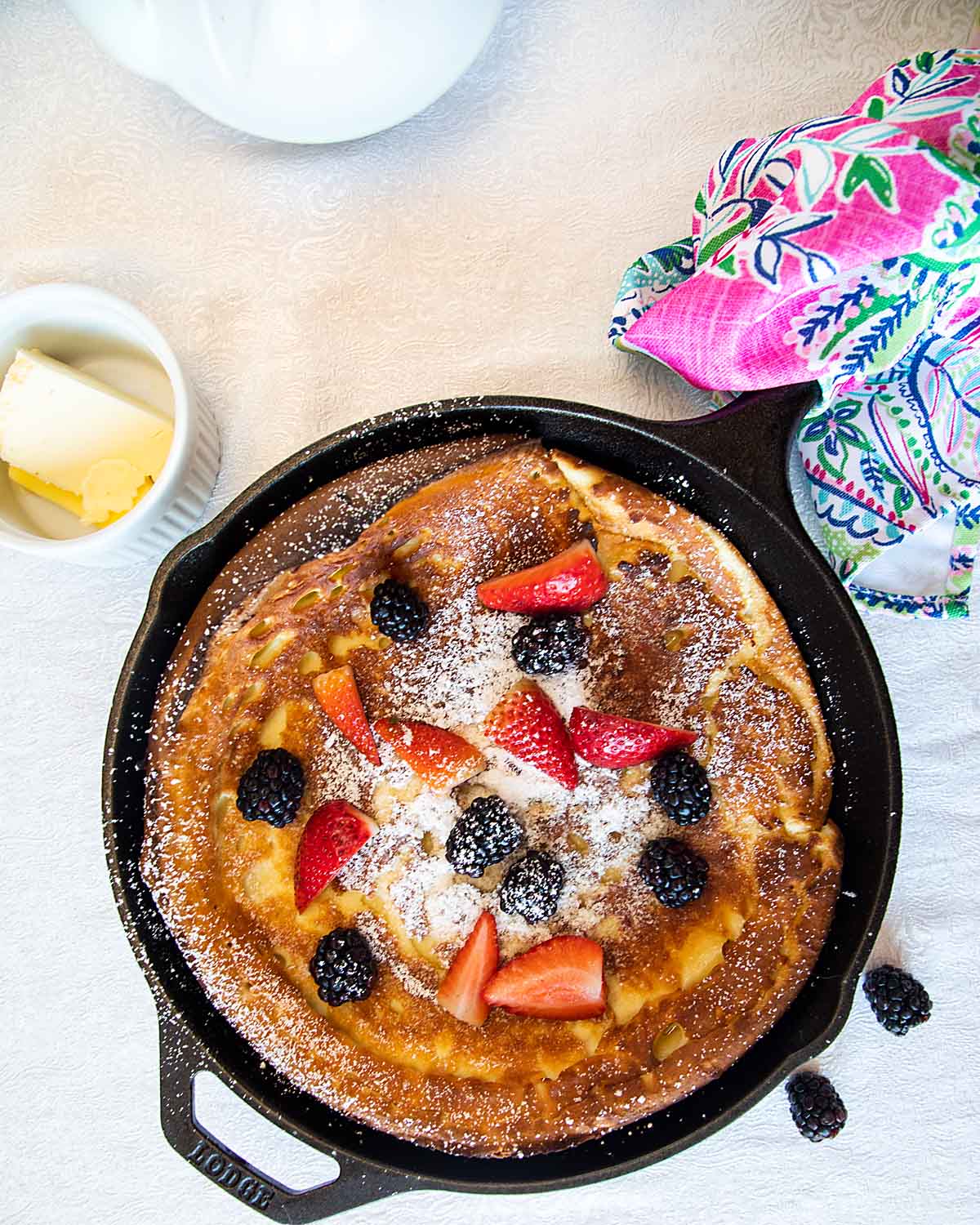 Step by Step Directions
Place the pan in the oven and set to 425 F to preheat.
While waiting, combine the eggs, milk, flour, vanilla extract, and sugar in a blender. Blend for 5 minutes until smooth and creamy. You are helping the gluten develop while you blend.
When oven is hot and the batter is ready, melt the butter in the preheated pan to coat its surface.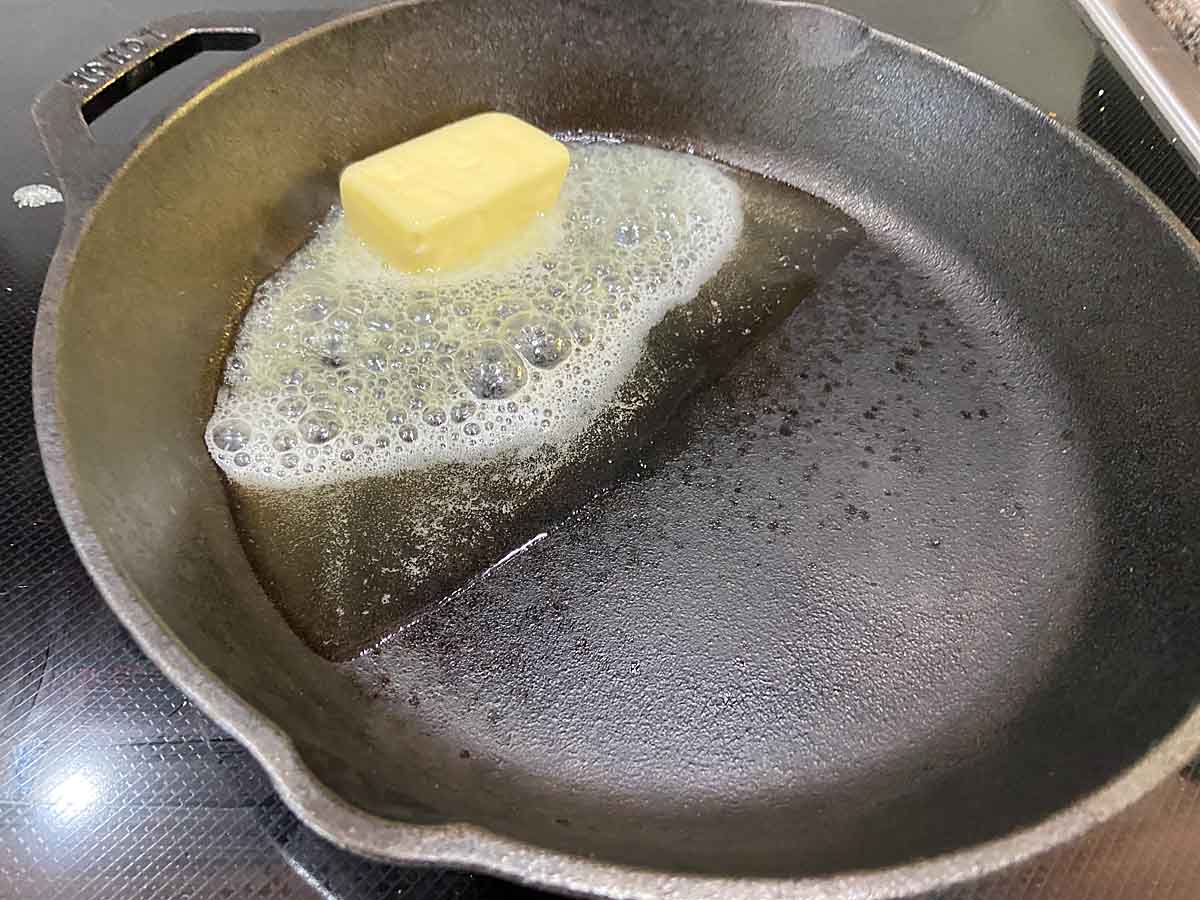 Pour the pancake batter into the pan and bake for approximately 15-20 minutes until puffed and golden brown.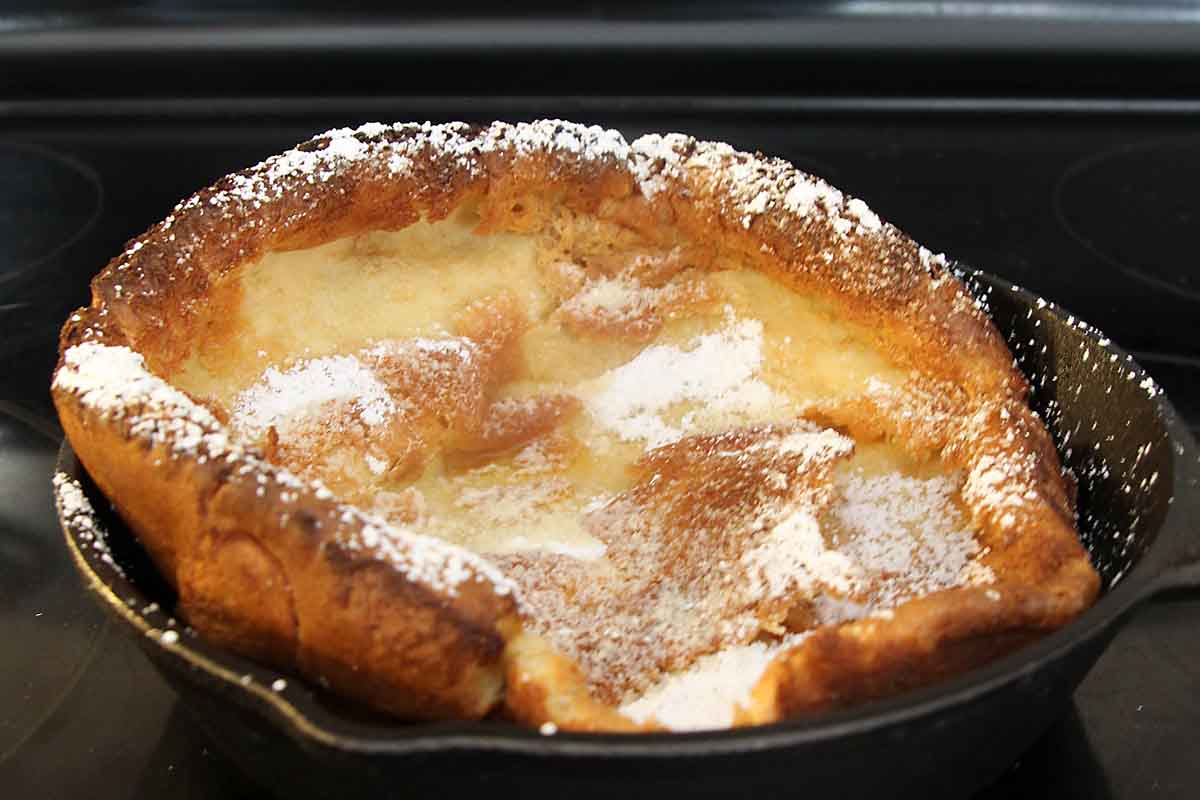 Dust the top with powdered confectioner's sugar for a classic Dutch Baby or German pancake.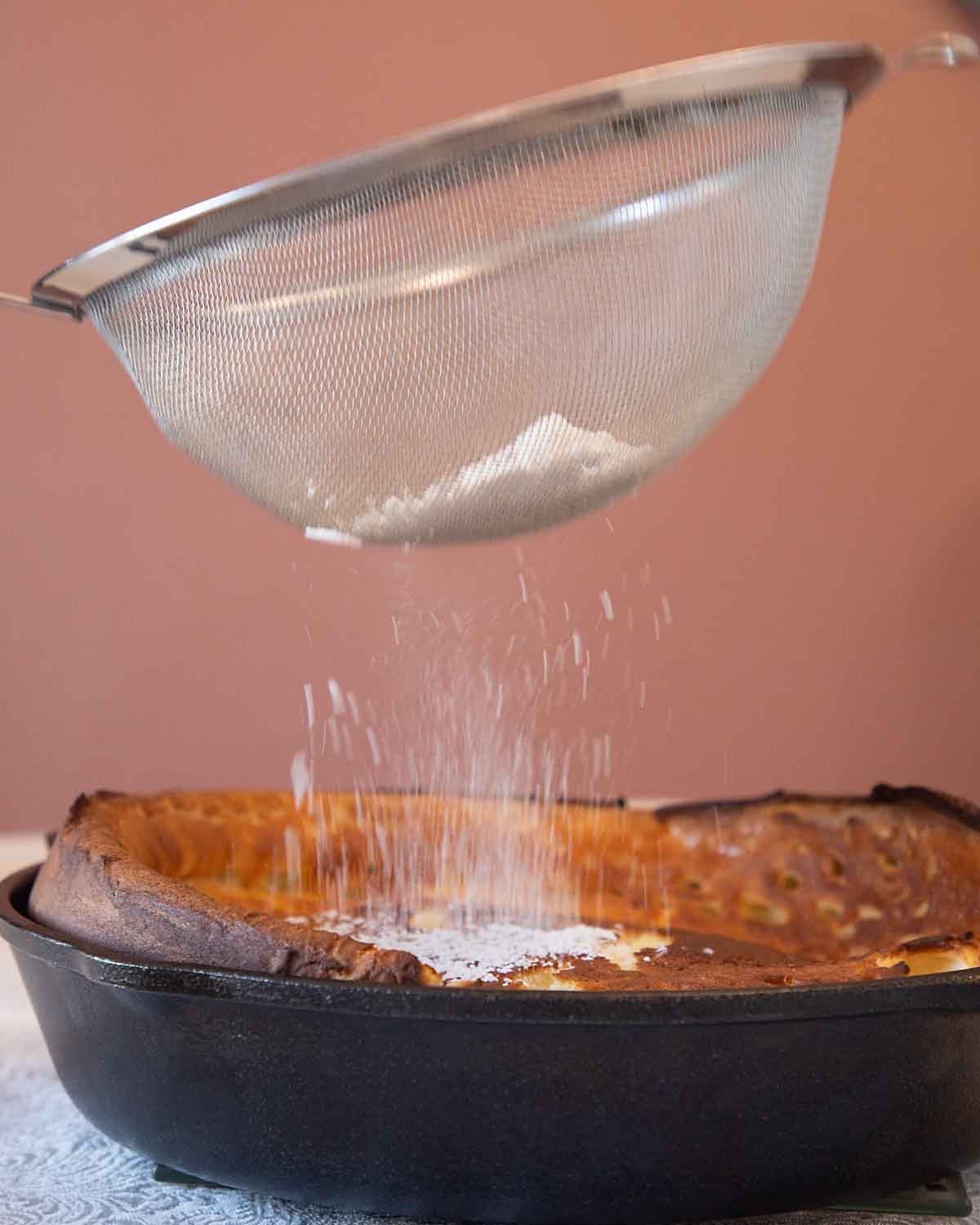 Serve immediately!
How to Serve
This dish is so versatile that you can serve this for any meal, whether it's breakfast, brunch, lunch or dinner! It also makes a tasty dessert.
I personally find it perfect simply with powdered sugar and butter, though most people (including my kids!) prefer adding maple syrup. Of course to up its health value, topping with fresh berries or sliced fruit is another tasty option! And cooking with apples like this Apple Dutch Baby recipe is also fun!
And you can choose to serve this German oven pancake with slices of bacon on the side.
The menu for Jack Pandl's German Restaurant in Milwaukee, WI, lists the following options:
With maple syrup, lemon, powdered sugar and butter
Add Soup/Salad and Rolls
Add Bacon or Pork Sausage
Yes, when I have this for dinner, I especially love to add a little protein like the sausage or a heartier soup!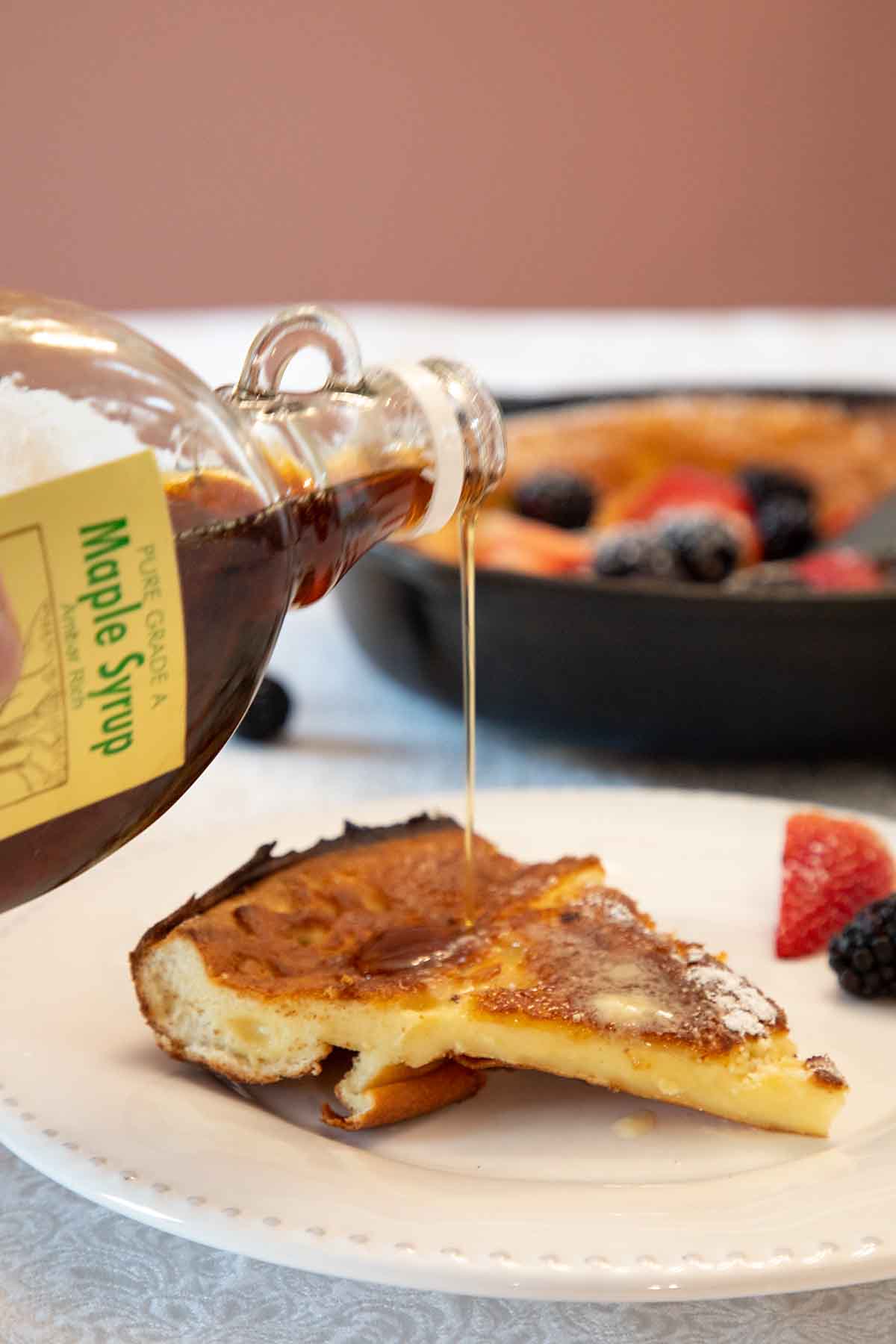 Before and After
Make Ahead Tips
Because the batter uses steam rather than leavening like baking soda or powder to rise, being able to make it the night before makes logical sense. Now I haven't tried this, but the folks at thekitchn did. While they pronounced it not quite as good (it was a bit less lofty), it still produced a light and tasty German Pancake.
If you are serving with fruit, that can definitely be prepared ahead of time!
In Case of Leftovers
Leftover ideas
This is best consumed straight from the oven, but the leftovers can still be good. And if you have some left, you can bring new life to it by adding different toppings. Feel free to be creative! Place the leftovers in an airtight container and keep in your refrigerator for up to 3 days. You can reheat the pancake using a microwave or in the oven.
Can this be frozen?
Freezing leftover Dutch pancakes is okay in a pinch, but its consistency and texture may suffer some.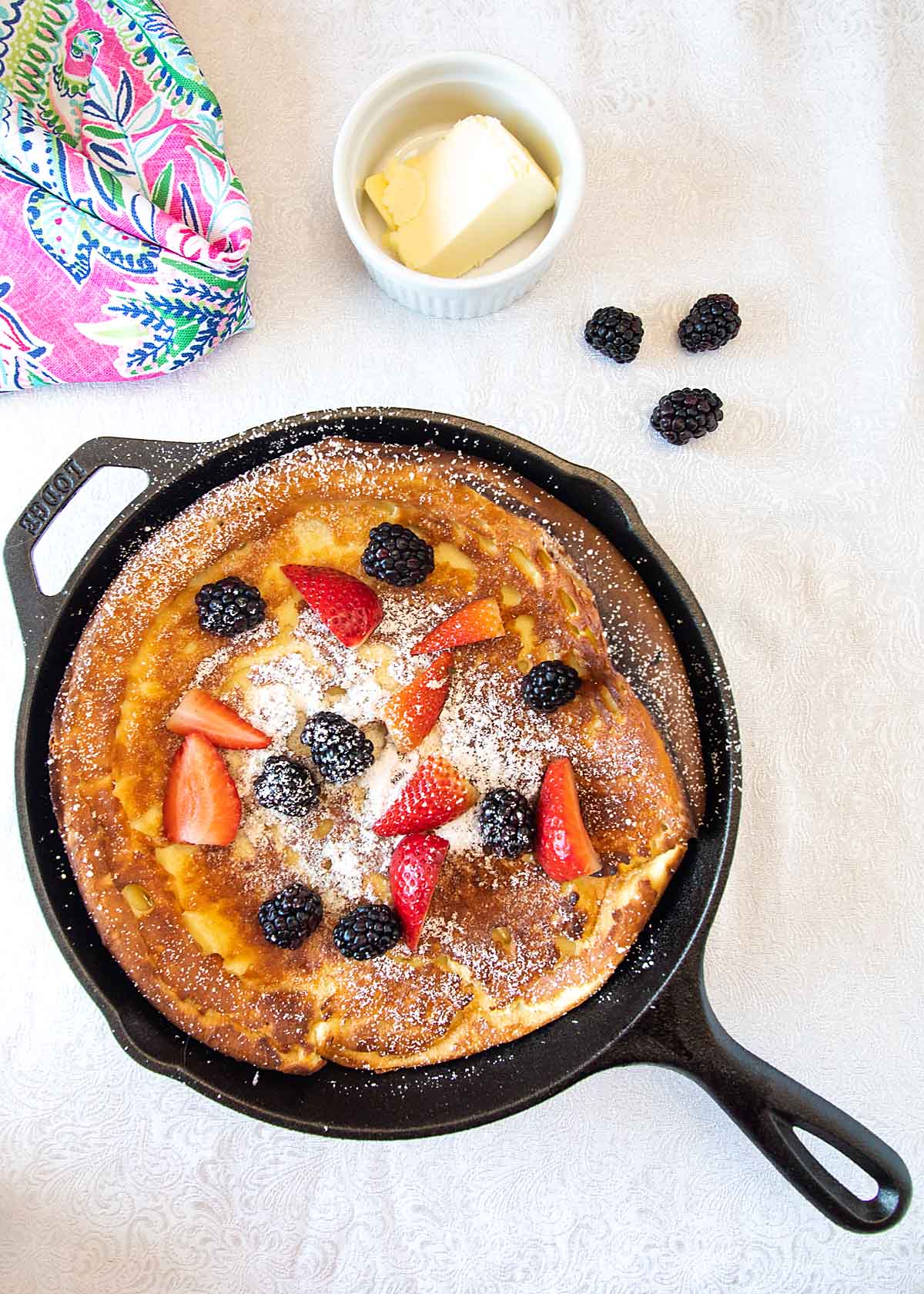 And for more fun and tasty options, take a look at these other blander pancake recipes–Swedish pancakes and crepes with lemon curd and mascarpone.
Dutch Baby or German Pancake
With a creamy, egg-y center and puffy, crisp exterior, a German Pancake (or Dutch Baby Pancake) is perfect for breakfast, brunch or a fun dinner.
Ingredients
3

eggs

room temperature

1/2

cup

skim milk

room temperature

1/2

cup

all-purpose flour

1/2

teaspoon

vanilla extract

1

Tablespoon

sugar

2

Tablespoons

butter

1

Tablespoon

powdered sugar

for garmish
Instructions
Preheat oven to 425F with the oven rack on the middle of your oven. Place an 8 or 10 inch heavy ovenproof frying pan or a cast iron skillet in the oven while it is preheating.

In a large bowl or blender, combine the eggs, milk, flour, vanilla extract, and sugar. Beat for 5 minutes until smooth and creamy.

When the oven is up to temperature, using pot holders, remove the hot skillet from the oven (or do this very carefully on the rack). Add the butter; tilting the pan to melt the butter and coat the skillet. Pour the prepared batter into the hot skillet, all at once, and immediately return the skillet to the oven.

Bake approximately 15-20 minutes or until puffed and golden brown, watching carefully. The pancake should puff up around the edges; it may puff irregularly in the center.

Carefully remove the pancake from the oven and serve immediately. For a classic German/Dutch Baby Pancake, dust the top with powdered sugar.
Notes
For a 12 inch frying pan (and more servings), you can double the ingredients.
Nutrition
Calories:
371
kcal
Carbohydrates:
37
g
Protein:
14
g
Fat:
18
g
Saturated Fat:
9
g
Polyunsaturated Fat:
2
g
Monounsaturated Fat:
5
g
Trans Fat:
0.5
g
Cholesterol:
277
mg
Sodium:
210
mg
Potassium:
232
mg
Fiber:
1
g
Sugar:
13
g
Vitamin A:
831
IU
Calcium:
126
mg
Iron:
3
mg
I am not a health professional and nutrition data is calculated programatically. Accuracy may vary with product selection, calculator accuracy, etc. Consult a professional for the best information.