Frozen Strawberry Margarita
Is there anything more refreshing than a Frozen Strawberry Margarita! A sweet, fruity cocktail it's also good as a Virgin Margarita!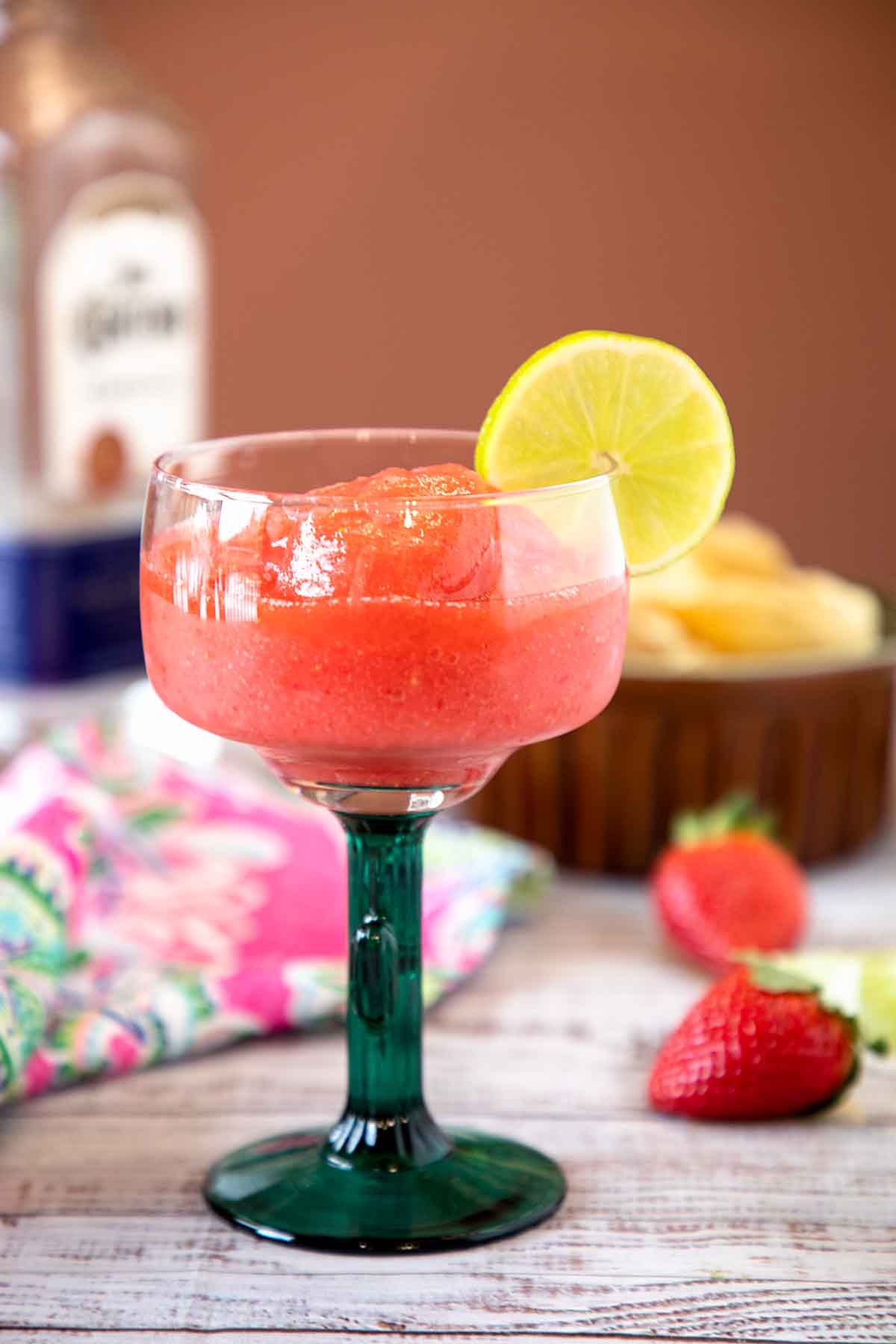 I have to admit I was surprised when I saw that my blogging group was covering Margaritas in February. I mean, I usually drink them more in the summer–even though Margarita Day is Feb 22. But as soon as I blended up my strawberries and tequila, I was a convert. 'Cause a frozen strawberry margarita is a taste sensation any time of the year!
Now admittedly, a margarita (classic lime in this case) was the first drink I had after the birth of my oldest daughter. It was on a November evening when my husband and I went on our first post-baby date for Mexican food and a pitcher. Of course after months of abstinence, the booze hit us hard! We couldn't begin to tackle a pitcher!
Fortunately, our waitress had our backs. She brought out a screw top jar and poured in the leftovers, reminding us to put it in the trunk. And Grandma got a special reward for being our first babysitter!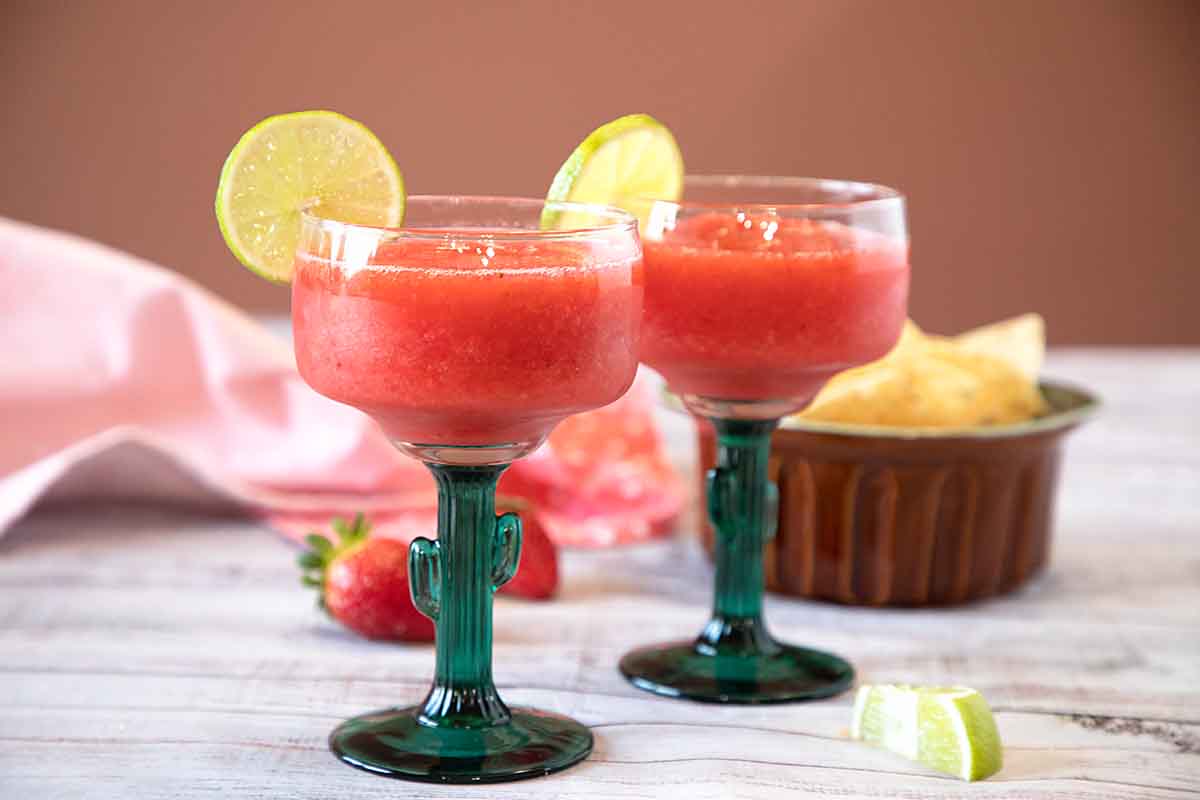 What is a Margarita?
According to Wikipedia, "a margarita is a cocktail consisting of tequila, orange liqueur, and lime juice often served with salt on the rim of the glass. The drink is served shaken with ice (on the rocks), blended with ice (frozen margarita), or without ice (straight up)." While the original was lime flavored, today there are lots of options flavored with any fruit you can imagine!
What is a Frozen Strawberry Margarita versus Daiquiri? While both of these fun cocktails are frozen blended strawberry drinks, they each use different forms of alcohol. The Margarita uses Tequila and an orange liqueur while the daiquiri uses rum. The daiquiri also has less lime juice so is a bit sweeter and less complex. But the other thing they have in common is that they're both refreshing and great tasting!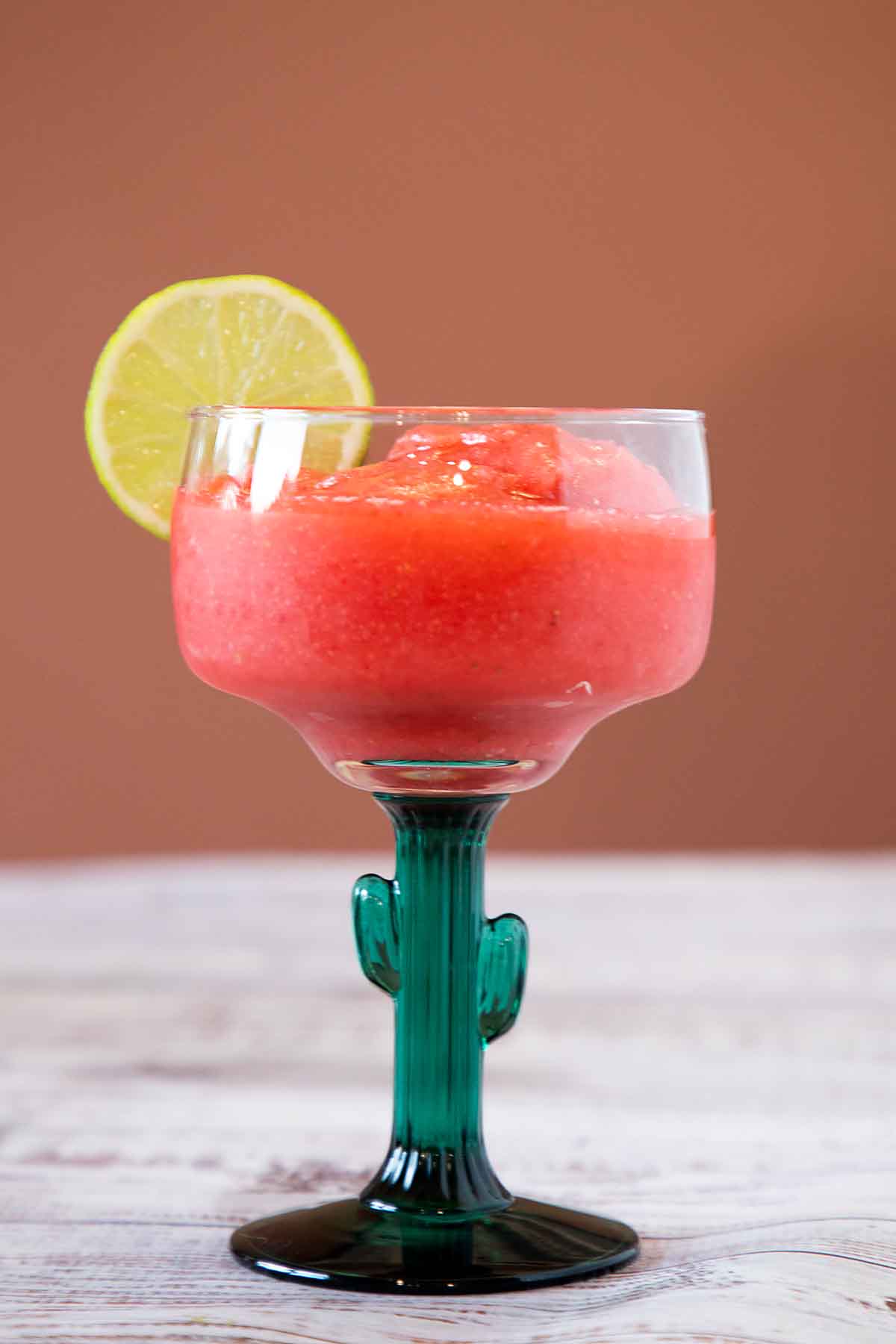 Why You'll Love This!
Flavorful. It's not surprising that one of the cocktails that near-teetotalers sometimes drink is a frozen fruit margarita. Yes, the sweet fruity flavor is just that good!
Refreshing. This icy drink is perfect on a hot summer day. But even in frozen February, it tasted really refreshing to me!
Adaptable. This drink is easy to convert to a mocktail, or even low carb!. Take a look at "Variations" below for details.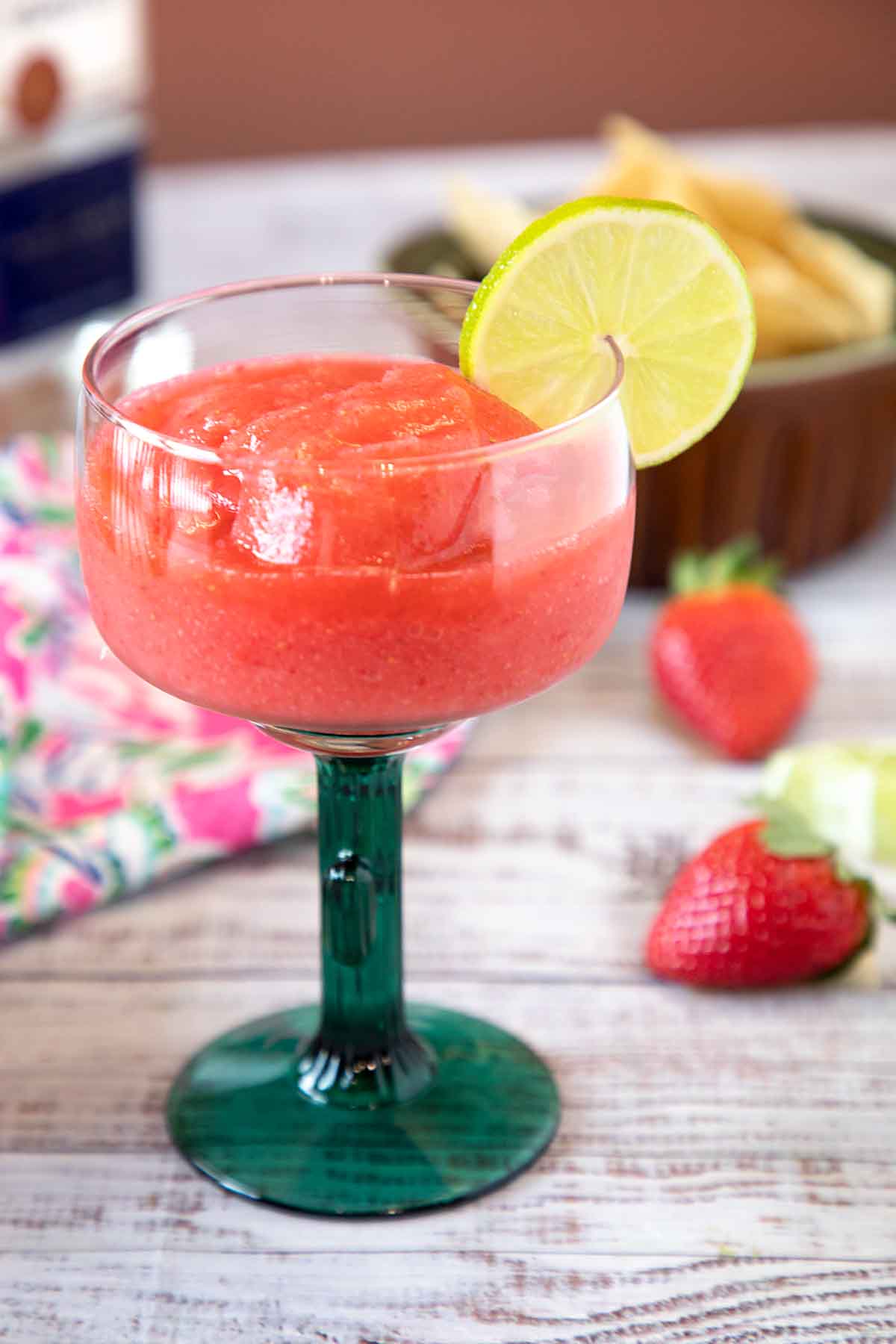 What You'll Need:
Frozen Strawberry Margarita Ingredients and Substitutions
Frozen strawberries. Strawberries are the main flavor component of this beverage. In a pinch you can use fresh strawberries plus extra ice, though your drink will be slightly less flavorful since it will contain more water. And note that strawberries are regularly on the EWG's Dirty Dozen list of most contaminated fruits and vegetables so go organic if you can.
Tequila. This is the main alcoholic component of the drink and a big part of what makes it a margarita.
Fresh squeezed lime juice. This balances the sweetness and is a nod to the classic lime margarita.
Simple syrup. Despite the fact that strawberries are sweet, this drink still needs some sweetener. I used a double strength simple syrup and include instructions on how to make it. This has an advantage over sugar in that you don't need to worry it won't dissolve. But if you want to go the sugar route, start with 1 Tablespoon of sugar and add more as needed, to taste.
Orange liqueur (such as Triple Sec or Cointreau). This adds some additional alcohol and a hint of orange flavor. If you don't have this, you can use an extra ounce of tequila and either ¼ cup orange juice or 1 teaspoon of orange extract.
Optional Garnishes. If you'd like you can use sugar or salt to rim the glasses and/or fresh strawberries and/or lime slices for garnish.
Special Tools
The only special tool you'll need is a good blender.
Step by Step Directions
This is what 8 ounces of frozen strawberries looks like: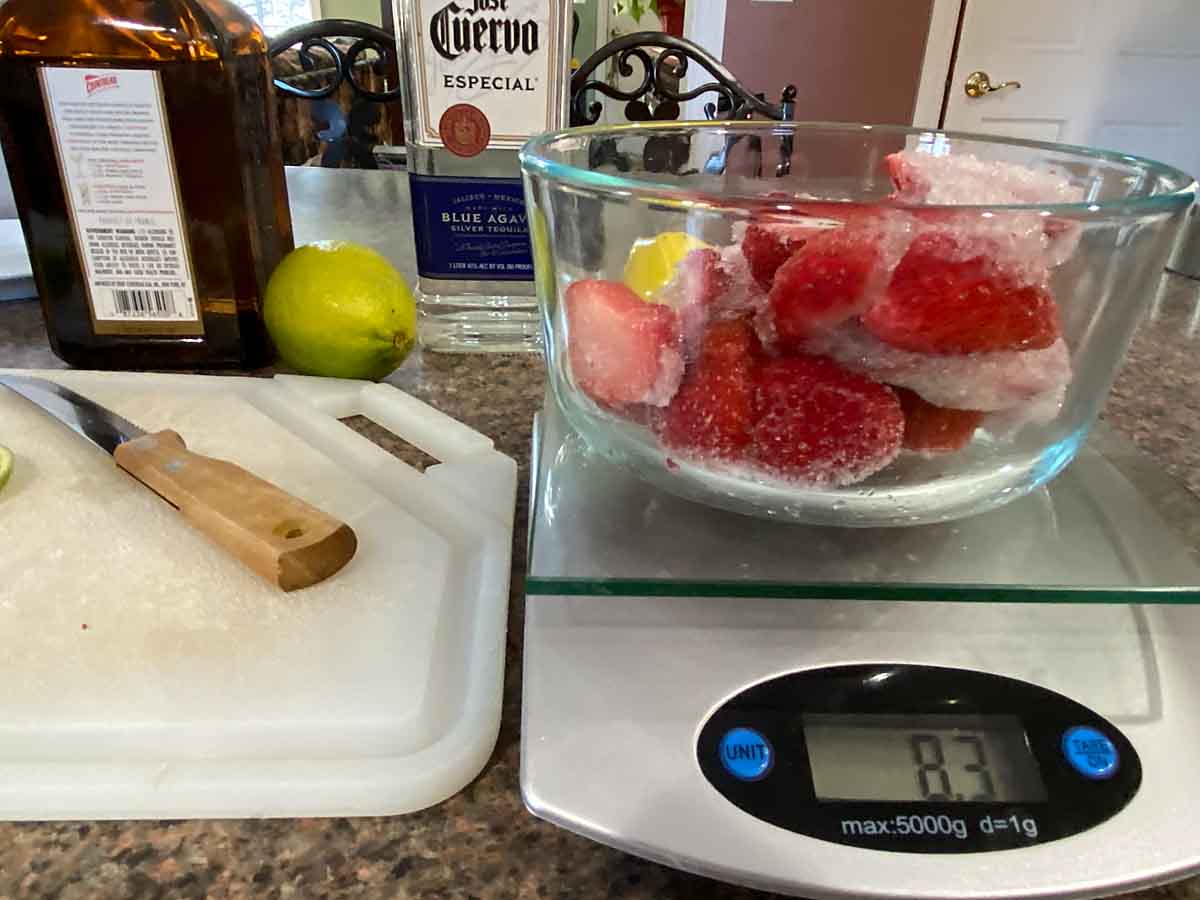 You blend up all the ingredients.
Then pour into two glasses.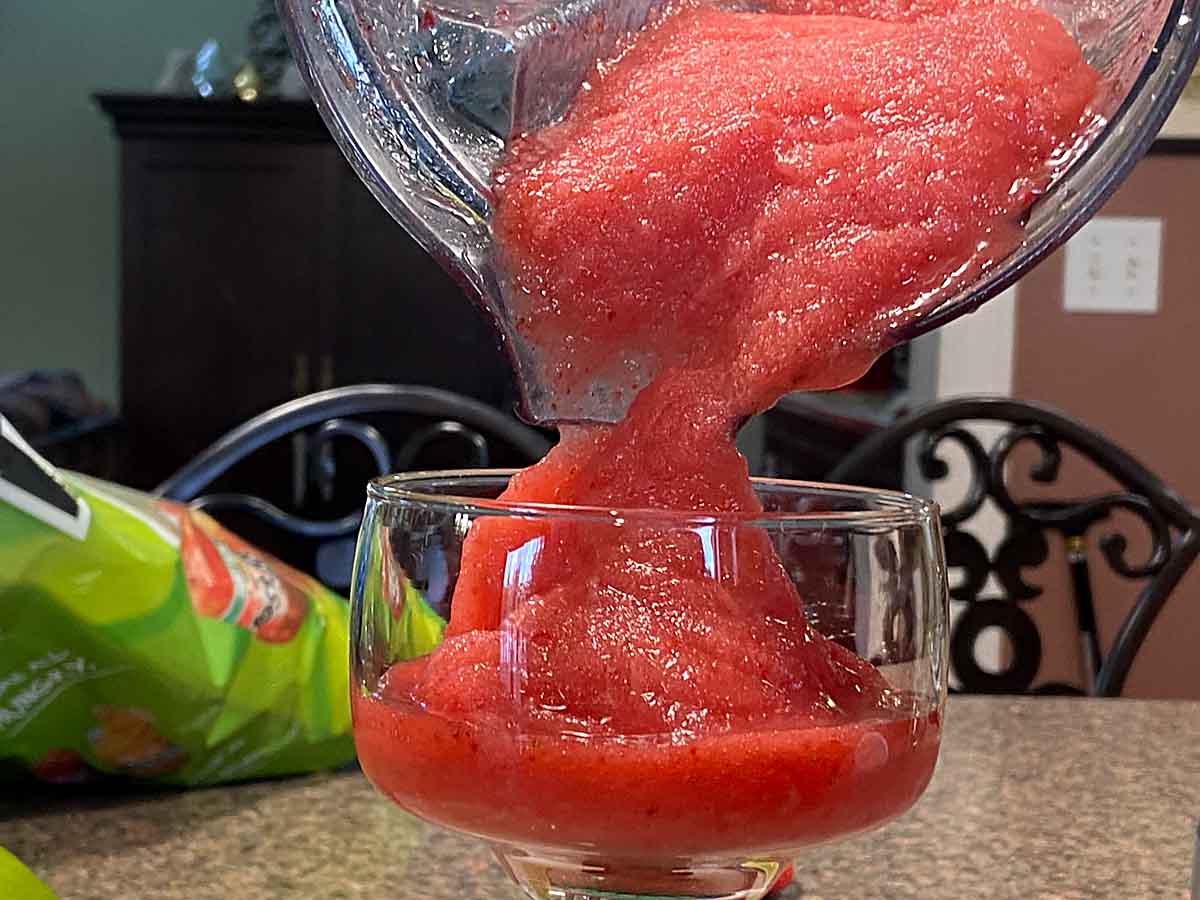 Enjoy!
How to Serve
Margarita Glasses. There are a couple of traditional margarita glasses, like the cactus glass (which I'm using) and the stepped margarita glass. But really anything goes! Don't believe me? Do an image search on strawberry margarita and check our the variety!
To rim or not to rim. For a traditional lime margarita, the glass is typically rimmed with salt. The glass edge is first dipped into a pool of liquid or rubbed with a lime, then dipped into salt. But today, with the greater consciousness around excess salt consumption, rimming is often skipped.
Sweet fruit margaritas also have the option of rimming with sugar. But I'm usually too excited to wait, so personally I skip this step. I do, however, like to add a strawberry or slice of lime as a garnish!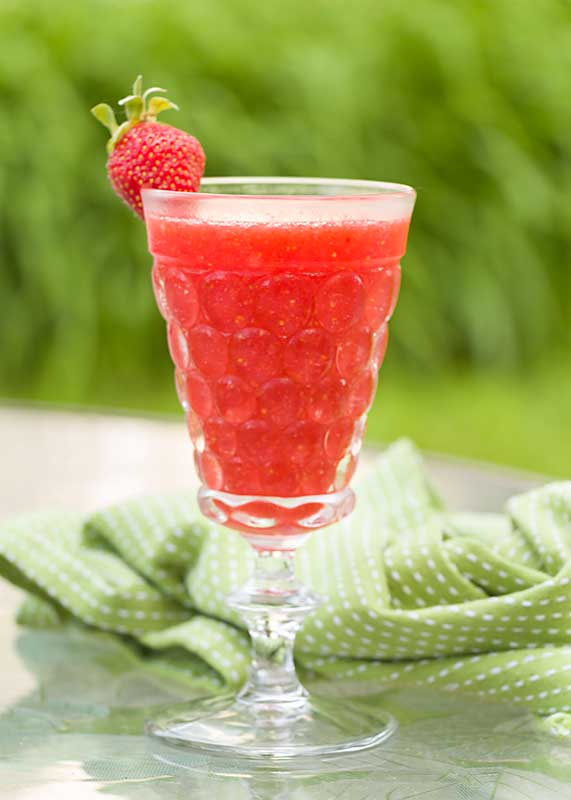 What to serve with this

A fun drink like a strawberry blended margarita deserves a fun accompaniment. If you are serving Margaritas for cocktail hour, chips and salsa are always nice. And for dinner, Mexican food or grilled or picnic food are perfect. That's right–lets have a little fun with our fun!
Variations
Other flavors. You can flavor your Margaritas with just about any type of fruit you'd like. I've got recipes on the website for Frozen Peach Margaritas and Mango Margaritas if you want some starters. And take a look below for more ideas from some of my blogging friends! Yes, frozen berry margaritas in many flavors sounds like a good summer mission this year!
Did you know that berries are one of the better fruits for a low-carb or keto diet? In that case, you want to use a sweetener like stevia or erythritol instead of the simple (sugar) syrup. And since the orange liqueur is also sweet, you can use a teaspoon of orange extract and an extra ounce of tequila instead.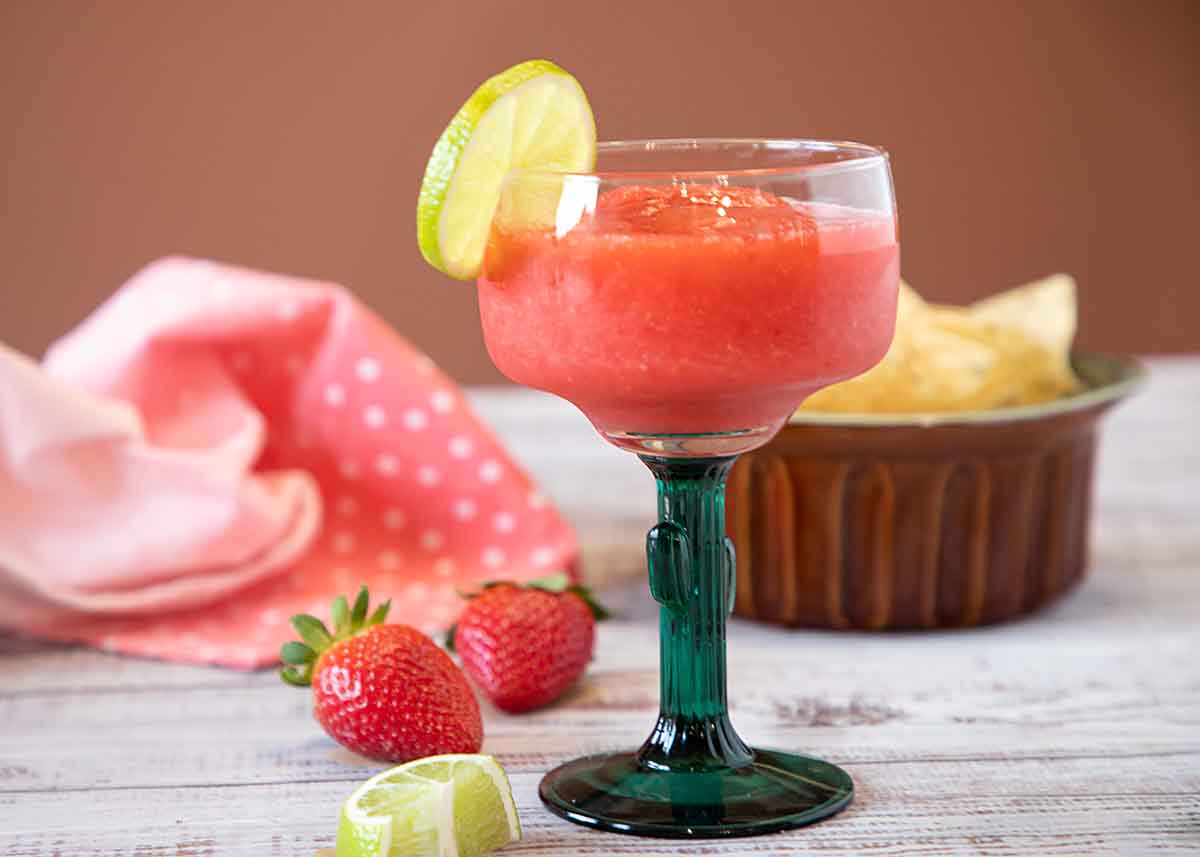 Honey Sweetened Margarita. If you simply don't eat sugar, you can substitute honey. Now the first time I tried this, my honey clumped as soon as it hit the frozen berries–and no amount of blending would break it up.
To fix this, I got my alcohol and lime juice swirling in the blender, poured in warm liquid honey, then followed up with the frozen berries. Ding, ding, ding, a winner!
Finally this is one of the easiest drinks to convert to a mocktail. For a Virgin Strawberry Margarita, just use ½ cup of orange juice and leave out the tequila and orange liqueur. Since so much of the flavor comes from the berries, it will still taste great!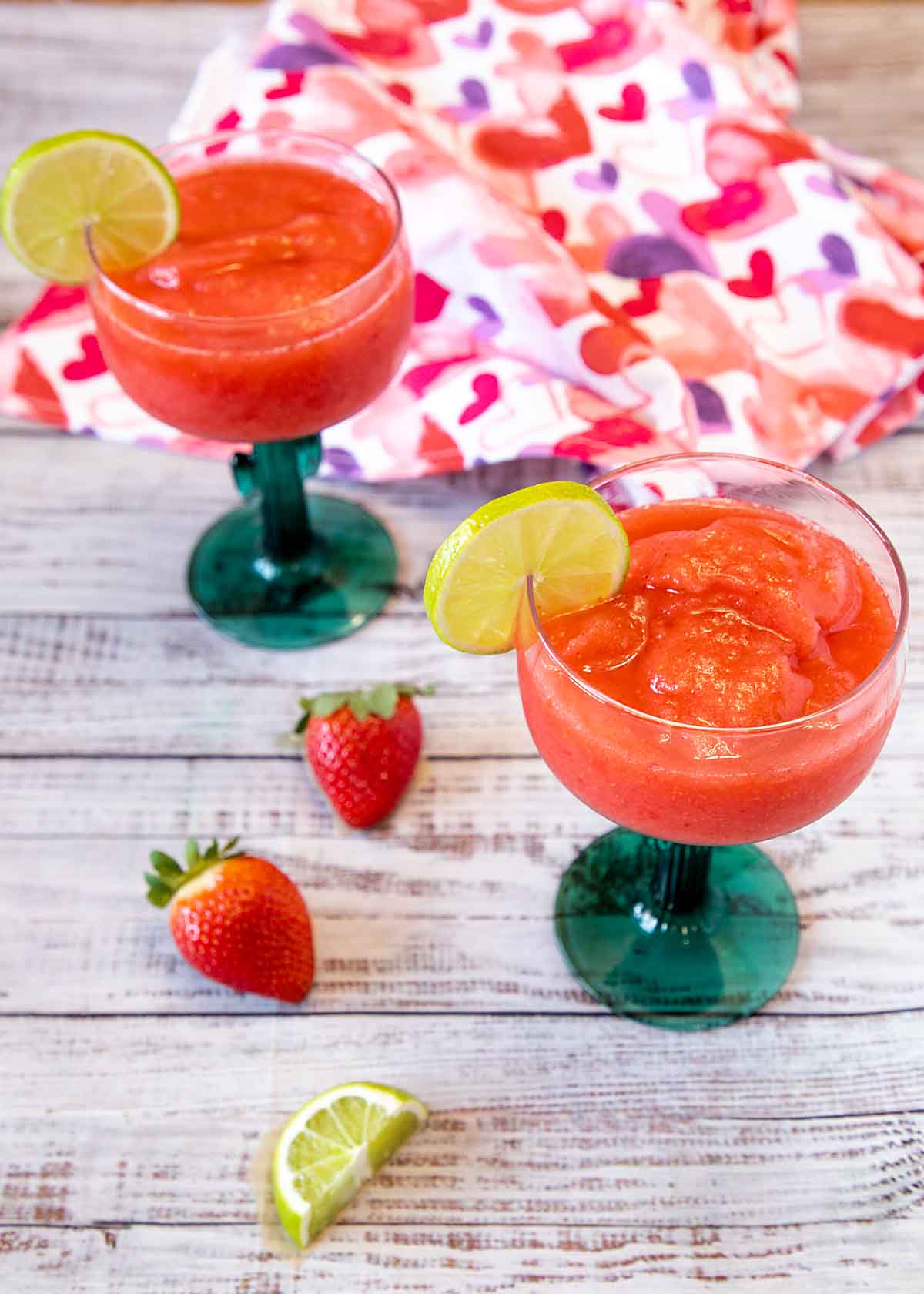 Before and After
While I haven't tried it, I hear you can make these in advance and keep them in the freezer. The alcohol is supposed to keep the drink from freezing solid! Just take it out and re-blend before serving. And if it happened to be a little too solid, just pop into the microwave for a few seconds, then blend.
In Case of Leftovers, again pop into the freezer. But if you're like me, there won't be any left!
Must Make Margaritas
We share Recipes From Our Dinner Table! Join our group and share your recipes, too! While you're at it, join our Pinterest board, too!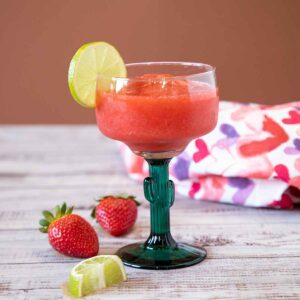 Frozen Strawberry Margaritas
Is there anything more refreshing than a Frozen Strawberry Margaritas  A sweet, fruity cocktail that's also good as a Virgin Margarita!
Ingredients
8

ounces

frozen strawberries

or fresh plus extra ice

2

ounces

tequila

(1/4 cup)

1/3

cup

lime juice

fresh squeezed

2

Tablespoons

simple syrup

or up to 4, or 1+ Tablespoons sugar, to taste

1

ounce

Triple Sec

or other orange liqueur (2 Tablespoons)

1

cup

ice cubes

optional for serving

sugar to rim the glasses, fresh strawberries and/or lime slices for garnish
Instructions
Add ingredients to a blender. Blend until smooth

Pour into two glasses. Garnish as desired.
Notes
If you would like to make a simple syrup, this way is easier than the stovetop method and doesn't need to cool. You blend 1 cup of sugar and 1/2 cup of water in a blender on high for about 5 minutes. Let the liquid sit briefly to finish dissolving and whirl again for a few seconds in the blender if needed. Store in refrigerator. Note that this is a double strength simple syrup so you can use a little less.
Nutrition
Calories:

209

kcal

Carbohydrates:

31

g

Protein:

1

g

Fat:

0.4

g

Saturated Fat:

0.04

g

Polyunsaturated Fat:

0.2

g

Monounsaturated Fat:

0.1

g

Sodium:

21

mg

Potassium:

238

mg

Fiber:

2

g

Sugar:

25

g

Vitamin A:

34

IU

Vitamin C:

79

mg

Calcium:

30

mg

Iron:

1

mg

I am not a health professional and nutrition data is calculated programatically. Accuracy may vary with product selection, calculator accuracy, etc. Consult a professional for the best information.

This was originally published in 7/2018.