A Natural Strawberry Daiquiri
A belated happy Memorial Day!
A warm holiday weekend, freezer full of fruit and set of pretty glass straws–talk about inspiration. Yup, it's time for another frozen drink recipe–a natural strawberry daiquiri this time, full of the remnants of last year's CSA berries.
I'm not sure why, but part of me always believed that fruity alcoholic drinks were artificial concoctions, full of high fructose corn syrup and synthetic flavorings. Okay I admit that I've always made margaritas by combining (some probably truly unnatural) Margarita mix* and tequila, but using a mix is hardly a requirement.
In fact every natural drink I've tried this week has been easy and delicious–a mere run to the freezer harder than using a mix. And as a bonus, I've been getting an extra serving of fruit! I even felt like a fine parent, making a "virgin" natural strawberry daiquiri for one of my kids by substituting orange juice for the rum (so good, in fact, I may be making some of these for myself).
After a spectacularly gorgeous weekend, full of Peach Margaritas and Mango Lime Agua Fresca, the weather has turned back from summer to spring and it is pouring down rain. In just a quick trip to the store, I look like I just took a shower with my clothes on. So this inspires a riddle, if April showers bring May flowers, what do May showers bring?
Alas I fear the answer is June mosquitoes, but I'm up for dissenting opinions. And perhaps May showers call for another natural Strawberry Daiquiri???
*Ooooo, just looked at my margarita mix ingredients which include: high fructose corn syrup (#1 after water–yup glad I'm shelling out hard earned cash for both of those), sodium hexamethphosphate, potassium sorbate (a preservative), polysorbate 60, sodium metabisulfate, yellow 5, blue 1…
Taking out the blender…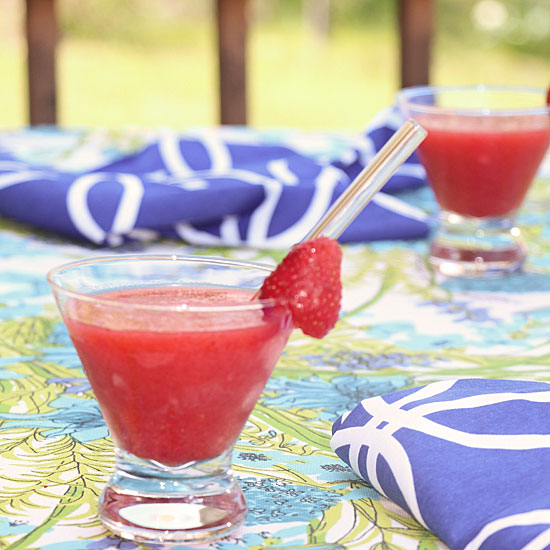 Natural Strawberry Daiquiri
2014-05-27 13:50:51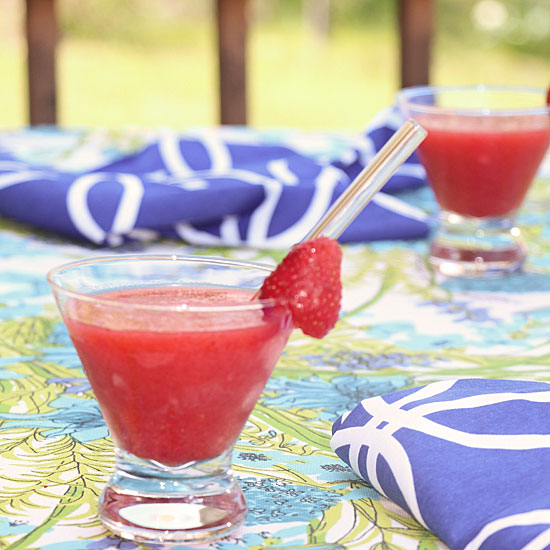 Serves 1
Delicious and fruity, natural strawberry daiquiris are a great go to summer beverage. Substitute OJ for rum for a special non-alcoholic drink.
Nutrition Facts
Amount Per Serving
* Percent Daily Values are based on a 2,000 calorie diet. Your Daily Values may be higher or lower depending on your calorie needs.
Ingredients
• 6 frozen strawberries (or 6 strawberries & a handful of ice)
• 2 ounces white rum (or 3 ounces orange juice for non-alcoholic version)
• 1 T sugar or sweetener of your choice, or a bit more to taste (or less if using orange juice)
• Juice from 1/2 lime
slice of lime, strawberry or other optional garnish
Instructions
Combine ingredients in blender and mix until smooth. Adjust sweetener to taste.
Pour into serving glass and garnish (optional).
Notes
Serving a crowd? You can make up 3-4 of these in a good blender--just multiply the ingredients by the number you need.
Art of Natural Living https://artofnaturalliving.com/