Lavender Vanilla Angel Food Cake
Sweet and light, lavender vanilla angel food cake brings together warm vanilla and subtle lavender flavors–and isn't difficult at all.
Growing up, I was never much of an angel food cake eater. Until I got married, that is. Then I learned that this simple (dare I say boring) dessert was my husband's favorite cake.
I had to admit, though, that topped with strawberries & whipped cream, it made a fine summer treat. And of course, it did have some plusses. It was less expensive than a fancy layer cake, way lower in calories–and I would never be tempted to make it from scratch.
Ah, never say "never."
How could I know then, that someday I'd face a freezer full of egg whites left over from a crème brûlée binge?
Of course, if I was going to make angel food cake–from scratch, it would have to be something special. Something I couldn't buy. What about lavender vanilla angel food cake? July is lavender season in Wisconsin.
I started with an angel food cake recipe from David Lebovitz and just added in lavender (infusing it in sugar a few hours before). We liked it right away, but decided it really shines frosted with whipped cream. (Use a stabilized whipped cream, which will hold a couple days, if you won't be finishing it all.)
While a full size cake pan will serve a crowd, I am lucky to have a 6 ½ inch antique angel food cake pan from my grandmother. It holds exactly half the full recipe and is a perfect size for a small dinner party.
Or a romantic dinner for two with leftovers.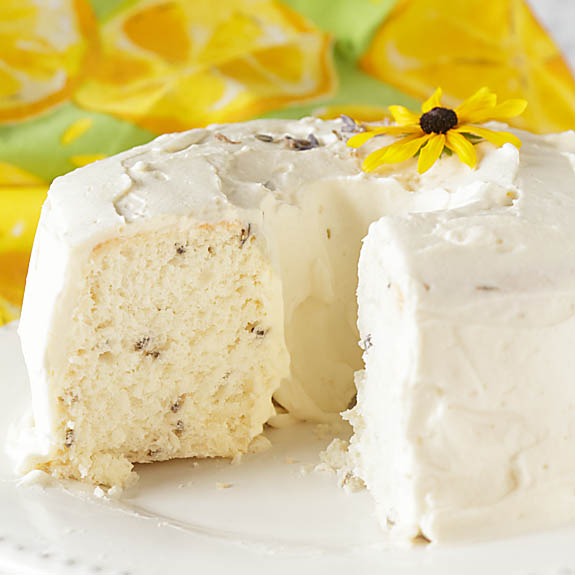 Lavender Vanilla Angel Food Cake
2017-07-22 20:49:11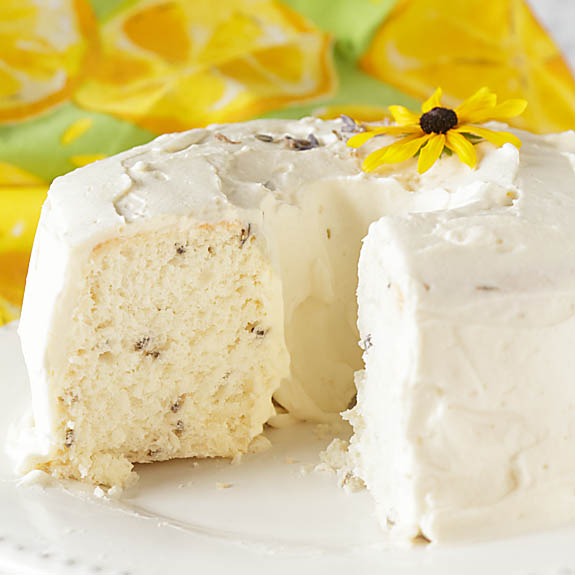 Serves 12
Sweet and light, lavender vanilla angel food cake brings together warm vanilla and subtle lavender flavors--and isn't difficult at all.  
Nutrition Facts
Amount Per Serving
* Percent Daily Values are based on a 2,000 calorie diet. Your Daily Values may be higher or lower depending on your calorie needs.
Ingredients
1 1/2 cup sugar
2 Tablespoons Lavender
1 cup cake flour (see substitution below)
1/2 teaspoon salt
1 1/2 cups egg whites (from about 12 large eggs), at room temperature
1 teaspoon cream of tartar
2 teaspoons fresh lemon juice
1 teaspoon vanilla extract
Instructions
The night before (ideally, otherwise as early as possible), combine sugar and lavender in an airtight container. Reserve until needed.
To make cake, preheat oven to 350 F. Cut parchment to fit the bottom of a 9-inch tube pan and fit into the bottom of the pan. (Do not use a non-stick pan--the cake batter must "cling" to the sides to keep its loft)
Strain the lavender buds out of the sugar and reserve (I used a strainer, which I also used to sift the flour).
Sift together the flour, 1/2 cup sugar, and salt. Add the reserved lavender buds and combine well.
In the bowl of an electric mixer, whip the egg whites. When they are foamy, add the cream of tartar and lemon juice.
Continue to whip the egg whites until they just begin to hold their shape in soft peaks. Whip the remaining 1 cup of sugar into the whites, 1/4 cup at a time. Do not overwhip; the egg whites should not be overly dry or stiff. Mix in the vanilla.
Gentley and gradually fold the flour, sugar and lavender mixture into the whites.
Spoon the batter in the tube pan, smooth the top, and bake for 45 minutes. To be extra sure it is done, you can check for an internal temperature of 205-209 F.
Remove from the oven and immediately invert the tube pan. If the pan doesn't have "feet", set it over the neck of a heavy bottle or overturned metal funnel, using the center hole of the pan to hold the cake, until cool.
Notes
Instead of cake flour, you can take 1 cup of all purpose flour, remove 2 Tablespoons and add in 2 Tablespoons of cornstarch.
Art of Natural Living https://artofnaturalliving.com/