Israeli Couscous with Butternut Squash & Preserved Lemon
They say that necessity is the mother of invention. And perhaps the mother of internet searches as well–which is how I ended up making Israeli Couscous with Butternut Squash & Preserved Lemon, from David Lebovitz.
It all started, well…, so long ago I don't remember. I tasted preserved lemon in a dish and it was magical. Who would have thought that salty lemon would be so transformative! I filed the memory away, determined to eat it again.
Then I looked at the price of these in stores. Yikes!
This year, with a goal of doing lot more preserving, I made a jar myself (recipe soon). Organic lemons at Trader Joe's are a steal! Mission accomplished, I needed to figure out what to do with them, 'cause I was clueless.
And so I have to ask… am I the only person who makes (or buys) something when they have no idea what to do with it?
My search yielded this Israeli Couscous with Butternut Squash & Preserved Lemon recipe which had the added benefit of using some of my CSA butternut squash. I served it to Steve & Debra Jo, owners of the CSA Rare Earth Farm, who are two of my favorite people to try new recipes on. When I point out that they grew some of the food they are eating, how much can they complain?
But no one complained, people had seconds, and even took home leftovers. And my couscous hating husband said it was his favorite part of the meal! Hooray!
Now I just need a good idea for my nectarines in brandy…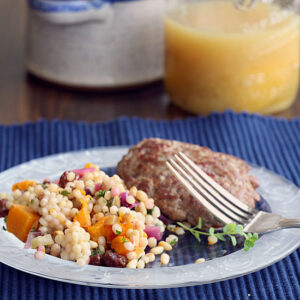 Israeli Couscous with Butternut Squash & Preserved Lemons
Israeli Couscous with Butternut Squash & Preserved Lemons brings rich flavor to a healthful and tasty side dish.
Ingredients
1 1/2-

pounds

butternut squash

peeled and seeded (this was half of a large butternut)

3

tablespoons

olive oil

salt

1

onion

peeled and minced

1 3/4

cup

Israeli couscous

or other very small pasta

1

cinnamon stick

1

preserved lemon

1/2

cup

raisins

1/4

cup

dried cranberries

coarsely chopped (optional)

1/4

teaspoon

ground cinnamon

1

cup

flat-leaf parsley

chopped

2/3

cup

pine nuts

toasted
Instructions
Cut squash into 1/4 inch cubes, toss with salt and 1 T olive oil. Roast at 450F until tender, about 15 minutes. Do not overcook since they don't need to caramelize and you want them to hold their shape.

Heat remaining 2 T olive oil and sautee the chopped onion until tender.

Boil the couscous and cinnamon stick in salted water until tender about 10 minutes. Drain but don't rinse and discard the cinnamon stick.

Cut up preserved lemon rind into 1/8 to 1/4 inch pieces. Squeeze the juice from the flesh and save.

Mix cooked squash cubes, drained couscous, sauteed onions, chopped preserved lemon and juice with remaining ingredients.

Serve warm or cool.
Notes
Most of the world toasts nuts in the oven, 5-10 minutes at 350 but I invariably burn them this way. Instead I put them in a dry skillet on medium heat and begin stirring as soon as I can smell the slightest hint of toasting (don't leave the kitchen, they get to this point quickly). Stir until golden about 1-2 minutes.
To make this ahead, up to one day in advance, leave out the parsley and toasted pine nuts, and mix them in right before serving. Rewarm if desired.
Nutrition
Calories:
279
kcal
Carbohydrates:
42
g
Protein:
6
g
Fat:
11
g
Saturated Fat:
1
g
Polyunsaturated Fat:
4
g
Monounsaturated Fat:
5
g
Sodium:
12
mg
Potassium:
455
mg
Fiber:
4
g
Sugar:
5
g
Vitamin A:
7742
IU
Vitamin C:
24
mg
Calcium:
58
mg
Iron:
2
mg
I am not a health professional and nutrition data is calculated programatically. Accuracy may vary with product selection, calculator accuracy, etc. Consult a professional for the best information.