I just began my second batch of preserved lemons. The first was started right before Thanksgiving, aged a month, then quickly began to disappear.
Preserved lemons are salty, lemony, flavor bombs that can rev up a bland dish and give it some exotic nuance. According to Wikipedia:
Preserved lemon or lemon pickle is a condiment that is common in Indian and North African cuisine… Diced, quartered, halved, or whole, lemons are pickled in a brine of water, lemon juice, and salt; occasionally spices are included as well.
For my first foray into using my preserved lemons, I diced some and added it to sautéed Swiss chard for a distinct flavor boost. Next I made Israeli Couscous with Butternut Squash and Preserved Lemon–which turned couscous into something delicious rather than a dish my family considers bland enough for torture. I then tried a Moroccan lamb neck dish which was delicious–other than the lamb neck–so I am waiting to see if it's better with chicken. And Tammy from Agrigirl suggested pizza with preserved lemon and arugula–doesn't that sound good!
Preserved lemons are easy to make. I started with two bags of Organic Trader Joe's lemons (a steal at $1.69/bag!), a big container of sea salt and a quart canning jar. Since the lemon peel is a big part of the recipe, try to use organic if you can.
My jar held six (small) whole & one quartered lemon and I topped it with the juice from four more lemons. Fifteen minutes later, I had a jar ready to set into my preserving cupboard (where I keep my baby vinegar and vanilla marinating in bourbon) to ripen for spring.
Traditionally the lemons are cut in a distinctive manner–left whole but partially quartered lengthwise. Erica of Northwest Edible Life suggested that fully quartering them would make preparation more efficient and assist packing tightly into a jar. I have grown kind of attached to the unique shape, so I stuck with that for the most part, but quartered one lemon to fit it a couple empty spots. Best of both worlds!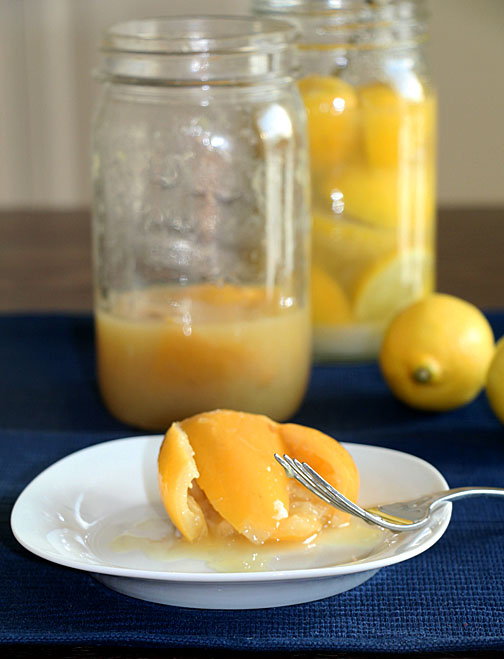 Preserved Lemons
Preserved lemons are salty, lemony flavor bombs that can rev up a bland dish and give it an exotic twist.
Ingredients
4

lemons

or more fresh, washed

2

lemons

juice only

1/4-1/2

cup

sea salt

or other non-iodized salt--1-2 T per lemon
Instructions
Remove the stems and cut off the tips off the lemons. Cut each lemon lengthwise into quarters, but not cut all the way through – you want to leave them attached at the base (or fully quarter them if you wish).

Pack the cut sides with lots of salt, close the lemons and place them in a jar. Compress the lemons as you add them to the jar to release some of their juices.

When the jar is nearly full (or as full as you'd like), squeeze in fresh lemon juice to almost cover and top with a generous sprinkling of the salt. Cover the lemons, and set aside in a cool, dark place. A cupboard or food pantry is fine.

Every two or three days, open the jar and compress the lemons to release more juices. Do this for the first week, or until the lemons are submerged in juice.

The lemons will be pickled and ready to use in about four to five weeks, once the rinds are very soft. You can continue to preserve them longer if you like. Once opened, transfer the jar to the refrigerator, where they should keep well for several months.
Notes
Calorie count is for full batch, since it is not feasible to compute for unknown recipes.
Adapted from Christine Benlafquih
I am not a health professional and nutrition data is calculated programatically. Accuracy may vary with product selection, calculator accuracy, etc. Consult a professional for the best information.