Maple Strawberry Rhubarb Crisp
Sweet strawberries and tart rhubarb pair perfectly in this Maple Strawberry Rhubarb Crisp — sweetened using maple syrup (no sugar!) and sprinkled with a crunchy oatmeal topping!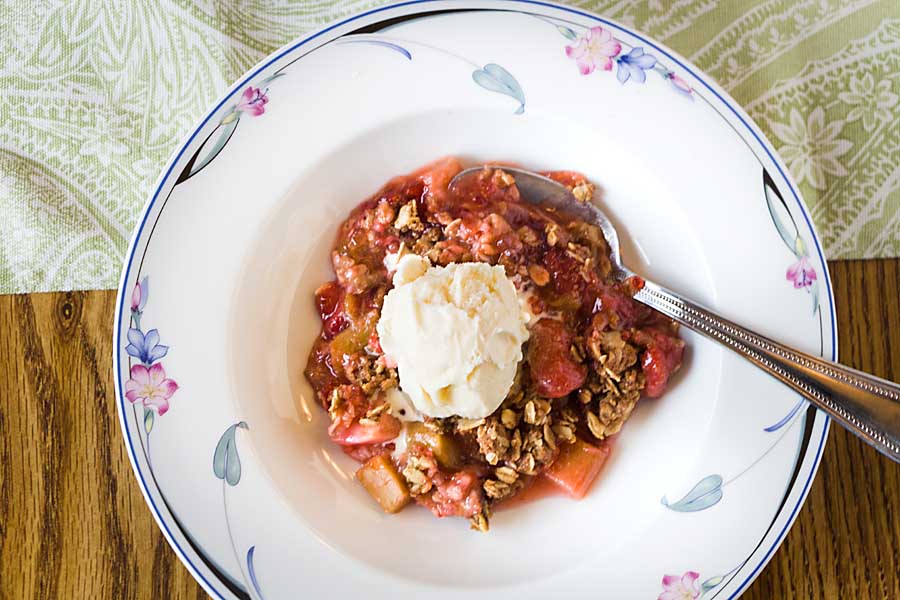 Yesterday I harvested my first rhubarb. I guess that means it's really spring!
After a long hard winter, I wanted to make something special to celebrate. Finally I settled on a Strawberry Rhubarb Crisp, a sweet-tart dessert of baked fruit with a crunchy oatmeal topping. There was one big challenge however — I had given up sugar for my year of eating locally challenge.
Now this year I've learned that, in many cases, a recipe will work perfectly if you directly swap in honey or maple syrup where it calls for sugar. But sometimes the extra liquid gets in the way—and the crumbly topping that characterizes a crisp was likely to be a problem. So I knew I might be in for an experiment.
My daughter mixed up my original topping, reducing the butter and using syrup instead of sugar. This resulted in a gooey mess that was clearly not going to "crumble." So it all got tossed and we started over.
The second time we mixed all the ingredients except the syrup then added that, a tablespoon at a time, stopping just before it turned soggy. Our stopping point ended up being only a third of the original sugar.
This led, of course, to an important question – would it still be sweet enough? And the answer was (drum roll) yes, thanks in part to a generous amount of cinnamon. Hooray!
Eating locally–no sugar, no coconut oil, no chocolate (okay I did buy two bags of Easter candy), has been quite an experience. Although I started doing it to show my support for local farmers, it's had some interesting side effects. I've lost any interest in binge eating sweets for one. And even when I "stress eat" before exams or uber-celebrate a holiday, any weight gain disappears easily afterwards.
But either way, this crisp is a keeper!
More Tasty Rhubarb Recipes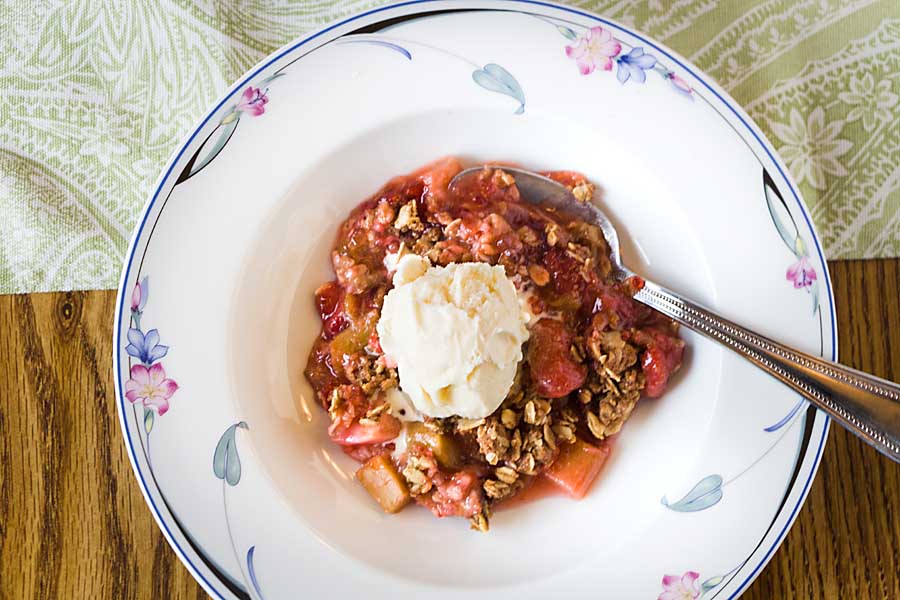 Maple Strawberry Rhubarb Crisp
2018-05-13 10:52:44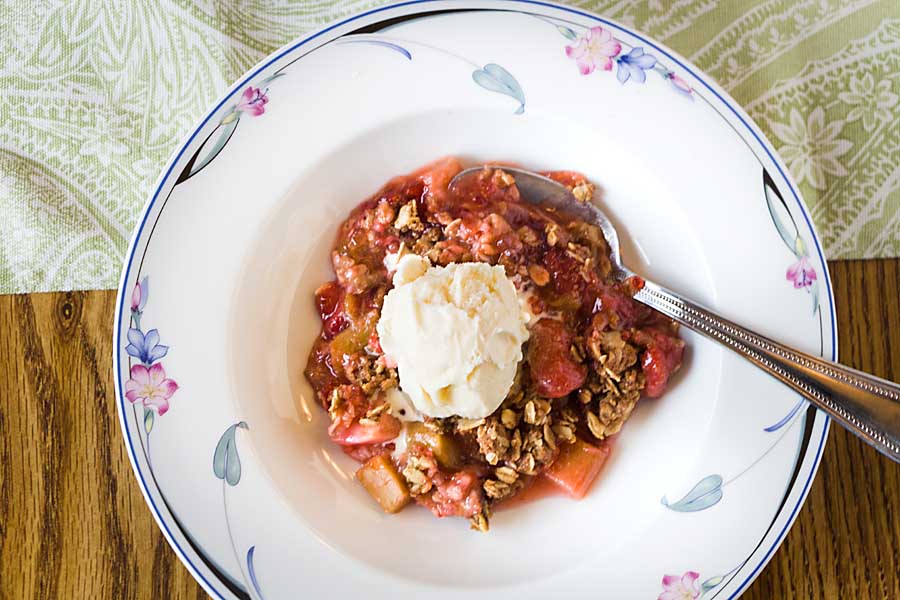 Serves 8
Sweet strawberries and tart rhubarb combine perfectly in this Maple Strawberry Rhubarb Crisp -- sweetened using maple syrup (no sugar!) and sprinkled with a crunchy oatmeal topping!  
Nutrition Facts
Amount Per Serving
* Percent Daily Values are based on a 2,000 calorie diet. Your Daily Values may be higher or lower depending on your calorie needs.
Topping
• 1 cup oatmeal
• 2/3 cup whole wheat flour (or use gluten free)
• 3 Tablespoons maple syrup
• 2 teaspoons cinnamon
• 1/4 cup butter (or coconut oil or another substitute)
Filling
• 3 1/2 cups rhubarb, in 1/2-inch thick slices
• 3 1/2 cups (about 1 pound) strawberries, hulled and sliced if big, halved if tiny
• 1/2 cup maple syrup
• 1 tablespoon lemon juice
• 1/4 teaspoon salt
• 1/4 cup instant (or quick) tapioca
Instructions
To make topping, combine oatmeal, flour and cinnamon. Cut in butter with a fork or pastry blender (or your fingers) until it resembles sandy crumbs. Gradually drizzle in maple syrup, stirring continuously so it evenly distributes (think more like adding the butter than stirring in dry sugar).
Combine fruit filling ingredients in a separate bowl, then pour into 8 x 8 pan. Scatter topping over filling.
Bake at 350 for approximately 45 minutes. Filling should bubble up around pan sides when done.
Let sit for 30-60 minutes to allow filling to cool slightly and gel. Top with ice cream or whipped cream for a special treat.
Notes
Pure maple syrup (versus pancake syrup, which may be mostly corn syrup) is recommended. If you don't have that, you can substitute brown sugar, increasing the butter in the topping if needed to maintain the crumb-like texture.
Art of Natural Living https://artofnaturalliving.com/