With a creamy sweet custard topped with tart rosy rhubarb, rhubarb custard pie is an easy dessert, snack or brunch recipe!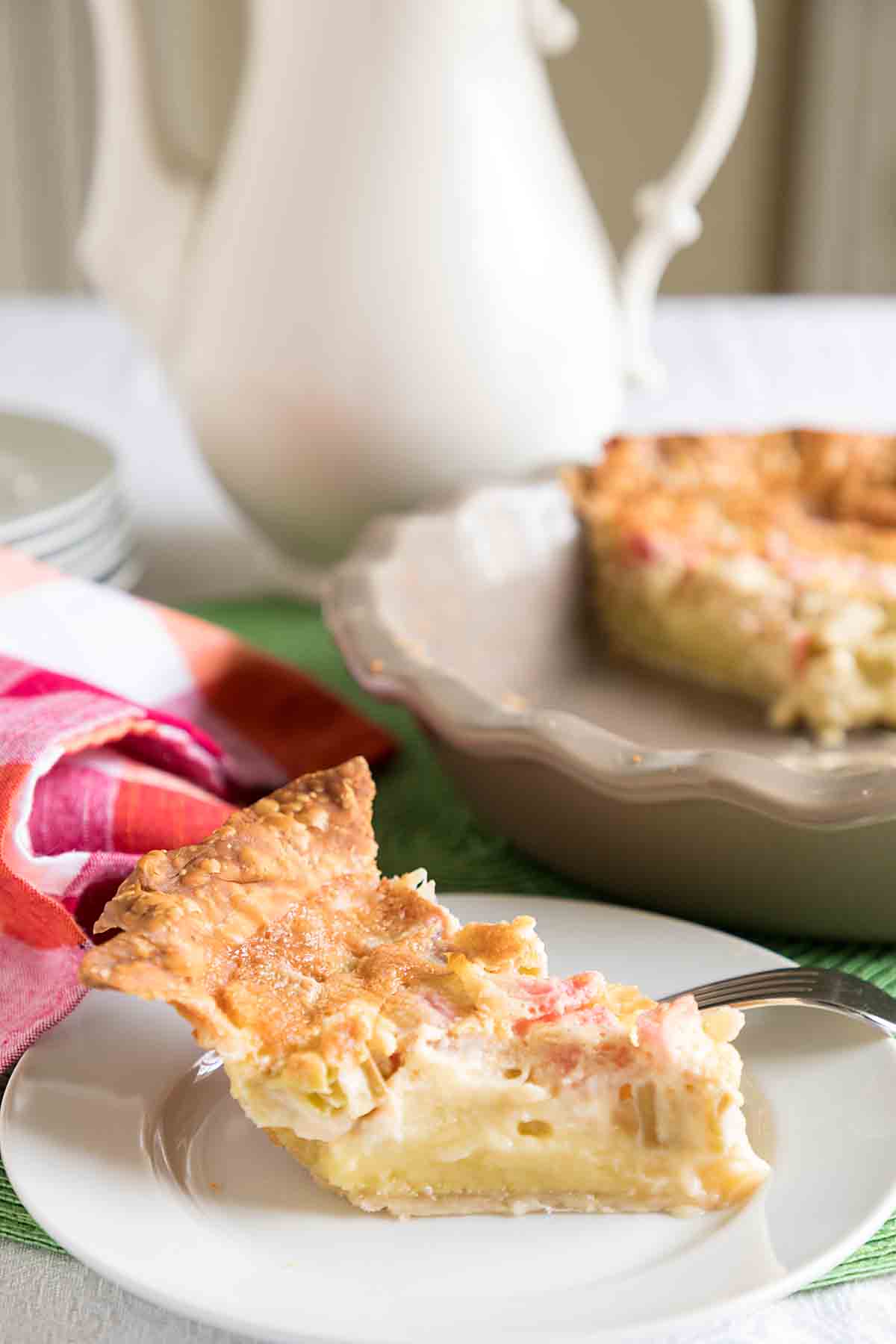 This is why I blog. Divine, perfectly balanced, new discoveries like this Rhubarb Custard Pie.
Yes, there are a lot of lovely rhubarb pies out there. Rosy rhubarb tarts, artfully arranged in a colorful geometry. But I'm more of a toss it all in kinda' gal. Right now my life needs a little, err a lot of easy!
The recipe comes from the blog The Creative Bite and it's sooo simple to make–plus kind of magical. You toss the rhubarb onto an unbaked crust and pour the custard mix over. While it bakes the rhubarb floats up to leave a bottom layer of custard. There are even some surprise bites of crunchy caramelization.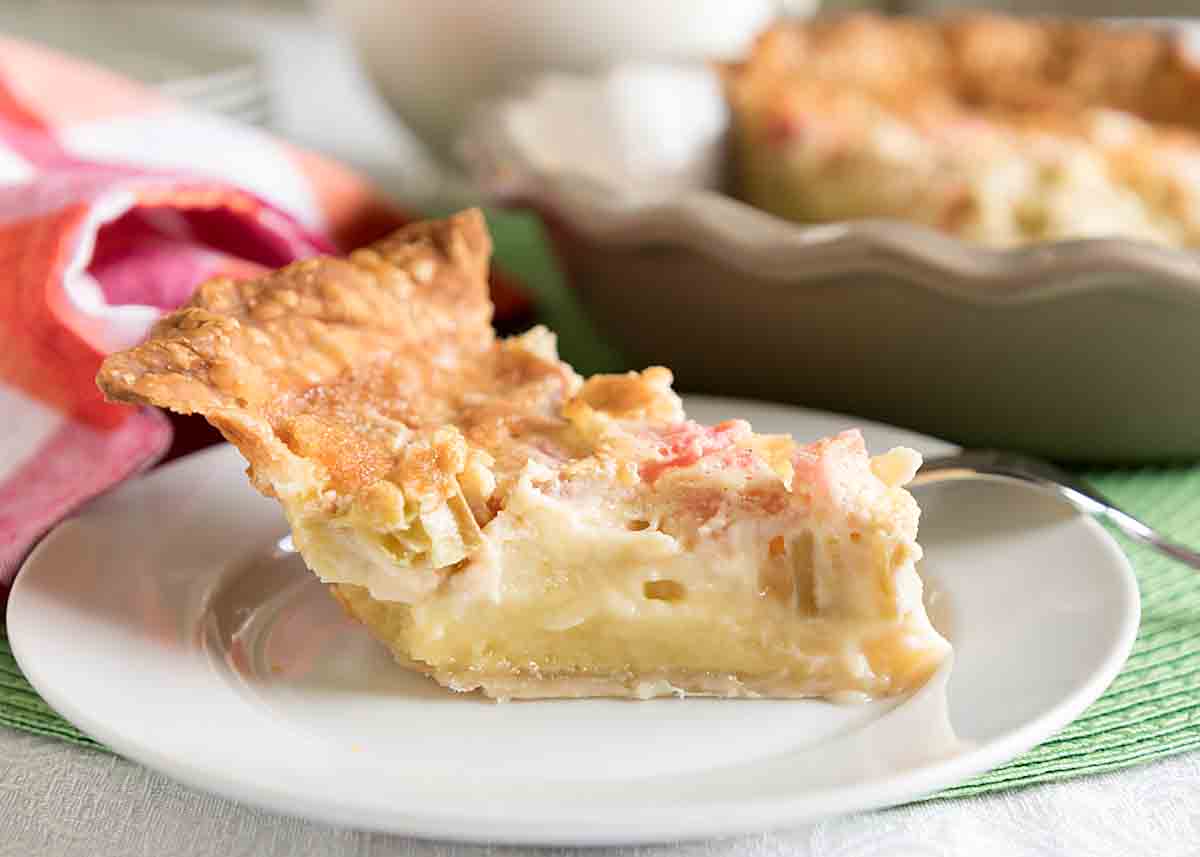 Okay, I admit it, I'm a custard freak–Wisconsin girl and all. But its sweet creaminess is a perfect pairing for the tart rhubarb. Can you tell I'm in love?
I especially like this recipe because the custard layer is thicker than many of the other rhubarb custard pies out there. So I decided I had to repost this recipe from 2019 with even more good information.
Step by Step Directions
Place your favorite pie crust in a pie pan (no need to pre-bake), then top with cut rhubarb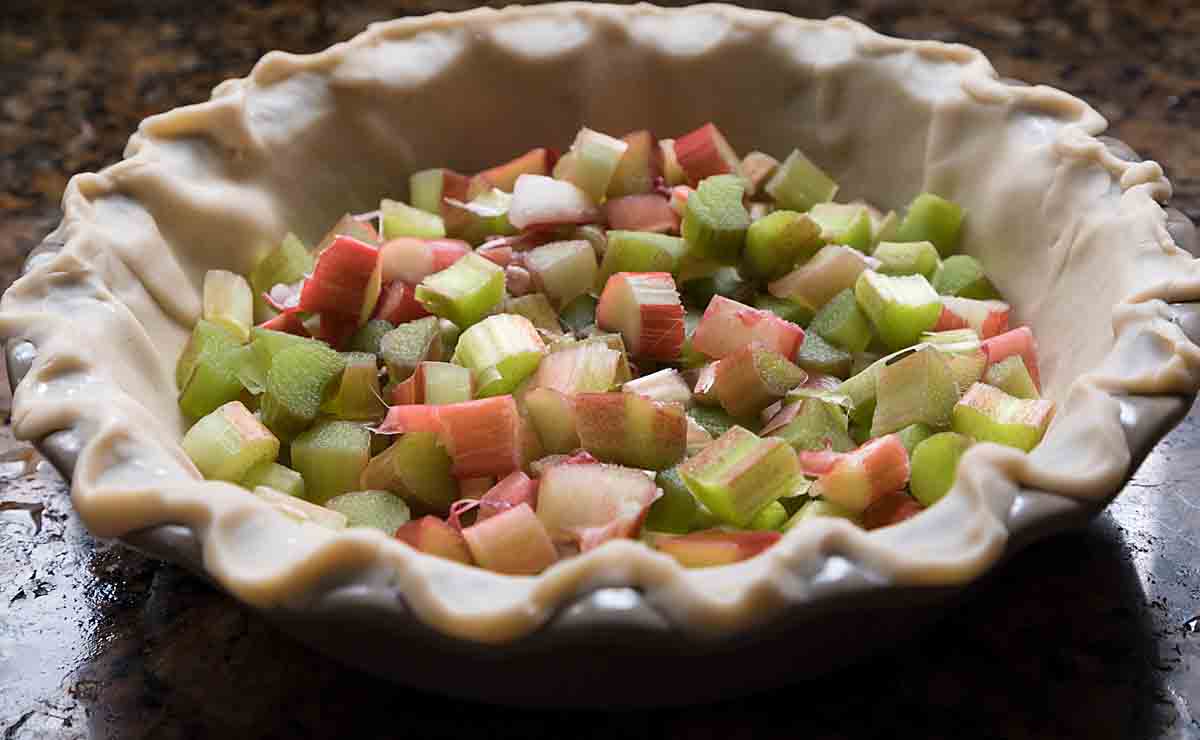 Beat custard ingredients until well mixed.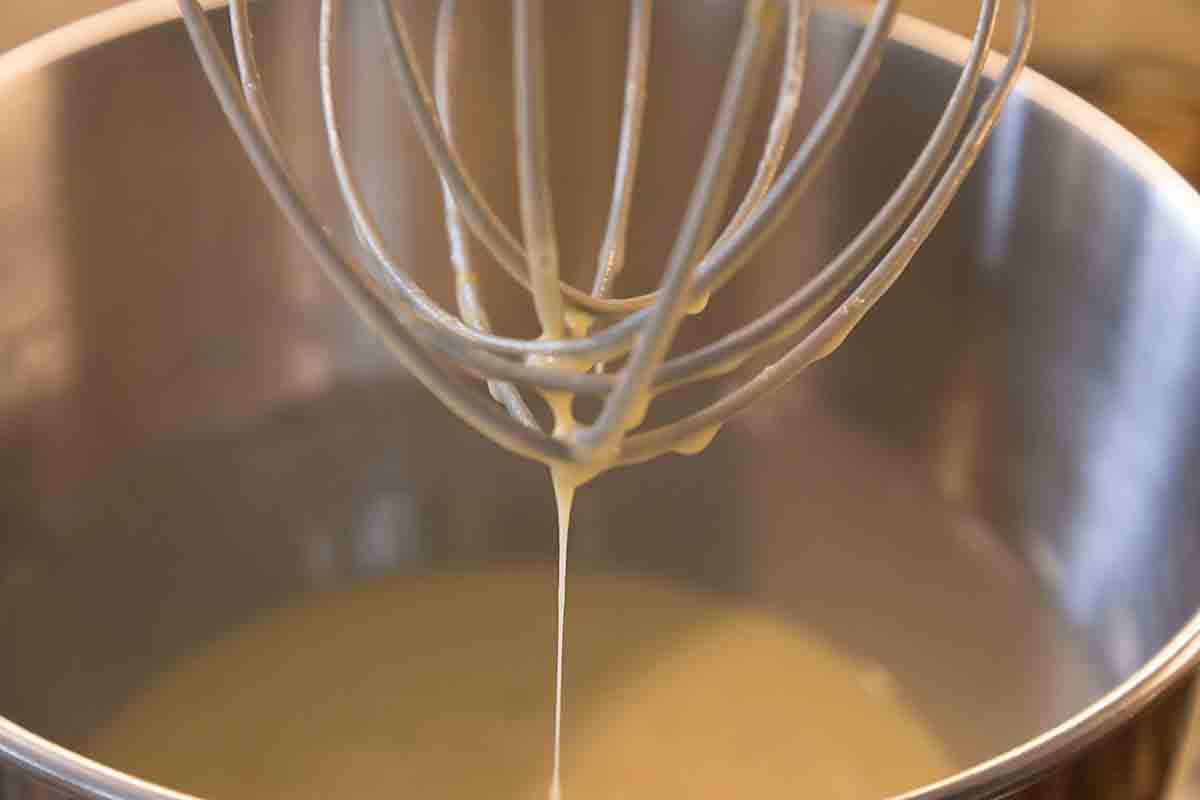 Pour custard over rhubarb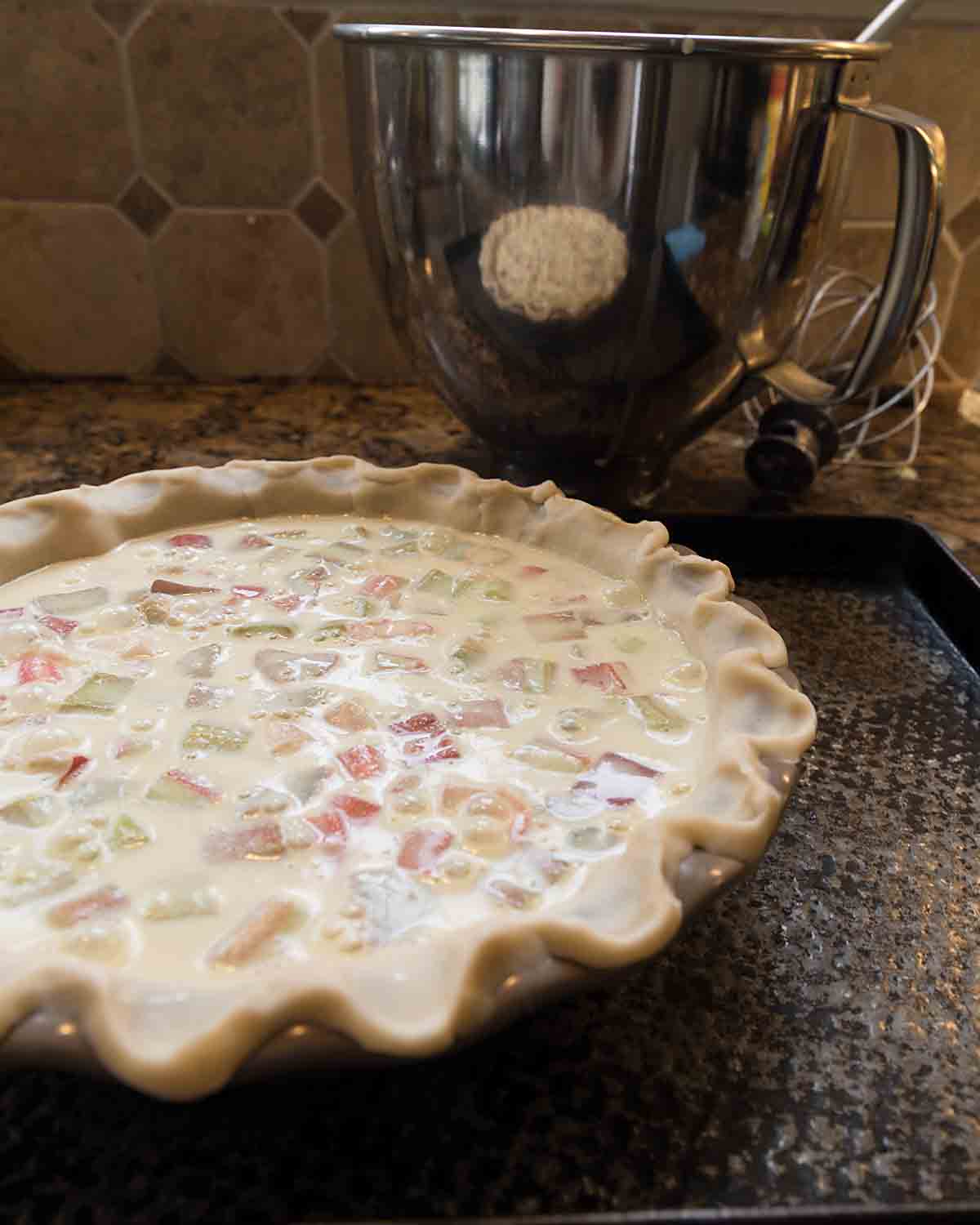 Bake until golden and set.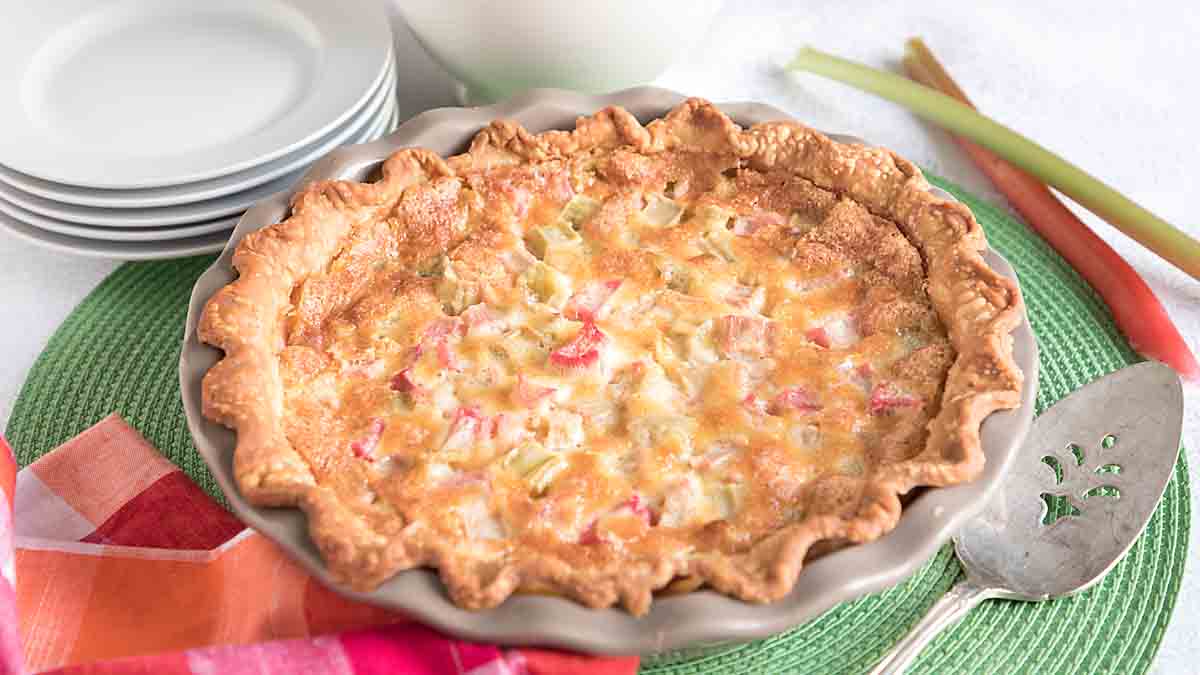 Notes and Tips
I added vanilla to the custard and baked the pie longer than the original. Since it stayed jigglier than I was comfortable with, I used an instant read thermometer to make sure the center of the pie was up to 175 F before pulling it out.
And if your eggs are at all small, go with four instead of three.
Be sure you cool this pie thoroughly before cutting, since it's a really soft set. I let it cool briefly on the countertop, then finished cooling in the refrigerator.
Refrigerate any leftovers and eat within a few days.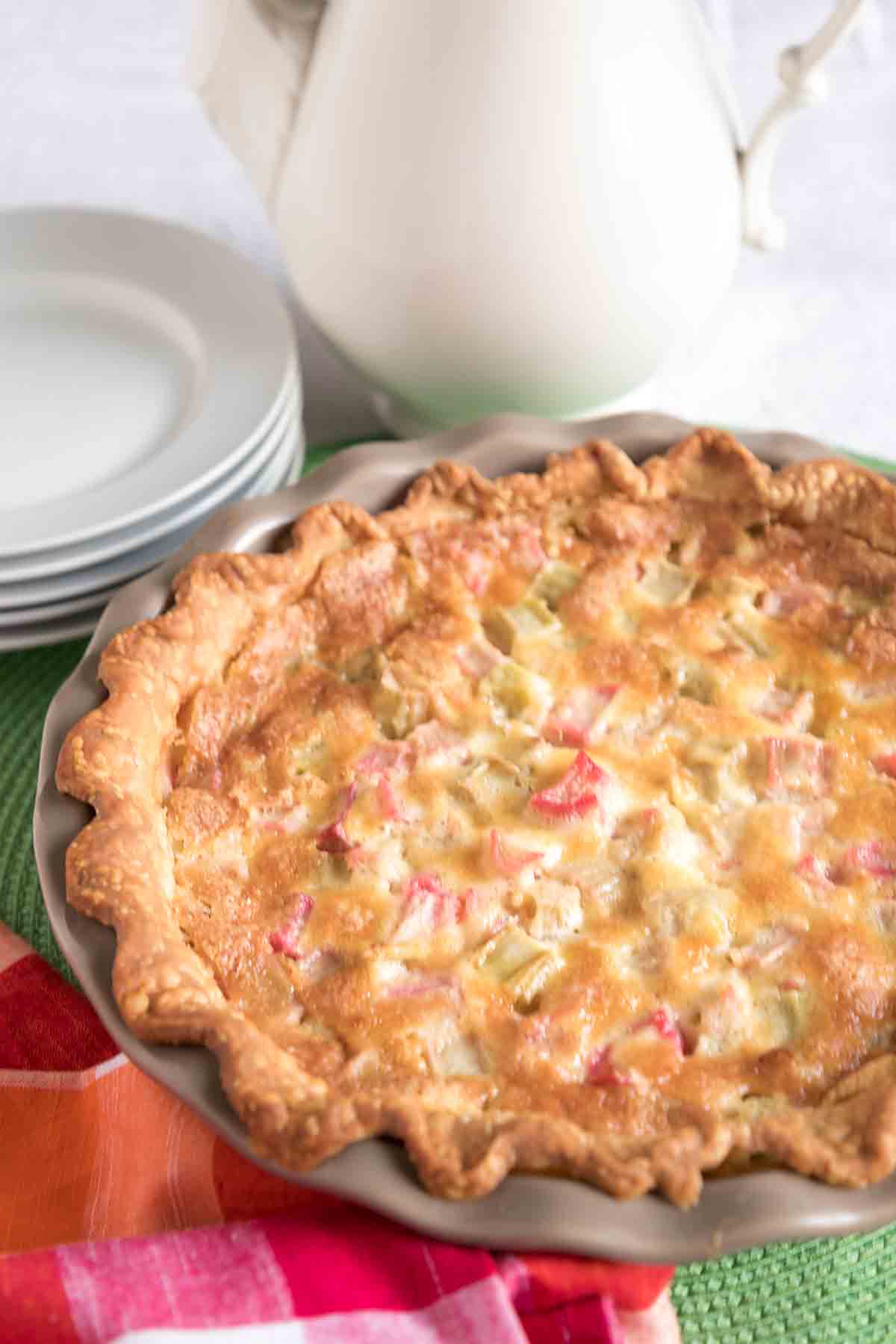 On Pie Crust
Most baking sites will recommend that you blind bake the crust first for a custard pie. Since my source didn't do it, I didn't either and the crust turned out lovely. Usually I am desperately late, so no pre-baking is a plus for me! But go ahead and pre-bake if your prefer.
You can use your favorite crust from homemade (someday I plan to get proficient at that) to commercial. I used a store-bought refrigerated pie crust which I rolled slightly bigger to fit into my pie pan.
Should I Use Red or Green Rhubarb?
There is a lot of discussion about the difference between red and green rhubarb. Happily, you can use either in this. The color of rhubarb is most important in the really elegant tarts that use the color to make a decorative pattern.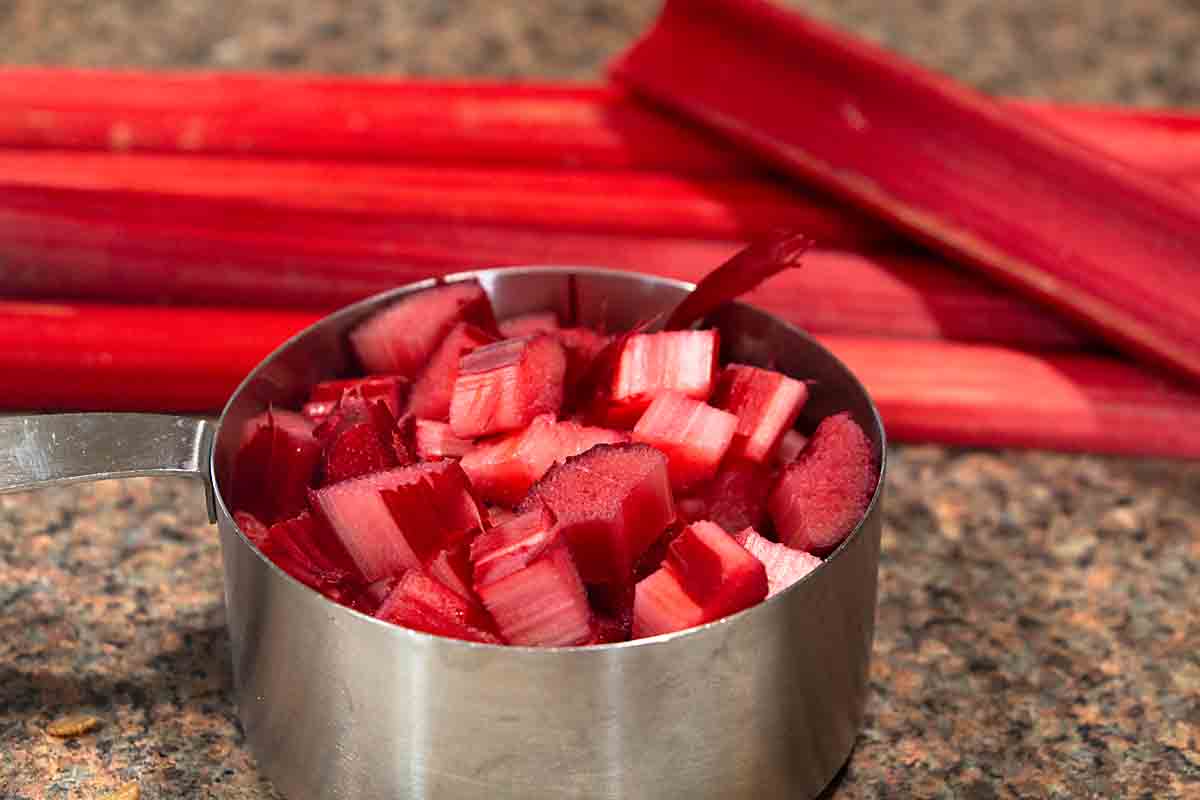 Per the Rhubarb Compendium, "Many folks often assume the red stemmed rhubarb is sweeter than other colors but color and sweetness are not necessarily related. The Victoria variety, which is one of the greenest varieties, can produce some very sweet stems."
And even if the stalks that you have are on the tart side, the sweet custard in this will totally compensate!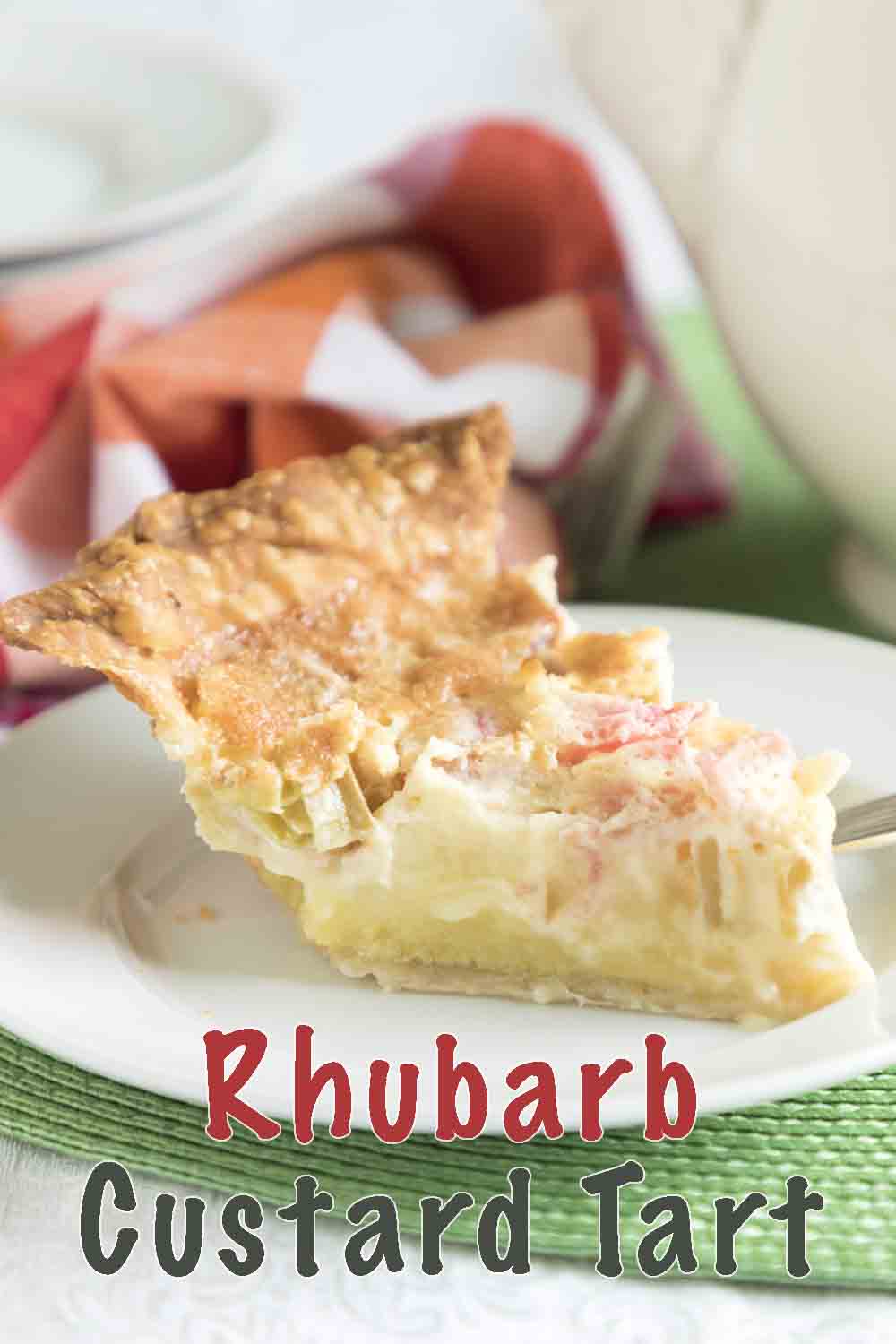 Can I use frozen rhubarb?
Most fruit can go directly into a recipe frozen with zero problem. In fact, you generally don't want to thaw frozen fruit before baking.
Rhubarb is the exception. It seems to release a lot of water as it bakes which can result in soggy cakes or runny custards.
Since discovering this, I have started to thaw it and drain off the water with better results. I set the thawed rhubarb in a strainer or colander to let the water run off. You can very gently pat with a dry cloth but don't press or squeeze. (Rhubarb Central suggests even adding as little additional rhubarb to offset the loss in volume.)
The other issue is density. Thawed rhubarb will weigh more per volume and may not integrate as well. To offset this, I toss the drained rhubarb in about a tablespoon of extra flour to get it just lightly coated.
And for this rhubarb custard pie, I'd mix the thawed rhubarb into the custard instead of pouring the custard over it. I have not personally tested this recipe with frozen rhubarb but there are many reports of it working if the above steps are followed.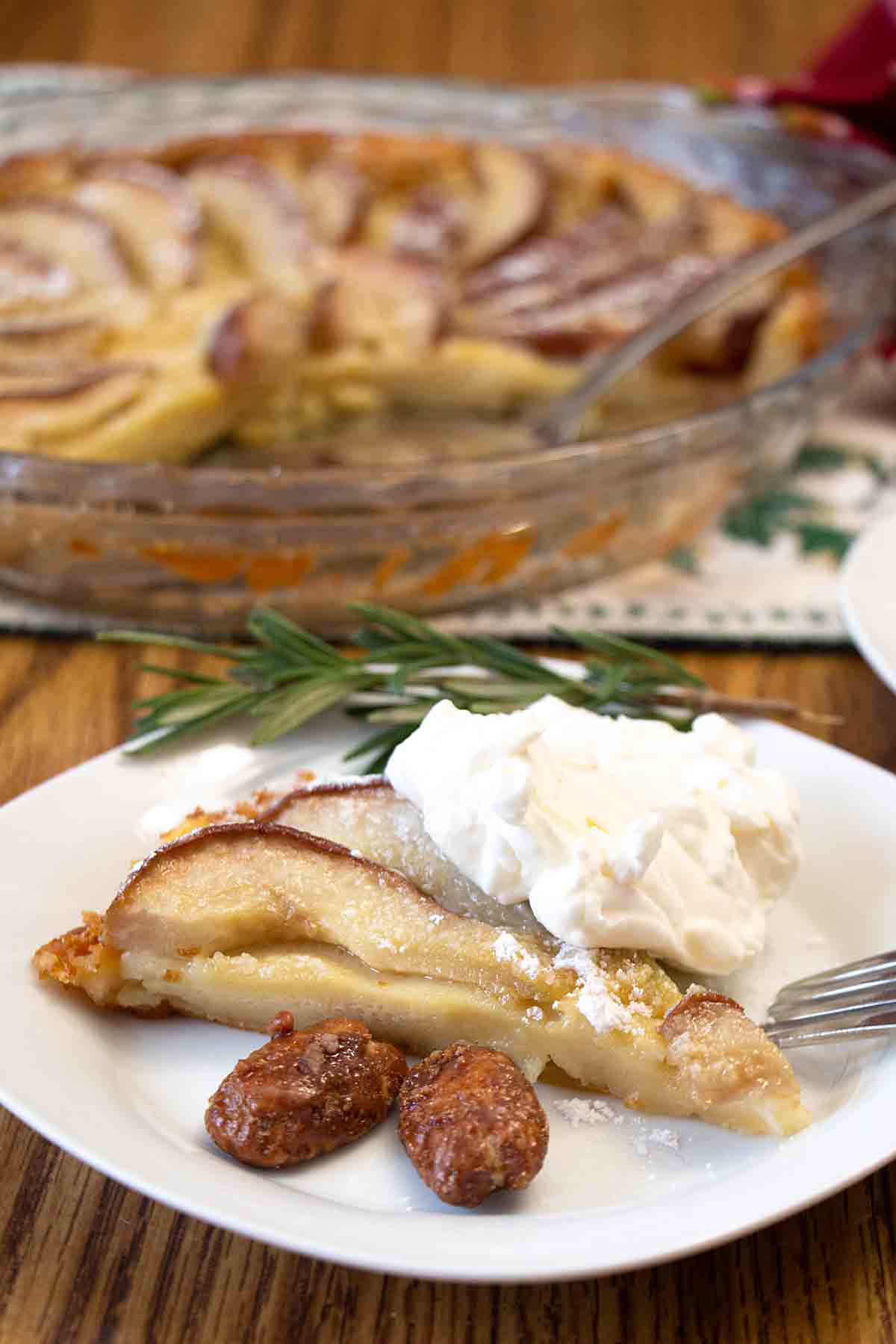 Can you make this custard pie with other fruit?
Many fruits are delicious in a custard pie–plums and blueberries come to mind! You would probably need to decrease the sugar since most substitutions would be sweeter. I think it's unlikely that you'd have a problem with the custard setting since rhubarb contains so much water.
If you'd like a fully tested recipe, I use a slightly different custard mix with no crust in the delicious pear custard pie shown above.
Yes, a nice rhubarb pie is perfect for dessert or snacking or a nice summer brunch. Top with whipped cream or ice cream–or just eat plain! Yes, totally worth it!
More Tasty Rhubarb Recipes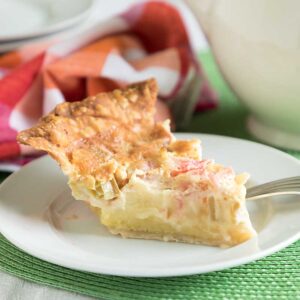 Rhubarb Custard Pie
With a creamy sweet custard topped with tart rosy rhubarb, rhubarb custard pie is a super easy and special dessert treat!
Ingredients
1

unbaked pie shell

3

cups

rhubarb pieces
Custard
1 1/4

cup

sugar

3

extra large eggs

or 4 smaller eggs

1

cup

heavy whipping cream

3

Tablespoons

flour

1

teaspoon

vanilla
Instructions
Place rhubarb in pie shell.

In a separate bowl, beat custard ingredients together (I used a mixer for this) and pour over rhubarb.

Bake 10 minutes at 400°, and then 45-60 minutes at 350° until the center is just slightly jiggly (see note). The custard temperature should be about 175 F if you have an instant read thermometer. If the crust is getting too brown, you can shield with foil.

Cool briefly on the countertop, then move uncovered to the refrigerator to get thoroughly cool and set before serving. Store leftovers refrigerated and lightly covered.
Notes
The biggest complaint in online reviews of this recipe is failure to set. The custard will have a slight jiggle when done, but if it wobbles more than than, cooke it longer, covering crust with foil if needed.
Nutrition
I am not a health professional and nutrition data is calculated programatically. Accuracy may vary with product selection, calculator accuracy, etc. Consult a professional for the best information.