With a creamy sweet custard topped with tart rosy rhubarb, rhubarb custard pie is a super easy and special dessert treat!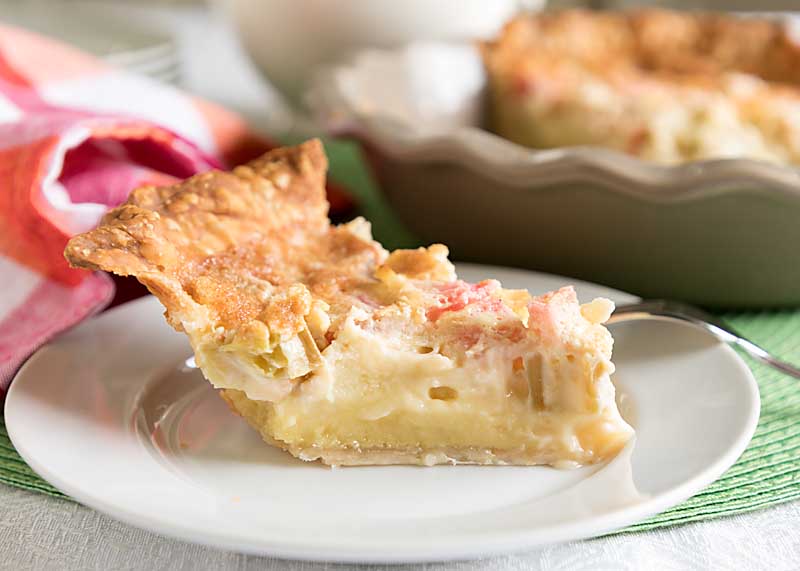 This is why I blog. Divine, perfectly balanced, new discoveries like this Rhubarb Custard Pie. Even after all these years.
I had seen a lot of lovely rhubarb pies this spring. Rosy rhubarb tarts, artfully arranged in a colorful geometry. Hello spring!
But I figured I'd walk before I ran and start with something more basic.
In the end I ran anyway.
Okay, I admit it, I'm a custard freak–Wisconsin girl after all. But its sweet creaminess is a perfect pairing for the tart rhubarb. Can you tell I'm in love?
The recipe comes from the blog The Creative Bite and it's sooo simple to make–plus kind of magical. You toss the rhubarb into the crust and pour the custard mix over. While it bakes the rhubarb floats up to leave a bottom layer of custard. There are even some surprise bites of crunchy caramelization.
I did add some vanilla to the custard and baked the pie longer. Since it stayed jigglier than I was comfortable with, I also made sure the center of the pie was up to 175 F before pulling it out.
Be sure you cool this pie thoroughly before cutting, since it's a really soft set. And if your eggs are at all small, go with four instead of three.
Yes, totally worth it!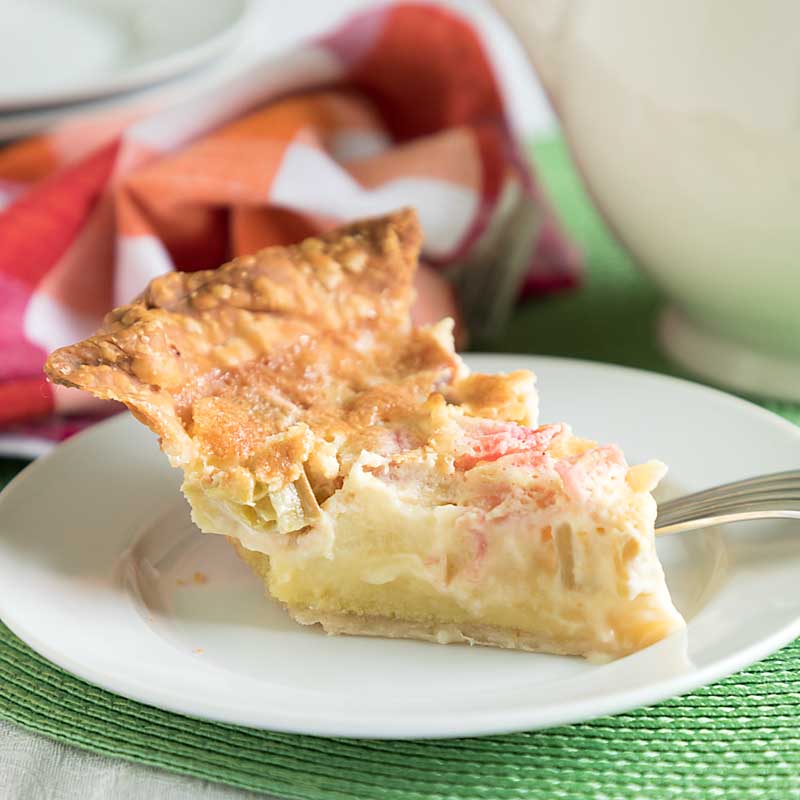 Rhubarb Custard Pie
2019-05-23 10:04:05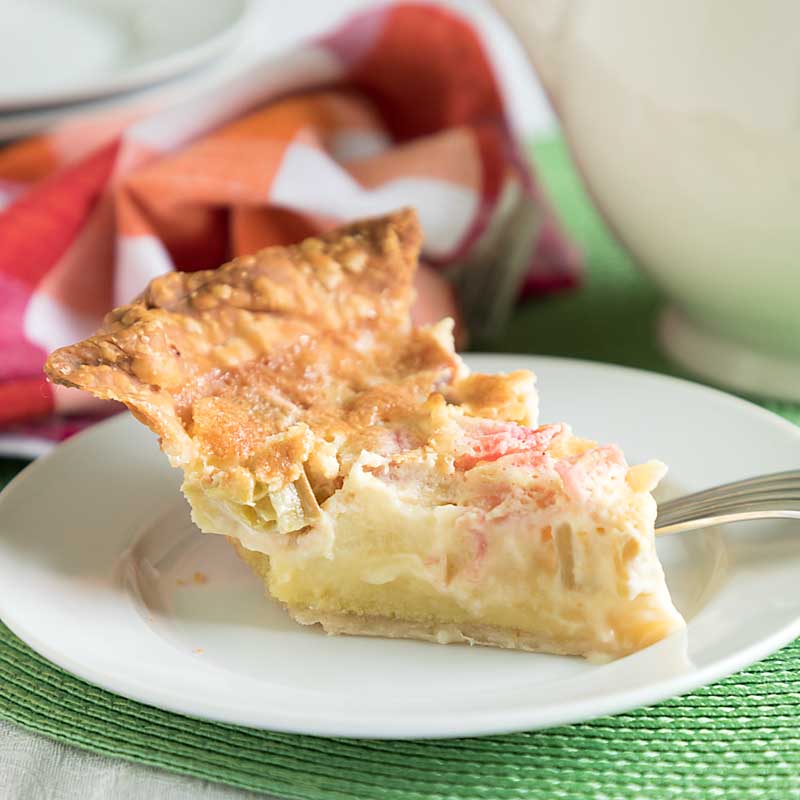 Serves 12
With a creamy sweet custard topped with tart rosy rhubarb, rhubarb custard pie is a super easy and special dessert treat!
Nutrition Facts
Amount Per Serving
* Percent Daily Values are based on a 2,000 calorie diet. Your Daily Values may be higher or lower depending on your calorie needs.
Ingredients
• 1 unbaked pie shell
• 3 cup rhubarb pieces
Custard
• 1 1/4 cup sugar
• 3 extra large eggs (or 4 smaller eggs)
• 1 cup heavy whipping cream
• 3 Tablespoon flour
• 1 teaspoon vanilla
Instructions
Place rhubarb in pie shell.
In a separate bowl, beat custard ingredients together (I used a mixer for this) and pour over rhubarb.
Bake 10 minutes at 400°, and then 45-60 minutes at 350° until the center is just slightly jiggly (see note). The custard temperature should be about 175 F if you have an instant read thermometer. If the crust is getting too brown, you can shield with foil.
Cool briefly on the countertop, then move uncovered to the refrigerator to get thoroughly cool and set before serving. Store leftovers refrigerated and lightly covered.
Notes
The biggest complaint in online reviews of this recipe is failure to set. The custard will have a slight jiggle when done, but if it wobbles more than than, cooke it longer, covering crust with foil if needed.
Art of Natural Living https://artofnaturalliving.com/