No-Bake Key Lime Yogurt Pie
Key Lime Yogurt Pie adds probiotics to a tasty summer dessert that is no-bake! Time for a guilt-free snack?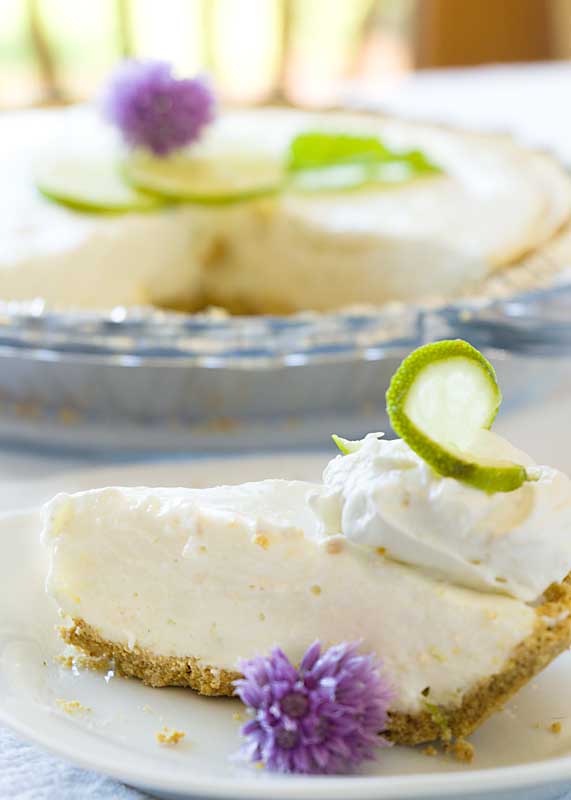 I used to think I didn't like citrus desserts. Perhaps I had one too many lemon bars growing up…
But there was a very distinct turning point. And it all revolved around key lime pie.
A decade or so ago, I was on the leadership committee for my employers United Performing Arts Fund campaign.
When we finished up a very successful round of fund raising, there was a reward. A night in the company's luxury box for a Milwaukee Brewer's Game. Sign me up!
I don't remember much about most of the food or drink—or even the game, except that we enjoyed everything! But dessert still stands out.
Left up to me, dessert would have been brownies, so I sighed when the key lime pie arrived. Still in my no-citrus-dessert days, I bravely took a piece.
I expected to have a borderline taste experience–instead it was heaven. Whoda thought!
I have been obsessed ever since, making treats like Key Lime Meringue Pie and Key Lime Cookies (coming up on the blog). Clearly, I needed to find some way to make my lime desserts just a little healthier.
So, this week I took my recipe for Strawberry Yogurt Pie and converted it to Key Lime Yogurt Pie. Now if you don't have key limes, don't worry—ordinary limes will do just fine. Light, fluffy, flavorful and no-bake even, this may be the pick hit of the summer!
And when you reach for your piece, repeat after me Probiotics are Healthy. Happy summer!
Key Lime Yogurt Pie
2019-06-21 13:43:54
Serves 8
Key Lime Yogurt Pie adds probiotics to a tasty summer dessert that is no-bake!
Nutrition Facts
Amount Per Serving
* Percent Daily Values are based on a 2,000 calorie diet. Your Daily Values may be higher or lower depending on your calorie needs.
Ingredients
Approximately 4 limes (to yield ½ c lime juice & 1 T zest)
2 ¼ tsp powdered gelatin (1 packet)
1/2 cup whipping cream
2 cups plain nonfat or low-fat Greek yogurt
¾ cup powdered sugar
½ t vanilla
Graham cracker crust (commercial or your favorite homemade crust)
Instructions
Zest one of the limes to get 1 Tablespoon of lime zest (green only, no white). Juice limes to yield ½ cup of lime juice.
Fill a small bowl with the ¼ cup of lime juice. Sprinkle the gelatin over and soak for 5 minutes to soften.
Heat the gelatin mixture in a microwave about 10 seconds at a time, stirring in between, until very warm. Do not boil. Stir until gelatin is dissolved, then set aside to cool slightly
In a medium bowl beat cream until thick peaks form.
Combine the yogurt, sugar, remaining lime juice, lime zest, vanilla and gelatin mixture. Whisk until well mixed. Fold in the whipped cream trying not to deflate.
Pour the filling into the crust and smooth the top. Refrigerate 5 hours or overnight to set up.
Serve with whipped cream and lime slices if desired.
Art of Natural Living https://artofnaturalliving.com/
No Bake Dessert Recipes
We share Recipes From Our Dinner Table! Join our group and share your recipes, too! While you're at it, join our Pinterest board, too!