One Dish Chicken & Mushrooms
Where would I be without book club? Just when I am low on blogging recipes, someone comes through with a great new recipe like this One Dish Chicken & Mushrooms.
This simple but elegant entree was one of the highlights of our annual book club Christmas party. And it gets extra points because it's both super-easy and super-flavorful.
In truth, I can be pretty skeptical about the trendy, few-ingredient recipes out today. I can't tell you how many times, I've tried something simple and found it tasted simple (that would be boring). Not this dish!
The recipe card came with the name "Company Chicken" and it really is good enough for company (or book club Christmas parties). Even after I reduced the fat by cutting down the butter and eliminating the cheese on top (pictures show the cheese version, since I tested both ways).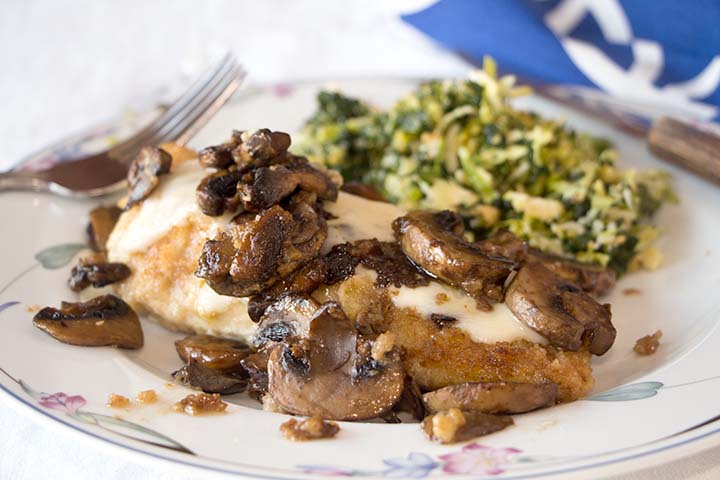 Truth is, I wasn't actually being good when I left off the cheese on my first try–I simply forgot. It was a smash hit anyway. So no cheese = easier still.
On a third try, I decided to test uber-healthy and used olive oil instead of butter. My husband liked that flavor profile, while I preferred the butter. So take your pick–next time I'm trying halfsies…
One Dish Chicken & Mushrooms
2017-03-02 15:23:29
Serves 4
Super easy and delicious, this One Dish Chicken & Mushrooms proves that a simple, one-dish entree can be good enough for company.
Nutrition Facts
Amount Per Serving
* Percent Daily Values are based on a 2,000 calorie diet. Your Daily Values may be higher or lower depending on your calorie needs.
Ingredients
4 large boneless chicken breast halves
3 eggs, beaten
1 C seasoned dry breadcrumbs
5 T butter or olive oil
1 pound sliced mushrooms
¼ C chicken broth
Instructions
Pat chicken dry. Place in bowl or plastic bag. Pour eggs over the chicken. Cover and chill one to two hours.
Drain chicken. Dredge in breadcrumbs. Melt 2 T butter in an oven proof (see note) skillet or braiser over medium heat. Add chicken and cook until just brown on first side, about 3 minutes. Add additional tablespoon of butter, turn and brown the second side. Transfer to a plate.
Melt remaining 2 T butter in same skillet. Add mushrooms and cook until soft. Return chicken to the pan, spoon mushrooms over the top and Add broth to the pan. Cover and bake at 425 until chicken is cooked through, about 20 minutes. This will vary with the thickness of the chicken breasts, so check the temperature with a meat thermometer.
Notes
If you don't have an oven proof skillet or braiser, you can transfer the chicken and mushrooms to a baking pan before you put it in the oven. (Be sure handles/lids can take the heat too).
Art of Natural Living https://artofnaturalliving.com/