Pavlova Wreath Meringue Dessert
I am seriously obsessed with meringue. There is something special about a dessert that is sweet and crisp and light as air. Who would have thought that beating egg whites and sugar could be so magical? Pair it with fruit and/or whipped cream and it's over the top. When I saw a picture of this Pavlova Wreath at She Wears Many Hats, I soooo needed to give it a try.
Until I started blogging, I never made a meringue myself (silly me), but I had eaten literally hundreds. Yes, my past included Strawberry Schaum Tortes (which, growing up, I always hoped would be on the restaurant dessert menu), my mother's special occasion Strawberry Meringue Dessert and the Cream Meringues I ate during teas with friends when I studied in Ireland. Yup, just mention meringue and I start to mist up.
One of the most famous meringue desserts is the Pavlova, created for the famed Russian ballerina Anna Pavlova during a tour to Australia and New Zealand. It is a crisp meringue with a creamy center (some meringues are crisp all the way through) and topped with fruit and whipped cream.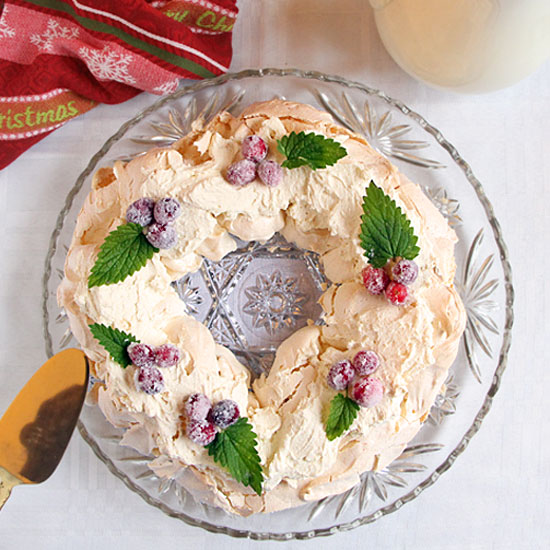 This Pavolva wreath is a good beginner meringue since it doesn't require any special skills (such as piping) to form. You just drop dollops of meringue in a circle on parchment (I don't even draw a circle first like some people recommend), then smooth as needed into a wreath. Bake, let cool, then top with whipped cream and decorate with a little or a lot of fruit. (If you are using a lot of topping, you may want to flatten or hollow out a bit of a well but for the more limited amount of filling in this recipe, leaving the meringue mounded works well).
Finally, garnish as desired. I used a few sugared cranberries and some lemon balm (mint is good too) leaves.
After a big Christmas dinner, I need a dessert that is both tasty and light to tempt a roomful of stuffed and sleepy guests. I think I've got a winner here!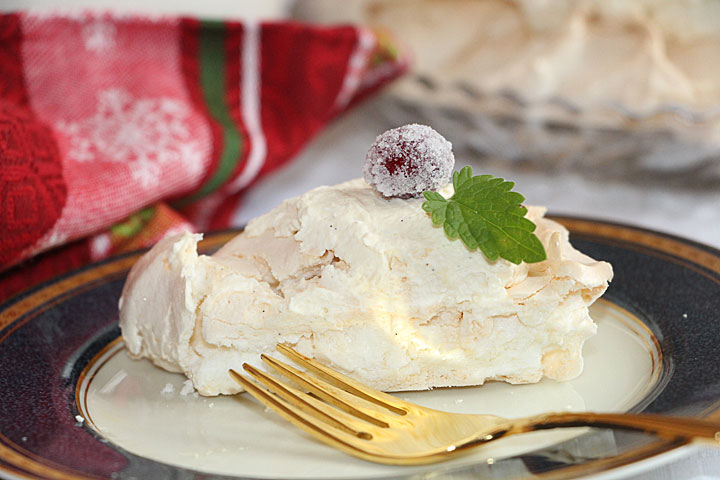 Pavlova Wreath
2015-12-20 16:28:33
Serves 12
There is something special about a Christmas dessert that is sweet & crisp & light as air like this Pavlova Wreath Meringue with berries & whipped cream.
Nutrition Facts
Amount Per Serving
* Percent Daily Values are based on a 2,000 calorie diet. Your Daily Values may be higher or lower depending on your calorie needs.
For the meringue
• 4 eggs whites (ideally room temperature)
• Pinch of salt
• 1 cup sugar
• 1 tablespoon cornstarch (sifted)
• 1 teaspoon lemon juice
• ½ teaspoon vanilla
For the topping
• 1 cup heavy cream
• ¼ cup powdered sugar
• 1 teaspoon vanilla
Fruit as desired for garnish.
Instructions
Preheat oven to 350 F. Top a large baking sheet with parchment.
Beat egg whites until soft peaks form. Beat in sugar, a little at time until meringue is stiff.  Beat in sifted cornstarch, vanilla & lemon juice. Mixture should be very stiff and hold its shape well if mounded
To form the wreath, scoop a dollop of meringue onto the parchment. Repeat until a ring of meringue is complete. Smooth the meringue as needed. The top can be left mounded or flattened, depending on the amount of topping you are using.
Place meringue in oven, and immediately reduce temperature to 250. Bake for 1 hour 30 minutes. When time is complete, turn off the oven and leave meringue in the oven until completely cool, about 4 hours.
Before serving, beat the whipped cream until stiff. Add the powdered sugar and vanilla then beat briefly until combined.
When meringue is cool, loosen gently from the parchment with a thin flat tool and move to a serving dish. Spread with whipped cream, and decorate as desired.
Serve within a few hours of topping.
Art of Natural Living https://artofnaturalliving.com/