Christmas Drinking Custard
Like a heady vanilla eggnog (but no raw eggs), drinking custard is a delicious and easy southern Christmas tradition that is perfect with or without alcohol.
I've been watching the photographs for years. Thick liquid custard, dressed up and poured into a mug. Can you look and not be tempted? This special drink is known by many names: boiled custard, drinking custard, crème anglaise–and bears a strong resemblance to egg nog. But in lieu of eggnog's nutmeg and cinnamon, you get a heady dose of fragrant vanilla–and the eggs aren't raw!
Sign me up!
Although most likely of European origin, drinking custard is probably best known in the southern U.S. Here it is a special drink served at Christmas or a soothing and nourishing beverage for someone who is feeling under the weather.
The recipe is based on one from A Southern Grace, my first introduction to this beverage and the healthiest version I found (e.g. uses whole milk vs part cream). I added one extra egg yolk to make it divide evenly (on the odd chance I someday want a smaller batch), used vanilla beans instead of extract and simplified the preparation (In full America's Test Kitchen mode, I did try the original instructions which came out exactly the same as my easier version.)
And it isn't at all difficult to make! Just blend, cook, strain and cool.
And the family was just as excited as I was. My oldest daughter came home for a party this weekend, and in her best starving young person impression, rummaged through the refrigerator. "How can you not have egg nog?" she said, incensed.
"Wait until you see what we have instead," I replied. After she and my youngest got their first taste of drinking custard, I realized I would probably never make a half batch.
There is actually a special reason I started making boiled custard this year. You see, we are participating in a rarely mentioned holiday ritual: winter break impacted wisdom teeth removal. Times two kids. One before Christmas, one after. Yup, there's going to be a lot of creamed soup going around. But also some sweet drinking custard. A spoonful of sugar, you know!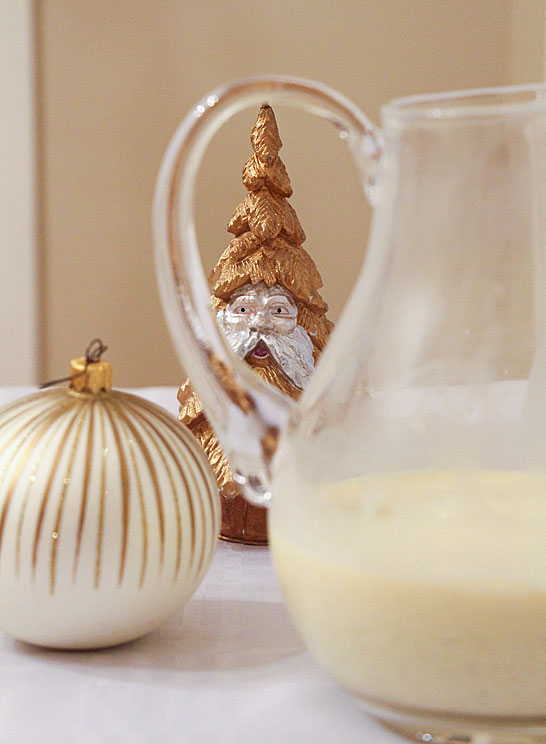 Of course, just like with eggnog, you can add something a little more potent. So, if the cooking and nursing start to get hard, Mom is going to get her own special Christmas drinking custard.
Fire up the stove!
Drinking Custard
2015-12-13 17:34:31
Serves 8
Like a heady vanilla eggnog (but no raw eggs), drinking custard is a delicious and easy southern Christmas tradition that is perfect with or without alcohol
Nutrition Facts
Amount Per Serving
* Percent Daily Values are based on a 2,000 calorie diet. Your Daily Values may be higher or lower depending on your calorie needs.
Ingredients
1/2 gallon (8 cups) whole milk
1 cup granulated sugar
8 large egg yolks
2 teaspoons vanilla extract or 2 vanilla beans
Instructions
In a heavy saucepan, whisk together milk, egg yolks and sugar. Split vanilla beans, if using, then scrape out seeds. Add seeds and vanilla pod to the saucepan. (If using vanilla extract this will be added later.)
Cook over medium heat, stirring regularly until custard coats the back of a spoon--about 185 F. If using vanilla extract, add it now.
Strain to remove vanilla bits and any thickened egg, then refrigerate until cool.
Serve with or without a shot of alcohol.
Art of Natural Living https://artofnaturalliving.com/