Pumpkin Pear Trifle with Maple Custard
A simplified version of the classic English dessert, Pumpkin Pear Trifle combines pumpkin bread, juicy pears and maple custard for a perfect fall treat.
It was a bad weekend for cooking. A couple of failures and I was frustrated. And while I (usually) love cooking from scratch, at this point I needed a sure thing.
That was also festive. Enter Krusteaz Baking Mixes mixes—phew (and thanks Krusteaz for sponsoring this post!).
Right now, fall hangs beautifully in the air, which means one thing for sure. It's time for pumpkin! Happily, I had boxes of Krusteaz mixes for pumpkin bread, muffins and cookies. Plus a bagful of beautiful ripe pears.
I pondered, then decided to try out a Pumpkin Pear Trifle. Trifle is a classic English dessert that includes layers of sherry-soaked cake and berries, laced with custard. It is known for making an impressive statement. My simple fall version would be easier while still keeping much of the pizazz. Pumpkin everything!
What did I have in mind? Layers of pumpkin bread crumbles, macerated pears, and vanilla custard (or just extra whipped cream) – mmm!
Now, if you are like me, you may not even own a trifle dish (I have a single mini for show). The classic trifle dish is beautiful with its tall glass sides, but you can do just as well in ordinary glassware. In fact, I prefer serving in individual-sized glass cups (or brandy or martini glasses)—it just feels so personal!
The custard is the only thing remotely challenging in this Pumpkin Pear Trifle—but my recipe is quite easy and not sensitive to curdling (see recipe notes). Of course, if custard intimidates you, you can go with heaps of whipped cream. Or boxed pudding. The pumpkin bread and pears are so moist and flavorful that it always comes together.
And yes, the pumpkin bread was a snap. Happy fall!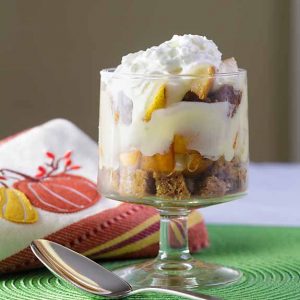 Pumpkin Pear Trifle
A simplified version of the classic English dessert, Pumpkin Pear Trifle combines pumpkin bread, juicy pears and maple custard for a perfect fall treat.
Ingredients
Custard
6

egg yolks

1/2

cup

cornstarch

1

c

maple syrup or sugar

4

cup

whole milk

or part cream

2

teaspoon

vanilla
Macerated Pears
4

pears

1/4

cup

apple cider or other juice

2

Tablespoons

sugar

or maple syrup
Pumpkin Bread (per box recipe)
1

box Krusteaz pumpkin bread mix

2/3

cup

water

1/2

cup

vegetable oil

2

eggs
Instructions
To make the custard, whisk together egg yolks, cornstarch, maple syrup (or sugar) and milk/cream in a medium saucepan. Heat on medium, stirring periodically until mixture starts to thicken. When it begins to get thicker, stir (or whisk) continuously until it just starts to boil (should not come to a vigorous boil).Remove from heat, strain into a bowl and mix in vanilla. Cover and refrigerate until thickened, a couple hours.

To make the pumpkin bread, mix Krusteaz pumpkin bread mix, water, oil and eggs together until well blended. Spoon into a greased 9 x 5 loaf pan. Bake at 350 F for about 52-57 minutes or until toothpick inserted in center comes out clean. Cool 5 minutes, then remove from pan to cool.

To macerate pears, core pears, then cut into 1/2 inch cubes (peeling is optional). Stir in cider and sugar, then refrigerate until remaining custard is cool.

To assemble dessert, slice and cube some of the pumpkin bread. Spread a layer of bread on the bottom of your dessert glass. Top with a layer of macerated pears, then spoon custard over that. You can repeat the layers if your dessert dish is tall enough. This should make 8 single layer desserts, or 4 if you double the layers.

Top with whipped cream and sprinkle with cinnamon sugar if desired.
Notes
Custard has a reputation for curdling, but the addition of a starch (e.g. cornstarch or flour) makes it much less sensitive. In fact, you to cook it (just) to the boiling point (which is easier to identify than a properly coated spoon).
If you are in a hurry, you may be able to hasten the custard's cooling by putting it in a bowl, setting the bowl in ice water and stirring. Or go with extra whipped cream
The extra egg whites can be frozen for future use. Just be sure to label the container with the quantity!
I am not a health professional and nutrition data is calculated programatically. Accuracy may vary with product selection, calculator accuracy, etc. Consult a professional for the best information.