Roasted Tomato Crostini with Goat Cheese
Roasted Tomato Crostini with Goat Cheese is a flavorful appetizer or side dish that will put your meal or cocktail party over the top. How can you go wrong with flavors concentrated by roasting!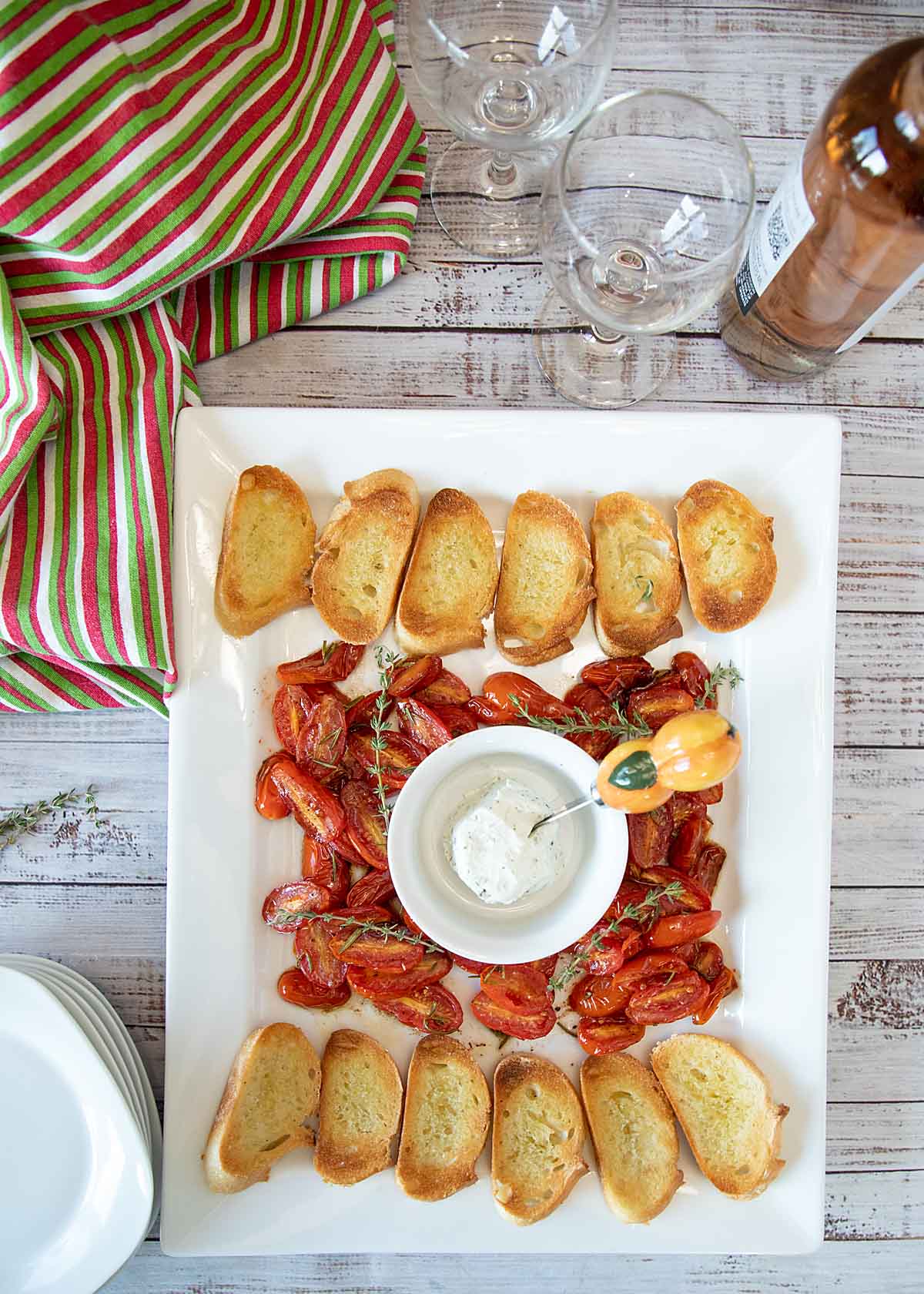 Are there recipes you think you should prepare more often… but rarely do? For me it's Tomato Crostini (or bruschetta). A delicious and fun appetizer, it somehow it seems to miss the cut on far too many occasions.
I think there are two reasons for this. First I hate chopping tomatoes. And second, I have this weird fear of assembling the crostini then having the toppings fall off! I know, neurotic!
Well, this Roasted Tomato Crostini with Goat Cheese addresses both concerns! Made with roasted tomatoes, very little slicing is needed. And when done, everything is piled generously on a platter, with assembly is performed by the eaters, not by the makers.
Finally, with a beautiful suite of concentrated flavors from tomato to rosemary to balsamic, this dish is a taste sensation too!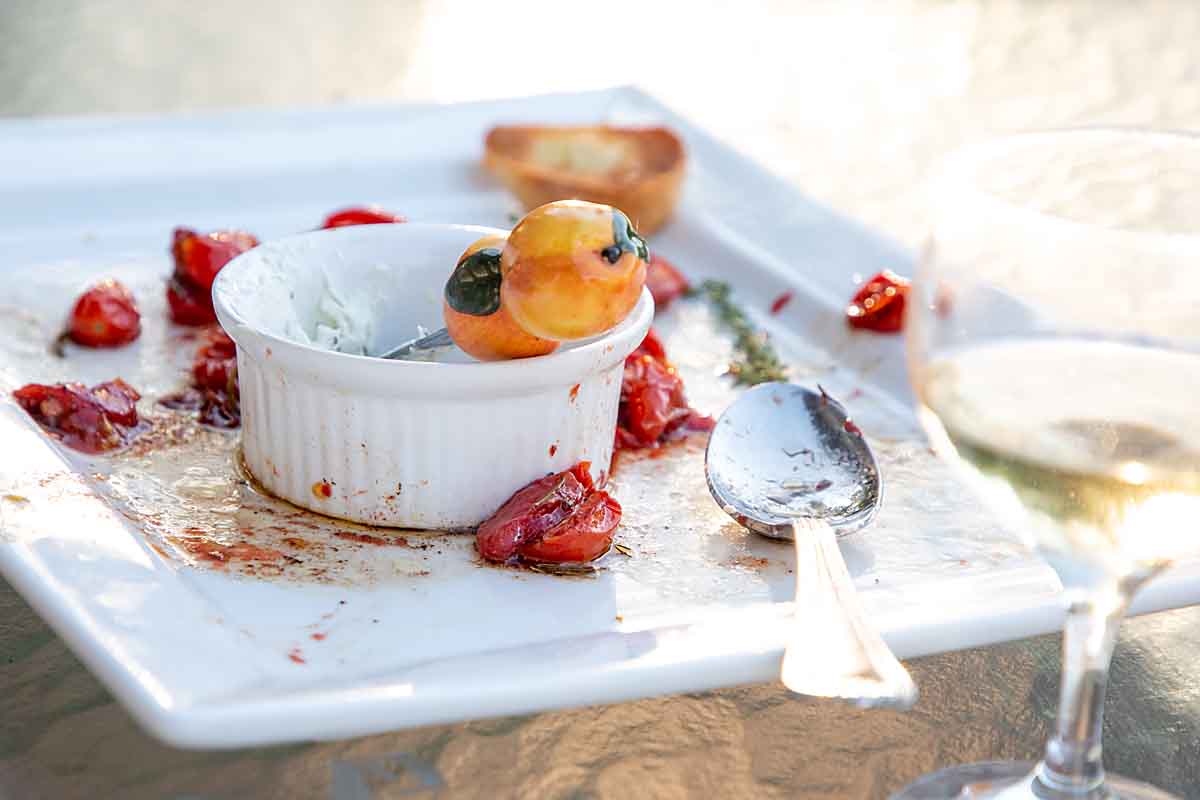 What is Crostini (versus Bruschetta)
Specialty food vendor Delallo tells us that "the difference between bruschettas and crostini is the bread used. Bruschetta, from the Italian word "bruscare" meaning "to roast over coals" is made by toasting whole, wide slices of a rustic Italian or sourdough type bread. Crostini are sliced and toasted from a smaller, round, finer-textured bread, more like a white bread baguette."
This recipe comes, by way of my sister, from a childhood friend who still hosts get-togethers full of natural food. Yes, somehow from a childhood of kool-aid and vitamin pills, we all ended up eating healthy! (And if you're looking for a great editor or publicist, check her out at LWS Literary Services)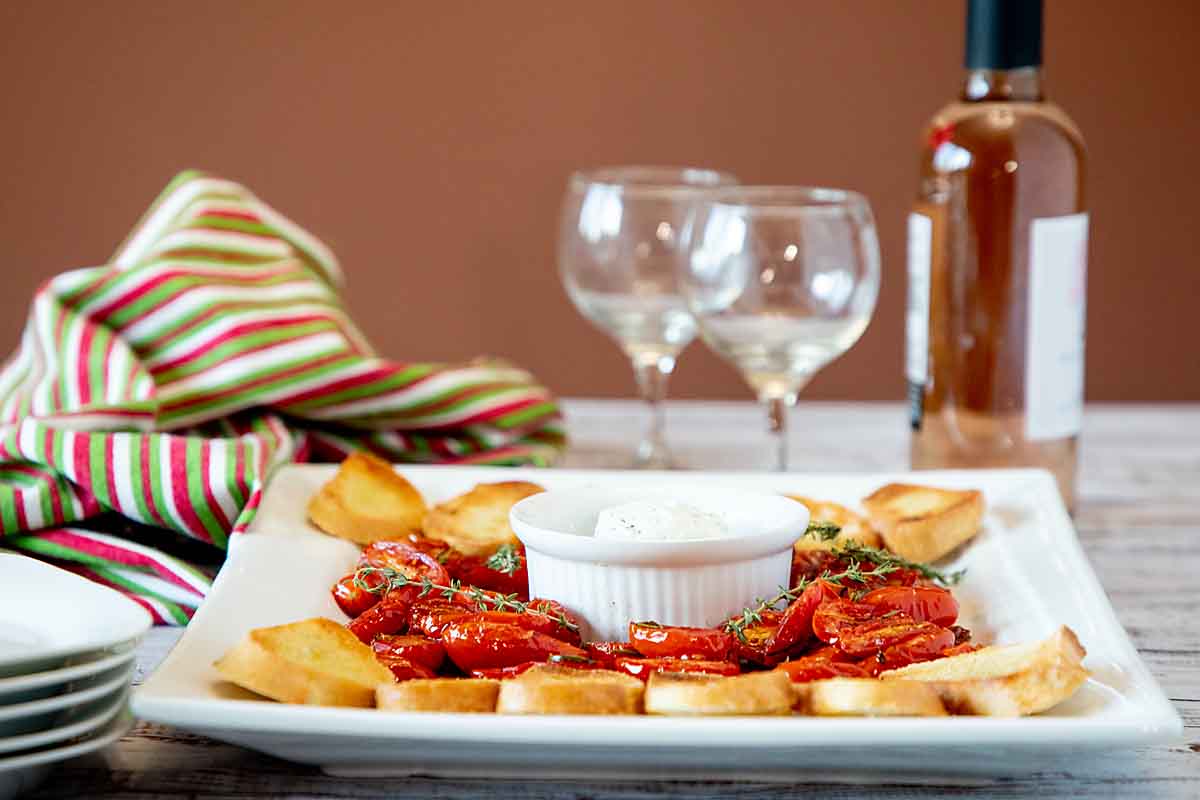 Why You'll Love This!
Easy. Halve cherry tomatoes and roast, then serve everything on a platter so the guests can assemble their own. Diners will have fun and you'll save work!
Tasty. Roasting intensifies the flavors making for an especially tasty topping. Yum!
Healthy (ish). Okay it's not a super healthy Nicoise salad. But for an appetizer, this is pretty good, right down to brushing with olive oil!
What You'll Need
Extra virgin olive oil. This adds flavor to the tomatoes and helps the toast brown.
Balsamic vinegar. This adds flavor to the tomatoes.
Salt, Pepper. This adds flavor to the tomatoes.
Cherry tomatoes. This is the main topping ingredient. You can use romas or slicers even.
Fresh rosemary. This adds flavor to the tomatoes.

Baguette. This forms the base of the crostini.
Fresh chevre (goat cheese). This adds depth and character to the crostini. You use plain or herbed goat cheese.
Step by Step Directions
Whisk vinaigrette ingredients.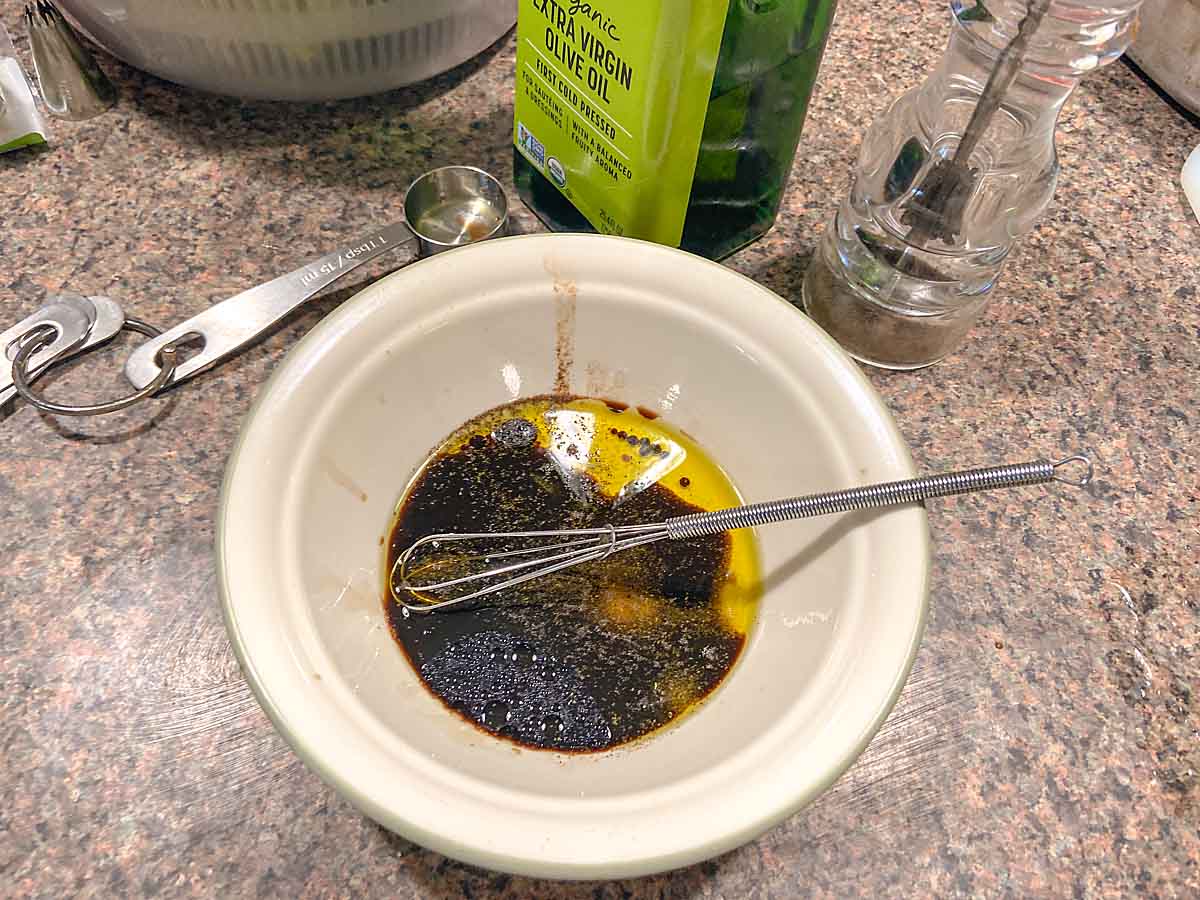 Halve cherry tomatoes or cut larger tomatoes, then brush with vinaigrette.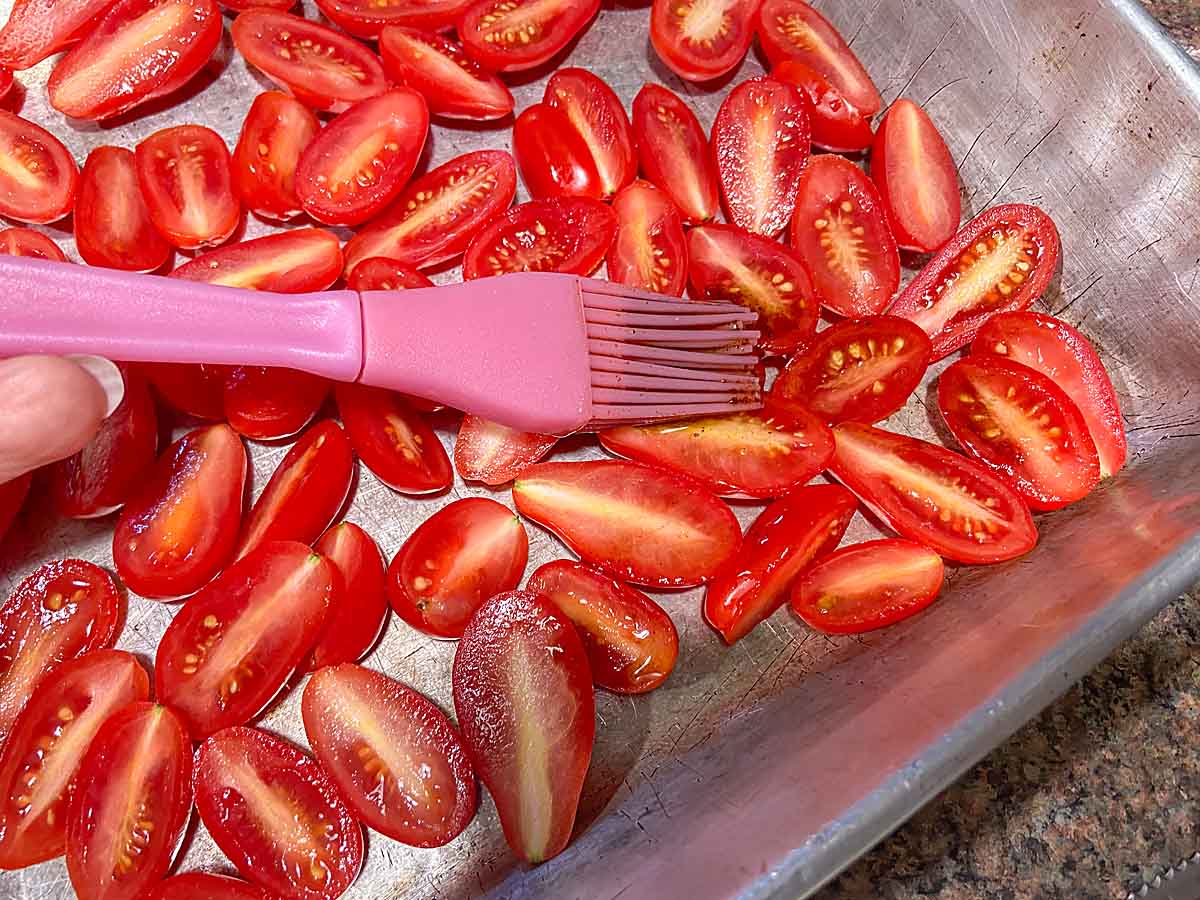 Remove rosemary leaves from stems and sprinkle over the tomatoes.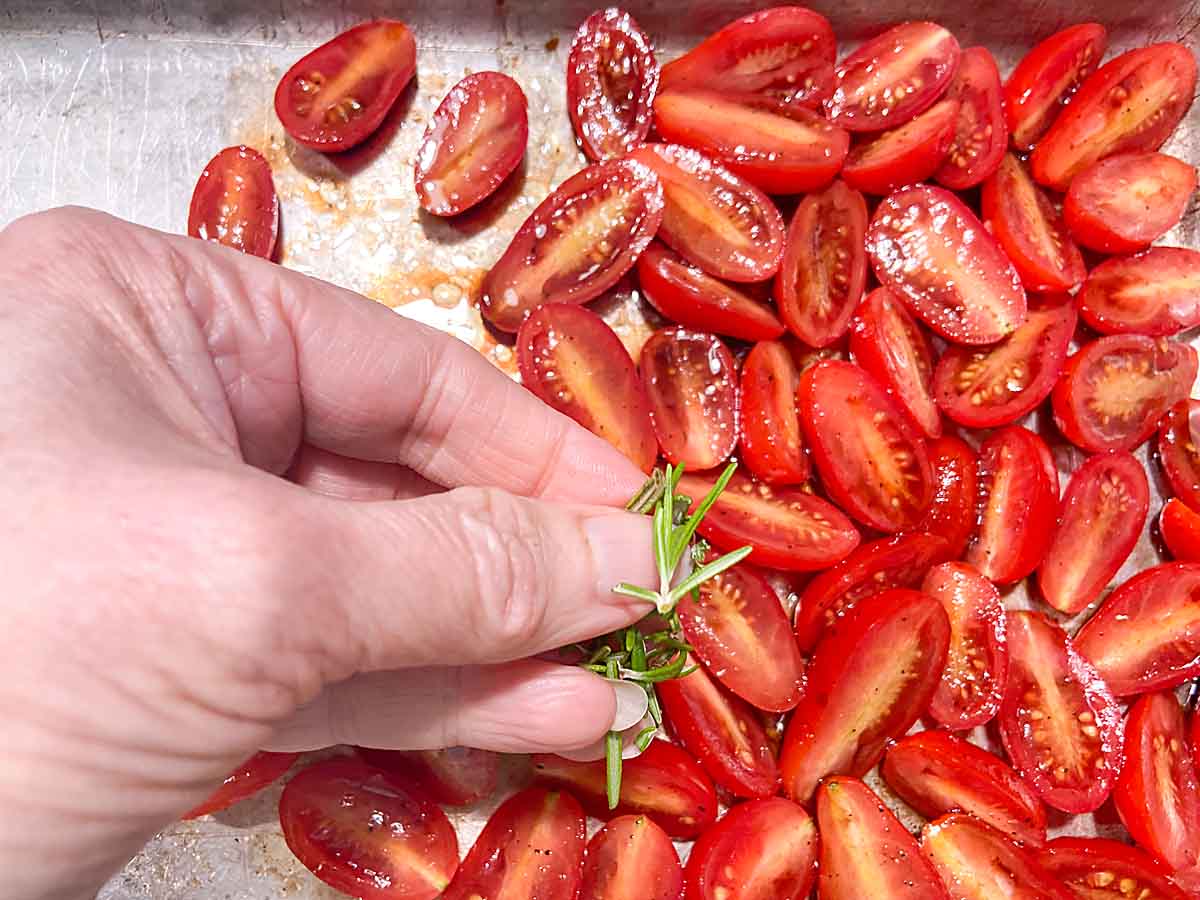 Roast at 400 F for 15-20 minutes or until tomatoes start to reduce and caramelize. For larger tomatoes, turn over once and continue to roast as needed.
Brush baguette slices with olive oil and toast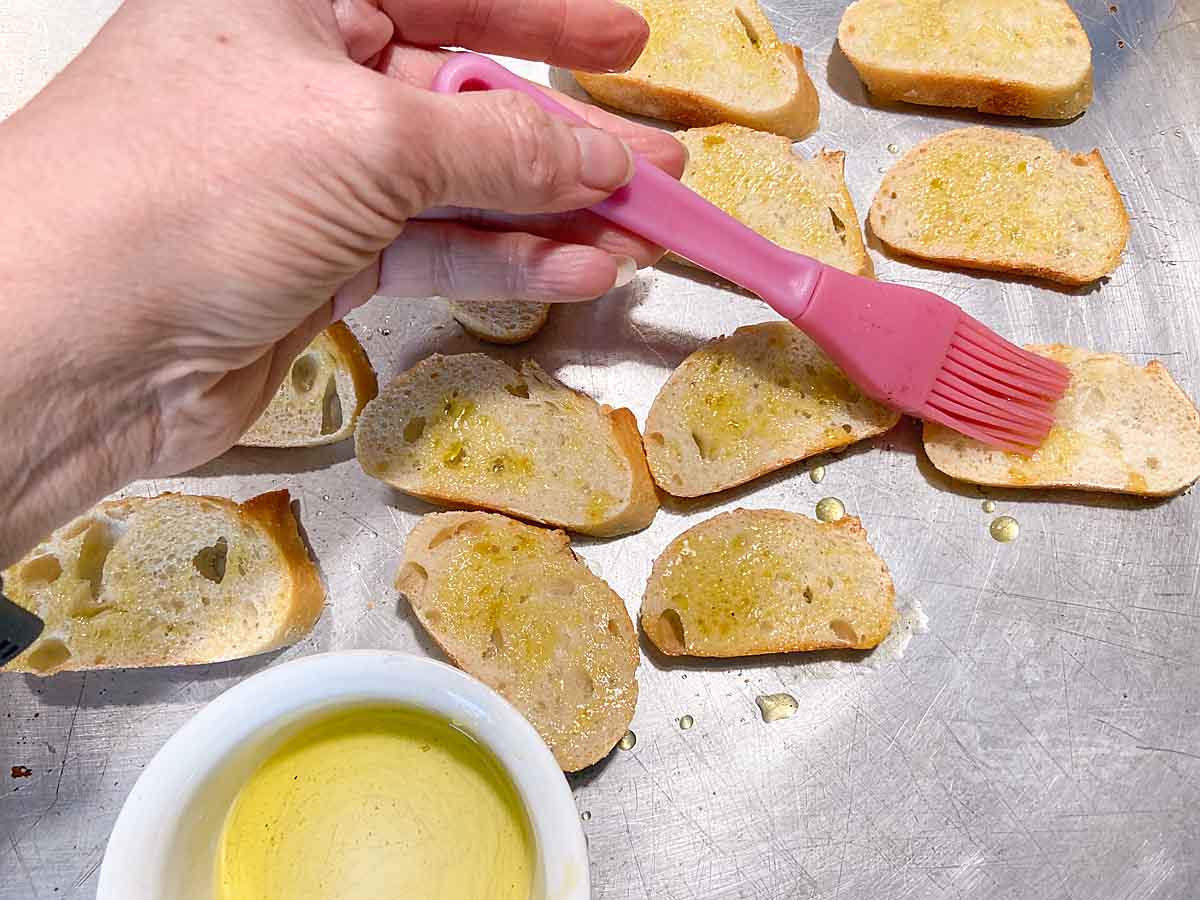 To serve, arrange toasted baguette slices, tomatoes, and cheese on a platter. Let guests assemble their own crostini by topping a slice of bread with goat cheese and tomatoes.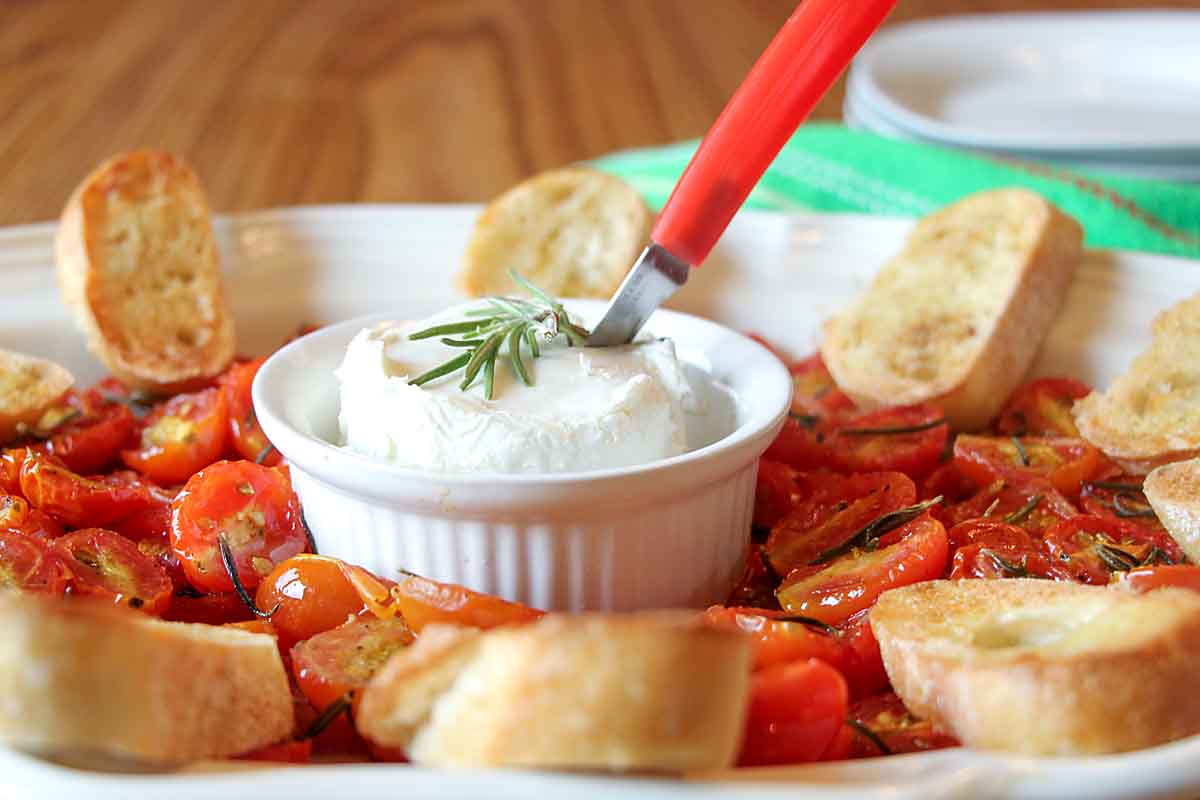 Best Bread for Crostini
As noted above, the traditional bread for crostini is smallish in diameter and finely textured. It also needs to be able to stand up to toppings–no bread that goes soggy or floppy here.
Happily, French bread ticks all the boxes. Just try to avoid any uber-airy knock-off varieties that stores sometimes sell.
And recently I learned that you can sometimes find mini-baguettes which are perfect if you are serving fewer people and want to cut the recipe in half.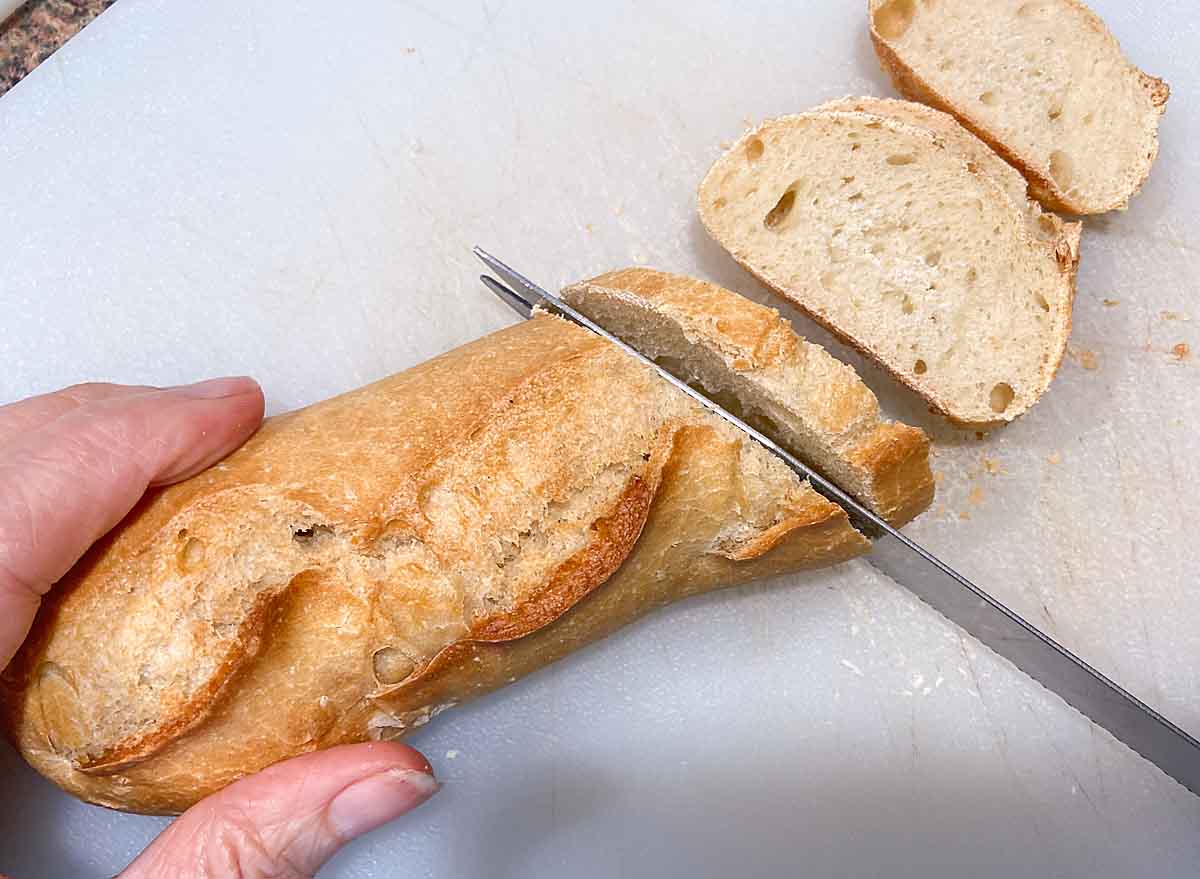 What kind of tomatoes are best?
This versatile dish can be made with any form of tomato from cherry to slicer. I usually make it with cherry tomatoes, which I halve, but my sister does it regularly with larger tomatoes cut into ¼ inch slices and flipped over halfway through roasting.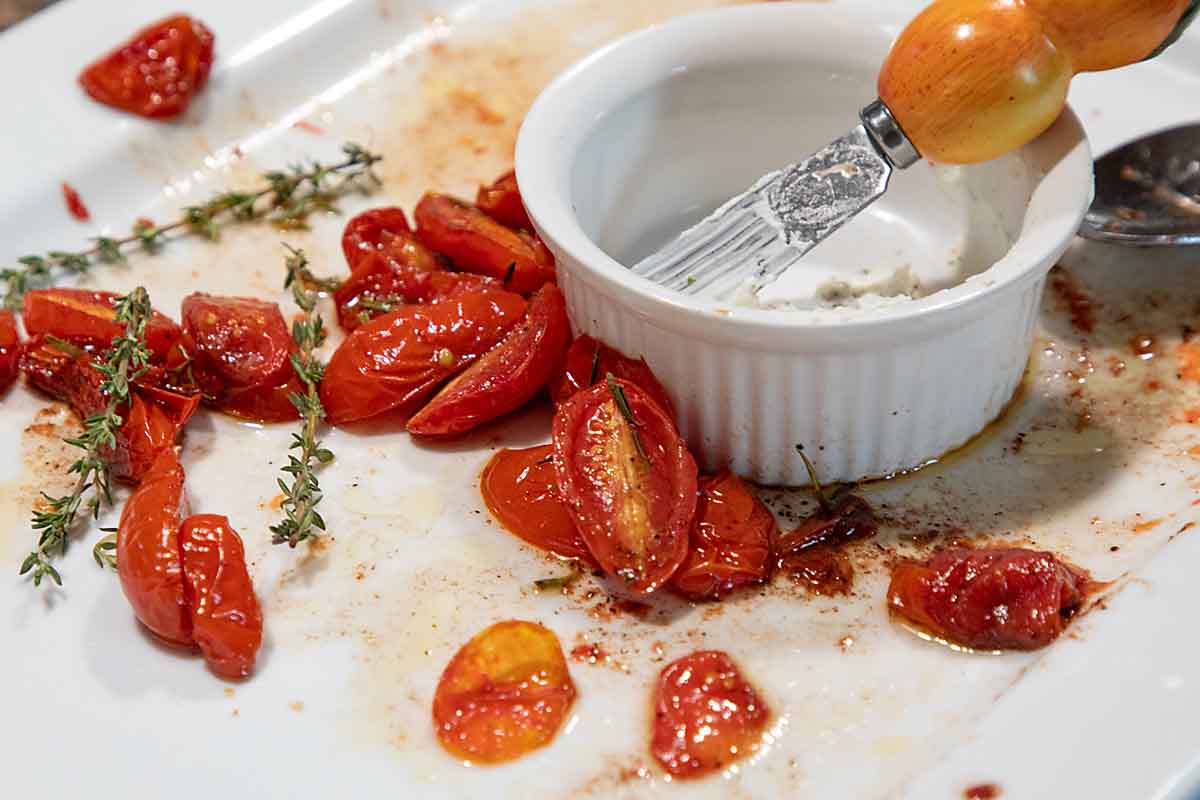 How to Serve
This works well as a delicious appetizer for a first course or buffet table. And it is especially fun before an Italian themed dinner. Who's in the mood for a nice Chicken Marsala or tasty Sicilian Steak?
While I've billed this as an appetizer, it is also a great accompaniment to soup and can turn that into a complete meal. I'm sure there are other meals where this would work as a side too.
Finally, I've even eaten the Roasted Tomato Crostini for dinner. It is a little low in protein for this but check out "variations" below for an idea to increase this.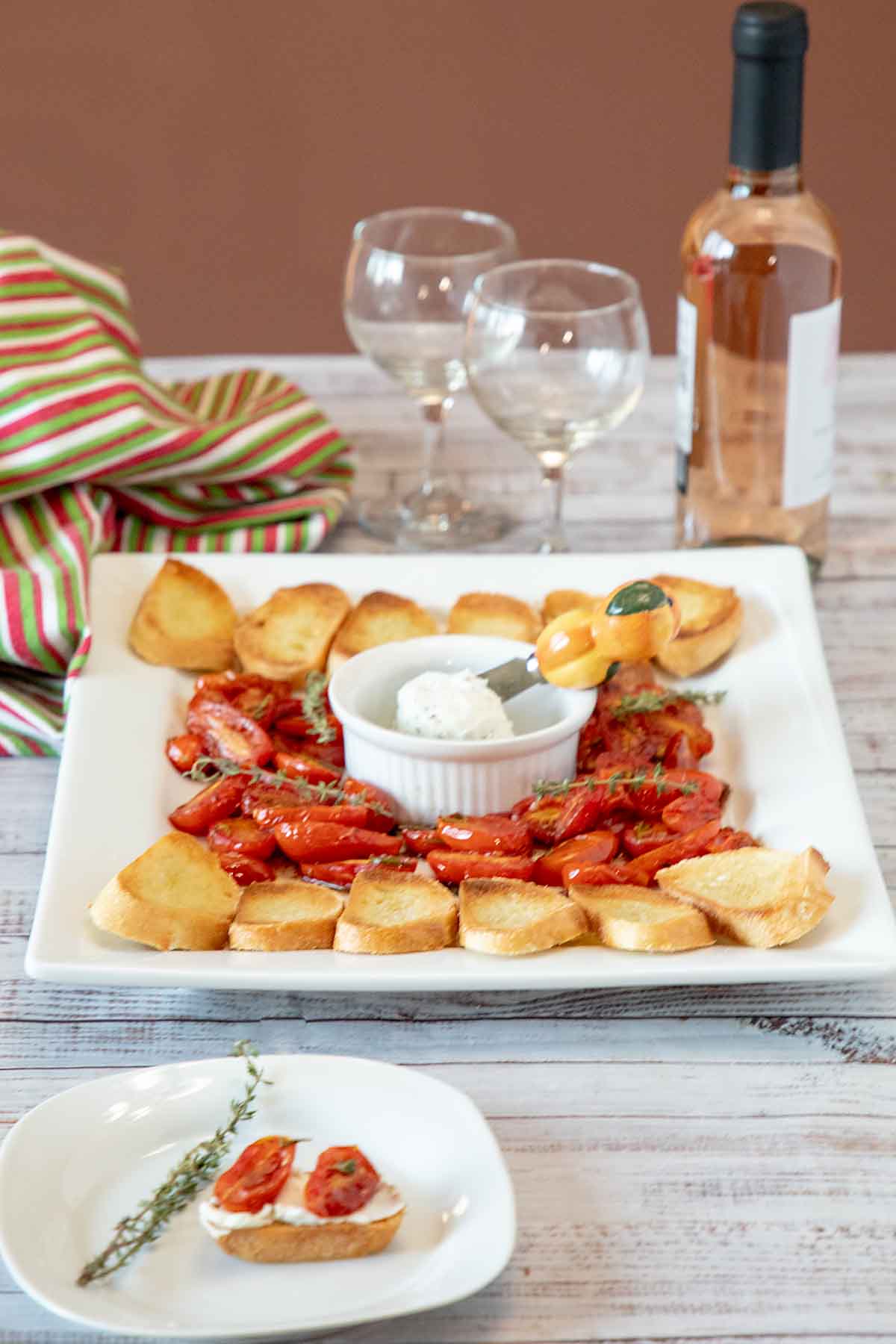 Variations
It can be tempting to serve this for dinner but there is one caveat. The fresh goat cheese chevre Is more like cream cheese than a hard cheese, which means it has a lot of fat and not a lot of protein. But there's an easy solution to this problem; use burrata!
A burrata is a ball of fresh mozzarella filled with a mixture of cream and curd. Just set it on your serving platter instead of the goat cheese. Serve the burrata at room temperature–or if you forget to take it out of the refrigerator, pop it into the oven for the last few minutes of roasting, You may also wish to pull it apart slightly before serving to "get it started"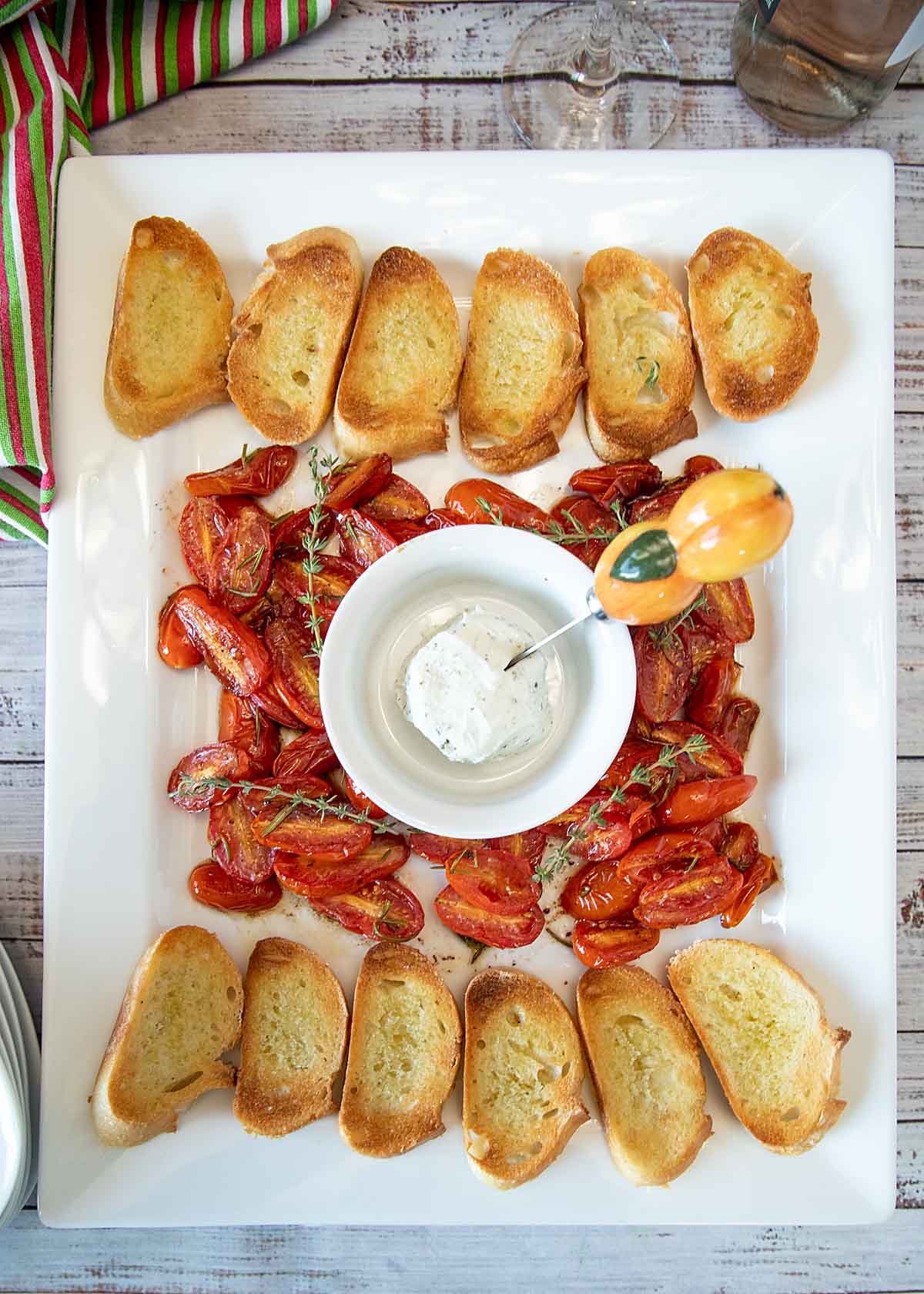 Tips & FAQs
Want to toast your baguette slices more efficiently? Toast them under a preheated broiler. A preheated broiler not only toasts faster, it reduces the chance you'll get distracted and burn the bread!
Not serving a crowd? Use a mini-baguette and halve the recipe.
If your baguette is especially narrow, you can cut slices at an angle to create a bigger piece.
When I've had leftovers, they are delicious topping a salad the next day.
Crostini Recipes
We share Recipes From Our Dinner Table! Join our group and share your recipes, too! While you're at it, join our Pinterest board, too!
Roasted Tomato Crostini with Goat Cheese
Roasted Tomato Crostini with Goat Cheese is a flavorful appetizer or side dish that will put your meal or cocktail party over the top. You can't go wrong with flavors concentrated by roasting!
Ingredients
3 Tablespoons extra virgin olive oil, divided
2 teaspoons balsamic vinegar
dash salt
dash black pepper
1 pint of cherry tomatoes (or equivalent in larger tomatoes)
2 sprigs of fresh rosemary
1 baguette
3-4 ounces fresh chevre (goat cheese)
Instructions
Mix 2 tablespoon olive oil, balsamic vinegar, salt and pepper and whisk until emulsified.

Halve cherry tomatoes (or cut larger tomatoes in 1/4 inch slices), then brush with vinaigrette. Remove rosemary leaves from stems and sprinkle over the tomatoes.

Roast at 400 F for 15-20 minutes or until tomatoes start to reduce and caramelize. If using larger tomatoes, flip over once and roast a bit longer

Preheat the broiler. Slice baguette and brush with remaining 1 tablespoon of olive oil. Broil briefly until slightly crisp and golden, 2-3 minutes if broiler is preheated..

To serve, arrange toasted baguetttes slices, tomatoes, and cheese on a platter. Let guests assemble their own crostini by topping a slice of bread with goat cheese and tomatoes.


Originally posted Oct. 8, 2015