Are you a cilantro lover or a cilantro hater? I used to be a hater—a card-carrying member of the "cilantro tastes like soap" club. But as I got older my tastes changed. So I was really excited when, a number of years back, I was served a Spicy Cilantro Salad.
The occasion was a family picnic and my mother-in-law brought a Chinese student she worked with. He was excited to share a dish he loved—a giant bowl of cilantro accompanied by a spicy sauce. I gave it a taste, somewhat out of politeness, and was amazed at how well the hot and earthy flavors complimented each other. When the event ended, there was a lot of dressing left, tucked into my refrigerator. I hoarded it to stretch it out for months! When my supply ran out I asked for the recipe but the student had departed.
For years I searched the internet and came up with nothing. I even sometimes wondered if I imagined the dish. Then when Sriracha became popular I realized that the garlicky spicy hot sauce was very similar to the dressing—a breakthrough! I made my own version of the dish which I am sharing with you today.
Recently I stumbled across a similar salad on the internet—with the garlic and pepper chopped into the salad rather than in the dressing. I felt less crazy immediately and have plans to give this version a try. It was nice to finally learn that there are other spicy cilantro salad lovers in the world!
Are you a cilantro lover or hater? (I'll bet the haters quit reading after the first paragraph!) As fall brings cooler days, cilantro is coming into its own. If you like cilantro and a good bit of heat, this Spicy Cilantro Salad may be your answer to a harvest windfall.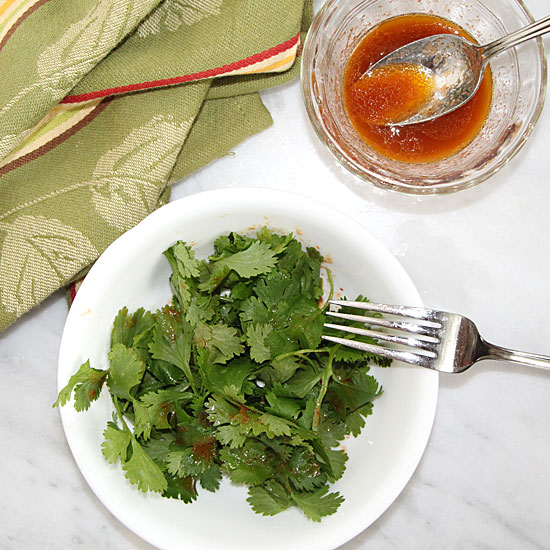 Spicy Cilantro Salad
2015-09-06 16:15:28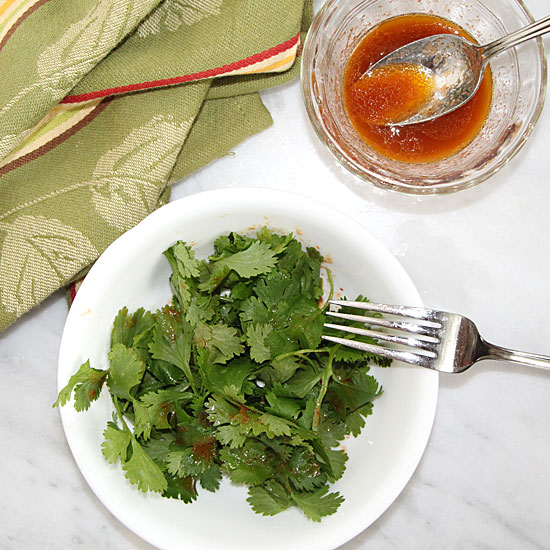 Serves 4
A mix of earthy and spicy flavors, this spicy cilantro salad is sure to please cilantro lovers who enjoy a bit of heat.
Nutrition Facts
Amount Per Serving
* Percent Daily Values are based on a 2,000 calorie diet. Your Daily Values may be higher or lower depending on your calorie needs.
Ingredients
2 large bunches of cilantro
1 tablespoon olive oil
1 tablespoon white wine vinegar
1-2 teaspoons Sriracha sauce
Instructions
De-stem cilantro (as much as you choose depending on how you feel about bits of stem), wash and spin dry.
To make the dressing, combine oil, vinegar and sriracha sauce. Mix with whisk until well combined.
Place cilantro in serving bowls, then drizzle with dressing according to taste.
Art of Natural Living https://artofnaturalliving.com/