Sugar-Kissed Vanilla Berry Cake
Autumn is coming… Nooooooo! But berries, harbingers of summer, are still abundant in woodlands, farms and supermarkets. After waiting so long for real summer (it feels like YEARS!), I can't even think about giving it up. So I'm making a Vanilla Berry Cake.
The original recipe came from the blog 101 Cookbooks. Prepared with raspberries and whole wheat pastry flour, it looked like a great way to serve up a healthier dessert! Who doesn't love indulging without guilt!
Of course, if I were completely honest, I would admit that part of my incentive was not food at all—I was looking for an excuse to go berry picking. August in Wisconsin brings out thimbleberries, a wild cousin of the familiar raspberries and blackberries. A native species that grows in or along light woods, we'd spotted a giant patch earlier in the year near a favorite family swimming spot.
My husband and I set out carrying washed out ice cream pails which are our very favorite berry buckets (both for gathering and freezing the results). The pickings were slim—I think the weather has been too dry, but we got enough to test the recipe. The soft thimbleberries will never challenge raspberries for fresh eating, but they'd be great in this cake.
After my first trial of this recipe, I loved the lightness and ease of preparation but decided to make a few modifications. I used vanilla extract instead of citrus for flavoring and after a couple more changes (like shrinking the size a bit—nothing like dieting to force, err, encourage portion control) we had a winner! Whipped cream proved an important compliment to this dessert, ultimately made with raspberries when our thimbleberry cache ran out.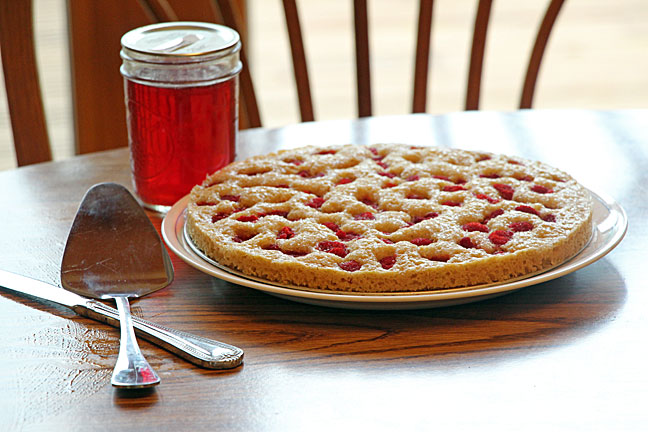 With its lightness and low calorie count, this cake would be a good follow-up to a heavy meal, or a sweet addition to a special breakfast table.
Not to mention a darn good excuse to go roaming through the woods …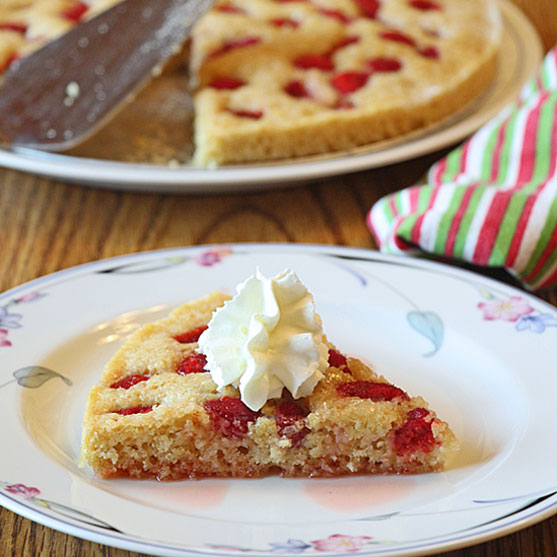 Vanilla Berry Cake
2015-08-20 14:09:42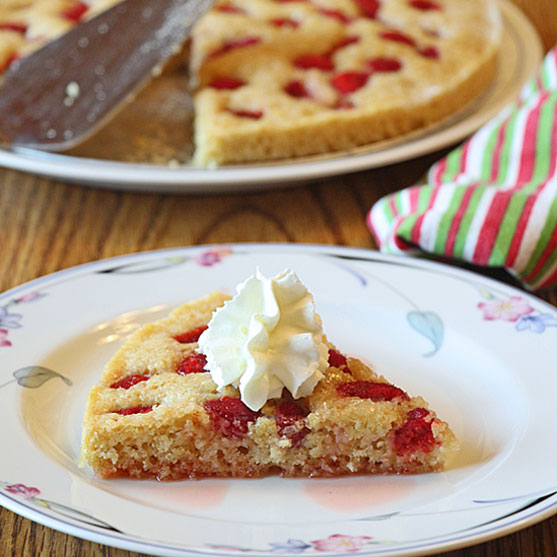 Serves 8
With raspberries and whole wheat pastry flour, this vanilla berry cake is a great way to serve a healthy dessert! Who doesn't love indulging without guilt!
Nutrition Facts
Amount Per Serving
* Percent Daily Values are based on a 2,000 calorie diet. Your Daily Values may be higher or lower depending on your calorie needs.
Ingredients
1 1/4 cups whole wheat pastry flour
1 1/2 teaspoons baking powder
1/4 cup sugar
1 egg
1/3 cup skim milk
2 tablespoons butter, melted and cooled a bit
2 teaspoons vanilla
1/2 -1 cup of raspberries (1/2 cup is about half a 6 oz package)
1 tablespoons large grain sugar
whipped cream for serving
Instructions
Preheat oven to 400F degrees, racks in the middle. Spray a 9 inch springform pan with non-stick cooking spray. (Can be done in a non-springform pan too)
Combine the flour, baking powder, and sugar in a large bowl. In a separate smaller bowl whisk together the eggs, vanilla, milk and melted butter. Pour the milk mixture over the flour mixture and stir until just combined - try not to over mix.
Spoon the batter into the prepared pan, pushing out toward the edges. Now drop the berries across top. I broke my raspberries into halves or thirds for this. Sprinkle with the large grain sugar over the top. Bake for about 15 minutes or until a toothpick in the center comes out clean.
Serve warm or cool with whipped cream
Notes
I always gently spoon my flour and level with a knife (as taught by King Arthur Flour) and that makes a difference with this cake.
Art of Natural Living https://artofnaturalliving.com/