Strawberry Simple Syrup (or Blueberry or …)
Hot enough for you? Even in Wisconsin (where some years I never turn on the air conditioner) we are feeling the heat. My favorite new way to refresh? Homemade "soda" with Strawberry Simple Syrup.
Staying hydrated is critical when the temperature rises. Plain water is, of course, the gold standard, but sometimes after sweating for a few hours, a special treat can really hit the spot.
It all started with book club. When I arrived late and desperately thirsty after a swim class last spring, I was offered some carbonated water with lemon courtesy of the hostess's soda stream. I loved it. It tasted better than wine (okay that better than wine thing didn't last). Since then EVERY book club has offered this as an alternative (or addition) to wine. When my cases of strawberries arrived last month, the idea hit!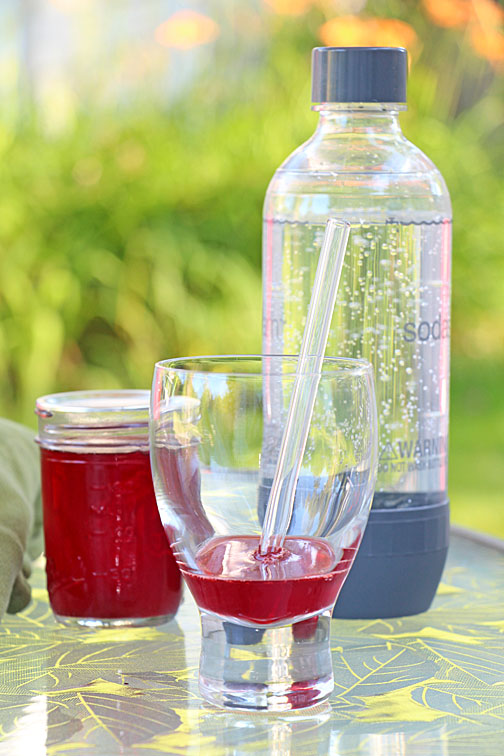 To make a Strawberry Simple Syrup you just boil sugar, water and fruit then strain.
For a flavored soda, you put an ounce or so (to taste) of syrup into a glass then top with cold carbonated water. By varying the amount of the syrup you can control the intensity and sugar content—and of course mine are all organic since I use organic sugar and fruit.
If you aren't a sweetened beverage fan, the strawberry simple syrup can be used for more than homemade sodas. It can be poured over pancakes (though I often use a pulpier version of syrup for this), added to iced tea, blended into a meat glaze, stirred into to yogurt, and even drizzled decoratively if you are plating a fancy dish (yeah that's not happening until fall with this heat).
If you want a clear syrup (which is most versatile), you need to avoid pressing on the cooked fruit when you strain it. But the remaining pulp can be used in yogurt so it doesn't need to go to waste (though I composted the black currant pulp, with all of its seeds).
Although I started making this with strawberries, and that remains a family favorite, I have expanded to other fruit–black currants most recently. And I have heard it suggested that if you ever wind up with bits of extra fruit (though this would never happen at my house), you can put them together for a kind of tutti-frutti syrup!
Tomorrow night, I am going to take a jar of this and a bottle of Prosecco to a birthday party. But that's another story!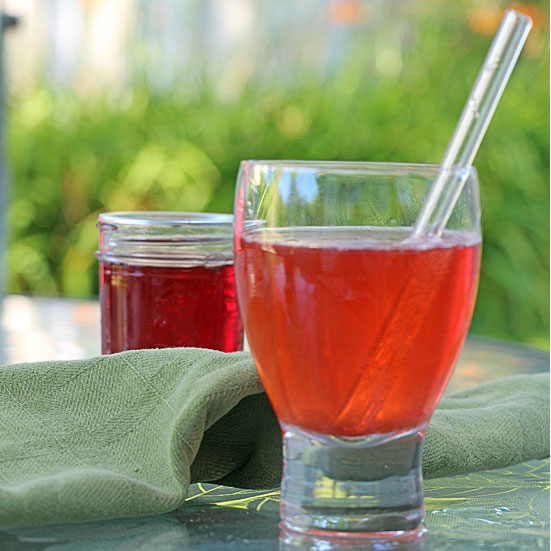 Strawberry Simple Syrup
2015-08-02 15:24:35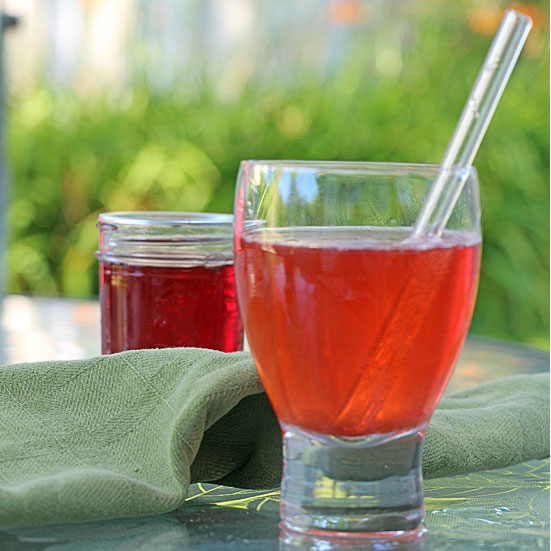 Serves 16
Easy Homemade Strawberry Simple Syrup has only 3 ingredients and is delicious in iced tea or fizzy water, on pancakes, in a meat glaze and more.
Nutrition Facts
Amount Per Serving
* Percent Daily Values are based on a 2,000 calorie diet. Your Daily Values may be higher or lower depending on your calorie needs.
Ingredients
1 cup water
1 cup sugar
2 cups sliced strawberries (about 1 lb)
Instructions
Add water and sugar to a saucepan on high heat and stir until sugar is dissolved. Heat until boiling.
Add sliced strawberries. Return mixture to a boil, then lower heat and simmer until strawberry pieces are very soft and shapeless, about 30 minutes.
Strain liquid into a storage container. You can stir the pulp to release juice but don't press on it. Reserve strawberry pulp for yogurt or baking if desired.
Refrigerate until used.
Notes
Makes about 2 cups, depending on how much water boils out. The resulting syrup can be canned by processing for 10 minutes in a boiling water bath. You will want to double (at least) the recipe to make enough to can.
Art of Natural Living https://artofnaturalliving.com/