Sunshine Orange Madeleines & a Giveaway
Is it a cake? Is it a cookie? That is the question–if you're talking madeleines. Like these Sunshine Orange Madeleines. Sweet golden scallops, with a soft and cake-y inside and a buttery crunch outside, there's a lot to love here!
Madeleines had always made me curious. I had seem them many times on the internet, but never tasted one, much less baked them. Another food on my desperately long "list."
The push to finally try baking them came when I got a bottle of organic orange extract from Nielsen-Massey. I figured I should make some kind of cookie to celebrate summer and just then, Orange Madeleines popped into my head.
Starting clueless, I ordered a pan off Amazon for next-day delivery (sometimes a gal needs new bakeware NOW) and found a recipe at Sally's Baking Addiction. Her instructions were thorough and confidence promoting and she had already tested lots of variables like different temperatures, mixing methods, etc. Yes!
I adjusted the flavorings to create Orange Madeleines, then cut the recipe in half which perfectly fit my 12-scallop sized pan. And I learned that, while the recipe is exacting, it wasn't actually difficult or time-consuming.
One thing Sally did warn about is that Madeleines are best eaten the same day. That helped to convince me that my smaller batch size was perfect.
Not that I've ever eaten a whole batch of cookies… But just to be safe, I nibbled a couple and packed the rest up for book club where they got eight thumbs up!
Now the one down side to making madeleines is that they need a special pan. No madeleine pan? You might try using a mini-muffin pan—just brush the cups with butter (like the madeleine pan) instead of using paper liners to promote the exterior crunch. But I liked these well enough (and the bonus that there is just a teaspoon of sugar per madeleine) to be seriously happy with the purchase!
Finally, I must give credit to Nielsen-Massey for their inspiration. Well known for their premium vanillas, they also produce delicious extracts (like the coffee extract that went into my Coffee Chocolate Chip Angel Food Cake). And now that they are doing organic extracts, I am over the moon! Yes, I think I see a chocolate dipped coffee madeleine in my future…
Need some other ideas for an orange extract? I have heard orange brownies are to die for—and I can't wait for some nice orange-flavored drinks for Memorial Day weekend. Sound good? Then check out the giveaway below.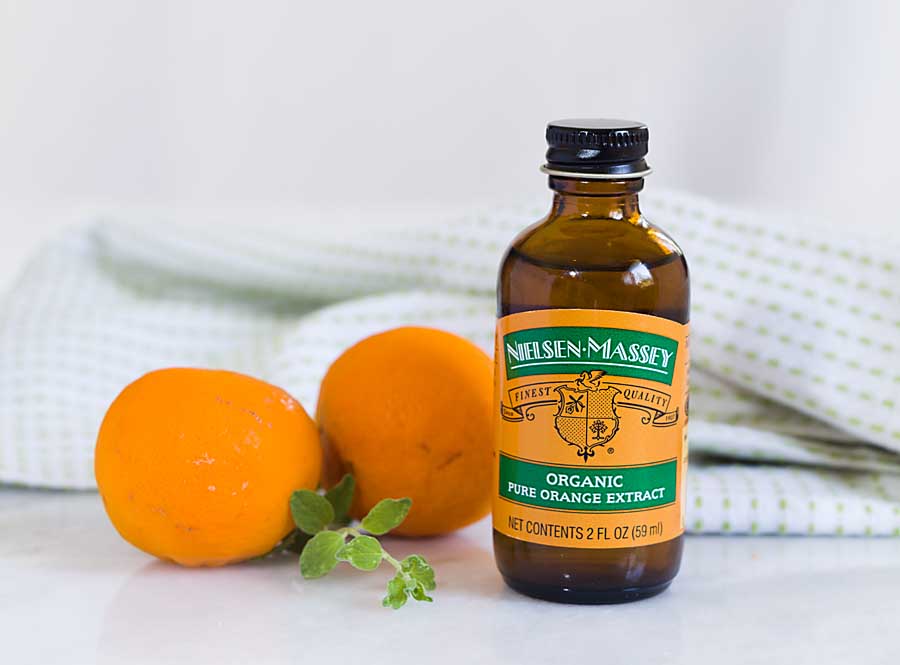 This giveaway, sponsored by Nielsen-Massey, is for one bottle of Nielsen-Massey Organic Orange Extract, a $13.95 retail value. It is open to mailing addresses in the US and closes at midnight CDT on June 3. To enter, leave a comment below telling me how you are celebrating the coming of summer. For a second entry, sign up for Art of Natural Living emails (below my picture) and leave me a second comment, letting me know you did (or that you already subscribe). The winner will be picked randomly, contacted by email and have 24 hours to get back to me or a new winner will be chosen.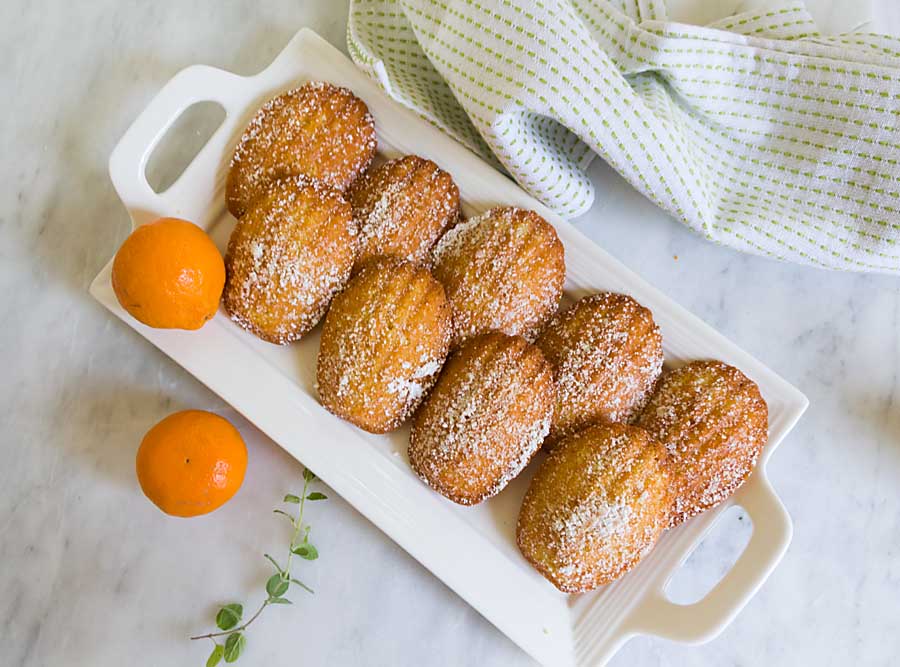 Orange Madeleines
2018-05-24 14:44:26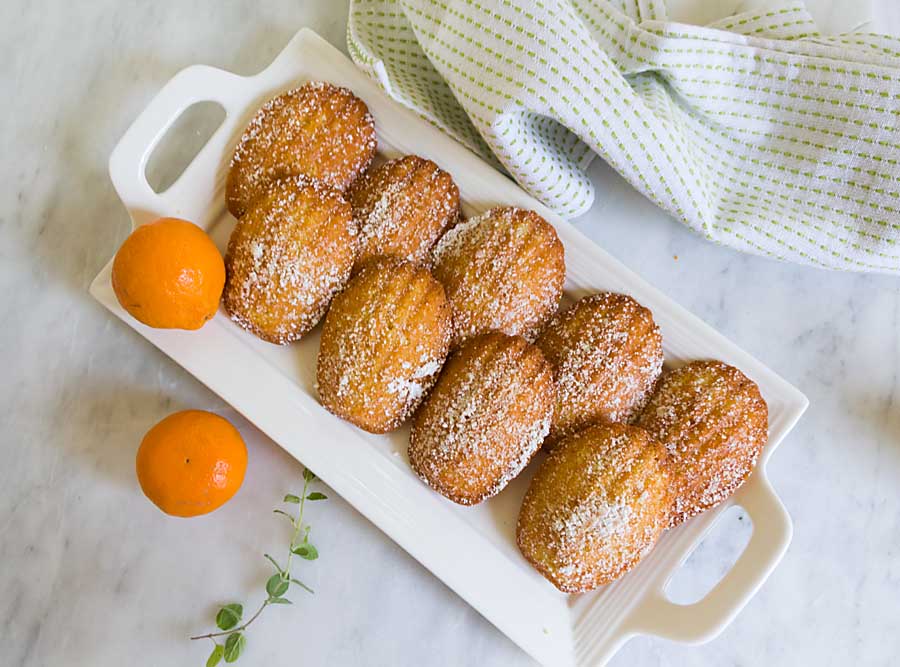 Serves 6
Is it a cake? Is it a cookie? That is the question--if you're talking madeleines. Like these Sunshine Orange Madeleines. Sweet golden scallops with a soft and cake-y inside and a buttery crunch outside, there's a lot to love here!
Nutrition Facts
Amount Per Serving
* Percent Daily Values are based on a 2,000 calorie diet. Your Daily Values may be higher or lower depending on your calorie needs.
Ingredients
• 1 large egg
• 1/4 cup granulated sugar
• 1 teaspoon orange zest
• 1/2 – 1 teaspoon orange extract (see note 1)
• 1/2 cup sifted all-purpose flour or pastry flour (see note 2)
• 1/4 teaspoon baking powder
• Pinch of salt
• 4 Tablespoon butter (plus another 1 Tablespoon for the pan)
• optional: confectioners' sugar for sprinkling on top
Instructions
Using a handheld or stand mixer with a whisk attachment, beat the egg and sugar together on high for 8 minutes (see note 3) until sugar has incorporated into the egg and there is a lot of air beaten in. The mixture will turn pale and thicker as it beats. When complete, beat in the orange extract and zest until incorporated.
In a separate bowl, whisk the flour, baking powder, and salt together. Using a spatula or wooden spoon, gently fold half of the flour mixture into egg mixture. When that is mostly combined, add and fold in the remaining flour. Be gentle to avoid deflating the egg mixture.
Heat or microwave the 4 Tablespoons of butter until melted but not hot. Stir about 1/4 cup of the batter into the melted butter and mix until well combined (this will deflate). Pour the butter mixture into the remaining batter and stir carefully until combined.
Cover the batter and chill in the refrigerator for 30-60 minutes. Longer is not better in this case because the butter may solidify, and the madeleines will get less fluffy.
Preheat the oven to 350°F.
Melt the remaining Tablespoon butter. Using a pastry brush, lightly brush the pan with melted butter (even if you have a non-stick pan). This will help create a crisper, "browned butter" exterior.
Remove the batter from the refrigerator. Taking care not to deflate it, spoon a rounded Tablespoon of batter into the center of each scalloped well. It should fill all 12 wells and will spread as it cooks.
Bake for 10-12 minutes, turning the pan halfway through if your oven heats unevenly. The madeleines are done when the tops spring back after lightly pressed with your finger and the edges are turning golden. Invert the pan onto the counter. Transfer the warm madeleines to a wire rack to lightly cool (your madeleines will stick if placed on a plate to cool).
Sprinkle with powdered sugar, if desired. Eat the same day.
Notes
1) ½ teaspoon of orange extract gives a delicate orange flavor. Increase this for a more "in your face" flavor.
2) Spoon flour into measuring cup and level with the back of a knife. This is not a recipe that will let you get away with "scooping" flour.
3) Beating for 8 minutes gave me plenty of loft, even starting with cold eggs. But when I make this in the winter with a cooler ambient temperature, I will be checking carefully and possibly beating longer.
4) Serving size is 2 madeleines
Art of Natural Living https://artofnaturalliving.com/