Elegant Potato Pommes Duchesse
An elegant dish of mashed and flavored potatoes piped into rosettes, Pommes Duchesse can turn the humble potato into a beautiful and impressive side.
Did you watch the Royal Wedding? I was up at 4! And one of the things I learned was that Meghan has a new title—Duchess of Sussex. That was just the excuse I needed to try out Pommes Duchesse.
I had been planning to try this fancy twist on mashed potatoes for years and had a recipe bookmarked online. In the end, however, that website was down so I created a composite, adding some of my own ideas (chives and turmeric for color, flavor and nutrition).
The Basics
Although Pommes Duchesse may look challenging, the process of making this is pretty straight forward. Basically you prepare mashed potatoes, scoop the mash into a piping bag, then pipe rosettes onto parchment paper or an oiled baking sheet. Then they are baked at 400 for about a half hour until turning brown on the edges.
The only part I found challenging was the hand strength for piping (potatoes are stiff), but even that got easier the more I made.
Now, I'll have to admit that the flavor of these was good, but it didn't blow me away. I figured they were going to taste pretty much like (slightly enhanced) stiff mashed potatoes—and that's what they tasted like. We like mashed potatoes, however, so we liked these.
The next question then, was are these worth the extra work over plain mashed potatoes? I decided that for an elegant presentation the answer was probably yes. For dinner with the kids, probably not (unless you've got a picky eater who takes a shine to these). The other thing that could be fun would be to pop some of these into a bag lunch (especially if you have a microwave available).
Preparation Tips
From a preparation perspective, I wanted to share a couple tips I learned. First, many online recipes say you should brush the rosettes with an egg wash before baking. I did this with one tray and not the second and there was no difference in browning, so that step is clearly not needed (and omitted from my instructions). The one thing that did make a difference for browning was position in the oven, with the top tray browning much better. As a result, I rotated my trays between top and bottom racks to make sure they each got good browning time.
If you are planning these for a party, you aren't going to want to pipe out the rosettes while your guests are waiting (no way, no how). But they could be piped out before your guests arrive and stored loosely covered in the refrigerator until baking time, making dinner party logistics easier.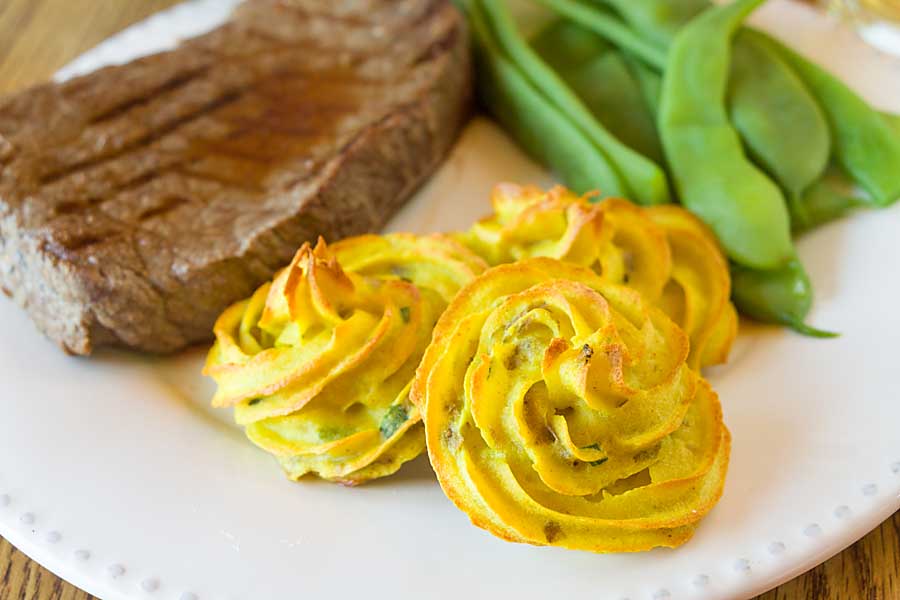 Pommes Duchesse
2018-05-20 14:14:57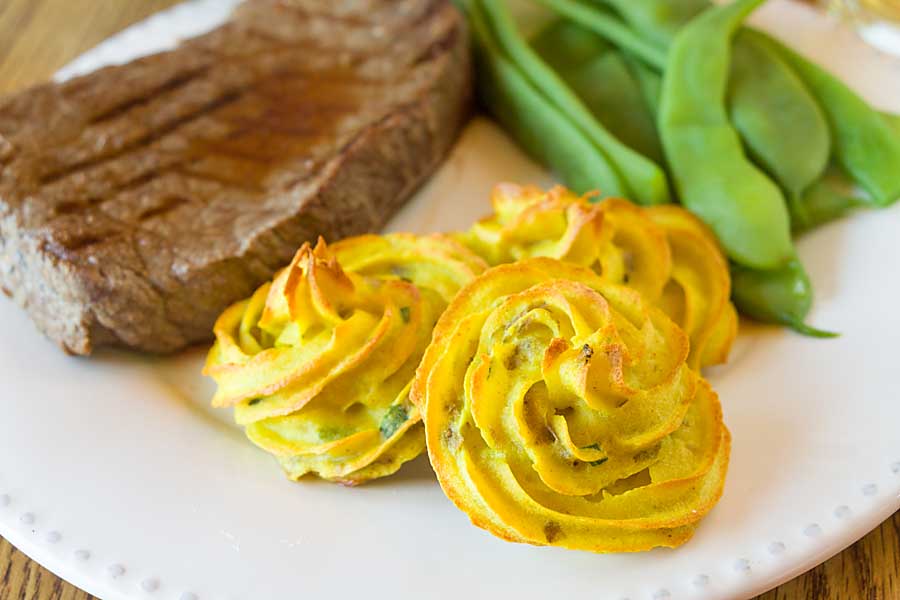 Serves 10
An elegant dish of mashed and flavored potatoes piped into rosettes, pommes duchesse can turn the humble potato into a beautiful and impressive side.
Nutrition Facts
Amount Per Serving
* Percent Daily Values are based on a 2,000 calorie diet. Your Daily Values may be higher or lower depending on your calorie needs.
Ingredients
2 ½ pounds of potatoes (this filled my 4 cup pyrex measuring cup, mounded high with smaller potatoes)
5 tablespoons butter
2 eggs
2 egg yolks
1 teaspoon sea salt
1 teaspoon turmeric
3-4 Tablespoons chopped chives
Instructions
Cut potatoes into 2 inch pieces and boil until tender.
Drain, let cool, then put through a ricer or mash by hand. Add butter, eggs, egg yolk, salt, turmeric and chives and mix until well combined.
Fit a piping bag (a zip loc bag with a corner cut out can also be used) with a large star tip, then fill with potato mixture. Pipe 3-inch rosettes onto parchment paper on baking sheets.
Bake at 400 F until browning on edges. Rotate trays (move top to bottom and bottom to top) halfway through baking so they brown evenly.
Art of Natural Living https://artofnaturalliving.com/