Loaded with flavor from extra aromatics, this Tomato Parmesan Soup is thick, creamy and delicious. And it's surprisingly easy, with no hand chopping! Rock your fall–and get ready for the holidays with lots of tasty sides from my friends below!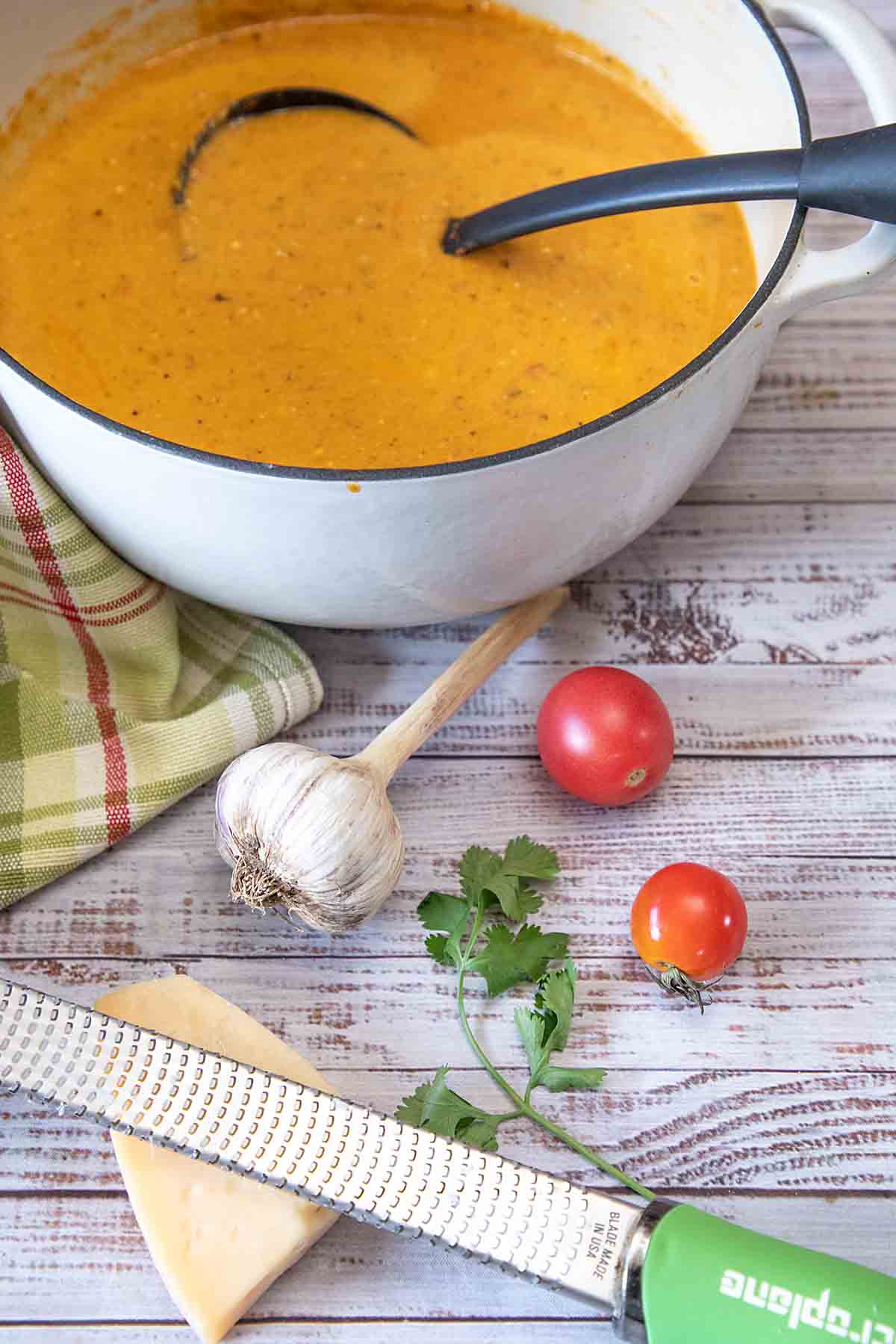 I don't tend to think of Tomato Parmesan Soup as a seasonal recipe. But this one would qualify, loaded up with a base of seasonal aromatics (aka chopped and sauteed veggies) that amp up the flavor to gourmet levels. Yes, it truly represents fall at its finest!
The recipe is based on one from Carlsbad Cravings and I am very thankful that I decided not to simplify it (much) or go with one of the more bare bones soups out on the internet.
And truly, it isn't even hard. All the chopping is done in a food processor and there is zero roasting. Easy with great flavor? How good is that!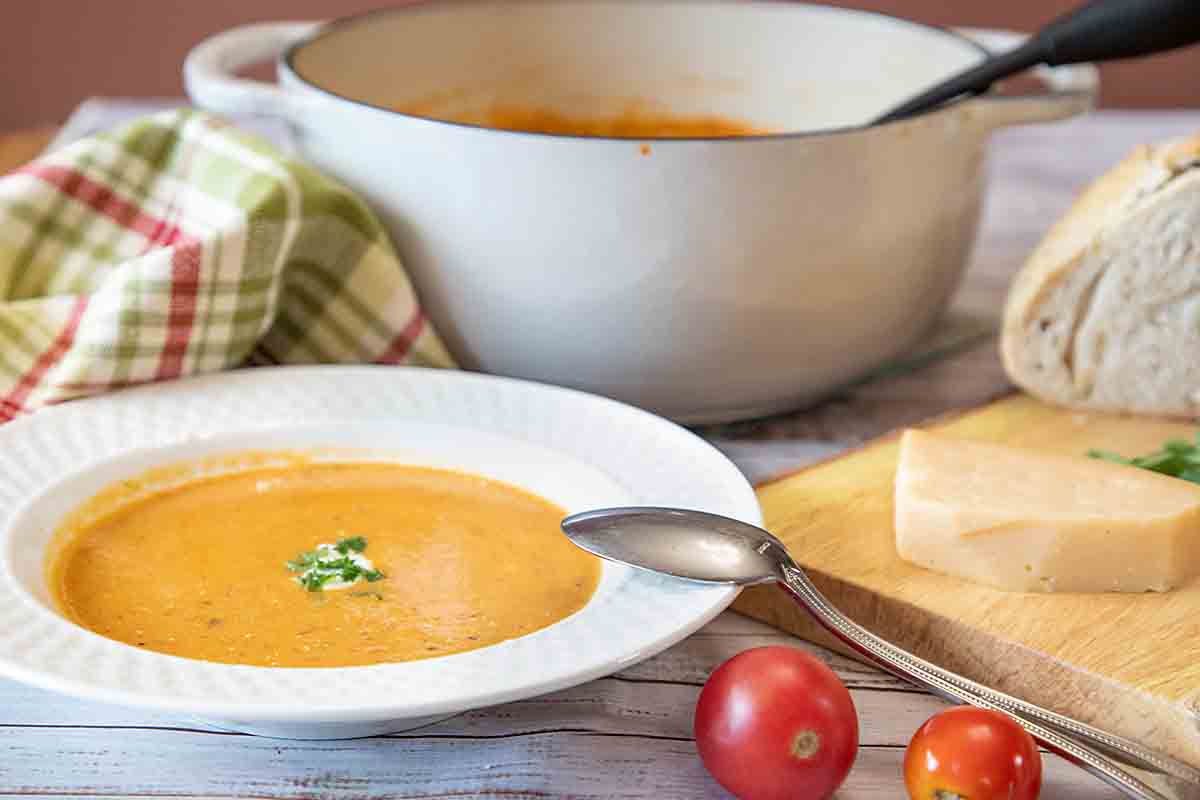 Why You'll Love This!
Over the Top Flavor. This soup is much more complex than your standard Tomato Parmesan Soup, courtesy of the above-mentioned aromatics.
Seasonal. This uses lots of fall vegetables. In addition to the (obvious) tomatoes, there are carrots, onions, garlic and celery. It's sure to close the season with a bang!
Healthy. Yes, those veggies that provide flavor also provide nutrition. And you even get a little calcium from cheese and yogurt.
What You'll Need
Ingredient Notes
Celery, carrots, onion, garlic. These add flavor.
Olive oil. This is used to sautee the vegetables. You can use butter or another oil.
Tomato paste. This enhances the tomato flavor.
Flour. This helps the soup thicken.
Broth. You can use any type of broth. I used beef bone broth since I had just made some.
Tomatoes. You can use fresh or canned.
Dried basil, oregano, parsley. I used dried but you can use fresh if you prefer. Triple the amounts for fresh.
Parmesan cheese. This adds cheesy goodness.
Black pepper, salt. These enhance flavor
Thick yogurt. This adds creaminess and a tart accent, plus ups the calcium. I used whole milk yogurt which will taste richer. You could substitute whole milk, half & half, cream or sour cream (regular or reduced fat).
Special Tools
A regular or immersion blender
Step by Step Directions
Chop tomatoes and set aside. Chop vegetables, then sautee in Dutch oven or stock pot.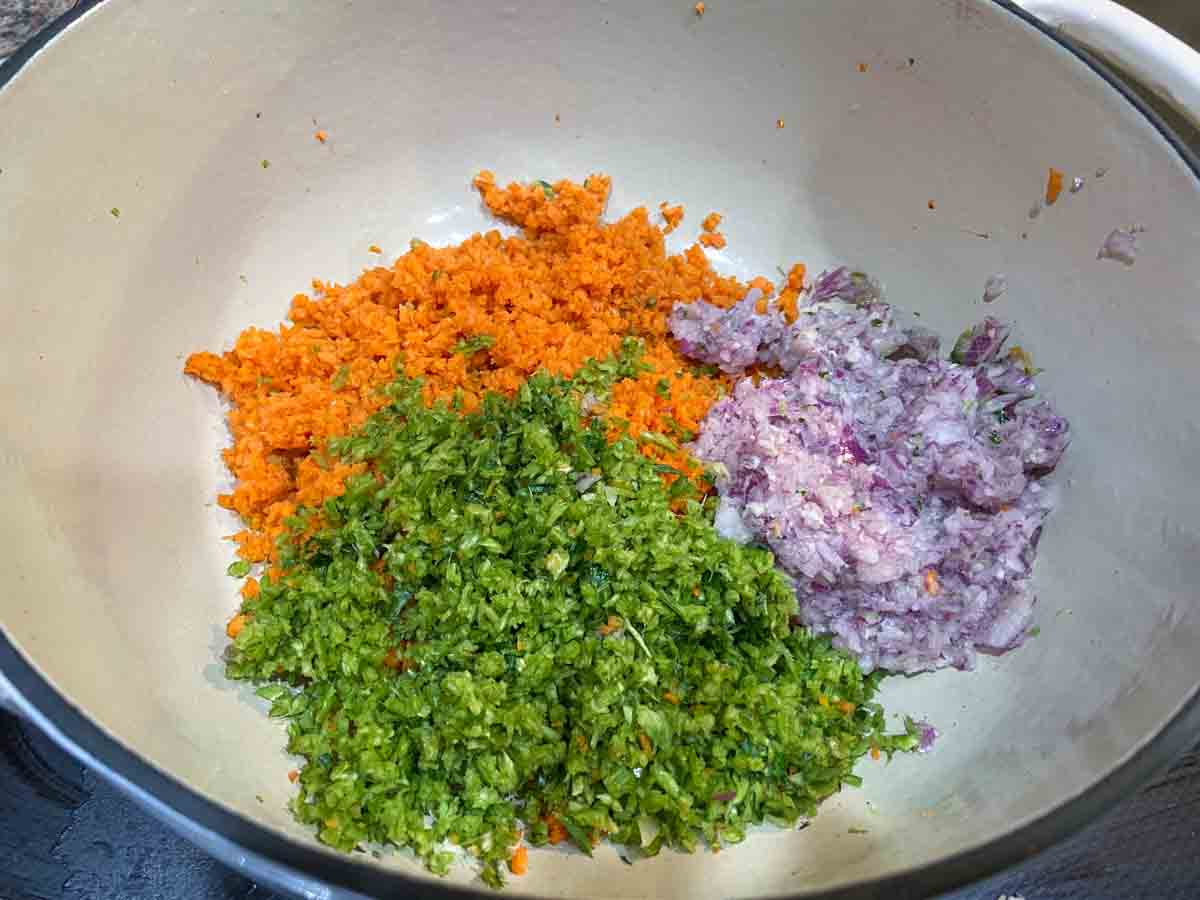 Stir in tomato paste and flour and cook briefly.
Add broth, tomatoes and herbs, then cook until tender and flavors have blended.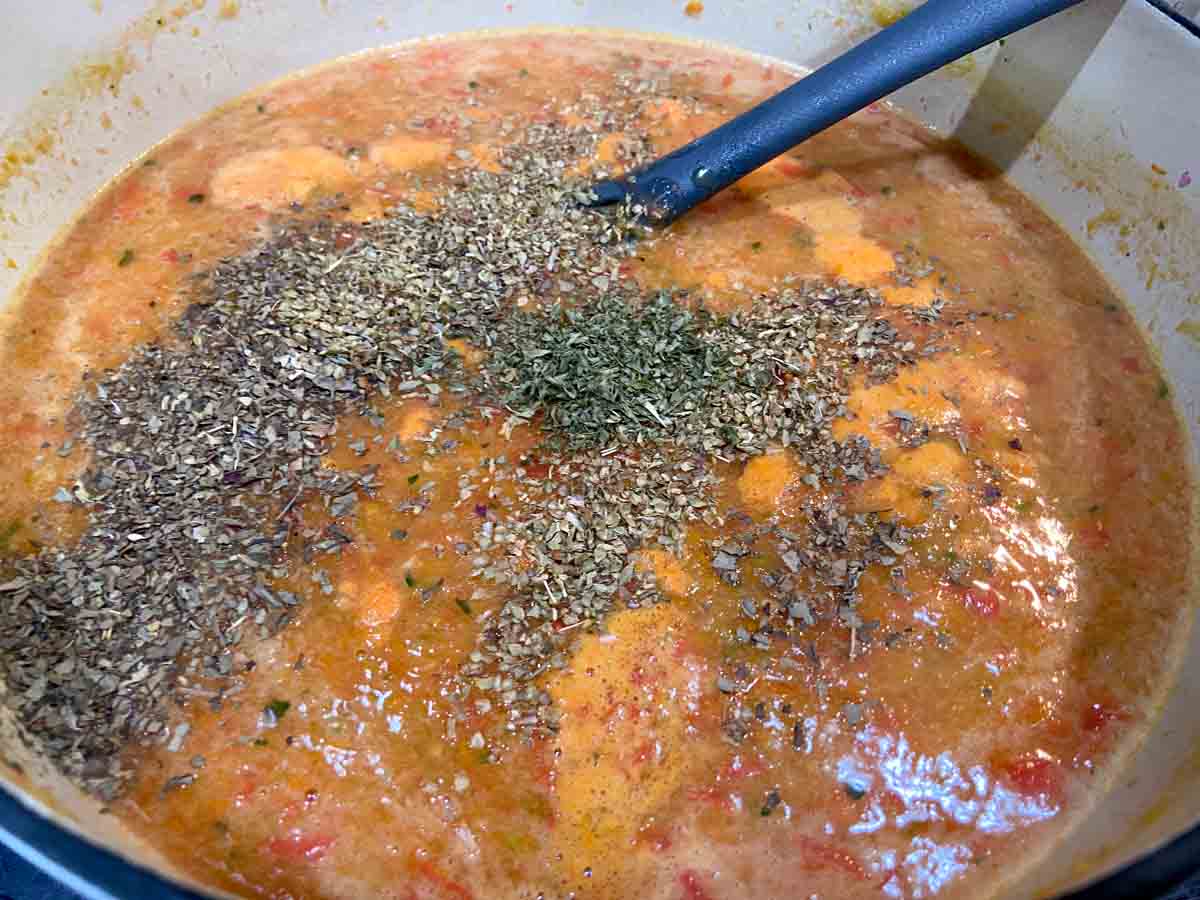 Puree (very carefully).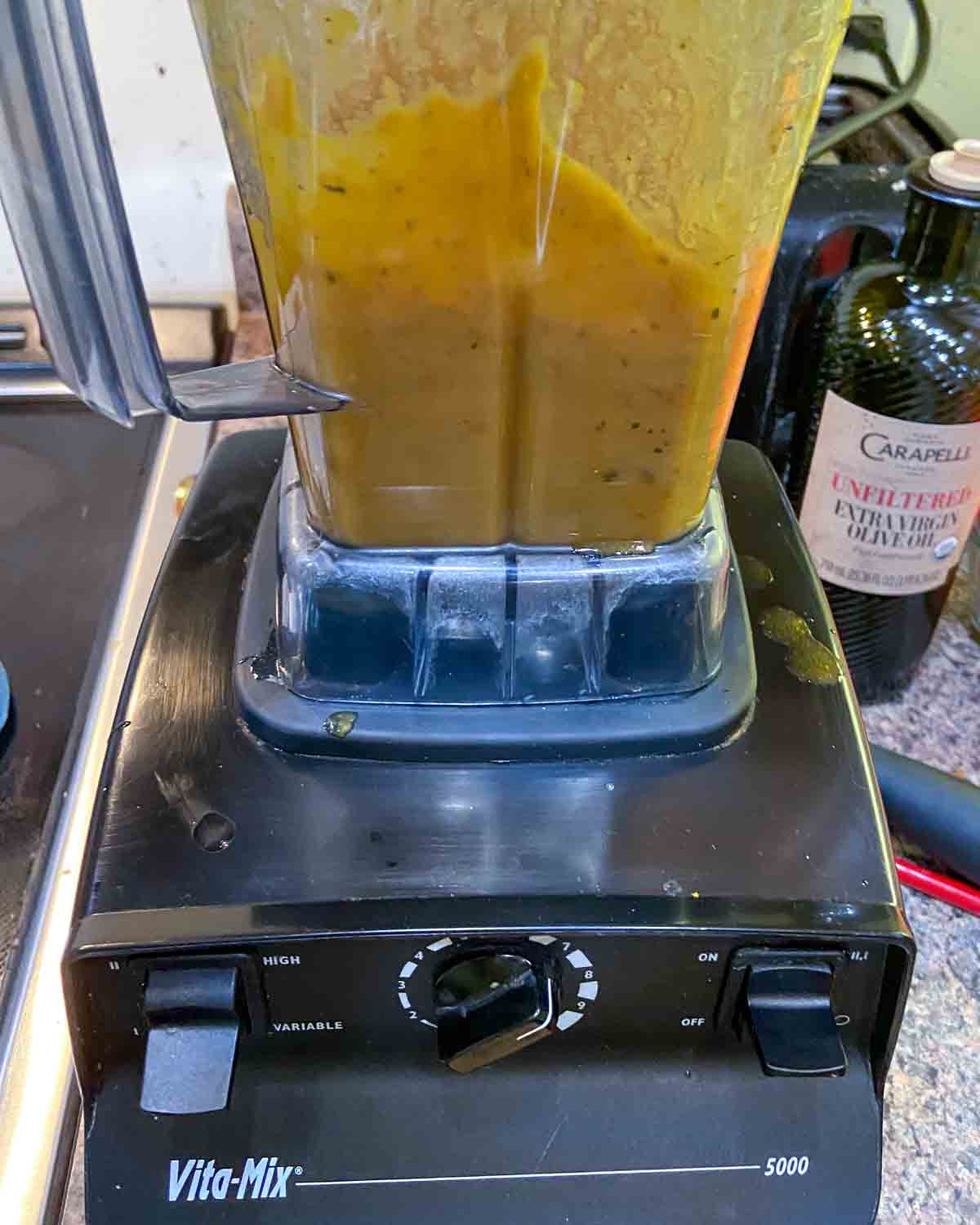 Stir in cheese, then yogurt. Whisk until well combined, then bring back to temperature.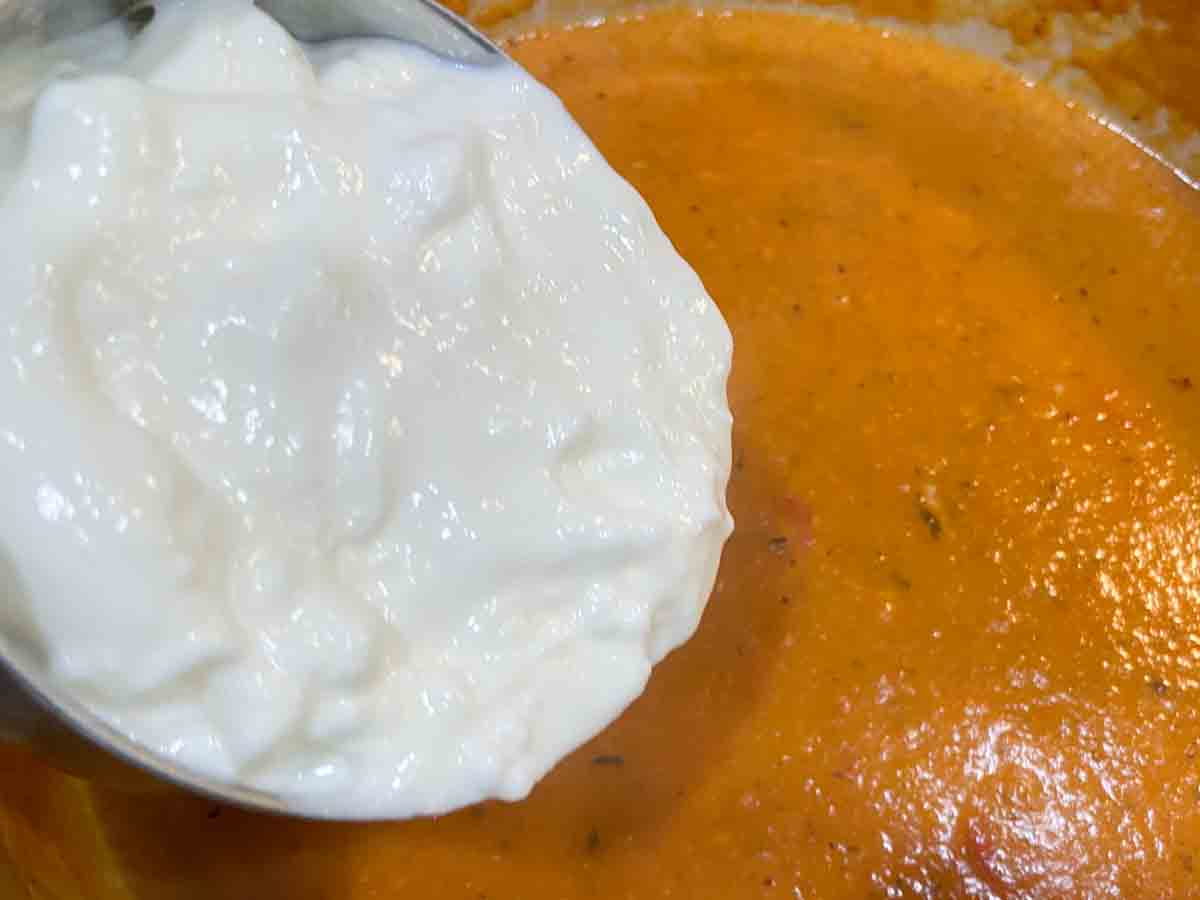 Enjoy!
How to Serve
Tomato Parmesan Soup makes an elegant first course soup for a special dinner. I'd be inclined to serve it with a lighter entrée like Lemon Tarragon Salmon with Quick Béarnaise.
But it's equally at home as a side for a lunch or even as an entrée soup. To use as an entrée I'd be sure to add some crusty bread with butter or olive oil at minimum. Of course, don't forget the classic combo of soup and sandwich!
And feel free to add a salad like this Tuscan Kale Salad to any of these options.
And when you serve consider garnishing with additional Parmesan, chopped herbs, croutons or whatever inspires you!
Advance Preparation and Leftovers
This can be made ahead a couple days and reheated with no loss of flavor or texture. In fact, I served the leftovers to guests at a recent dinner party (shhh) where it was met with rave reviews. And BTW, I'm very particular about only serving food at its prime when I entertain.
Just be sure to reheat this slowly and stir or the cheese may separate and the flour stick on the bottom of the pan.
I hear this will freeze, but I probably wouldn't try that for company. And I can tell you from experience that you'll want to fully thaw it before reheating. Even heating slowly and stirring, it's almost impossible to keep foods with Parmesan from separating if you heat from frozen. If you do have some separation after freezing, whisking in some cornstarch dissolved in a little water can sometimes help pull a soup or sauce together again.
Variations
Although I haven't tried it, this should be easy to make vegan. Just use a vegan Parmesan or some nutirional yeast (which has umami flavor like Parmesan) and a plant-based yogurt or a thick non-dairy milk like pea milk. Be sure to use vegetable broth for your broth in this case.
Tips and FAQs
If you're a gardener or in a CSA and end up with a supply of tiny carrots, use them in this soup because the carrots get chopped! I scrub rather than peel if they are clean enough which makes using up some misfits super easy!
The use of aromatics is a time-honored method of adding flavor to recipes. Check out The Forked Spoon for more on the use of mirepoix (like this) and similar techniques.
The original recipe chops the aromatics all together in the food processor. Knowing how my life goes, I chopped each type separately to avoid having onion that turned to liquid and still-too-big chunks of carrot. But you do you!
The original added cream at the end where I use yogurt. I used a homemade full fat yogurt that is thick like Greek yogurt. Now I truly love (organic, grass-fed) cream and always have it on hand. But when I tested the two options side by side, I felt the yogurt's tartness added some brightness, like lemon would. Plus, who can argue with a little bonus calcium!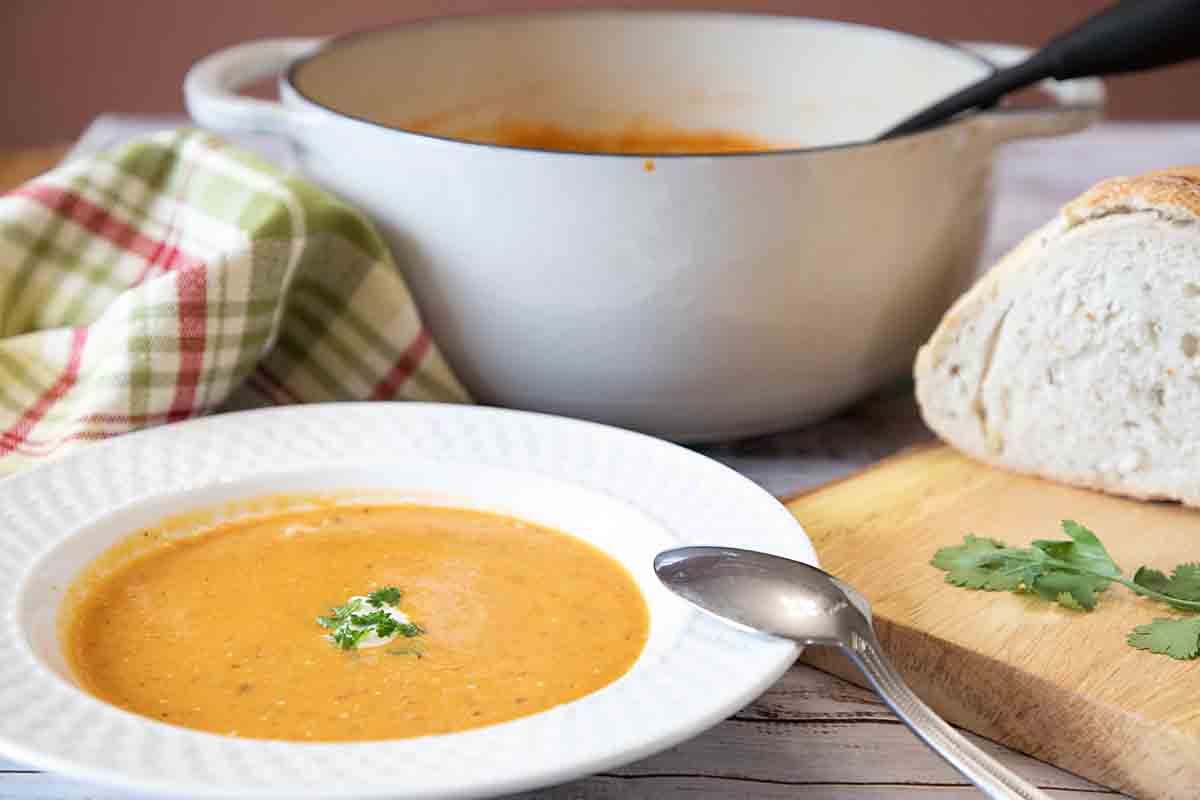 Still hungry?
Welcome to Holiday Side Dish Week 2022 hosted by Heather from Hezzi-D's Books and Cooks. This year we have over 45 side dishes to help you plan your holiday meals.
Monday Holiday Side Dish Recipes: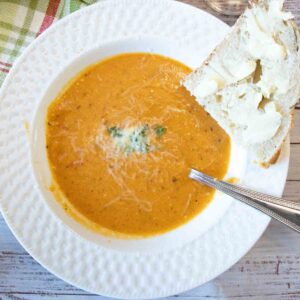 Tomato Parmesan Soup
Loaded with flavor from extra aromatics, this Tomato Parmesan Soup is thick, creamy and delicious.  And it's surprisingly easy, with no hand chopping!  Rock your fall!
Ingredients
4

stalks

celery

cut up to fit in food processor

4

carrots

cut up to fit in food processor

1

onion

cut up to fit in food processor

3

cloves

garlic

peeled

4

tablespoons

olive oil

¼

cup

tomato paste

1/4

cup

flour

3

cups

broth

any kind

3

cups

chopped tomatoes

from 5-6 cups fresh tomatoes--or use canned

1

teaspoon

dried basil

1

teaspoon

dried oregano

½

teaspoon

dried parsley

black pepper

to taste

salt

to taste

1

cup

freshly grated Parmesan cheese

1

cup

thick yogurt
Instructions
If using fresh tomatoes, chop them coarsely and set aside.

Chop celery, carrots and onion separately in a food processor (or together if you are brave) until finely chopped. Add minced garlic or garlic you have put through a garlic press.

Pour oil into a Dutch oven or stockpot over medium high heat. Add minced vegetables and cook, stirring, until slightly softened and fragrant, about 5 minutes. Reduce heat to medium, then stir in tomato paste. Sprinkle in flour and continue to cook 1 minute, stirring constantly.

Slowly whisk in broth stirring the whole time to avoid flour lumps. Stir in chopped tomatoes and seasonings. Bring soup to a boil then reduce heat and simmer until everything is tender and flavors are blended, about 15 minutes.

Now you'll blend the soup the consistency you like. Insert an immersion blender and puree the soup. Or blend in batches in a blender. If you use the blender, keep the canister less than half full, tightly cover the top (I hold it down with a dish towel), and start on low, increasing the speed gradually. Hot liquids can rapidly expand and spurt out of a running blender so be very careful.

Gradually add Parmesan cheese to the soup and whisk to blend. Whisk in yogurt and bring back to temperature but do not boil. Season with salt and pepper to taste.

Garnish as desired with additional grated cheese, basil leaves, chopped herbs or croutons.
I am not a health professional and nutrition data is calculated programatically. Accuracy may vary with product selection, calculator accuracy, etc. Consult a professional for the best information.