Packed with fall flavor, this Tuscan Kale Salad combines finely cut kale, sun-dried tomatoes, pine nuts, Parmesan and a homemade vinaigrette.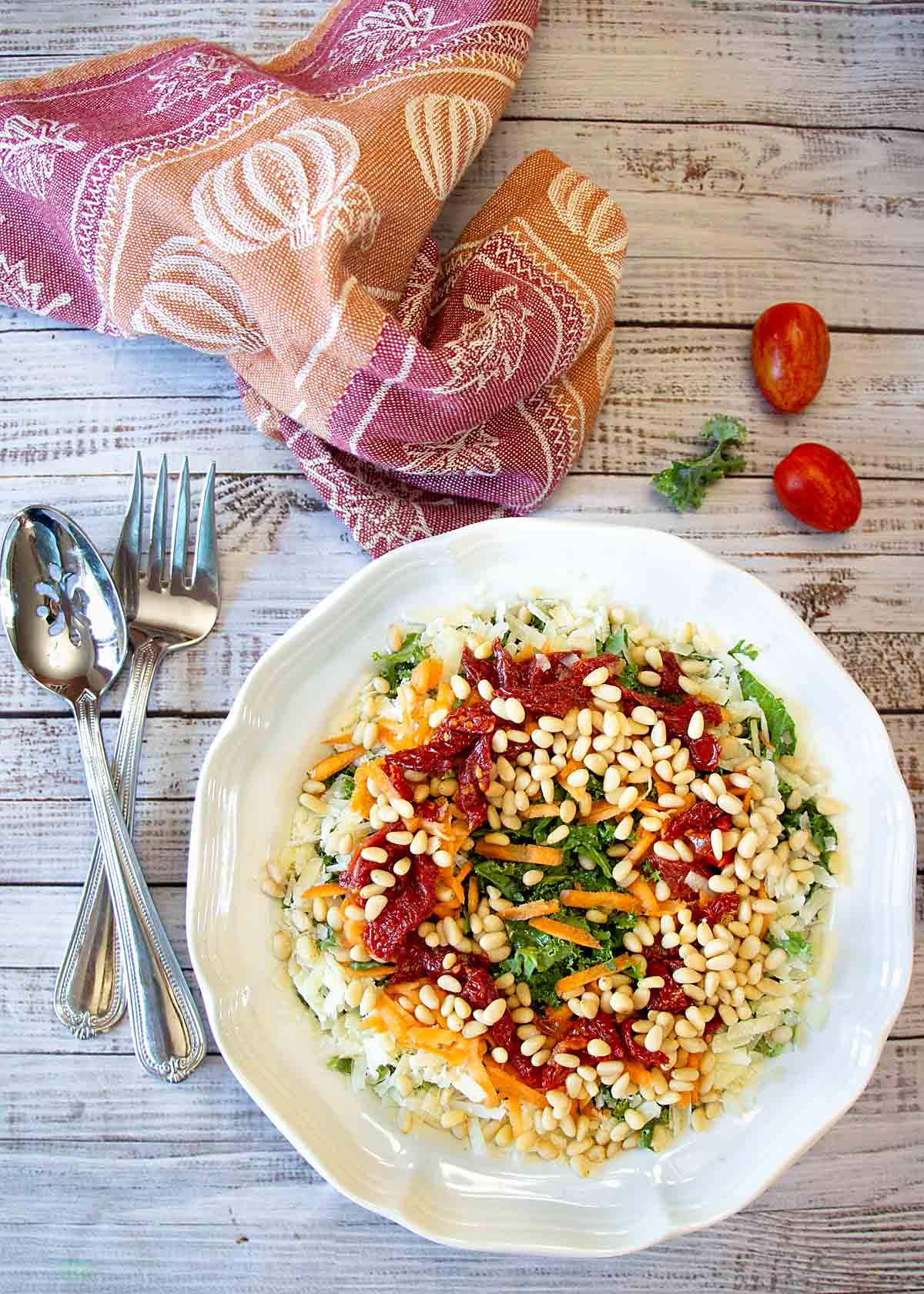 Kale is a great fall-into-winter green. Hardy and nutritious, it has survived all the way to Christmas in my Wisconsin garden. Alas it can be a challenge to prepare—unless you have a great recipe like this Tuscan Kale Salad!
Yes, over the years I had my issues with this hardy super-food, even writing that kale was more suited for fall ornamental gardening than dinner! But today's recipe is the one that officially won me over–back in September 2015. And since I've been making it like crazy this fall, it was time for an update!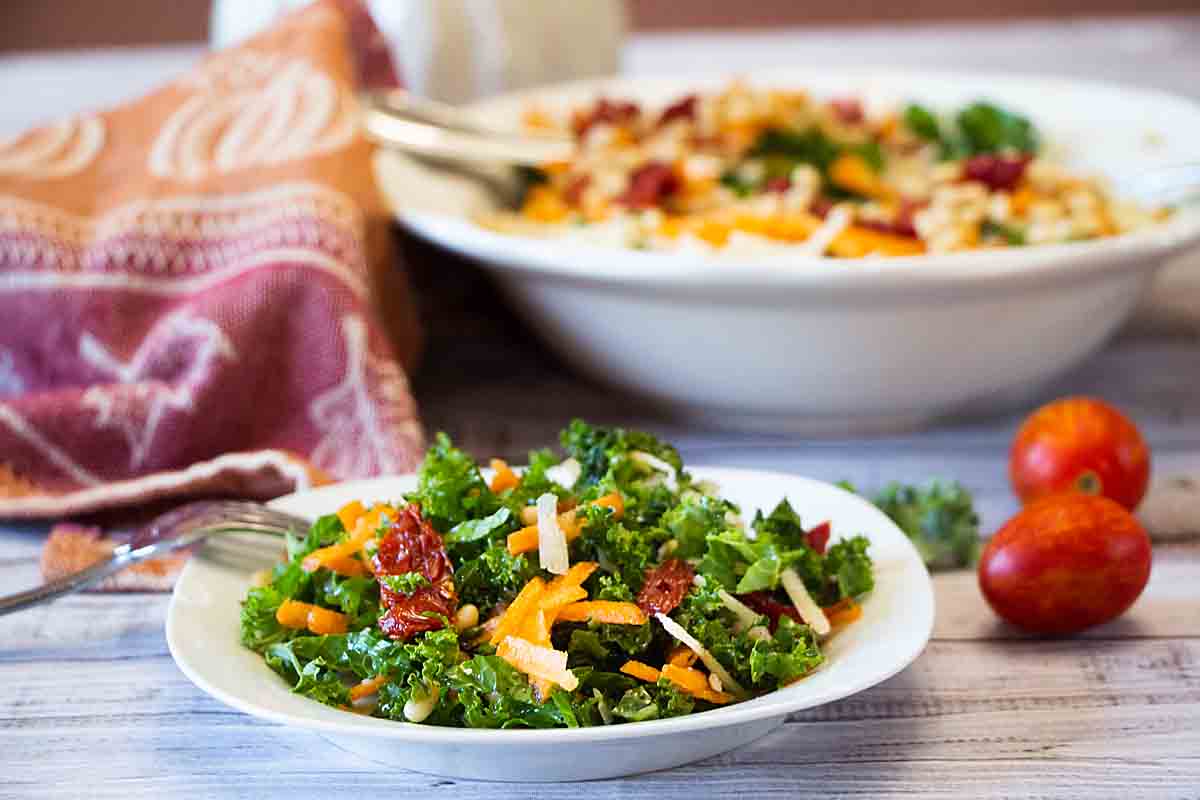 The recipe came to me from our local co-op's newsletter by way of my sister. The secret is adding lost of extra flavor in the toppings and julienning the kale so it isn't tough as leather
Sorry, couldn't resist a final dig.
What Makes This a Winner
Rich & Flavorful With a homemade vinaigrette, sun-dried tomatoes, Parmesan and pine nuts, this salad is packed with flavor!
Tenderized Kale The kale in this salad is julienned. The long thin pieces are both tender and "fluffy" making it perfect for a salad.
Nutrition powerhouse According to Healthine, kale is "among the most nutrient-dense foods on the planet." The Parmesan cheese punches up your calcium intake and the carrots and sun-dried tomatoes add nutrition as well.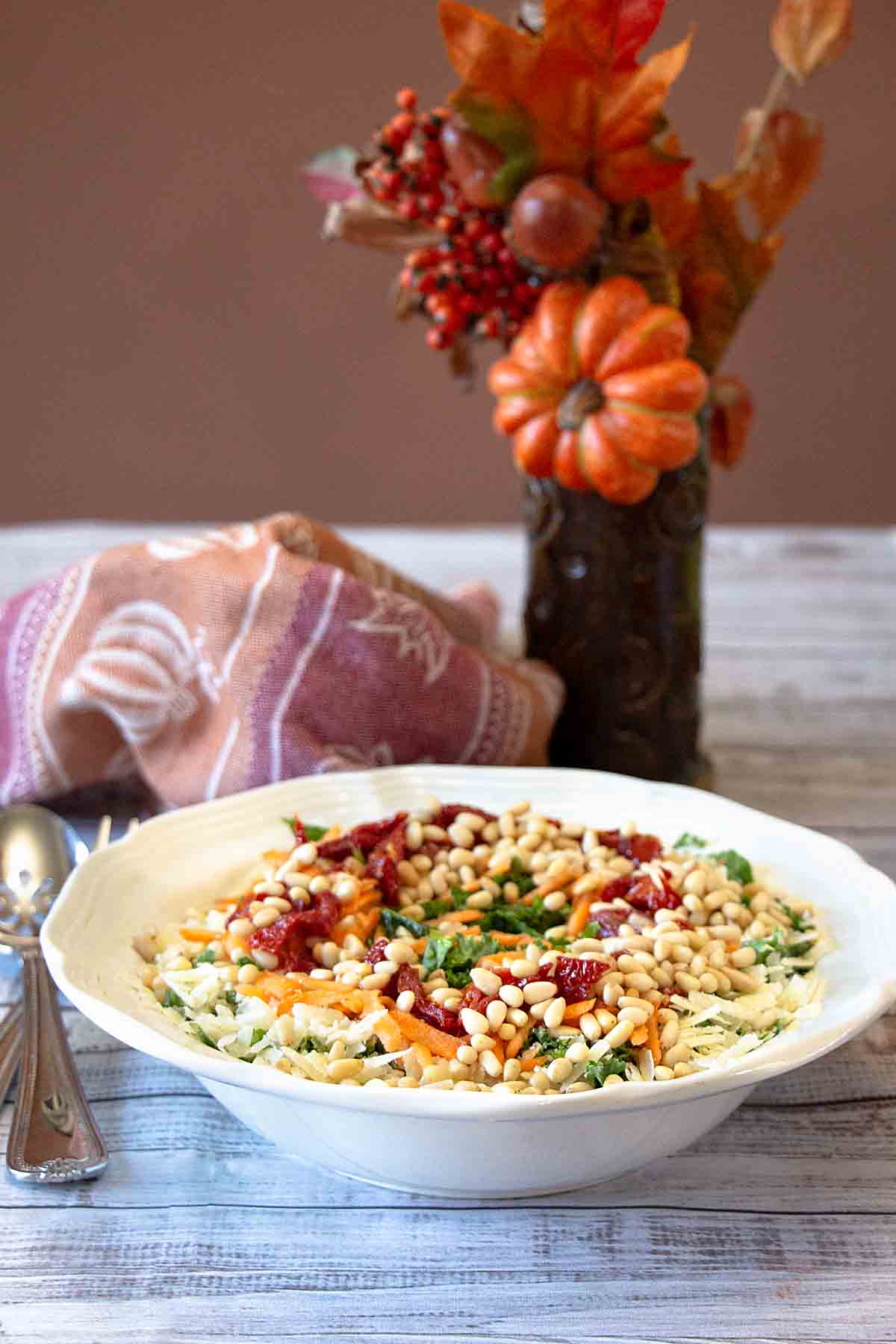 Step by Step Directions
The salad comes together quickly. First you whisk together the dressing ingredients.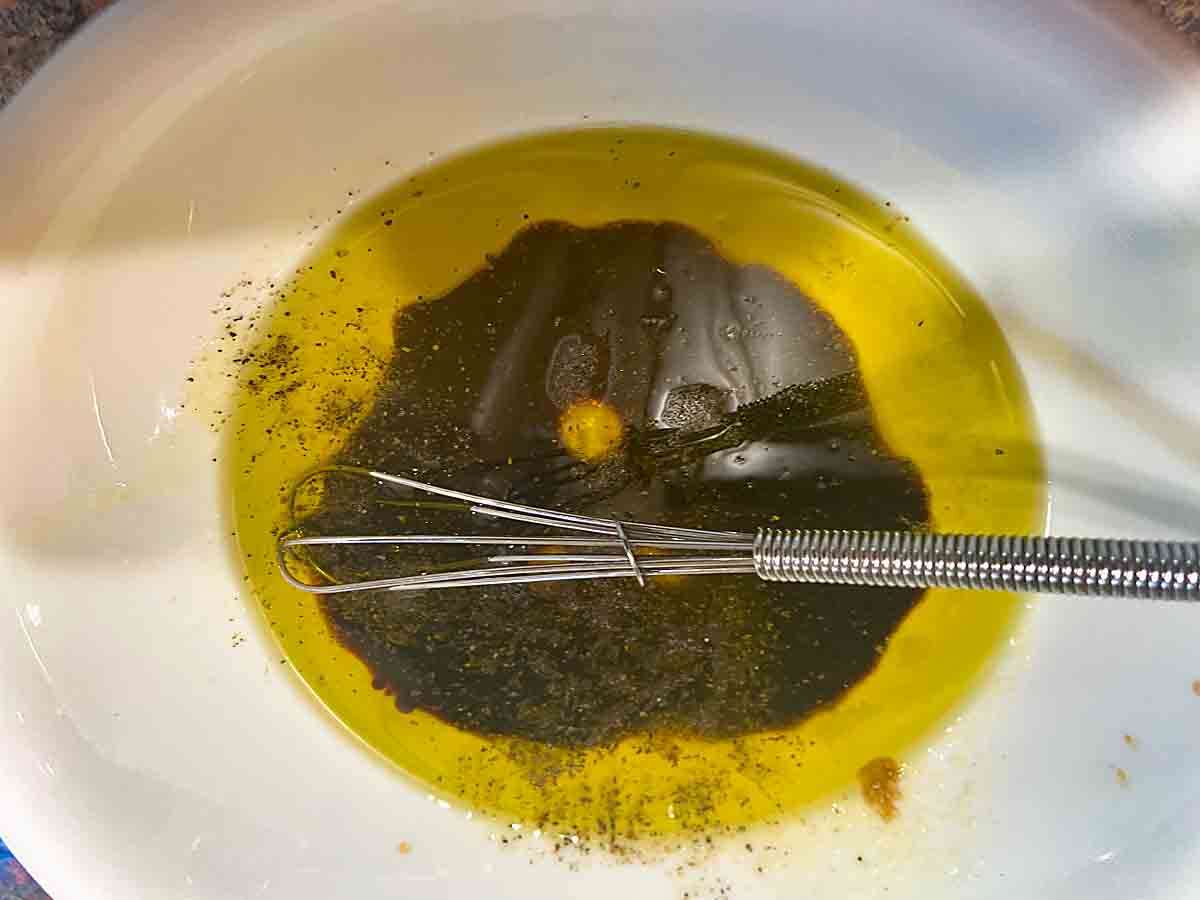 Remove stems from kale and cut into thin julienne strips.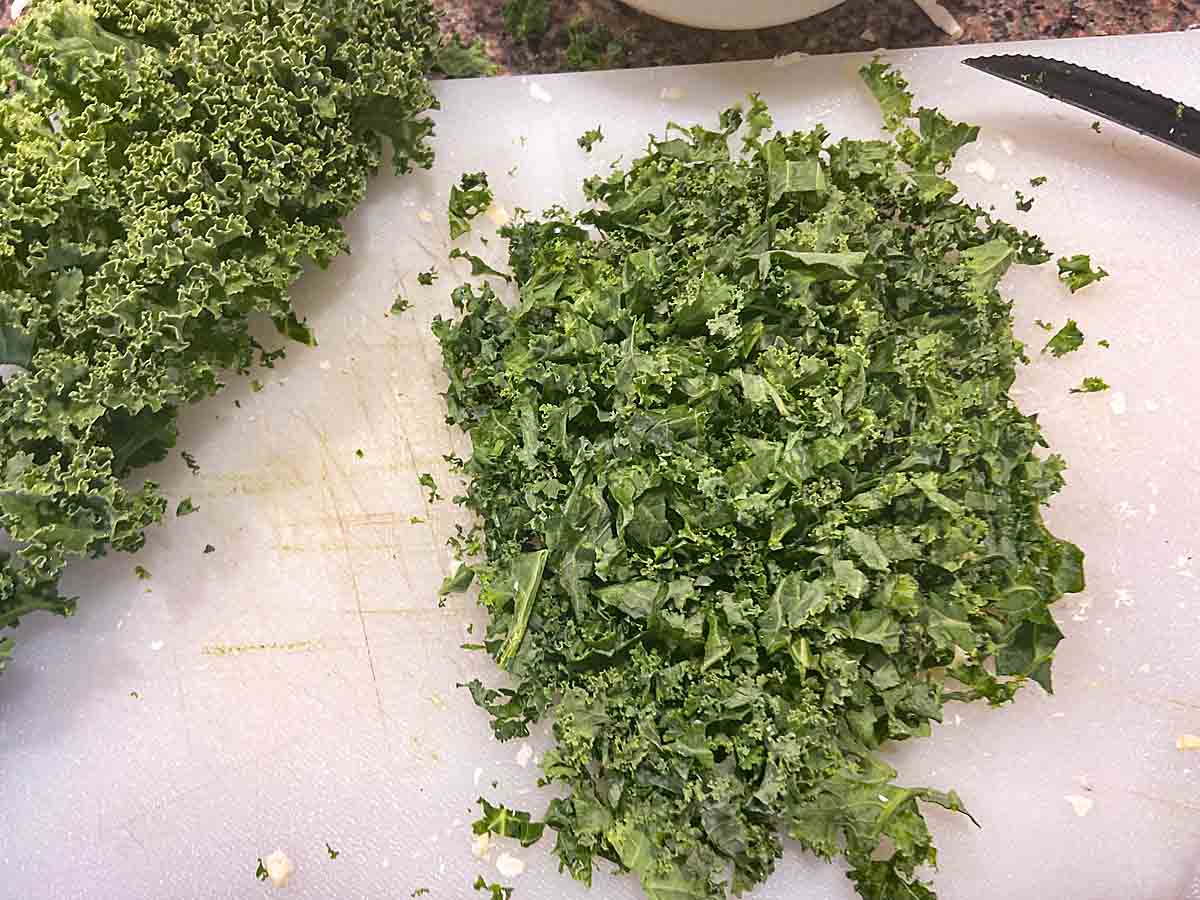 Toss kale with the dressing.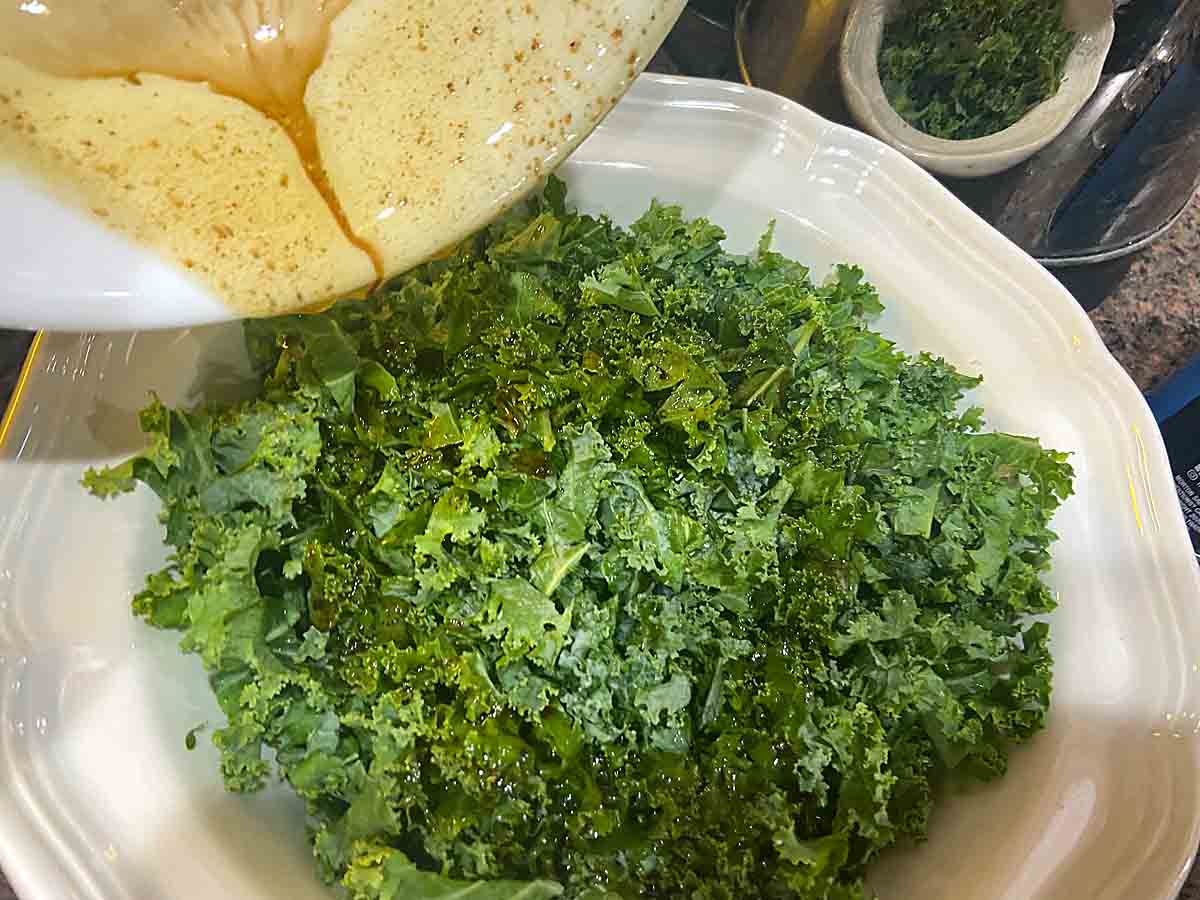 Shred the carrot and cheese if needed.
Artistically top kale with the other salad ingredients!
Kale Types and Selection
There are many types of kale but the two that you see most commonly are curly kale and lacinato kale. If you want to use it as a garnish, the curly kale with its wavy, fluted leaves is the way to go. Although it's slightly tougher than the lacinata kale, curly kale can readily be coaxed into submission and I'd use it for any of my kale recipes.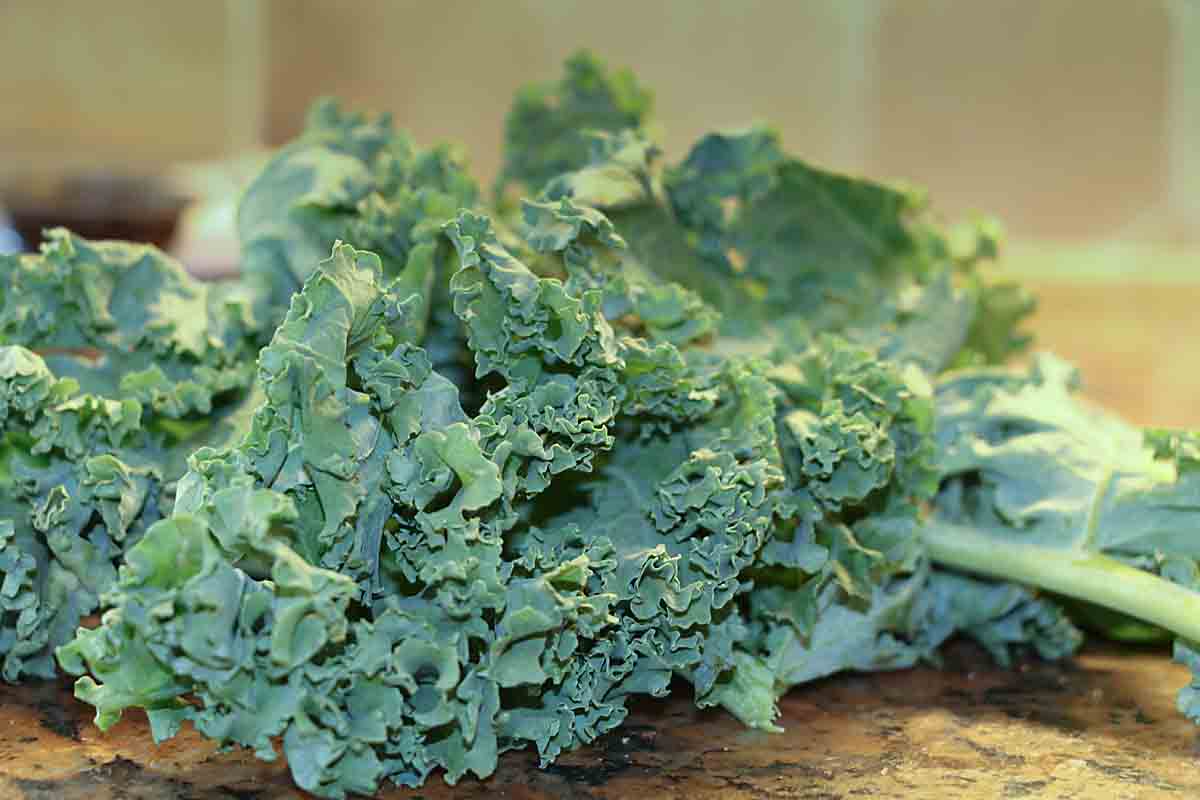 Lacinato kale has moister, flatter leaves and is a favorite for fresh eating since it can be more tender. But it's still a sturdy vegetable and requires the same special treatment to tenderize.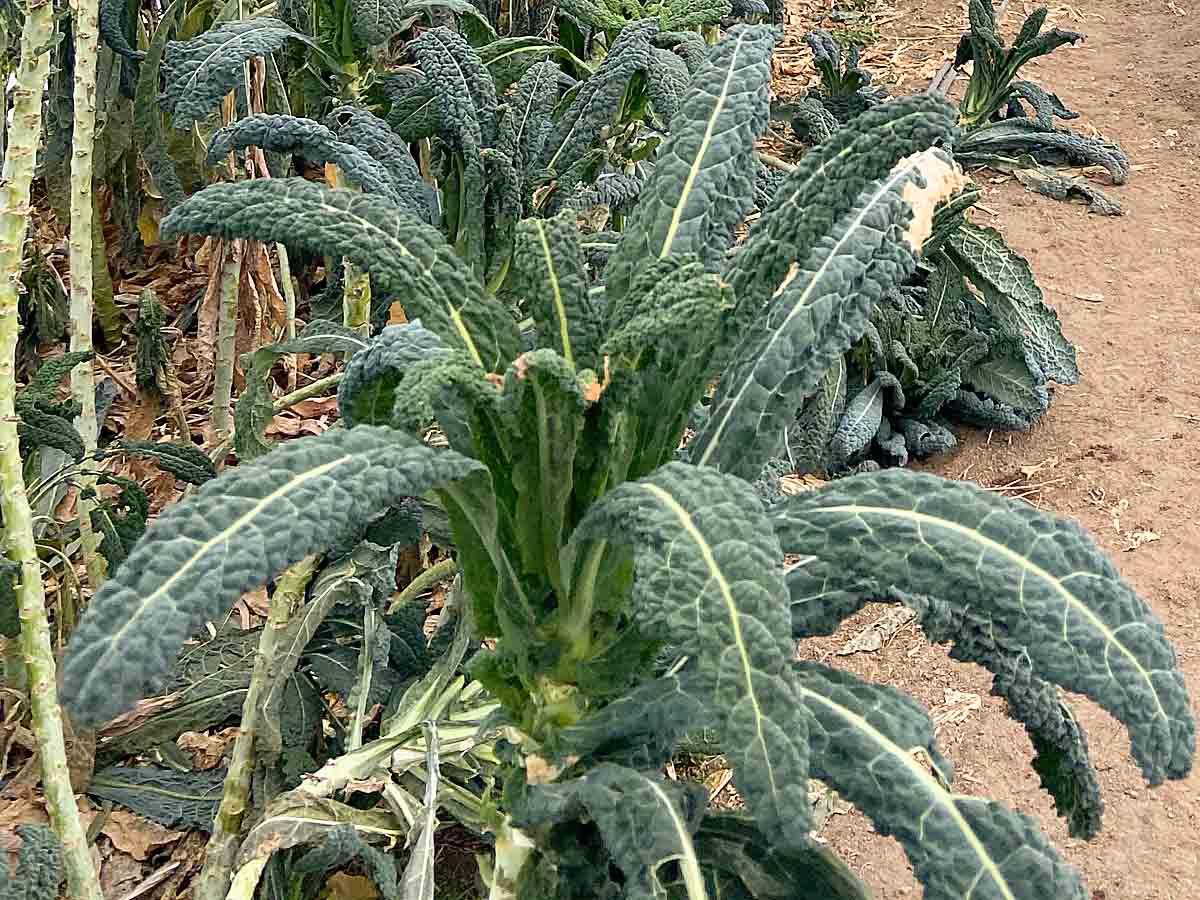 When you select kale, look for leaves that are uniformly green and firm. As kale ages, it tends to get pale or yellow and, if it loses moisture, it will be limp or wrinkled. I like to get kale locally whenever possible, for freshness and to support my local farmer.
If your kale is very fresh and kept refrigerated, it may last a week or more, though I find this can vary (and fresh is best). But if you get a weekly CSA box or visit the famers market once a week, eat your spring greens first and your kale later!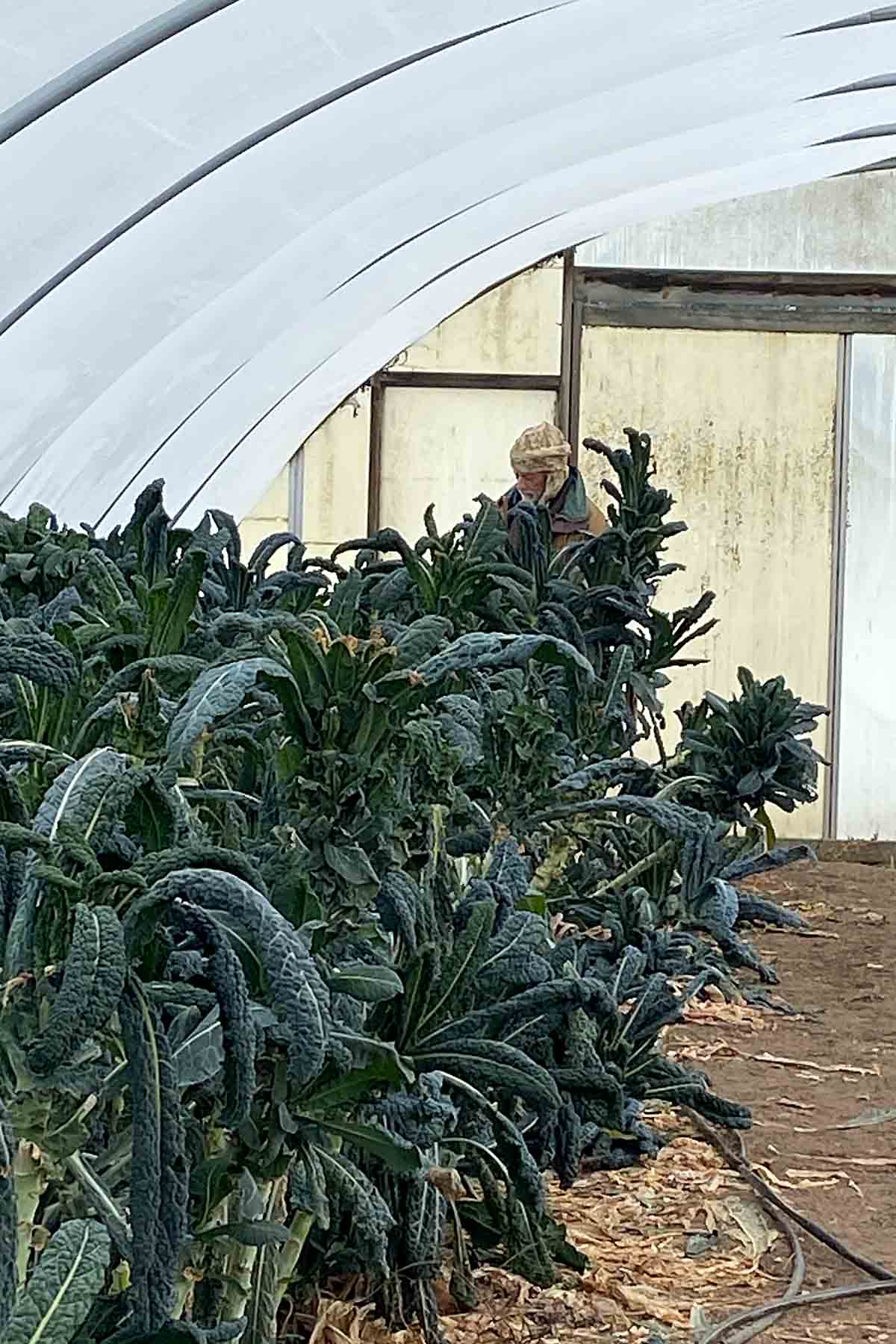 Kale Nutrition
Per Healthline, a single, 33 calorie, cup of kale contains 206% of your vitamin A (as beta-carotene), 684% of vitamin K, 134 % of vitamin C, 26% of manganese as well as B6, calcium, copper, potassium, magnesium and more.
Besides vitamins and minerals, kale contains multiple types of antioxidants (different antioxidants have different benefits so a variety is better) like Quercetin, Kaempferol, Lutein and Zeaxanthin which can have benefits for eye health, heart health and more. For detailed info (and extensive original sources), see the Healthline article.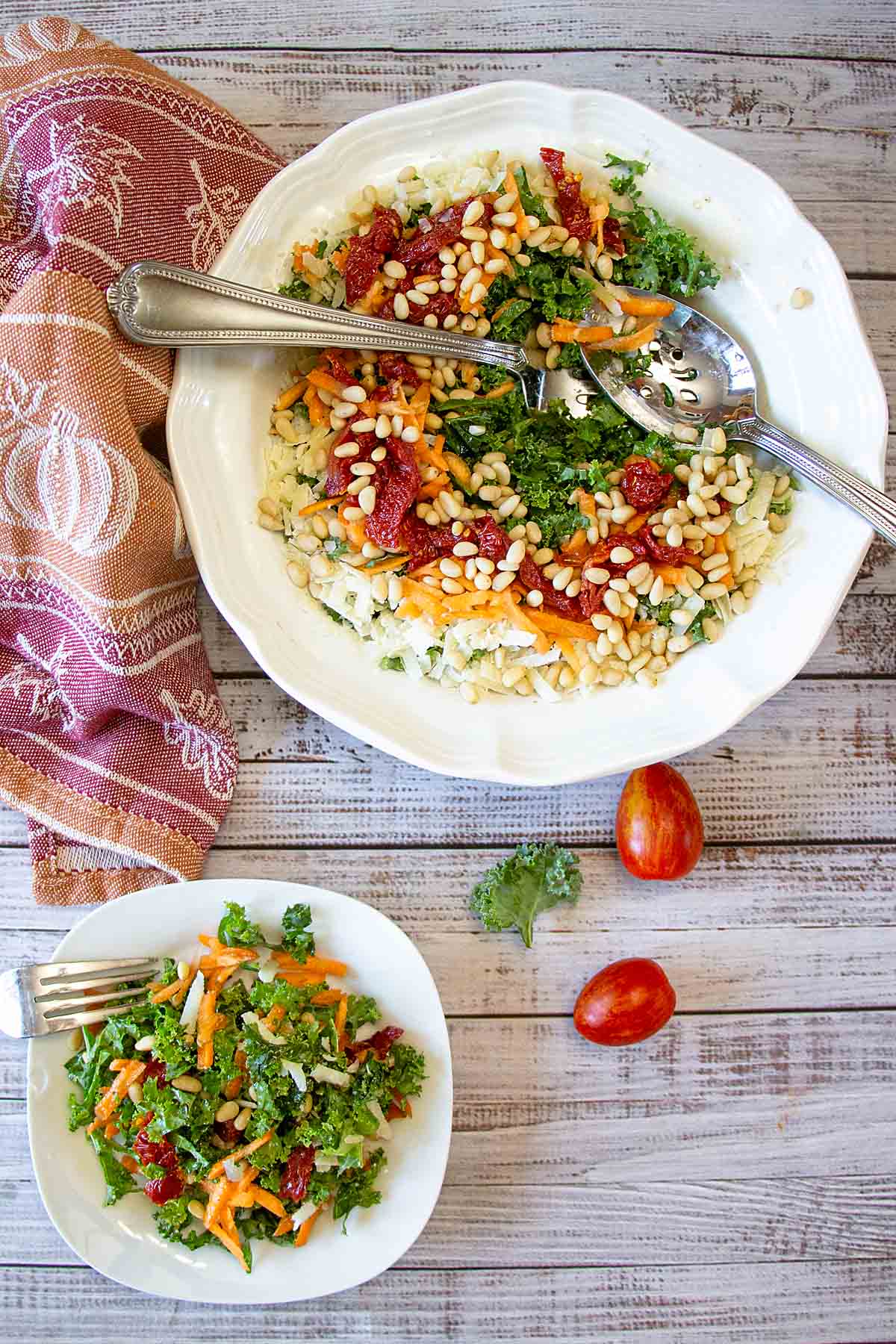 Taking Kale from Tough to Fabulous
Kale is a super-healthy vegetable but it (and other non-lettuce greens) can be a challenge to prepare. So much so that one of my CSAs even took them out of the boxes and started a separate "greens share!"
Cooking with kale can be easier since you have heat and added moisture to help make it tender. But the key to eating it raw is cutting it into small pieces. To do this I remove and compost the tough stems, then cut the leaving using one of two methods, depending on the dish.
For a dish that isn't "fluffy" I will often put it through the food processor (despite online admonitions not to). Especially if you need larger quantities, this is the quickest way to go. The texture suffers just slightly, which doesn't matter a bit in a dish like my Kale Brussels Sprout Salad, which has a rich dressing and a heavier feel.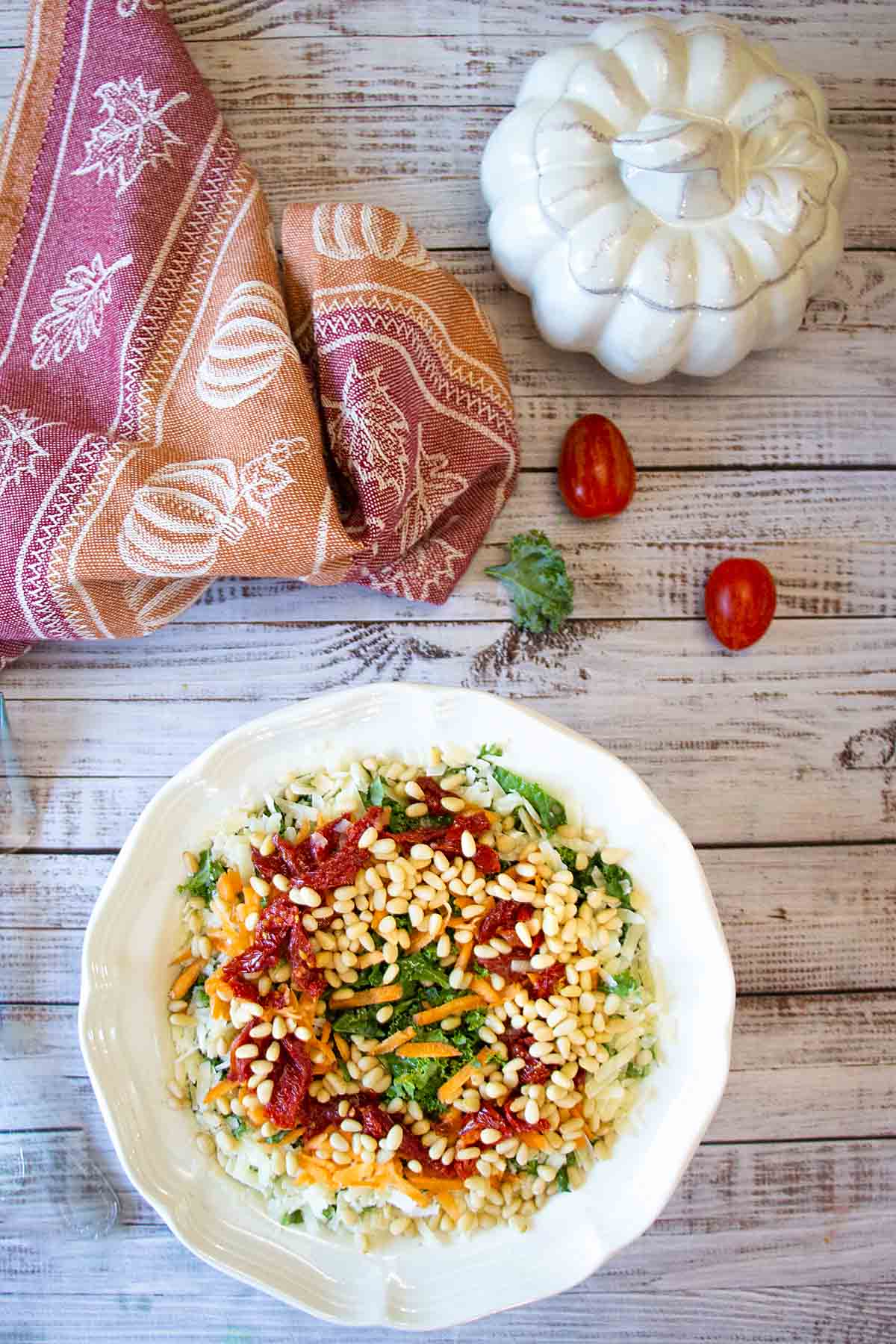 When I need a lighter result like in this salad, I julienne by hand which is actually pretty quick. I stack up a few leaves, roll them up, then slice thinly from one end of the roll to the other. For bigger leaves, I sometimes cut the roll in half lengthwise first which makes for small pieces. It's the same method I've used to julienne larger basil leaves for years.
And it's made a kale lover out of a skeptic!
Tuscan Kale Salad
Packed with fall flavor, this Tuscan Kale Salad combines finely cut kale, sun-dried tomatoes, pine nuts, Parmesan and a homemade vinaigrette. 
Ingredients
¼ cup olive oil
3 tablespoons balsamic vinegar
Salt and pepper to taste
4-5 cups of julienned kale (about 1 large bunch)
½ cup shredded carrots
½ cup sundried tomatoes, thinly sliced (see note)
½ cup pine nuts
½ cup shredded Parmesan cheese, or flavorful vegan cheese
Instructions
Prepare dressing by whisking together balsamic vinegar, olive oil, salt and pepper.
Remove stems from kale and cut into thin julienne strips. Toss with the dressing.
Top kale with remaining ingredients (artistically—or toss together if desired)
Notes
You can use home dried tomatoes. Just soften them by letting them soak in very hot water and slice into bite-sized pieces.

Nutrition Information:
Yield:

4
Amount Per Serving:
Calories:

296
Unsaturated Fat:

0g