One Pot Cheesy Rice & Lentils
Hearty and flavored with herbs, cheesy rice & lentils can work as a simple main dish or tasty side. Keep both vegetarians & carnivores happy!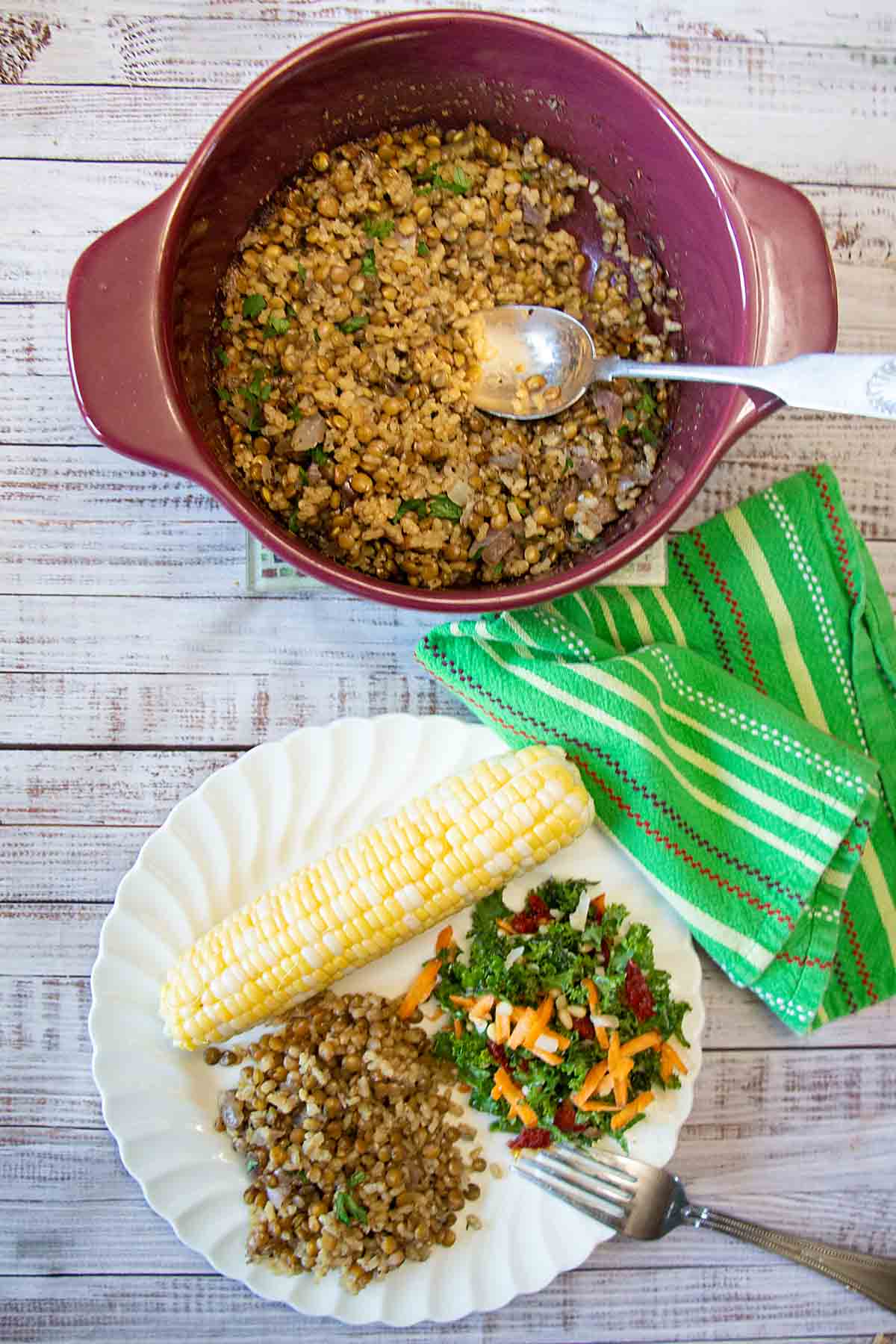 Cheesy Rice & Lentils and I go way back. Like decades (shhh). The original was called Herbed Lentils and Rice and I don't even remember when or where I got the recipe. I have it on paper if that's any clue!
Yes this was the dish that regularly accompanied me to my early CSA parties–before my repertoire expanded. Then it slipped on to the back burner.
The original recipe called for reserving half of the cheese, in slices, to bake on top of the casserole. It's a cute option—but tossing on a little parsley is cute too and easier.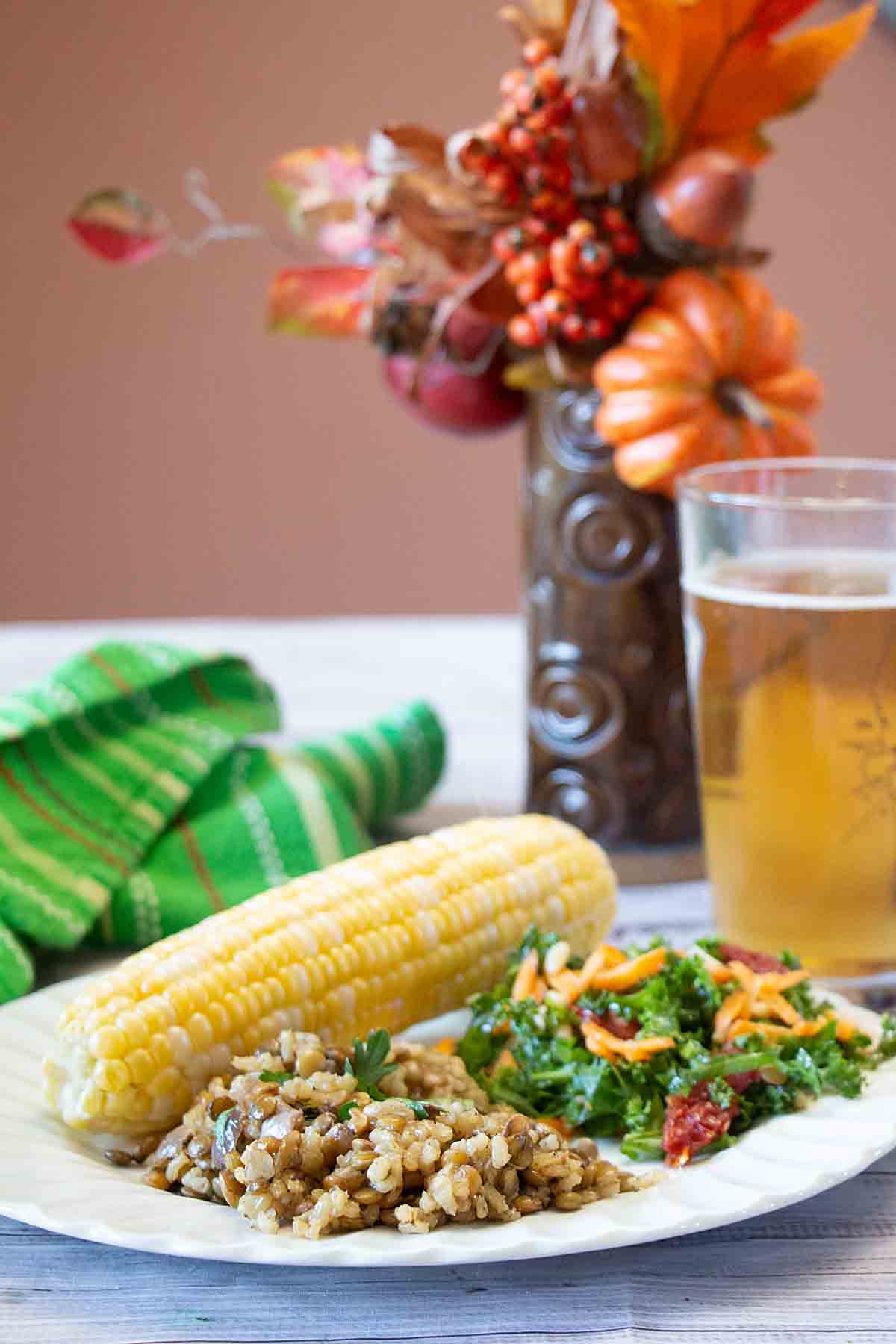 I decided to bring this back this year calling it Cheesy Rice and Lentils–and my youngest (my "picky "daughter) was ecstatic. She is nearly vegetarian and as she dipped in a spoon, she declared it worthy of Christmas Eve.
I had to admit her idea was good. With a fair amount of protein is suitable as an entrée for the couple of vegetarians in her generation. And as a side for the rest of us, it's got a bigger flavor punch than many rice sides. Guess I need to pencil it in!
Why This is a Winner
This simple rice dish has a lot going for it such as:
Little working time. While this cooks for awhile, there is almost no working time. So put it in the oven, then get something else done
No special ingredients. Even though this is all natural, there are no "fresh" ingredients except the cheese. Since I always have cheese around, I can make this on a whim!
Tasty vegetarian dish. Perfect for meatless Monday or a healthy potluck
Versatile as side dish or main dish. As per the discussion above, the herbs make this more flavorful than many sides. Or go ahead and serve as an entrée since there is plenty of protein.
Step by Step Directions
Cheesy Rice and Lentils is very easy to make. You start by chopping onions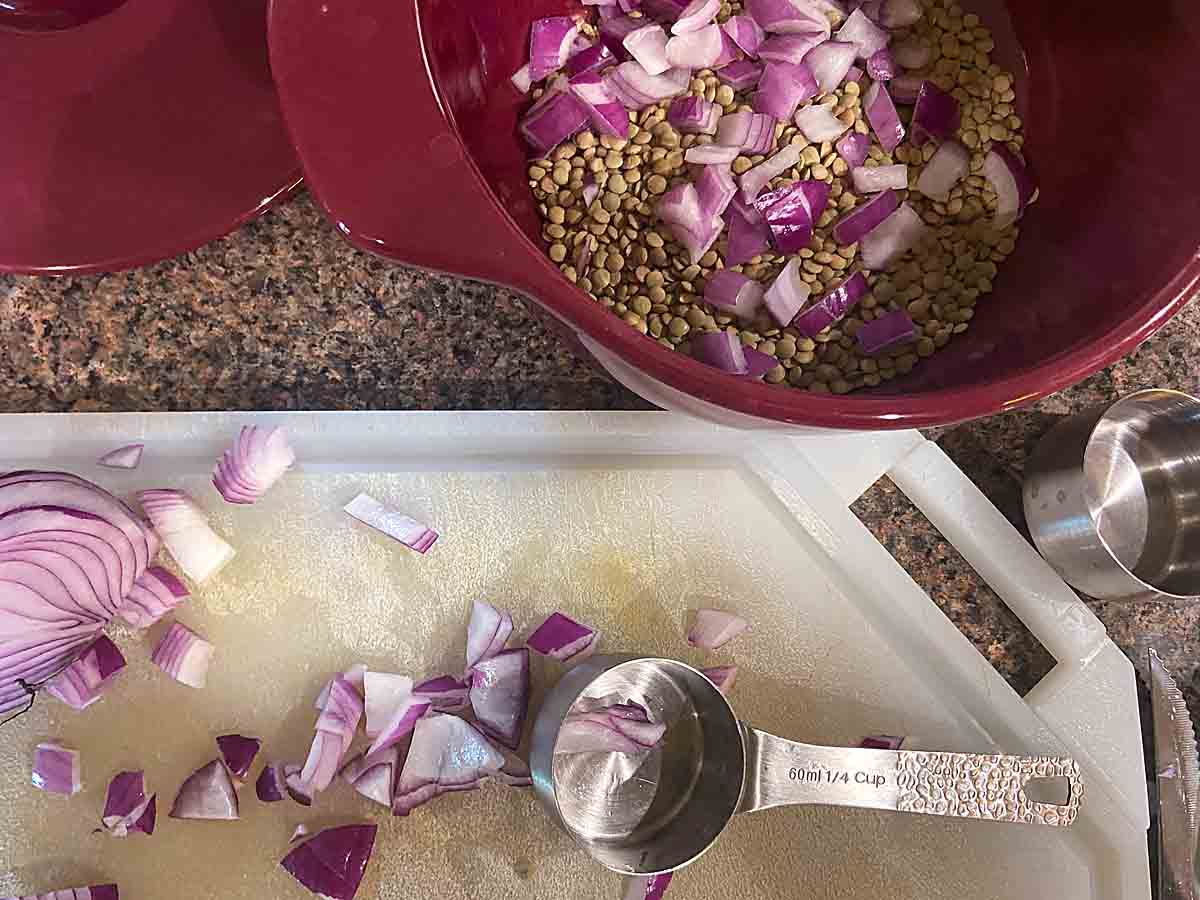 Combine all the ingredients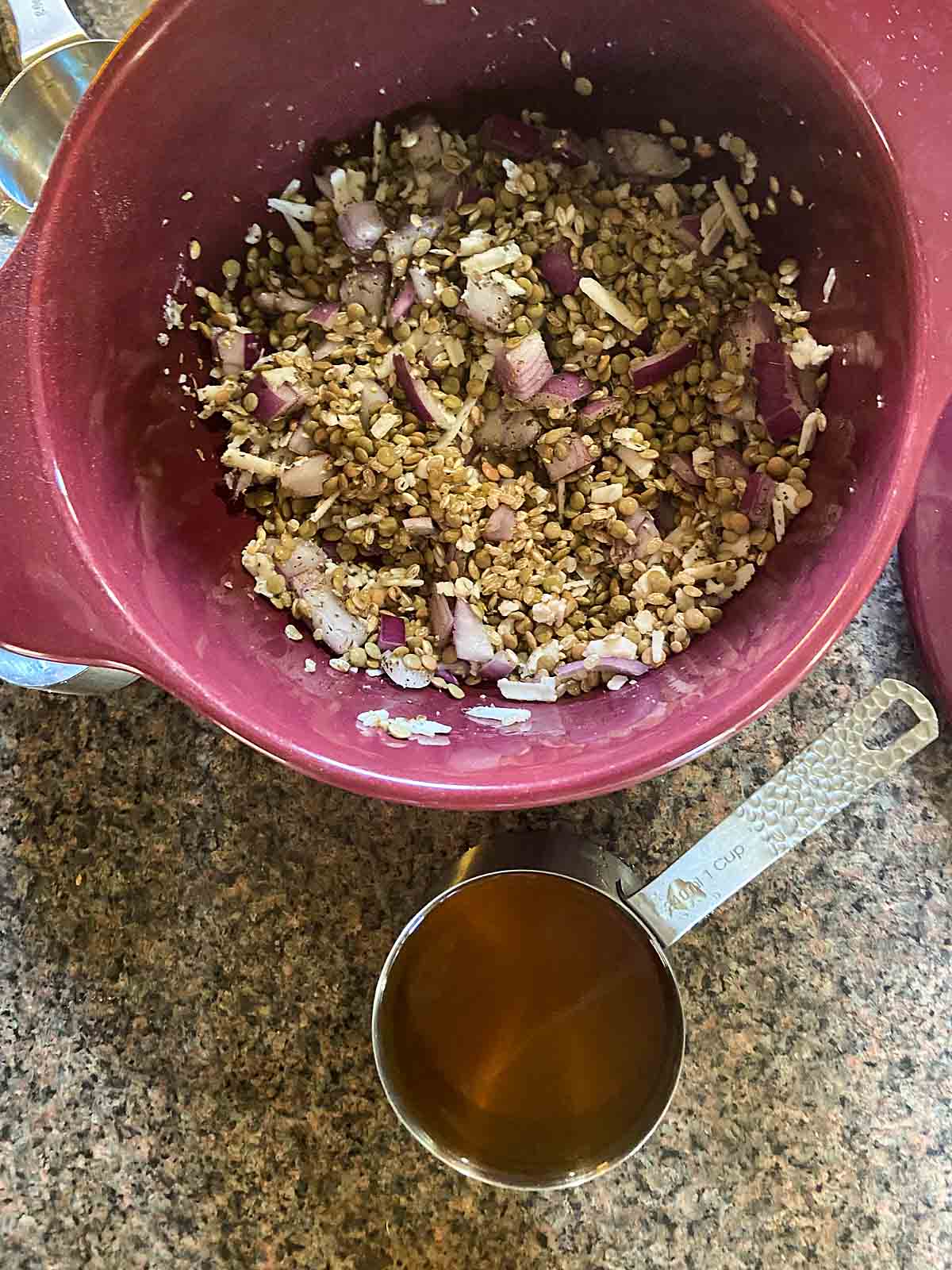 Bake then serve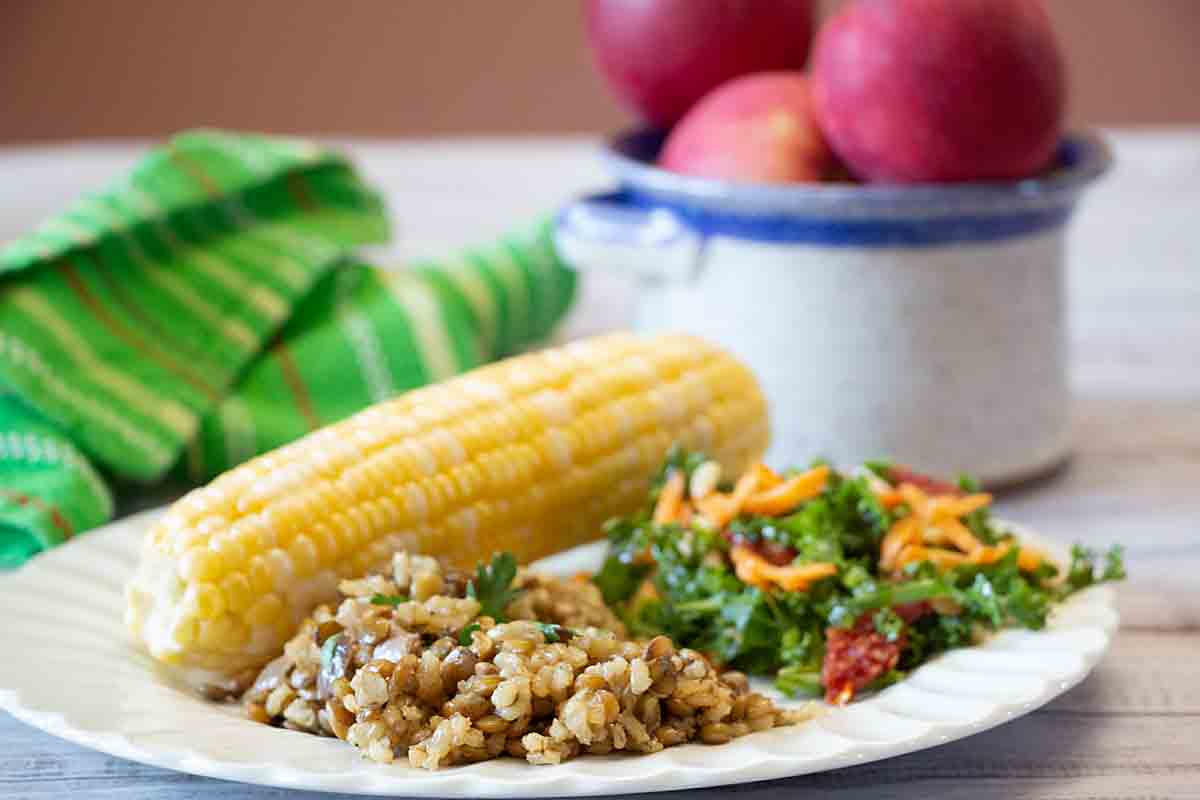 Ingredient Selection
Types of cheese
While I think the original cheese may have been Swiss, I'll use anything mild to medium as long as it melts well. This time I used a Goat Milk Monterey Jack which was delicious. Swiss and Gouda are other favorite choices. I'd avoid anything overly distinctive like a sharp cheddar which would dominate the dish.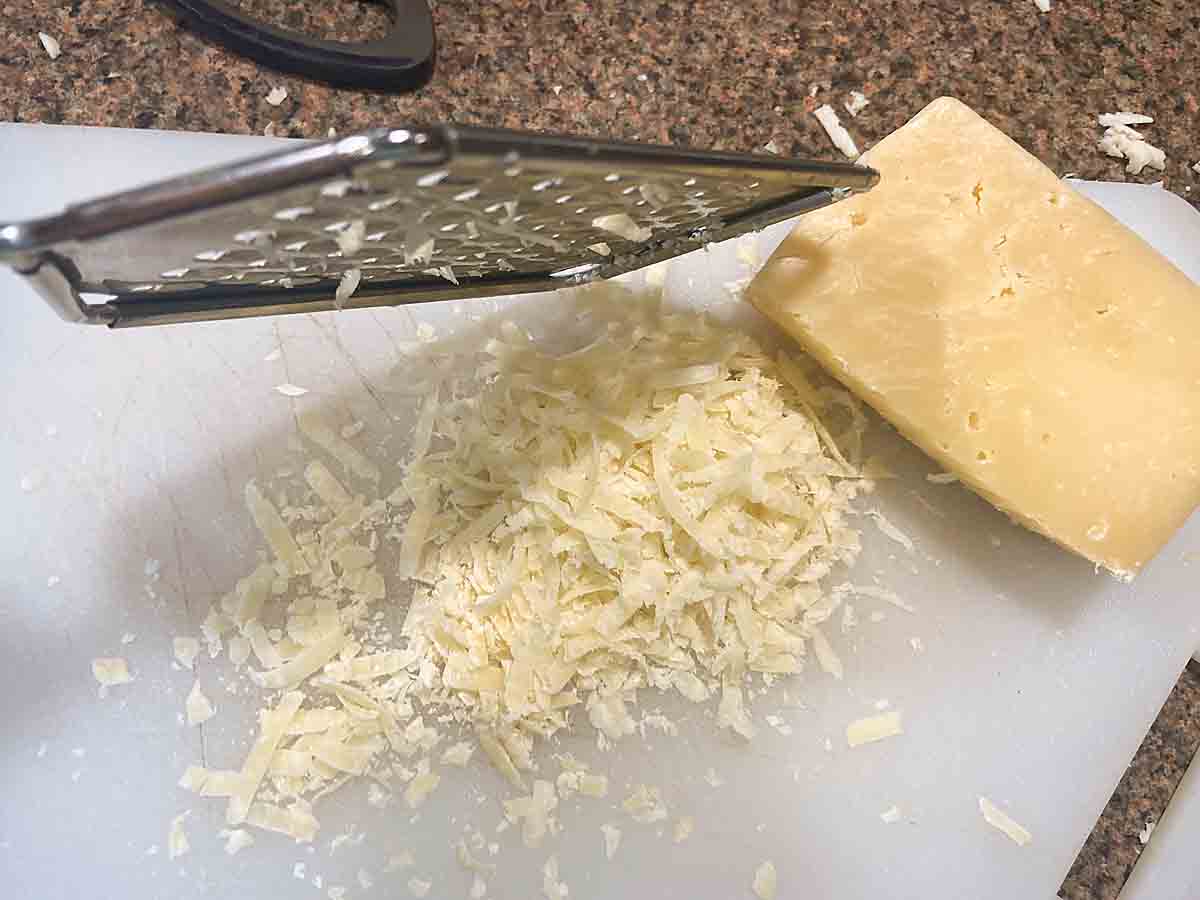 Types of lentils
This recipe is designed for the standard brown lentils but other varieties can be used with adjustments in cooking times. I have personally tried red lentils which were good, but softer, even when cooked just 45 minutes. I'd use them again if that was what I had or other varieties too. For more information on lentil varieties, check out Oh My Veggies.
Types of rice
Your choice of rice can also have an impact on your cooking time. I use a natural short grain brown rice but you can go with white (shorter cooking) or even wild rice if you'd like. As with the lentils, be prepared to adjust your cooking time if you go with a different type.
In the end, if you've changed up the ingredients and the dish is done earlier than the rest of your meal, know that it's a forgiving dish. Just turn down the heat to 200F, add a little water and keep the lid on.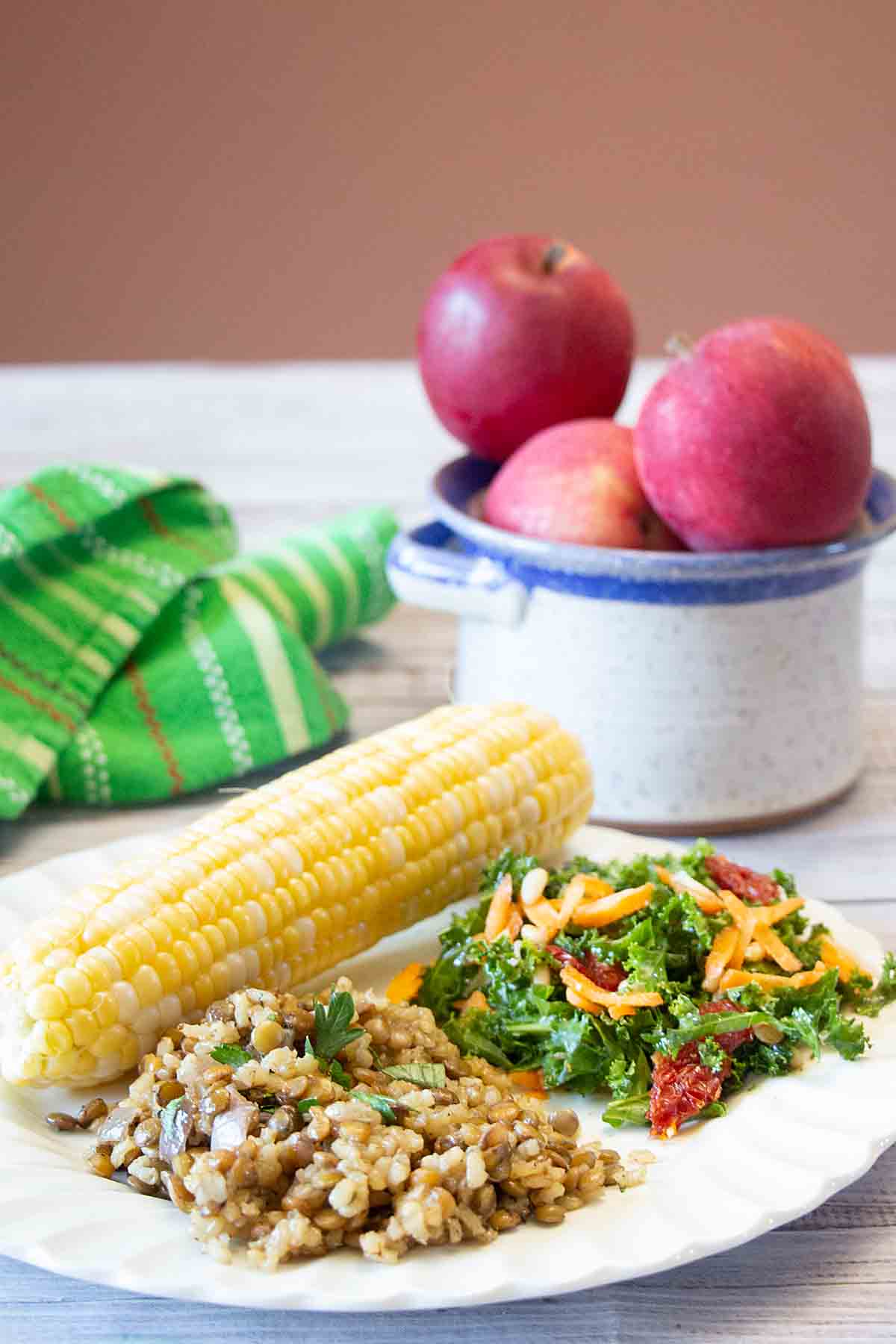 Tips & FAQs
If the need arises you can lengthen the cooking time by reducing the heat. My daughter wanted to go shopping when I was making this so I dropped the heat by 25 degrees which gave me the extra time I needed. (My husband was home to make sure the house didn't start on fire.)
This doesn't make a lot but if you do have leftovers, it is good rewarmed or cold!
Raveable Rice Recipes
We share Recipes From Our Dinner Table! Join our group and share your recipes, too! While you're at it, join our Pinterest board, too!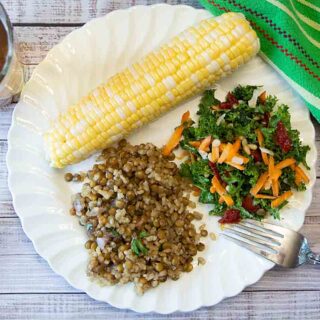 Cheesy Rice & Lentils
Hearty and flavored with herbs, cheesy rice & lentils can work as a simple main dish or tasty side.  Keep both vegetarians & carnivores happy! 
Ingredients
2

Tablespoons

Olive Oil

¾

cup

dried brown lentils

¾

cup

chopped onion

½

cup

brown rice

¼

cup

dry white wine or sherry

½

teaspoon

basil

½

teaspoon

oregano

¼

teaspoon

garlic powder

1/8

teaspoon

black pepper

1/2

teasponn salt

1

cup

shredded cheese like Swiss

Gouda or Monterey Jack

1 3/4

cup

vegetable or chicken broth
Instructions
Preheat oven to 350 F

In a 1 1/2 quart lidded casserole, add ingredients other than the broth and mix well. Top with the broth.

Cover the casserole and bake until everything is tender and liquid is absorbed, about 1 1/2 hours.

Remove from oven and stir to mix. Enjoy.
Nutrition
Calories:
329
kcal
Carbohydrates:
21
g
Protein:
16
g
Fat:
20
g
Saturated Fat:
9
g
Polyunsaturated Fat:
9
g
Cholesterol:
46
mg
Sodium:
477
mg
Fiber:
5
g
Sugar:
4
g
I am not a health professional and nutrition data is calculated programatically. Accuracy may vary with product selection, calculator accuracy, etc. Consult a professional for the best information.