Tricolor Coleslaw with Olive Oil Dressing
Do you count your five-a-day? Maybe even nine? I am talking about the number of fruit & vegetable servings recommended by the USDA—and getting enough can be a challenge! Why not make it easier with today's tricolor coleslaw–two servings (or more) in a big helping!
Recently I have decided that, when I make a recipe, I will ask one simple question: Can I add a vegetable to this? So when I tested pork ragout a few weeks back… I added carrots to the mix!
Eventually the thought crossed my mind, why not add a vegetable to a vegetable? So today instead of plain ol' cabbage slaw I made tricolor coleslaw with (red) cabbage, shredded carrots and julienned broccoli stems. Eat a rainbow!
Now the official vegetable counting guidelines are a bit complex with portion size and color rules. So to simplify in a way my kids could understand I told told them 2-4 fruits, 3-5 veggies , only count 1 serving of juice and they have to be unique vegetables. Sorry kids, a giant plate of fries isn't doesn't count as three!
Now my tricolor coleslaw has one other healthful advantage–an olive oil based dressing. Recent studies have suggested that a Mediterranean diet supplemented with additional olive oil may reduce breast cancer and improve brain function.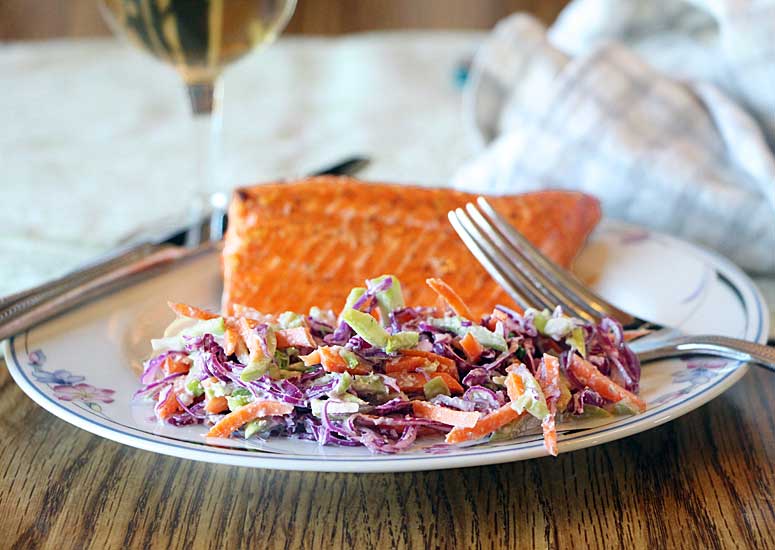 A couple veggies and some healthy fat–not bad for picnic food!
Tricolor Coleslaw
2016-04-24 17:58:26
Tricolor coleslaw uses (red) cabbage, shredded carrots and broccoli slaw along with an olive oil based dressing for a healthful side. Eat a rainbow!
Nutrition Facts
Amount Per Serving
* Percent Daily Values are based on a 2,000 calorie diet. Your Daily Values may be higher or lower depending on your calorie needs.
Dressing
• 2 T freshly squeezed lemon juice
• 2 T pickle juice
• ½ t salt
• ¼ c chopped onion
• 2 T chopped pickles
• 2 t mustard
• ½ teaspoon celery seed
• 1 tablespoon honey or maple syrup
• ¼ t dash freshly ground black pepper
• 1/4 c extra virgin olive oil
• 1/4 c mild olive oil (or other lightly flavored oil)
Slaw
• 4 cups sliced red cabbage
• 2 cups shredded carrots
• 2 cups julienned broccoli stems (or broccoli slaw mix)
Instructions
To prepare the dressing, combine all of the dressing ingredients but the olive oil in a food processor or blender and puree until smooth. With the blender continuously running, add the oil in a very slow stream (this is important for it to emulsify properly). Continue to process until the mixture has formed a thin emulsion. Refrigerate until needed.
Combine the shredded vegetables and toss with the dressing shortly before serving.
Notes
This will make 8 1-cup servings.
Feel free to use other shredded vegetables of your choice
Art of Natural Living https://artofnaturalliving.com/