White Chocolate Strawberry Martini
What beverage says festive more than a martini? For an anniversary, Valentine's day or any romantic occasion, here is a recipe for a White Chocolate Strawberry Martini. Red berries with chocolate and sweetness–how romantic is that!
As I worked to develop and size this recipe I learned a few things about martinis. Did you know that the traditional martini glass is about 4.5 ounces and contains 3 ounces of alcohol? Well just like so many other things in life, cocktail glasses are getting larger with the typical martini glass sizing up to 7 ounces or more. Perhaps this is why so many recipes I tried came out looking undersized!
Martini glass size has even become somewhat controversial–who would have thought!. Back in the day (when martinis were made with gin), one sign of a perfect martini was that it was so close to the rim you needed to take a sip before walking with it. Also being debated is whether a bigger martini means it will get warm before you finish it (must admit, I've heard this argument for beer).
There is just one technical thing to know as you make these and that is that strawberries can be stringy. Be sure to mash them up small or you may end up with a big strawberry string dangling from your mouth. And, yes, that just says nerd movie more than hot romance (ask me how I know this). Similarly don't add the pulp to the martini shaker because, even mashed fine, it can clog the strainer. And once you've started you're really going to want to get a taste of this martini!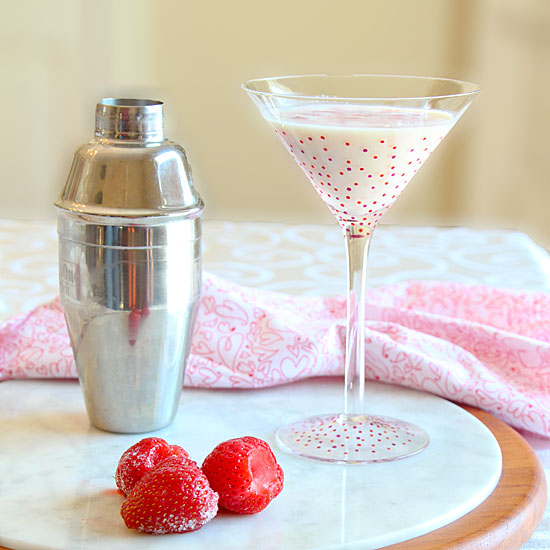 White Chocolate Strawberry Martini
2014-02-09 13:18:48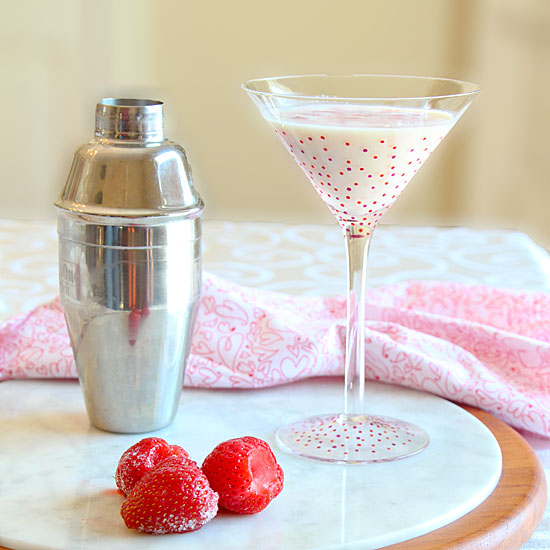 Serves 1
A special martini perfect for Valentine's Day, an anniversary, or any romantic occasion.
Nutrition Facts
Amount Per Serving
* Percent Daily Values are based on a 2,000 calorie diet. Your Daily Values may be higher or lower depending on your calorie needs.
Ingredients
1oz Godiva White Chocolate Liqueur
1oz white Crème de Cacao
1oz vanilla Vodka
1 oz half and half or cream
2 strawberries (frozen & thawed works fine)
Crushed ice
Instructions
Mash strawberries very fine so there are only very small pieces.
Add other ingredients to a martini shaker, shake and strain into glass.
Drizzle with strawberry puree and serve immediately.
Art of Natural Living https://artofnaturalliving.com/