10 Reasons to Plant a Tree–on Earth Day, or Any Day
To celebrate Earth Day, we planted eight tiny trees!
Last fall I enjoyed harvesting and juicing wild grapes, and came away inspired to add more fruit to my young collection of berries.  So this spring, two plum, elderberry, mulberry and winterberry holly (for winter centerpieces) plants were shipped bare root from a Michigan nursery to our back yard.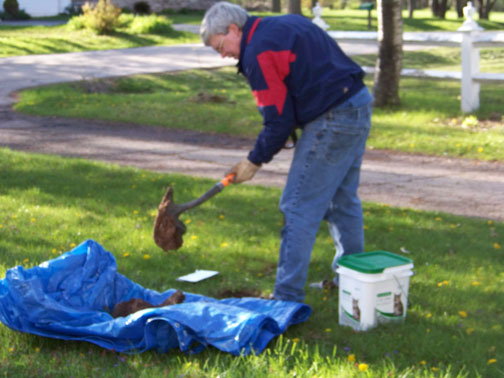 A few years ago we planted some pear trees that are starting to blossom more so I am hopeful for fruit (alas, our small apple trees were taken out by rabbits).  And the arbor day "stick" my daughter brought home years ago escaped the lawn mower and is now about eight feet tall!  I think I'm having fun!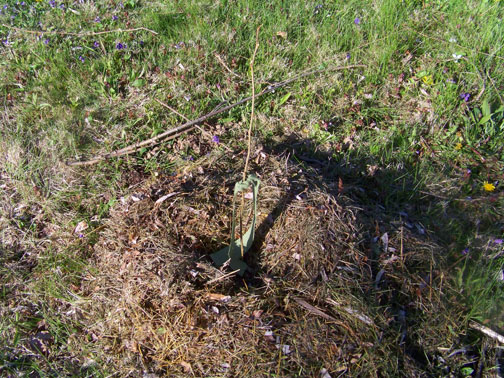 I admit that it will be a few years before we see the (ahem) fruits of our labor, but there are lots of reasons to add a tree or two to your world.  Trying to decide if there is tree-planting in your future?  Consider the following:
Ten Reasons to Plant a Tree
1.  Natural beauty/property value. Joyce Kilmer was right when she wrote "I think that I will never see, a poem as lovely as a tree."  And if the aesthetics aren't enough, trees increase property value!
2.  Support wildlife.  Trees provide habitat and food for wildlife.  This spring, I was delighted to spot a tiny nest in the aforementioned arbor-day-stick-turned-tree.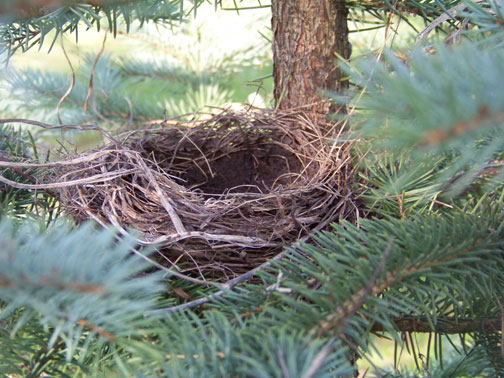 3.  Energy benefits.  The shade from deciduous trees can reduce your cooling costs in the summer—and during winter they drop their leaves to facilitate radiant heating.  Shading an air conditioner can help it operate more efficiently and evergreens can act as windbreaks.  The Sacramento Municipal Utility District even has an online tree/energy benefit calculator.
4.  Oxygen production/carbon sequestration.  Trees breathe out the oxygen that we need, then consume and store carbon dioxide, which reduces global warming.  Some sources say that planting 20 trees a year can even make you carbon neutral.
5.  Lawn reduction.  A well-manicured lawn is beautiful but can be taxing on the environment.  Between energy-gobbling, particulate-belching lawn mowers, inefficient watering and the use of chemical fertilizers/weed control, it is an environmental boon to reduce lawn by converting areas to woodland.
6.  Prevent erosion. A tree's canopy slows rainfall and the roots hold soil in place.  Wikipedia tells us that "water and wind erosion are now the two primary causes of land degradation; combined, they are responsible for 84% of degraded acreage, making excessive erosion one of the most significant global environmental problems we face today."
7.   Shade.  Just picture a summer picnic spread, laid out under a shady oak.  Or a tree lined deck with a table holding…  a) margaritas b) chocolate martinis c) sangria d) homemade lemonade.
8.  Decorating.  It doesn't have to be all about the environment, even on Earth Day!  I use tree flowers in floral arrangements–crab apple blossoms in spring, tree hydrangeas in summer and pine branches in winter.  And I recently learned that a magnolia branch can be "forced" to produce lovely blossoms in late winter.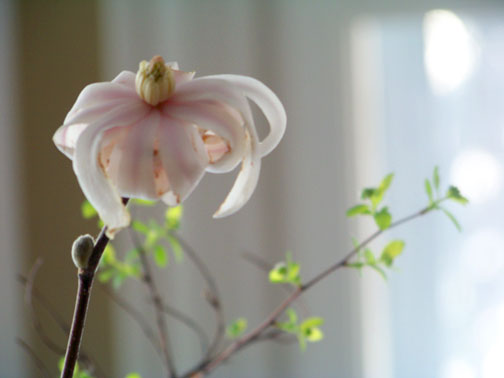 9. Air purification.  A mature tree can remove up to 240 lbs of particulate and gas pollution in a year and per Ecology Kids can clean air in four different ways!
10.  Food.  Yes, yes, this is a food and wellness blog after all. In the end, nothing tastes as good as home grown (or really fresh local) food.  I love knowing "where my food has been" and that it hasn't been shipped for thousands of mile to reach my kitchen.
And who knows, in a few years you may see a mulberry jam post for Earth Day.