Cheesy Carrot Rutabaga Ring
This recipe is based on a dish from McCall's Cooking School. My mother enhanced the original with garlic and Parmesan cheese—everything's better with garlic and Parmesan, right? It is now a holiday favorite, enjoyed even by carrot haters!
Despite its fond place in our hearts, I had never made the dish, intimidated by chopping up the rutabaga—aren't they supposed to be tough? Recently, friends from Rare Earth Farm, one of my CSAs (see 10 Reasons to Join a CSA) gave me extra carrots and a couple rutabagas that had made it through the winter. It was fate.
If you try to eat local in Wisconsin, early spring is a challenge. My fresh stores were down to a few carrots, a bag of beets and some graying cabbages! In the end, cutting the rutabaga wasn't difficult at all–don't know if that if it had softened with age or if I was needlessly worried! And with two veggies in the casserole, a big helping can equal (a delicious!) two servings of our five-a-day.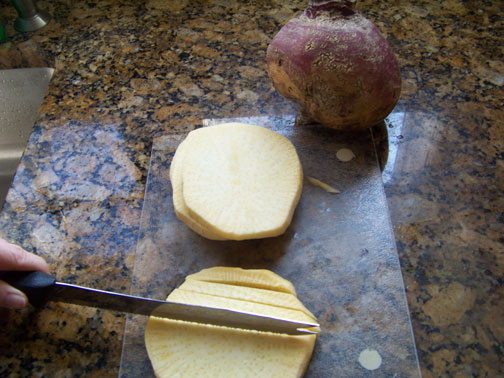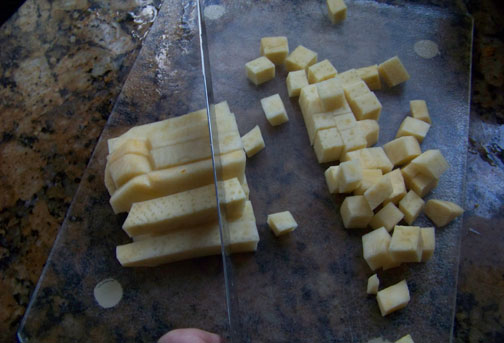 With Mother's Day coming, wouldn't a ring with orange and golden cubes, enrobed in cheese and garlic be a beautiful addition to the table?

Cheesy Carrot and Rutabaga Ring
Ingredients
1 rutabaga, cubed (a scant 4 cups of 1/3" cubes—make up with extra carrots if short)
1 t salt
2 lb carrots, cubed (a scant 4 cups of 1/3" cubes)
1/8 t pepper
1/4 c butter melted
1/2 c Parmesan cheese
1 T Garlic powder
1/4 c chopped fresh parsley (or 2 T dried)
Additional parsley for garnish (optional)
Directions
1. Boil carrot and rutabaga cubes 15-20 minutes until tender.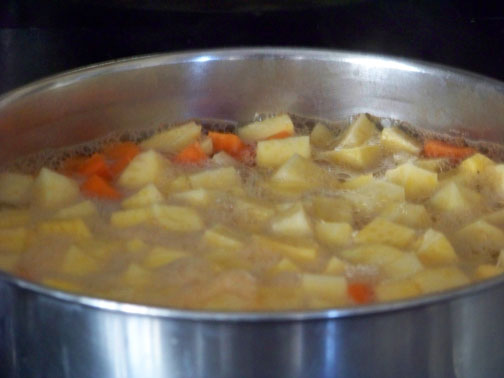 2. Drain veggies and heat in saucepan to evaporate excess water.
3. Add salt, pepper, Parmesan, garlic, parsley Toss to combine and adjust seasonings to taste.
4. Pack into greased ring mold. Cover with aluminum foil and bake for 15 minutes at 400.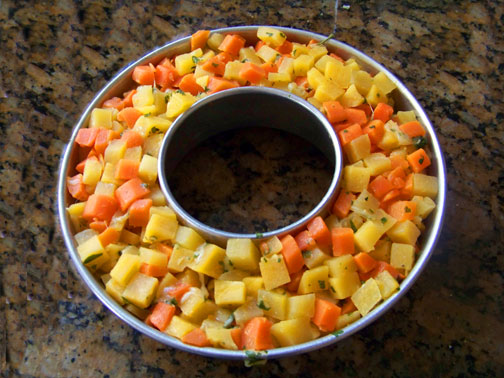 To unmold, set a plate on top of the ring, then flip plate and mold over as a unit. Remove ring. (Not as hard as it sounds.) Place additional parsley in center of ring as garnish (optional).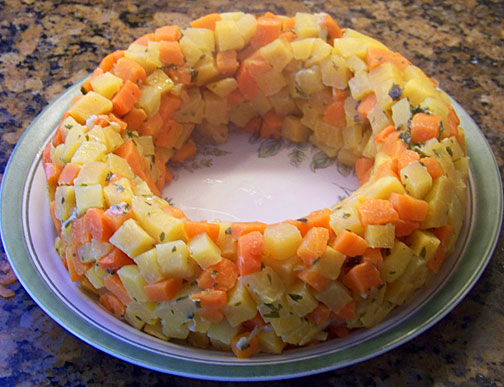 Enjoy!