Almost Grandma's (Whole Wheat) Banana Bread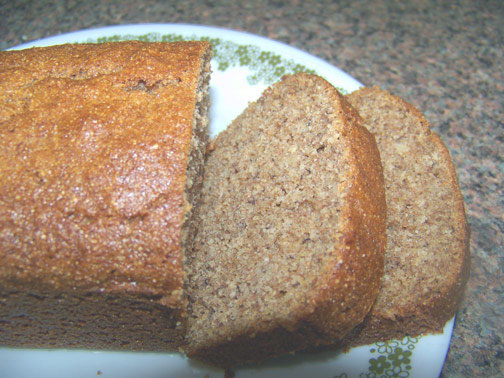 Today I felt brave.  Perhaps it was because I hadn't done a recipe post in over a week—and was itching to try something new.  Or the fact that I was "up north" to spend a little extra time with our oldest while my husband stayed with the younger kids.  After not feeding her in forever during her junior year abroad last year, I wanted to make something tasty and healthy and connected with family.
Making Family Recipes Healthier
I have been making my grandmother's banana bread recipe for years.  I'd already made it a little healthier by reducing the sugar and fat.  Did you know that 1/4 cup of oil will almost always work fabulously in a loaf of sweet bread or dozen muffins (you may need to add a little other liquid if it is dry but I was never satisfied with the full applesauce switch) adding flavor and retarding staling at about a teaspoon of fat per serving?
But now I wanted to go further.
Sweat breads and muffins are excellent candidates for whole wheat flour substitution.  You don't need (and in fact don't want) the gluten development that white flour facilitates, sweet breads are already a bit dense and moist so any texture changes are usually acceptable, and the typical bright flavorings mean you retain balance with any wheat-y taste that is added.   But still I was nervous.
I needn't have been.  Two loaves later…  mmmmm.  Not so brave?  Go halfsies and use half whole wheat, half unbleached flour!
Whole Wheat Banana Bread
Ingredients
1/4 cup oil
3/4 cup sugar
2 eggs
3 bananas mashed (or 2 larger ones)
1/4 + cup milk
1/2 tsp vanilla
2 cups whole wheat flour
1/2 tsp. baking powder
1 tsp baking soda
1 t cinnamon
1/2 cup chopped nuts (optional)
Directions
1.  Beat together first six ingredients.
2.  Mix the dry ingredients. Add them to the first mixture.  Beat well. If batter seems dry, add 1-2 T extra milk.  Fold in nuts if using.
3.  Pour into in two 7 ½ x 3 ½ in. greased pans.  Bake at 350 for 45 to 50 minutes, testing for doneness with toothpick.  (I often double the recipe and use 3 regular bread pans.)
4.  Enjoy!
Is there a favorite family recipe that you've adapted to be healthier?