Autumn Decorated Chocolate Truffles
Easy and tasty these Autumn Decorated Chocolate Truffles are perfect for fall. Or change up the colors for any season. 'Cause chocolate is always welcome.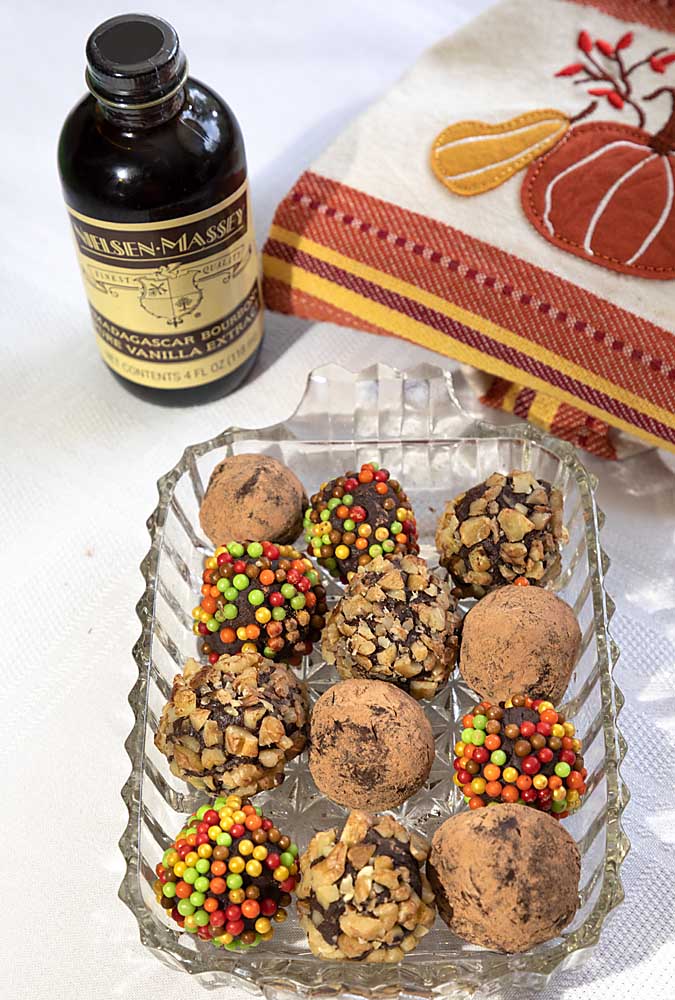 I've said it before and I'll say it again—baking can be high drama. That's why they produce the "Great British Baking Show" instead of the "Great British Salad Show".
On the other hand, baking can be a great way to relax. To get happy. Commune with family and friends. Just think of all those heartwarming baking-with-children vignettes! Of course, before you can truly enjoy the mindful benefits of baking, you do need some basic skills.
Disclaimer: I received a bottle of Nielsen-Massey vanilla in exchange for this post.

Building Baking Skills
Luckily, Nielsen-Massey, the well-known maker of quality vanilla and other flavorings, has launched an initiative to help you "better your bake". They are unveiling a new series of baking lessons to help quell any fear factor.
The program covers topics from basic (e.g. how to separate an egg) to intermediate (filling a pastry bag) to more complex (tempering chocolate). And it has some more fun like baking myths and a vanilla quiz.
Today I'm making chocolate truffles rolled in cocoa (and more), and flavored with Nielsen-Massey Madagascar Bourbon Pure Vanilla Extract.
They'll be good rolled in cocoa, but the gold standard for truffles is actually to dip them in chocolate. Problem is, making dipping chocolate isn't as simple as melting a bag of chocolate chips. To do it right, you need to temper the chocolate. This makes it glossy and crisp, rather than flat and kind of stretchy. And it's an advanced skill.
Happily, Nielsen-Massey has lessons on how to do this–in both video and text formats. Their instructions are more complete than those I've failed at tried before and include guidelines for temperature not just technique.
In the end, I didn't have time to do the tempering as I rushed off to class in the morning. But I do plan to perfect this for the holiday baking season. Yes, I'm planning chocolate dipped vanilla caramels with sea salt flakes (hmm, don't you want to up your baking game now?).
A Vanilla Giveaway
In the meantime, if you'd like to give these truffles a try, Nielsen-Massey is offering a bottle of vanilla to one lucky reader. The giveaway is open to US mailing addresses and expires at midnight CDT on Sept 29. To enter, leave a comment below telling me what you'd make with the vanilla. For a second entry, sign up for Art of Natural Living emails (below my picture, it's a double opt-in so you'll need to accept when you get an email) and leave me a second comment letting me know you subscribed (or that you already subscribe). The winner will be picked randomly, contacted by email and have 24 hours to get back to me or a new winner will be chosen.
Happy baking!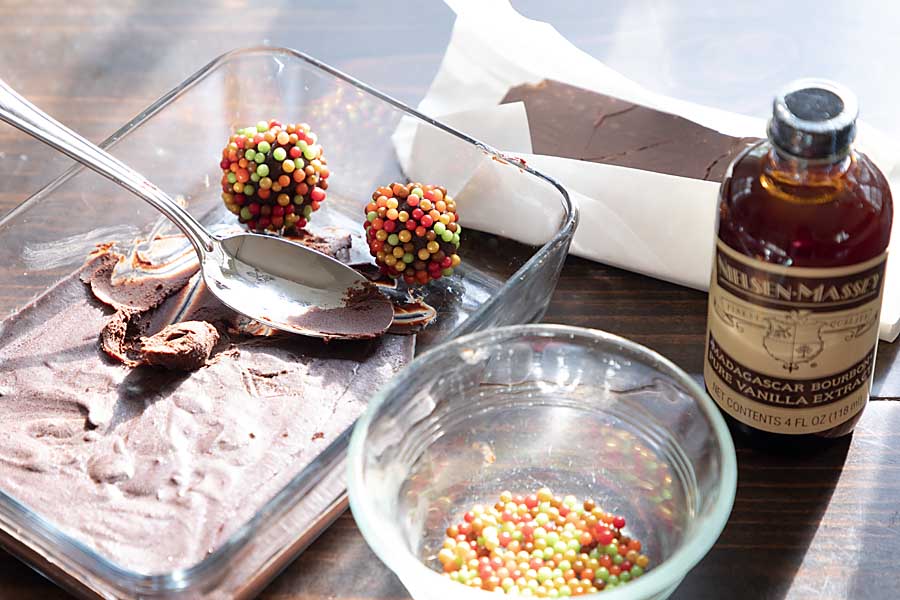 Chocolate Truffles
2019-09-19 13:53:44
Serves 12
Easy and tasty these Autumn Decorated Chocolate Truffles are perfect for fall.  Or change up the colors for any season.  'Cause chocolate is always in style.
Nutrition Facts
Amount Per Serving
* Percent Daily Values are based on a 2,000 calorie diet. Your Daily Values may be higher or lower depending on your calorie needs.
Ingredients
1 4-ounce bittersweet chocolate bar, chopped, or 4 ounces of semi-sweet chocolate chips
1/3 cup heavy cream
1/2 teaspoon vanilla
jimmies, chopped nuts, cocoa powder or tempered chocolate to coat
Instructions
Place about an inch of water inside a saucepan and bring just to a simmer.
Top with a bowl that fits into the saucepan but doesn't touch the water for a makeshift double boiler.
Pour the chocolate and cream into the bowl. Maintaining a very low simmer, stir the chocolate and cream until they are melted and combined. Remove from heat and stir in the vanilla.
Pour into a shallow pan or bowl and place in the refrigerator until cool (a couple hours) or overnight.
About 5 minutes before you want to form the truffles, remove the chocolate mixture to warm slightly. Using a spoon, scrape up enough chocolate to form 3/4 - 1 inch balls. Roll into a ball, then roll into your covering--cocoa, jimmies, or ???
Store in the refrigerator and bring out shortly before serving (think cheese 🙂 )
Notes
If you chocolate is too sticky to work with, place it back in the refrigerator briefly. If you are really having problems, try rolling the ball on a frozen baking sheet.
Art of Natural Living https://artofnaturalliving.com/