Slow Cooker Baked Beans from Scratch
Slow cooker baked beans from scratch are easy, delicious and full of healthy ingredients right from your kitchen. Make a batch today!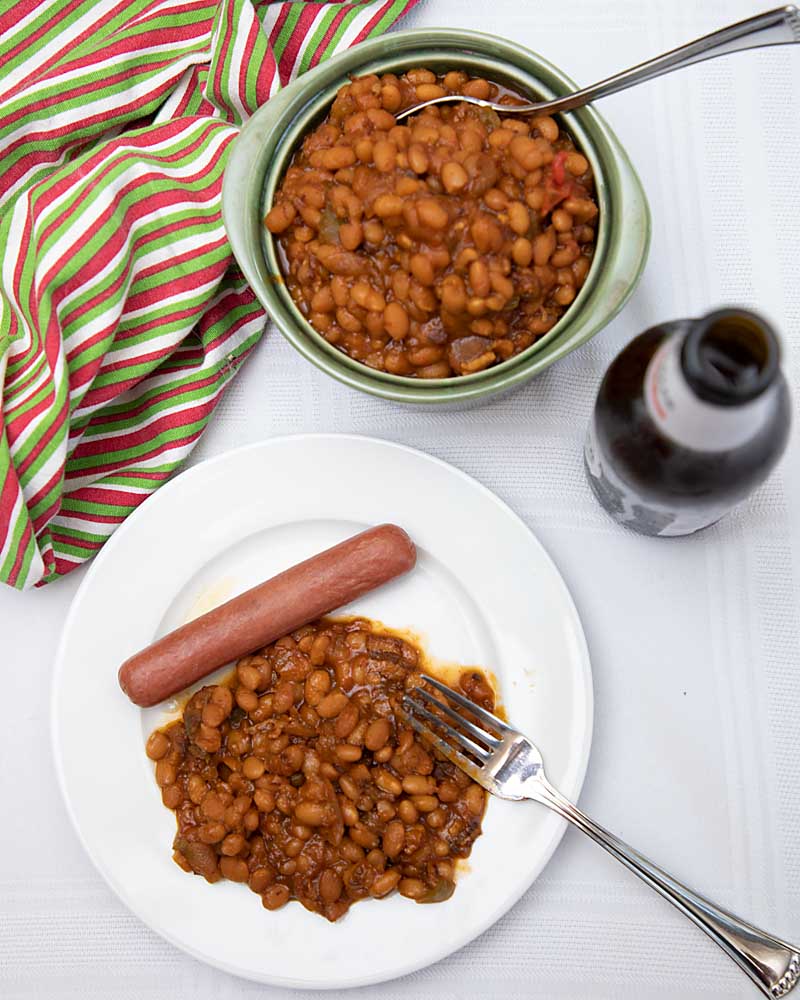 Baked beans are a fall classic! And it's a side dish that's good, even straight from a can.
But what if you want to control what's in your food? Or eat more local? Or just want to take a break from reading every bleeping product label?
In that case, you should know that homemade baked beans are easy. Right in a slow cooker.
Now today, many people prefer to use the instant pot. Alas, I must admit to failing at baked beans in mine (they never got tender after repeated pressure cooking). But really… as long as you can get it started early, slow cooker baked beans are no more work.
Just throw everything in the pot in the morning and take it out that evening. Okay, you do need to quick boil the beans first or let them soak overnight. And pre-cook the bacon (unless you buy those pre-cooked bacon bits). But for me, it usually the working time that's the killer. And that's very low.
My kids were pretty excited to get home and find baked beans. And surprised to find something so mainstream since they think their Mom is the strangest cook ever.
In a good way of course.
But I do have to admit that there is one thing that I don't like about the slow cooker. While it's cooking away (for hours and hours), the delicious smells drive me absolutely crazy. Over and over. I just want it done so I can try it. This recipe was no exception.
I guess next time I'll have to make it on one of my school days!
Note: Be sure to use dried navy beans like the recipe calls for. Certain beans (red and white kidney beans, aka cannellini & a few others) require special preparation to reduce levels of the toxin Phytohaemagglutinin.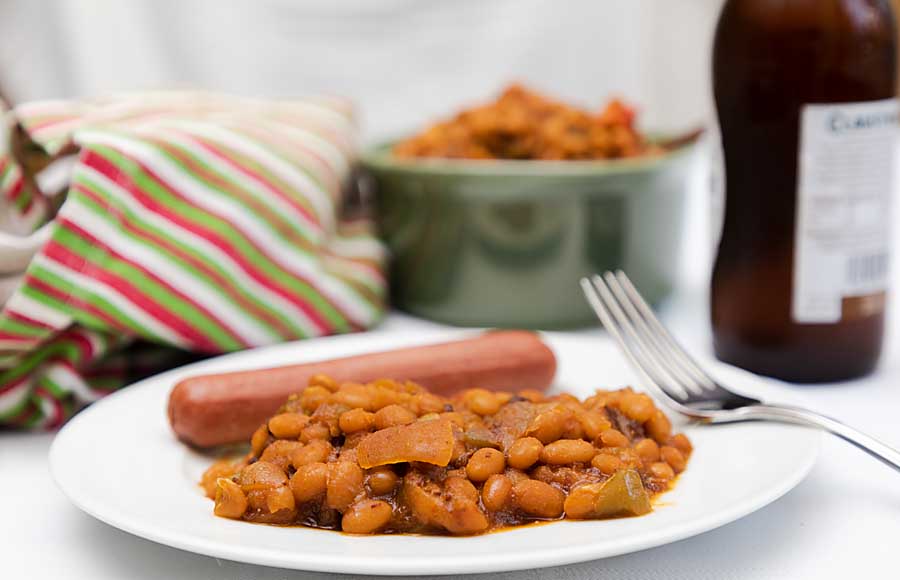 Slow Cooker Baked Beans
2019-09-14 21:07:19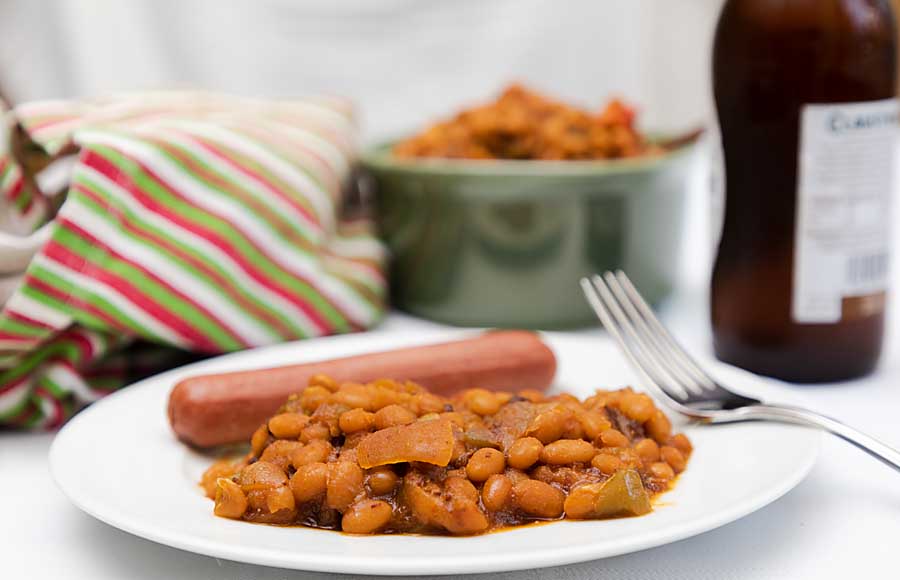 Serves 8
Slow cooker baked beans from scratch are easy, delicious and full of healthy ingredients right from your kitchen. Make a batch today!
Nutrition Facts
Amount Per Serving
* Percent Daily Values are based on a 2,000 calorie diet. Your Daily Values may be higher or lower depending on your calorie needs.
Ingredients
2 1/2 cups dried navy beans, pre-soaked (see note)
8 oz bacon (or a package of pre-cooked bacon crumbles, or vegan sub)
½ cup water (to deglaze bacon pan after pouring off bacon grease)
1 green bell pepper, chopped
1 onion, chopped
6 oz tomato paste
½ -1 cup pure maple syrup (I used the full cup)
¼ cup molasses or sorghum
2 tablespoons yellow mustard
¼ cup apple cider vinegar
1 teaspoon chili powder
½ teaspoon smoked paprika
2 teaspoon salt + more to taste
pepper, to taste
3 cups water (used 3 since half cup used earlier)
Instructions
Cook the bacon until crisp in a stockpot or dutch oven (if using pre-cooked bacon/vegan bacon crumbles, move to next step). Remove the bacon and set aside. Pour off the fat, then deglaze the pan with about ½ cup of water.
Crumble the bacon into the slow cooker, then add deglazing water and remaining ingredients. Stir lightly to combine.
Cook on high for 10 to 12 hours.
Notes
Note: to pre-soak navy beans, cover with 3 quarts of hot water and let set for 5 hours or overnight. For a "quick soak", cover with water and bring to a boil, boil 10 minutes, then let soak for an hour. Pour off cooking/soaking water.
Art of Natural Living https://artofnaturalliving.com/
Instant Pot Slow Cooker Recipes
We share Recipes From Our Dinner Table! Join our group and share your recipes, too! While you're at it, join our Pinterest board, too!