Boozy Fruit: The Oldest Preserves (Brandied Plums)
You have to love seasonal eating! It begins with the absence of a fruit or and vegetable–that you are starting (achingly) to miss. Then, a few juicy berries (or milky ears of corn) arrive and the excitement is palpable. A few days later, a half case ripens and it's almost like heaven. Soon after, the full crop comes in–and OMG, what will you do with the extras!!
And that's how I came across the idea of boozy fruit.
It started late last summer with a good deal on a case of pluots. Pluots are a cross between a plum and an apricot (with about 70% plum lineage) and, in a strange twist of fate, are larger and juicier than either! When the box arrived from my buying club, we stuffed ourselves with sweet fruit–but we were never going to finish it all.
I had seen a recipe for brandied plums from the New York Times and it had left me curious. Preserving in alcohol is one of the oldest and easiest preserving methods with no need for even water bath canning. And there would be, of course, a slightly decadent fringe benefit!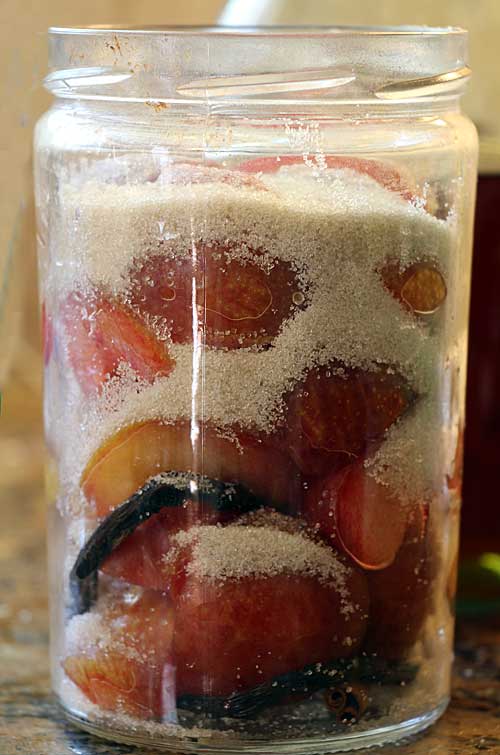 I pitted and sliced the pluots then soaked them in brandy mixed with sugar, cinnamon and vanilla. The only hard part was waiting weeks until they were ready.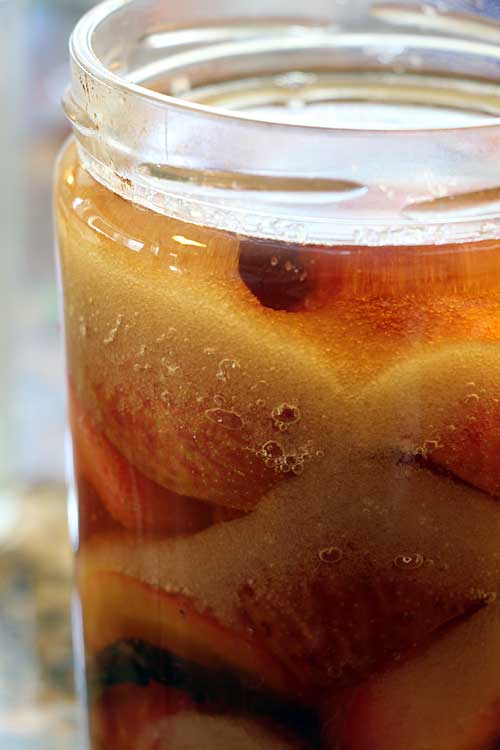 When the marinating time was up, I made a brandied pluot upside down cake. The fruity brandy went into sangria. I followed this with a (boozy) peaches and cream pie. When I needed a simple dessert it was time for a brandied plum fool–fruit mixed with sweetened whipped cream. Wouldn't that warm you on a cool autumn evening!
And since the original post I've used these in a Plum Clafoutis or a Plum Frangipane Tart. All yum!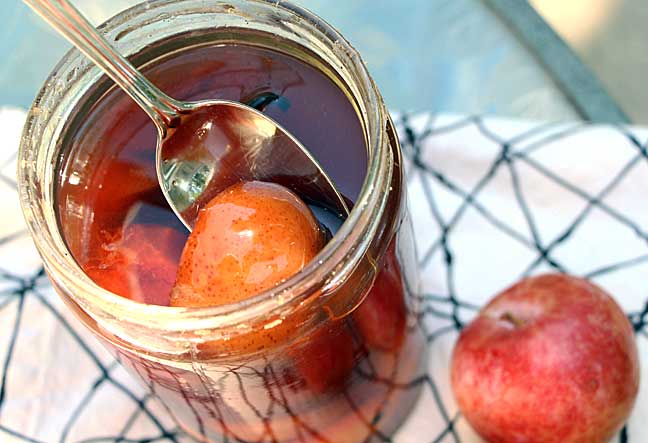 This recipe is very similar to the classic Rumtopf, from northern Europe and Italy, where fruit is soaked in alcohol, then served around Christmas as a compound or topping for waffles, poundcakes, etc.
And now a case of peaches is on the way. Hmmm, perhaps I can handle the passing of summer after all!
Brandied Plums
Bumper crop of fruit? Put it up with brandy, vanilla and cinnamon to make brandied plums (or peaches or ...) for the easiest "canning" method ever.
Ingredients
3

lbs

plums

pitted and sliced into quarters or sixths

2 1/2

cup

brandy

1

cup

sugar

2

vanilla beans

halved with seeds scraped out and saved

2

cinnamon sticks
Instructions
Mix all ingredients.

Let marinate, covered, in a dark place for at least 4 weeks (see notes below).
Notes
Make sure the fruit doesn't rise above the brandy; weigh it down if necessary. Since the alcohol does the preserving, any fruit that floats above the surface may rot or mold. Because alcohol is an excellent solvent as well, I wanted to use a weight that wasn't going to break down or leach any contaminants into the preserves glass would probably be ideal. I ended up using a Tattler plastic canning lid which the manufacturer says is BPA free. After a couple weeks, the fruit had soaked up enough brandy to sit on the bottom and I took out my "weight".
I am not a health professional and nutrition data is calculated programatically. Accuracy may vary with product selection, calculator accuracy, etc. Consult a professional for the best information.