Broccoli Cheese Casserole (Gratinata)
What do you do when you like a recipe so much that you can't get enough of it? You turn it into something new–so you can eat it even more often! Like this Broccoli Cheese Casserole (Gratinata).
My sister-in-law made the original Green Bean Gratinata with Cherry Tomatoes (based on a recipe from Lidia Bastianich) every year for Thanksgiving dinner, where it was always a hit. With two vegetables, herbs and cheese, it happily took the place of the traditional (and less healthy) green bean/french onion casserole.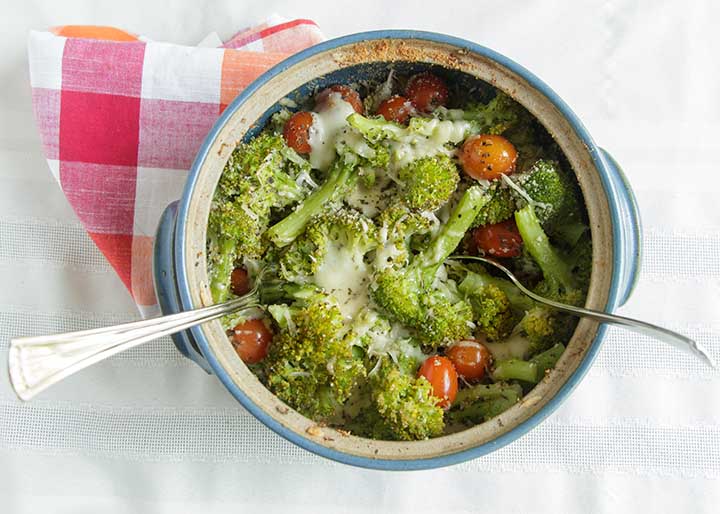 After years of fighting off the rest of the family for any leftovers, I finally brought home the recipe. Soon it was a year-round favorite side dish, loved by parents and kids alike. But with organic green beans expensive off season, I needed to shake things up and decided to test broccoli. Ding, ding, ding—the answer!
That might have been the end of the story but sometimes we ate so much of this, that the main dish was neglected. Full of cherry tomatoes and broccoli (or green beans)—and loaded with fresh mozzarella and parmesan, a lightbulb went on. This would be equally delightful as a tasty main dish casserole.
We still eat the green bean version as a side dish every Thanksgiving. But now this is more likely to be a simple complete dinner with two different vegetables.
Life is good.
Broccoli Cheese Casserole with Cherry Tomatoes
2017-05-18 15:18:49
Serves 5
Broccoli topped with basil, fresh mozzarella, Parmesan and cherry tomatoes, Broccoli Cheese Casserole is perfect as a healthy side or main dish.
Nutrition Facts
Amount Per Serving
* Percent Daily Values are based on a 2,000 calorie diet. Your Daily Values may be higher or lower depending on your calorie needs.
Ingredients
6-8 cups of broccoli florets (depending on casserole dish size)
1/2 teaspoon sea salt
1 pint grape or cherry tomatoes
8 ounces fresh mozzarella, sliced into 1-inch cubes (or small fresh mozzarella balls)
1 Tablespoon dried basil or 4 to 6 fresh basil leaves, sliced thinly
1 cup grated fresh Parmesan
1/2 cup dry Italian bread crumbs
3 tablespoons extra-virgin olive oil
Instructions
Fill a large pot with water and bring it to a boil over high heat. Add the broccoli, bring back to a boil and cook until just tender, 4-8 minutes. Drain the broccoli.
Place about half of the broccoli in casserole along with half of the other ingredients. Toss to combine, then repeat with the remaining ingredients.
Bake the casserole at 350 F, covered, for 20-30 minutes until heated through (see note). Serve hot in the baking dish.
Notes
A good test for doneness is to taste one tomato to see if it is heated through.
You can pre-cook your broccoli, but I recommend re-warming it or the cooking time will increase substantially.
Serves about 5 as a main dish, 8 as a side.
Art of Natural Living https://artofnaturalliving.com/