Caramel Apple French Toast
Creamy sweet and rich, caramel apple French toast will make you forget everything you didn't get done this summer. Embrace the beautiful fall!
Ready or not… it's Fall.
Okay, maybe not officially. But with schools in session and pumpkin recipes flying off the presses, I'm crying uncle. And making Caramel Apple French Toast.
It was so good… I guess I can deal with summer's passing.
The inspiration for this Caramel Apple French Toast came from breakfast this weekend at the White Gull Inn in Fish Creek, WI, a favorite breakfast spot for us. One bite and I knew I had to do something similar. I decided to "stuff" my version with apples and cream cheese because, well, cream cheese makes everything better.
For the weekend, I went with making my own five ingredient homemade caramel sauce but realize that a lot of people may just buy a jar. My goal was to NOT have leftover caramel (yes, that diet thing again) but the tiny bit that remained was so perfect on ice cream and as an apple dip, that maybe a whole jar would be fun. Apples and caramel all weekend! Mmm!
Just this week, the temperatures dipped to a level that is perfect for outdoor activities. Chicory lines the fences and people are switching out their container gardens with lush and colorful mums.
Guess I'm ready to celebrate fall after all.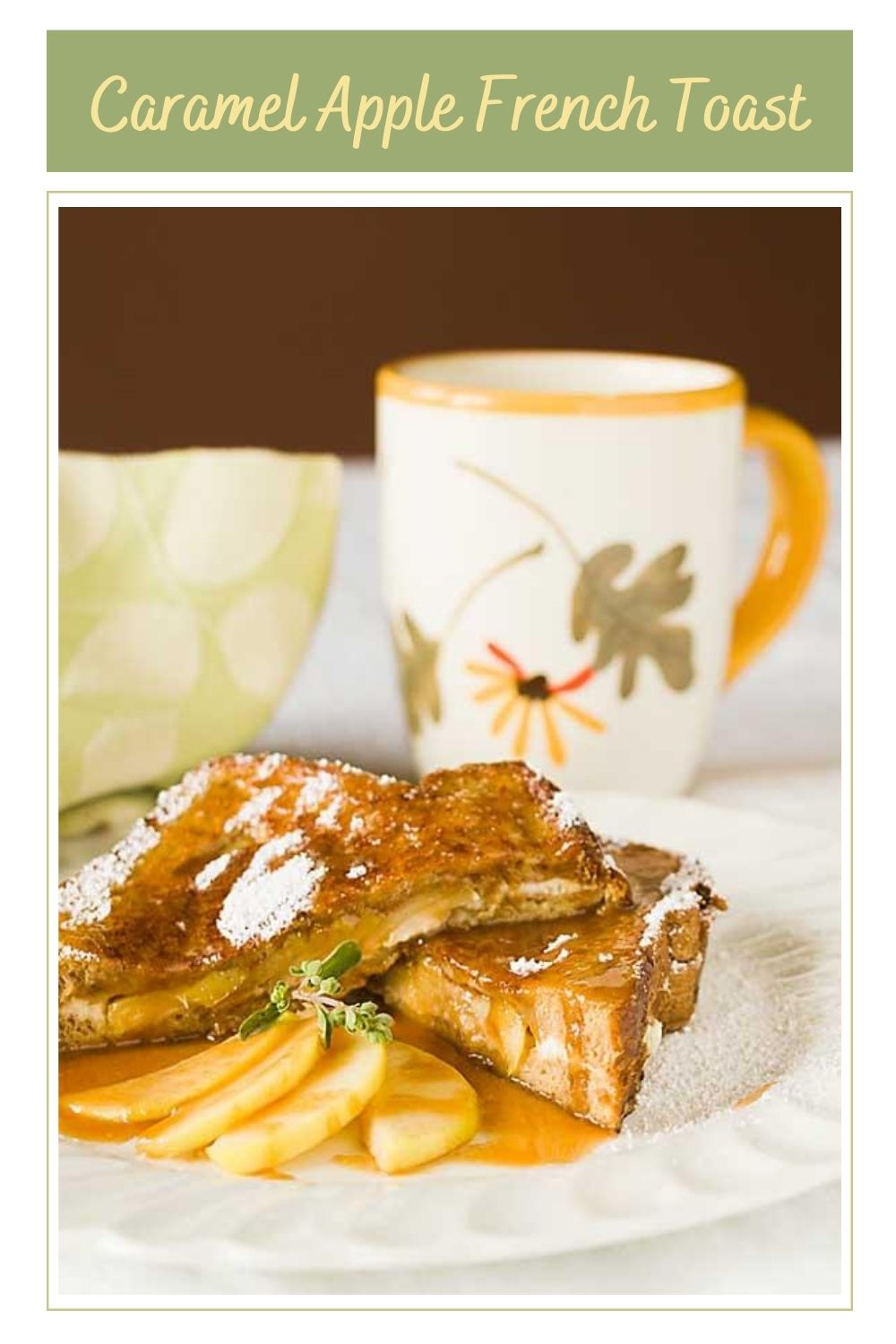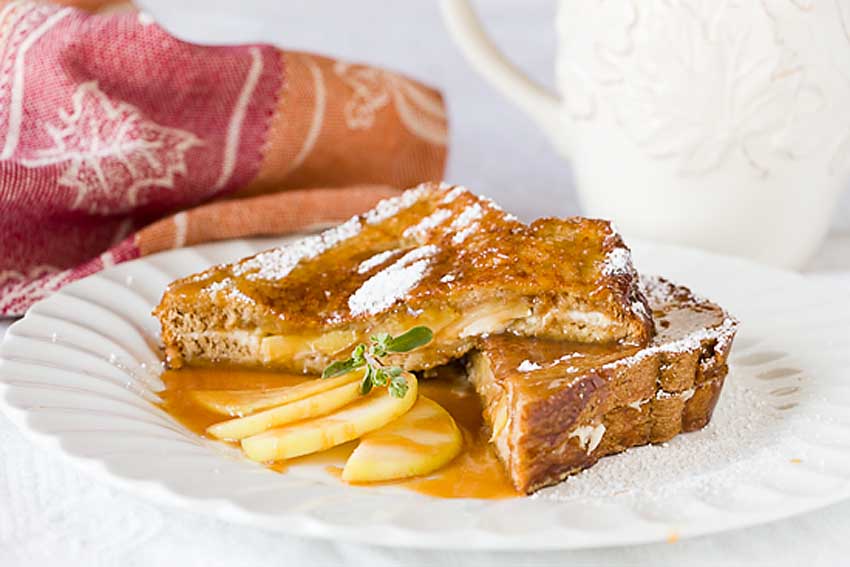 Caramel Apple French Toast
2018-09-09 15:15:19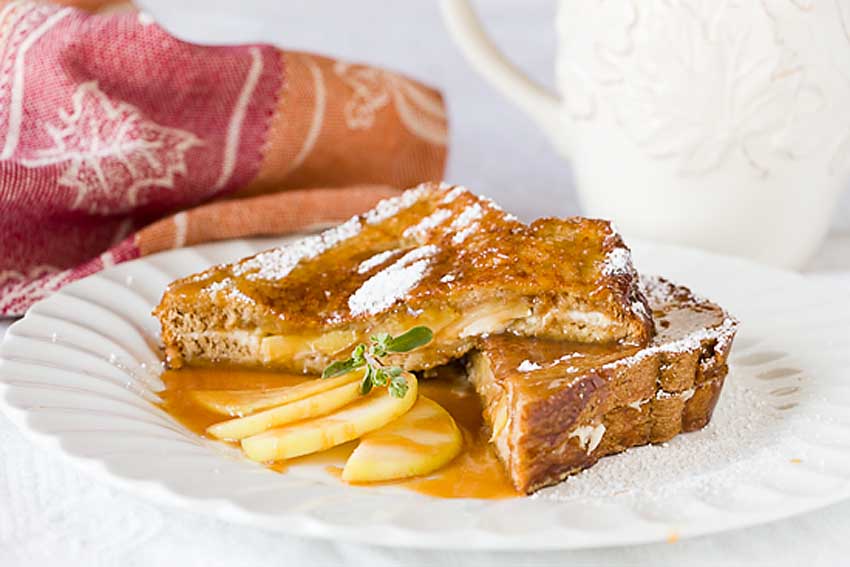 Serves 4
Creamy sweet and rich, caramel apple French toast will make you forget everything you didn't get done this summer and embrace the beautiful fall.
Nutrition Facts
Amount Per Serving
* Percent Daily Values are based on a 2,000 calorie diet. Your Daily Values may be higher or lower depending on your calorie needs.
Ingredients
2 large eggs
½ cup skim milk
1 teaspoon vanilla
1 teaspoon sugar
8 slices bread (I used whole wheat)
4 ounces reduced fat cream cheese, softened
2 apples, thinly sliced, peeling optional
1 Tablespoon cinnamon sugar mixture (or mix a tablespoon of sugar and a teaspoon cinnamon)
1/2 cup caramel syrup
Powdered sugar for decorating (optional)
Maple syrup for serving (optional)
Instructions
Whisk eggs, milk, vanilla and sugar until well combined.
For each piece of French toast, spread one side of a slice of bread with about an ounce of cream cheese.
Place about 1/4 - 1/3 of a sliced apple in the middle of the patch of cream cheese leaving about 3/4 inch uncovered on the sides for sealing. Sprinkle with cinnamon sugar mixture.
Top with a second slice of bread and press around edges to seal.
Dip in egg batter, then fry on both sides in large frying pan sprayed with nonstick spray, about 5 minutes per side.
Repeat with remaining bread.
Slice finished French toast on a diagonal. Sprinkle with powdered sugar and drizzle with about 2 Tablespoons of caramel per piece. Serve with remaining apple slices and maple syrup.
Notes
Although the calorie count looks bad, you may very well get away without using syrup, which will help 🙂
Art of Natural Living https://artofnaturalliving.com/