Maple Vanilla Yogurt Flan (or Panna Cotta)
About as healthy as a dessert can get, this maple vanilla yogurt flan (or panna cotta) is creamy, sweet and satisfying, not to mention guilt-free!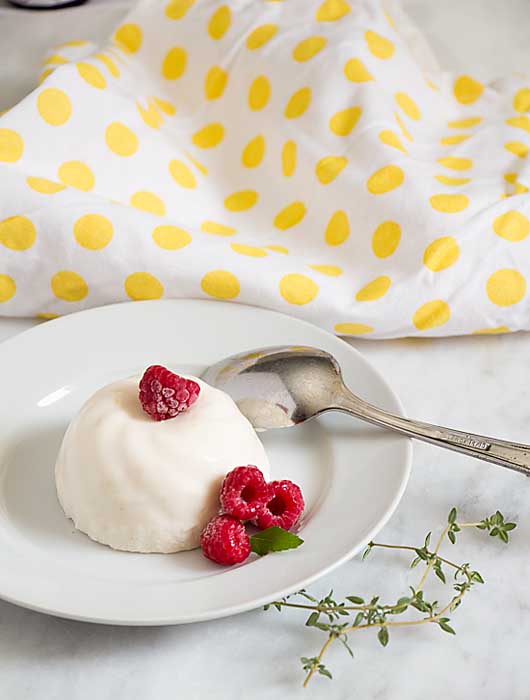 This recipe has its origin in a spring trip I made to Minneapolis–where every visit seems to involve eating well. It's the town my middle daughter settled in, after her recent graduation from the University of Minnesota. If your kids don't live near you, I always say, at least let them live somewhere nice to visit!
On this particular trip, we finished up the weekend with breakfast at a Mexican restaurant where the hit of the meal was a vanilla yogurt flan. "You have to figure out how to make this!" my daughter exclaimed.
When my google search turned up nothing, I realized that the dish was probably a panna cotta, rather than a flan and thickened with gelatin instead of with egg.
Of course, by that time, I had trial-and-errored myself to a (gelatin-thickened) recipe that was working and learned a few interesting things about gelatin.
But all the testing was worth it. How often do you get a dessert that feels indulgent yet is completely healthy except for a little bit of maple syrup!
About Gelatin
Although I've worked with gelatin before, trying to recreate a recipe meant building a little better knowledge base.
The thing that surprised me most was that gelatin comes in different strengths, called bloom strength. What I found easiest to understand, however, was how much you need to thicken 2 cups of liquid. For Knox gelatin, the American standard, 2 ½ teaspoons will thicken 2 cups, while for my (organic) Canadian gelatin, !GoBIO, the number is 2 teaspoons. (I would assume Knox gelatin strength for an American recipe you find.) Other factors (dairy, sugar) can also affect gel strength, and some ingredients (e.g. kiwi, papaya) will prevent gelling entirely unless cooked first to deactivate enzymes they contain. So, recipe pre-testing is good!
Second, I learned better technique in dissolving gelatin. If you use powdered gelatin, you first need to soften it in some liquid (sprinkle on top and wait five minutes), then heat until warm or add some boiling water and stir until it dissolves. You want the liquid to be warm but not boiling which will damage the gelatin.
Getting it to dissolve can be challenging and I learned that you need sufficient time, heat and liquid to accomplish this. I realized that in some of my recipes, I didn't have enough liquid to accomplish this and that, while many sources tell you to stir for two minutes, five seemed more likely to work for me (dairy also slows down dissolving).
Now what happens if your gelatin isn't all dissolved? Two things. First, you get little gelatin lumps in your dish–most unpleasant in a creamy dessert—and second, your recipe may not thicken properly since the "lumps" aren't accomplishing any real thickening.
Fortunately, this recipe doesn't isn't difficult, so don't let any of this make you nervous.
Dessert Molds
My other big "victory" here was the acquisition of some cute dessert molds for a total of $4.
I started out making this in simple ramekins but quickly wanted something fancier. I decided to check my favorite resale store and right away found a set of six molds! A month later, six matching molds appeared. It felt like the dessert fairy was blessing this recipe!
But really simple ramekins are fine–when you already can't beat this for health!
Maple Vanilla Yogurt Flan
2018-09-03 16:19:53
About as healthy as a dessert can get, this maple vanilla yogurt flan (or panna cotta) is creamy, sweet and satisfying, not to mention guilt-free!
Nutrition Facts
Amount Per Serving
* Percent Daily Values are based on a 2,000 calorie diet. Your Daily Values may be higher or lower depending on your calorie needs.
Ingredients
• 1 envelope unflavored Knox gelatin (2 1/2 teaspoons) (or 2 teaspoons !GoBIO gelatin)
• 1 cup skim milk
• 1 cup plain yogurt
• ¼ c maple syrup
• ½ teaspoon vanilla or vanilla paste
• Fruit or jam and herbs for garnish (optional)
Instructions
In a small saucepan, sprinkle gelatin over milk; let stand for 5 minutes. Heat over low heat, stirring until gelatin is completely dissolved (use a spoon; a whisk won't get into pan corners).
Whisk remaining ingredients into gelatin mixture until smooth. Pour into four ramekins or dessert molds. Refrigerate at least 3 hours or until set.
To unmold, place a small dish tightly on top of mold, then turn over. Shake hard downwards a couple times until dessert releases. If it doesn't release dip the outside of the mold in hot water for 5 seconds and try again. Too much heat will soften the outside so take care.
Serve plain or with fruit.
Notes
This recipe was tested with !GoBIO. Ratios are based on the amount of gelatin each company says will gel 2 cups of liquid.
Art of Natural Living https://artofnaturalliving.com/