Easy 5-Ingredient Ginger Carrot Soup (All Year)
Creamy and rich, 5-ingredient Ginger Carrot Soup is tasty, healthy & easy. Perfect as a first course or part of a light lunch or dinner.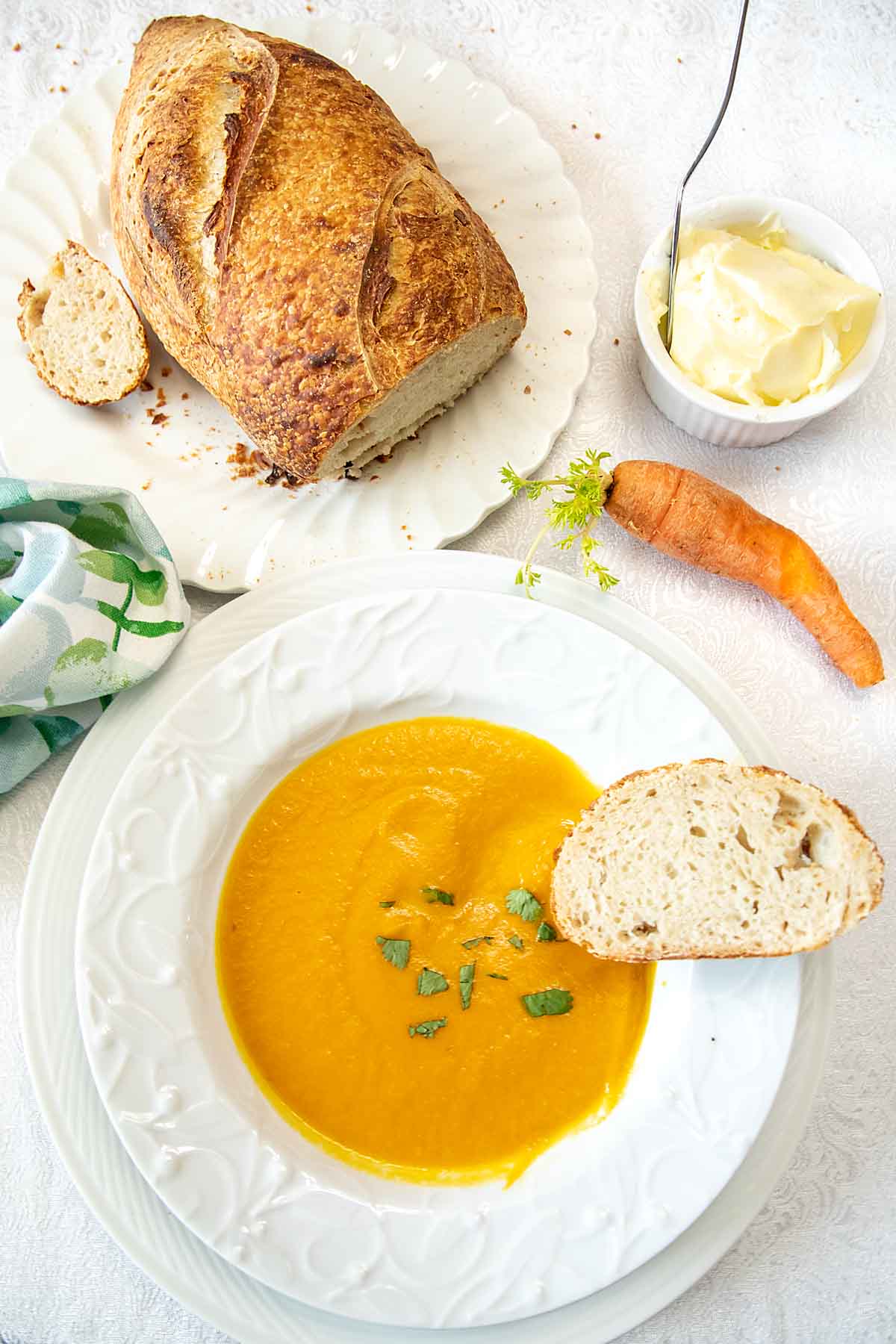 I received the Wildgrain box in this post for free (with no stings attached) but the opinions provided are all genuine. Be sure to read the "How to Serve" section for the (spoiler alert) yummy verdict!

When I think of healthy savory soups I usually think of winter fare. The warmth takes off the chill and the nutrition helps ward off illness. So why am I craving soup now?
I finally decided that… there are all kinds of reasons! First there is the great flavor and variety—no worry about getting in a rut with soup! And then there is health. If a big pot of soup has a couple vegetables, just add a salad and you've got all three vegetables for the day (do you eat your 5-a-day servings of fruit and veggies?).
Of course don't forget the convenience—a hearty big pot may give you multiple meals with just the addition of a loaf of bread.
And finally, well, comfort food is in fashion all year round!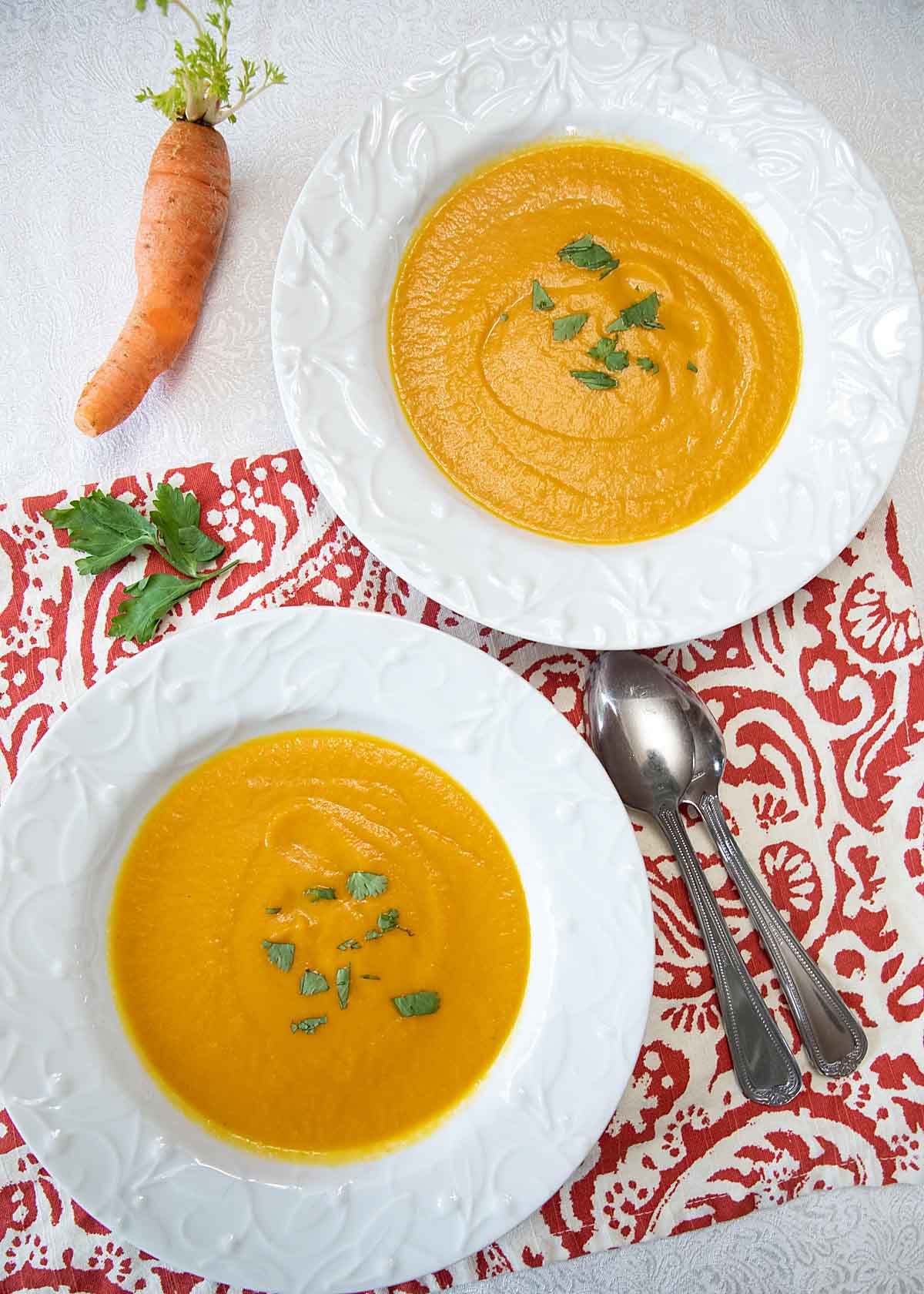 Why You'll Love This!
Easy. With 5-ingredients and an instruction list that is basically chop, sautee, boil and puree, you can even make this with your kids or grandkids. Yes, you can't beat this simple carrot soup for convenience!
Flavorful. Despite a small ingredient list, this soup is loaded with flavor–from the rich broth to the spicy ginger.
Healthy. This ingredients in this healthy carrot soup provide many benefits. Per Medical News Today, "Carrots are rich in vitamins, minerals, and antioxidant compounds. As part of a balanced diet, they can help support immune function, reduce the risk of some cancers and promote wound healing and digestive health."
And even the flavorful ginger "may have anti-inflammatory, antibacterial, and antiviral properties."
Perfect for special diets. Do you agonize over special dietary requirements when hosting brunches or dinners? This simple but flavorful soup can handle just about anything (see How to Adapt for Special Diets below). Hooray!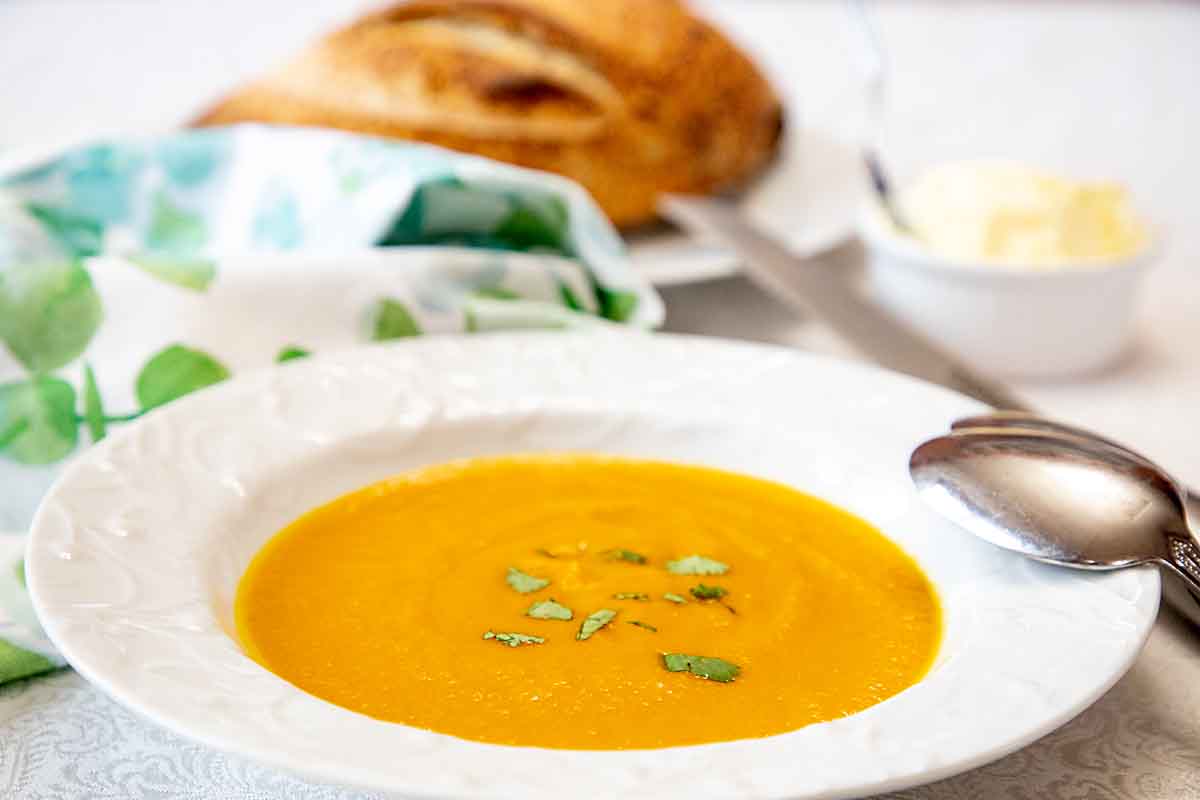 What You'll Need
Ingredients
Butter or oil is used to sautee the shallots.
Shallots add savory flavor to balance some of the sweetness. You can substitute onions or leeks if needed.
Carrots provide the main flavor and body of the dish.
Candied ginger provides a sweet spicy flavor. In a pinch you can substitute about 1 Tablespoon each, powdered ginger and sweetener.
Chicken or vegetable stock.
Water, salt, pepper as needed to season and thin the soup.
Special Tools
You will need some type of blender to puree the soup. I prefer a standing blender but an immersion blender can work too.
Step by Step Directions
You begin by sauteeing the shallots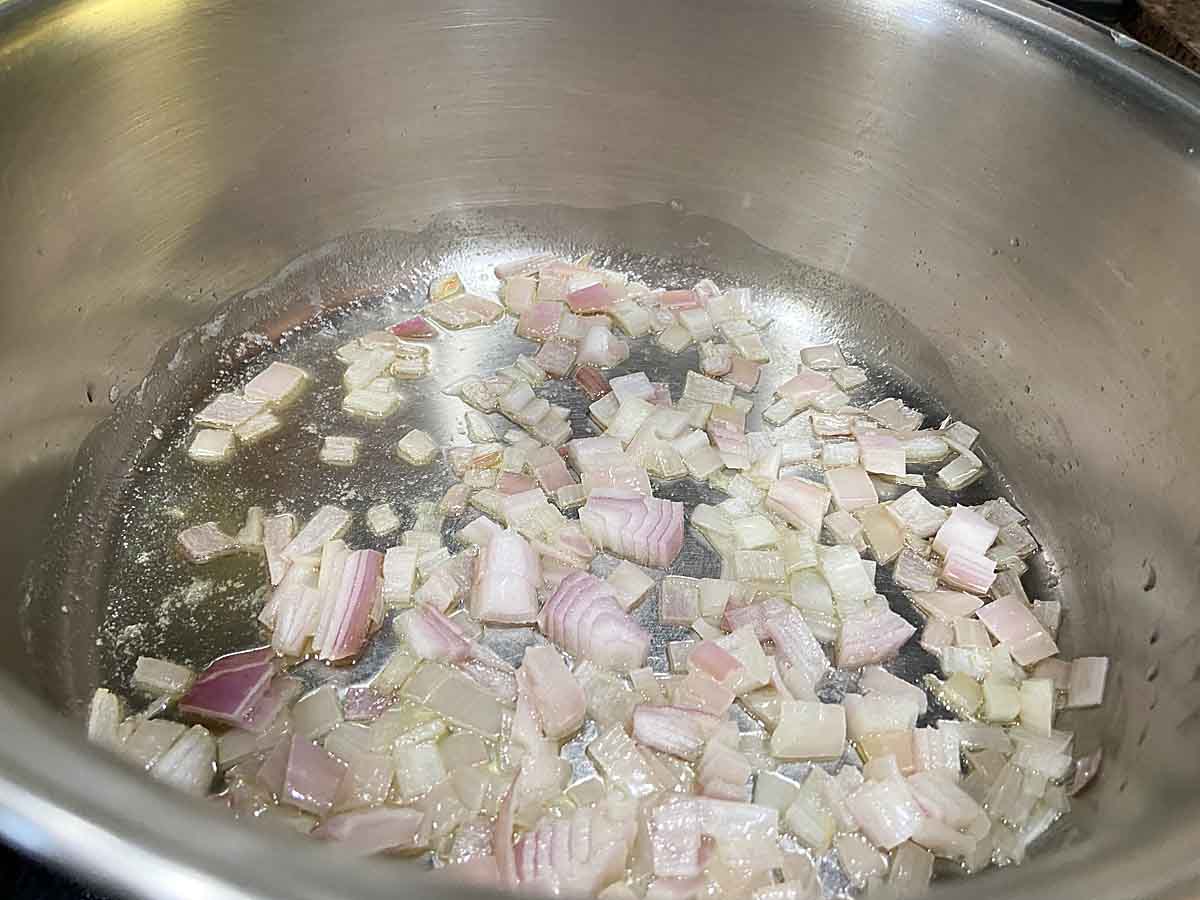 Add the remaining ingredients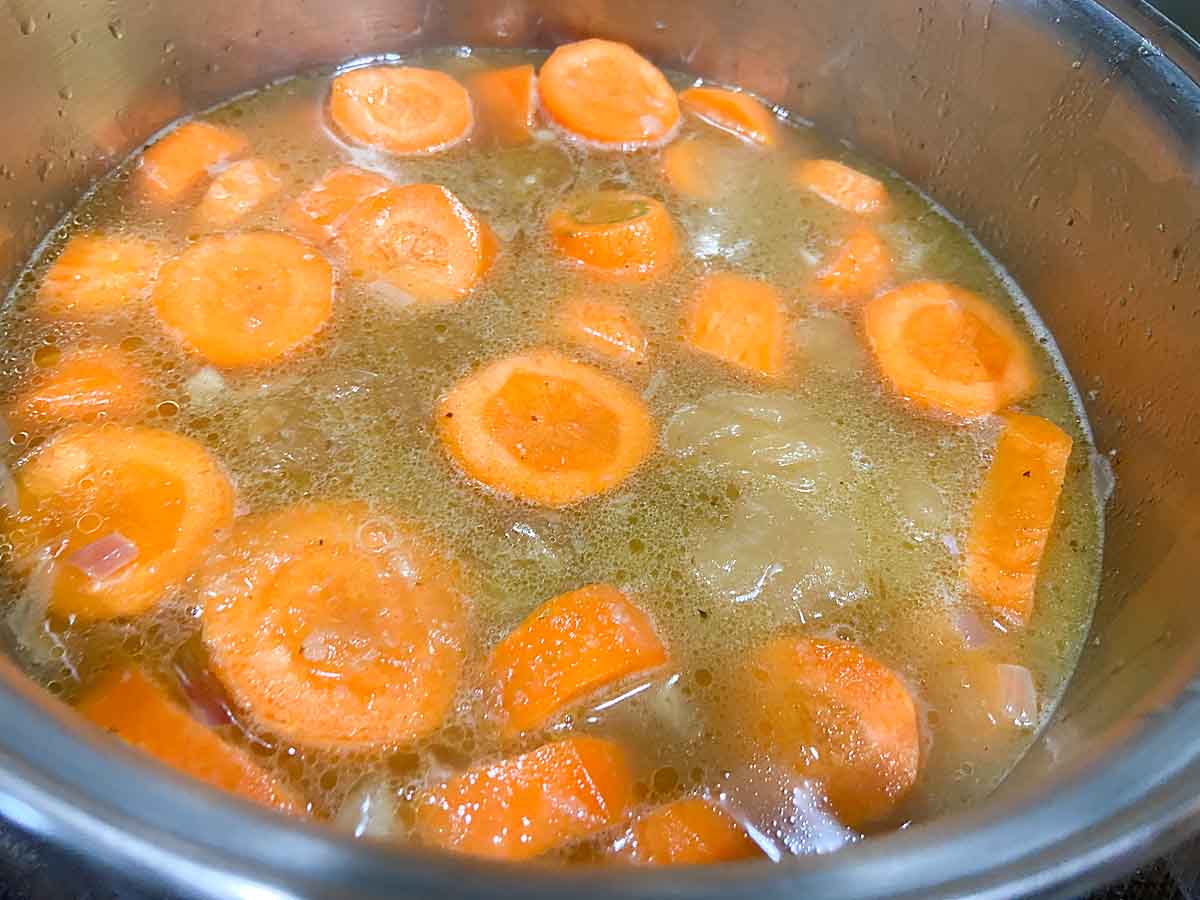 Cook until tender, then puree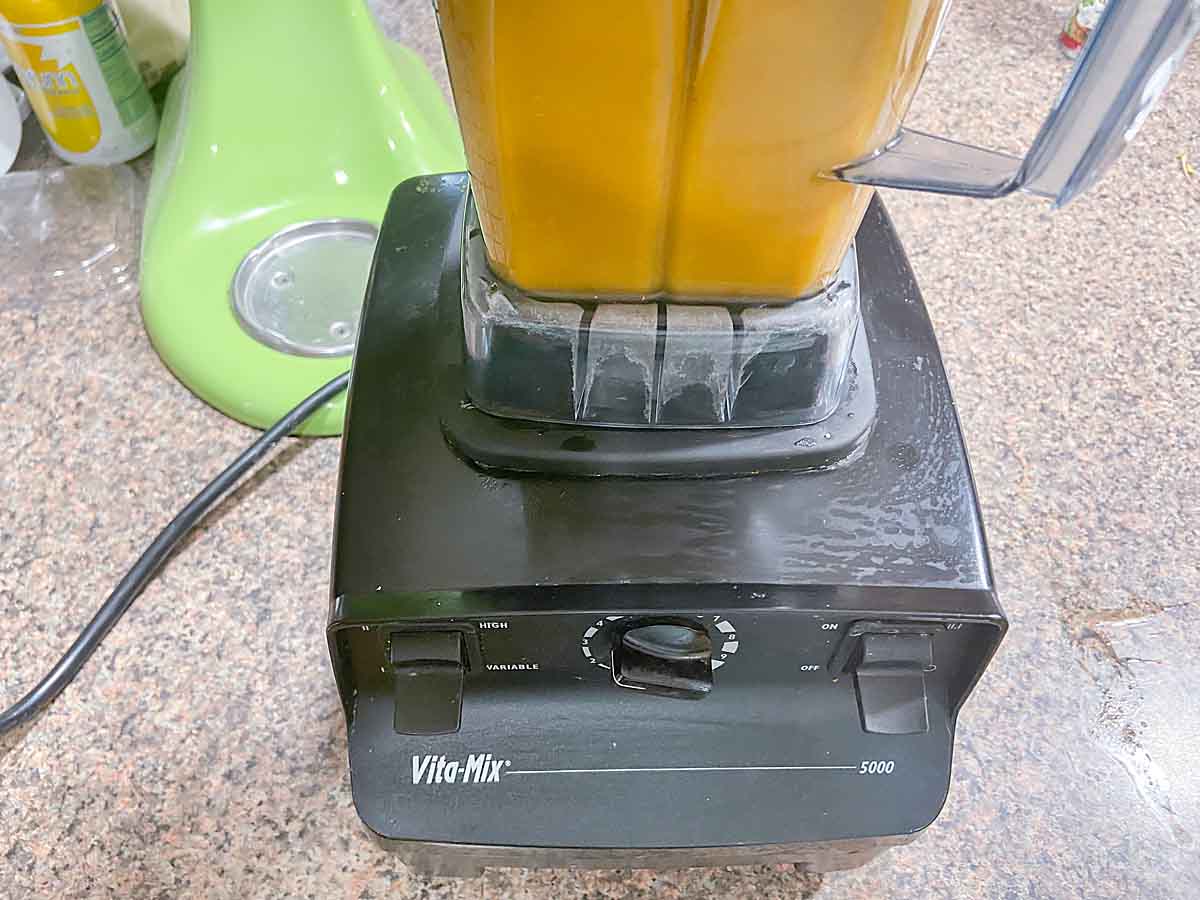 Enjoy!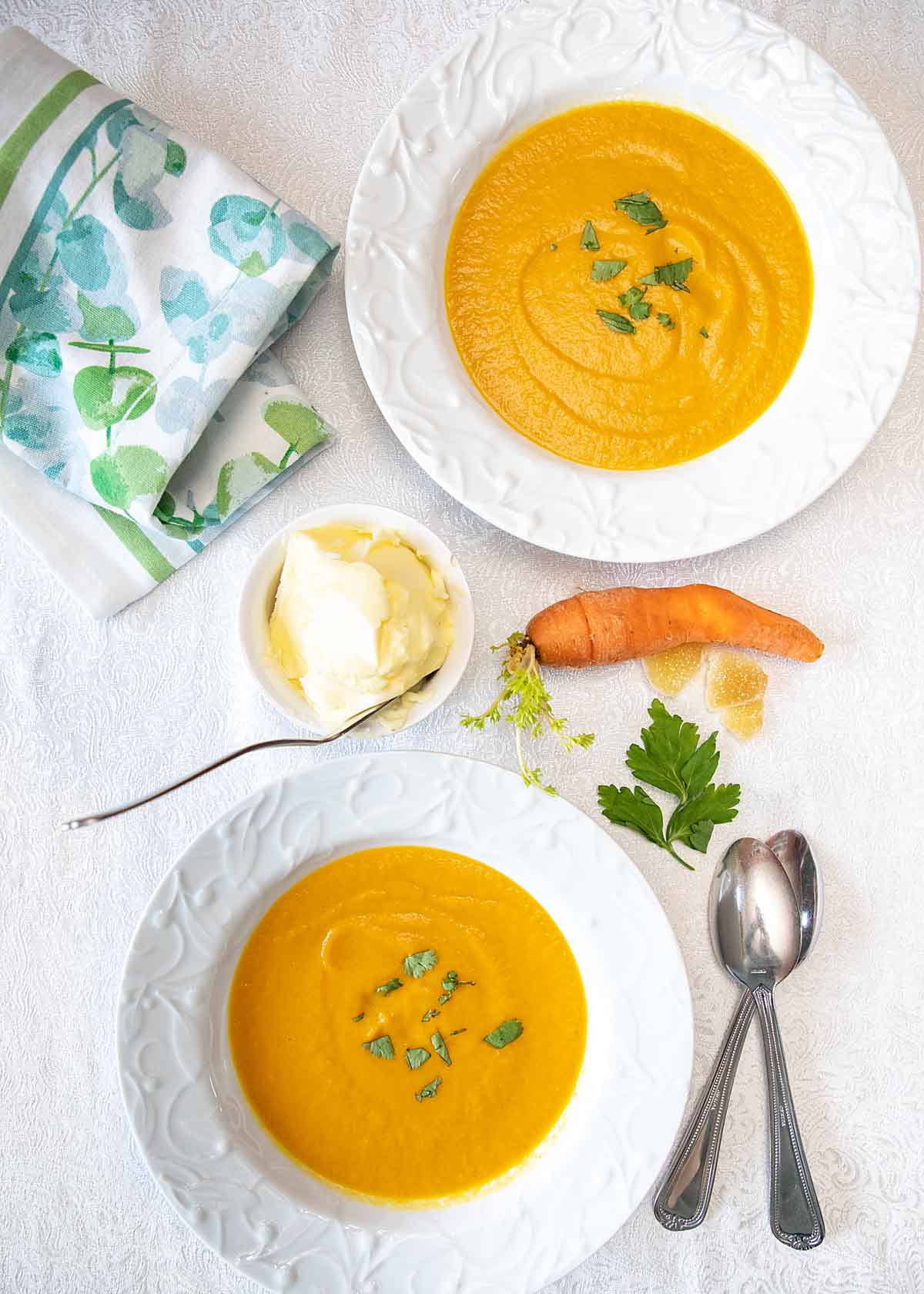 How to Adapt for Special Diets & Other Tweaks
I feel good when I can meet the special dietary needs of my guests and recipes like this are a big help! I have listed some adaptations below.
Vegetarian or Vegan Carrot Ginger Soup
Just use vegetable broth in this and you have a tasty vegan soup that will please vegans, vegetarians and meat eaters alike!
Dairy free, Gluten free.
This Carrot Ginger soup is naturally gluten free and dairy free. So no changes are needed!
Sugar free
To go sugar free, use 1 Tablespoon ginger powder and 1 Tablespoon sweetener (or to taste) instead of the candied ginger. I think that the candied ginger is just a bit taster but the other is good too.
Spice It Up?
If you check out carrot soups online, there are many different variations on the spices used. I plan to stick with this (at least for now) because it is soooo easy and really flavorful.
But if you want to experiment, there are other options that would compliment this, including coriander, turmeric and curry. Have fun exploring if you're in the mood—no soup police here!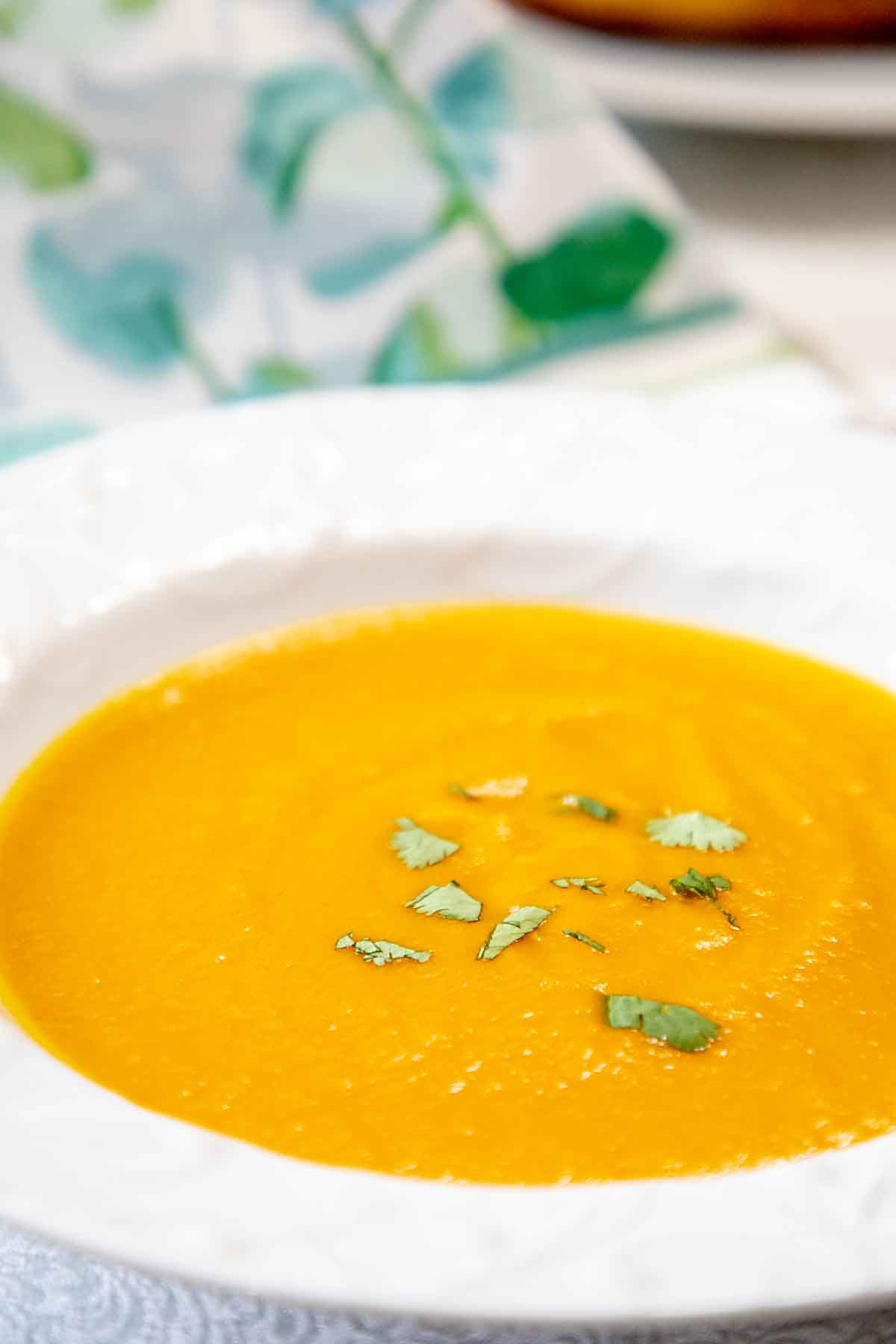 How to Serve
I served this for a recent brunch where it was a big hit! Then I made it again to serve for dinner with pre-washed salad, bread and a big piece of artisan cheese.
This soup is a great starter course but to make it a full meal, you'll probably want to add some protein and starch–perhaps from bread and cheese. And this is super easy if you know my new bread secret.
You see, my latest dinner coup was the discovery of a beautiful box of bread (and optional pasta) from Wildgrain, a maker of artisan sourdough baked goods and pasta (which they sent me with no obligation to review). Yes, over the past couple weeks, I've been serving the breads with soups like this and my Carrot and Lentil Soup with Ham for the easiest dinners ever.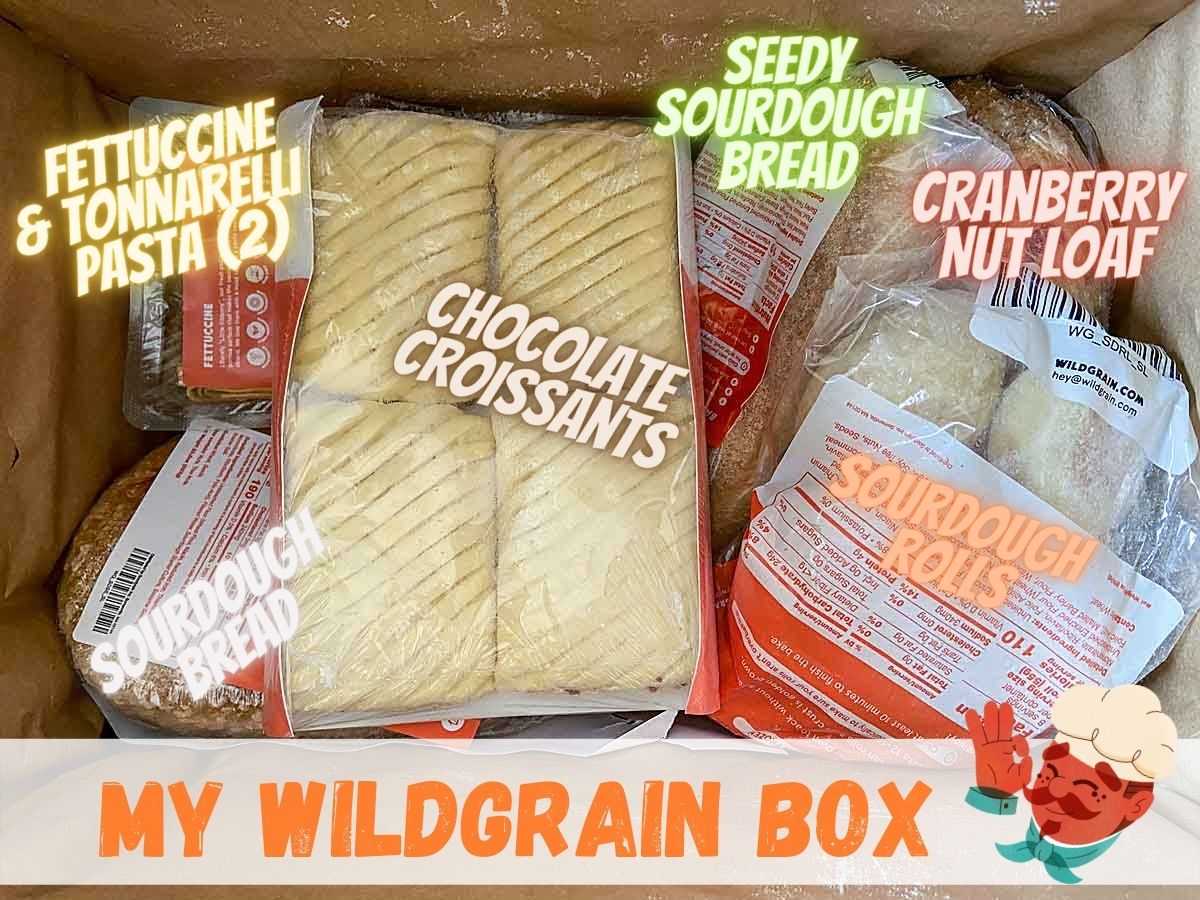 Wildgrain is a subscription service with a monthly or bi-monthly box that arrives frozen. For the bread, you simply bake for about 20 minutes, let rest for the same, then serve warm and crusty.
I haven't tried the pasta yet, but the bread has been super flavorful and is the kind of thing I make in my bread fantasies (which alas, have never become reality). Ditto on the chocolate croissants. While it's not inexpensive, it's super efficient and satisfying, so I just asked my kids to give me the first moth of a subscription for Mother's Day!
And BTW, my youngest (aka my picky daughter) hates seedy bread and just gobbled down slices of their seedy sourdough loaf with dinner, then polished off the leftovers at breakfast. Follow this link to learn more!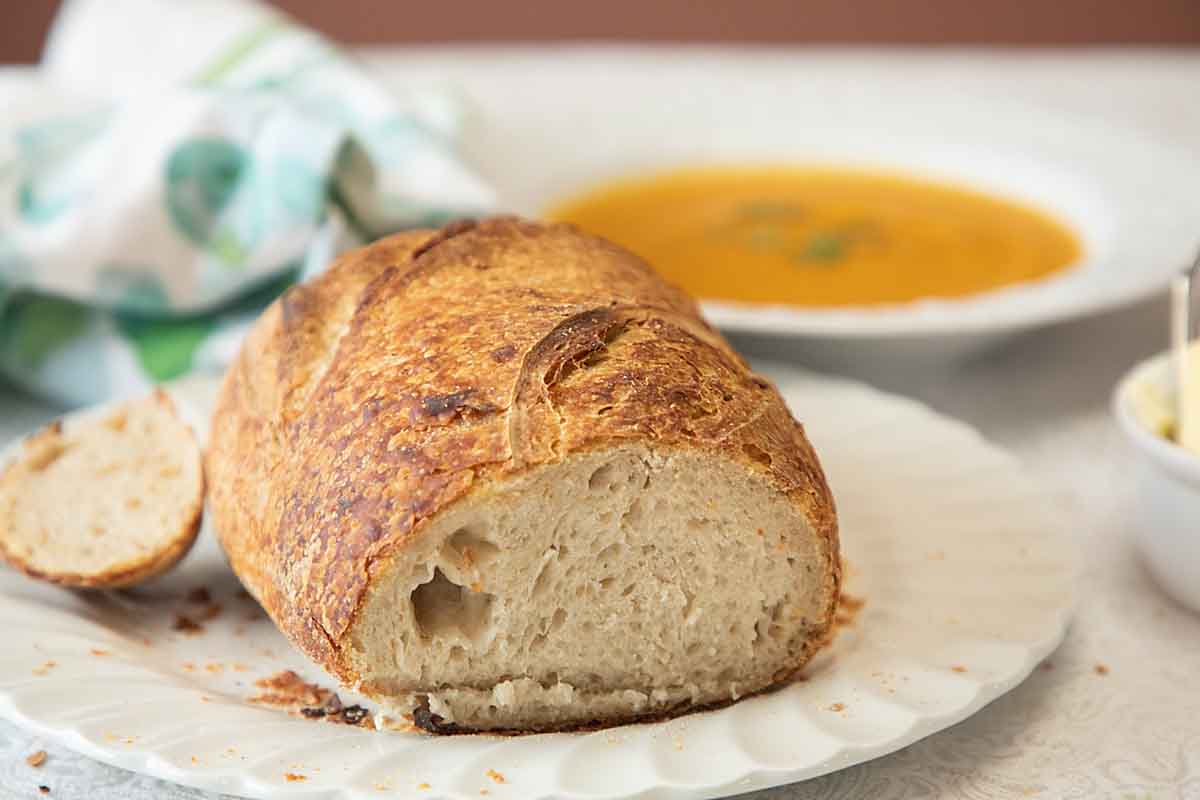 Soup Leftovers and Storage Tips
Now as we've discussed, part of the beauty of soup is its convenience. You can make this soup up to a few days ahead of time with no change of flavor. Likewise leftovers will keep a few days (from original preparation date). Just store in an airtight container in the refrigerator.
With no potatoes to get mealy or dairy to worry about separating, this soup freezes especially well. Foodsafety.gov suggests consuming frozen soups within 3 months,
You can freeze soup in a family-sized container or it will also do well frozen in individual serving sizes.
Tips & FAQs
Can I blend with an immersion blender vs Vitamix / stand blender?
I have tried both and decided the immersion blender was much slower, less thorough, and (surprisingly) scarier. I love an immersion for a partial puree of a soup to thicken it, but for a full puree usually go with a blender.
Just be aware that hot soups can be trickly to blend and can expand and spurt out if you start it up too fast or fill too full. It can be a good idea to hold down the cover with a dish towel and start on low, then increase the speed slowly.
What kind of broth can I use?
I have tried this with with vegetable, chicken and beef broth. The chicken was my favorite since it added flavor without detracting from the main flavors. A rich vegetable broth was also good.
When I made this with a rich homemade beef broth (because I was out of everything else), it was not good. The flavors competed and I do not recommend it.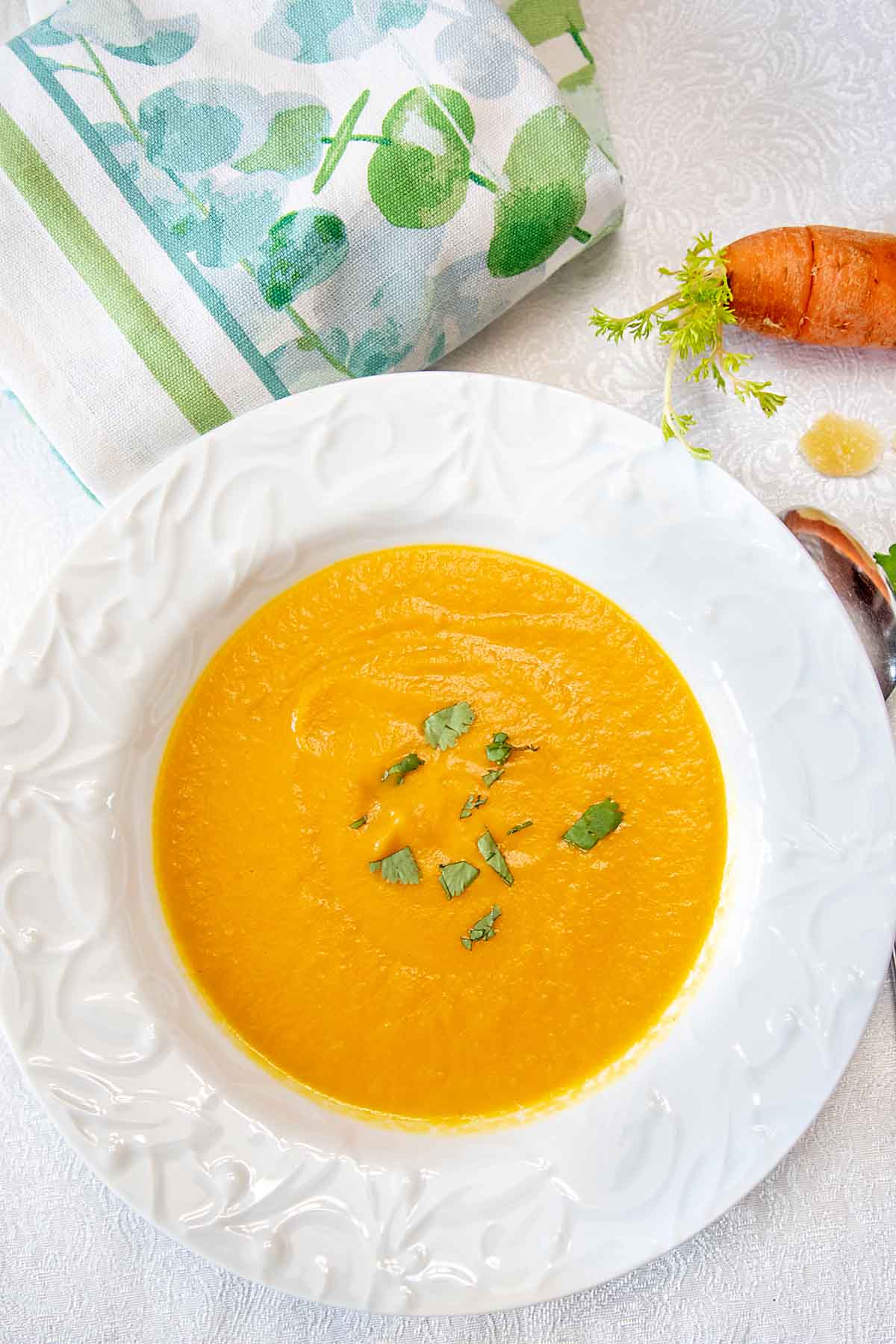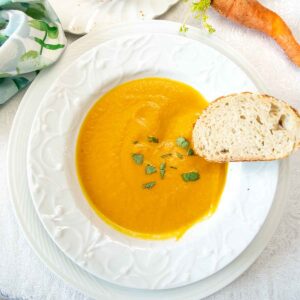 Ginger Carrot Soup
Creamy and rich, 5-ingredient Ginger Carrot Soup is tasty, healthy, easy & perfect as a first course or part of a light lunch or dinner.
Ingredients
1

tablespoons

butter

or oil

1/2

cup

chopped shallots

1

pound

carrots

peeled and cut into chunks (about 5-6 medium/large carrots)

1/4

cup

candied ginger

4

cups

chicken stock

or vegetable

0-2

cups

water

to thin as needed

salt

pepper to taste

optional parsley or chives for garnish
Instructions
Melt the butter or heat oil in a heavy saucepan over medium heat. Stir in the chopped shallots and cook until soft but not brown.

Add remaining ingredient, bring to a boil and cook until carrots are tender, about 25 minutes.

Puree the soup, adding optional water if needed to thin. Taste and add salt and pepper to taste (with salted broth, more may not be needed)l 

Serve warm garnished with chopped chives or parsley if desired.
Nutrition
Calories:

207

kcal

Carbohydrates:

31

g

Protein:

8

g

Fat:

6

g

Saturated Fat:

3

g

Polyunsaturated Fat:

1

g

Monounsaturated Fat:

2

g

Trans Fat:

0.1

g

Cholesterol:

15

mg

Sodium:

449

mg

Potassium:

714

mg

Fiber:

4

g

Sugar:

18

g

Vitamin A:

19040

IU

Vitamin C:

10

mg

Calcium:

56

mg

Iron:

1

mg

I am not a health professional and nutrition data is calculated programatically. Accuracy may vary with product selection, calculator accuracy, etc. Consult a professional for the best information.

This is an update of a January, 2012 post.