Easy Carrot and Lentil Soup with Ham
Carrot and Lentil Soup with Ham is a tasty first course or main dish soup that is easy, flavorful, nutritious and ready in about an hour.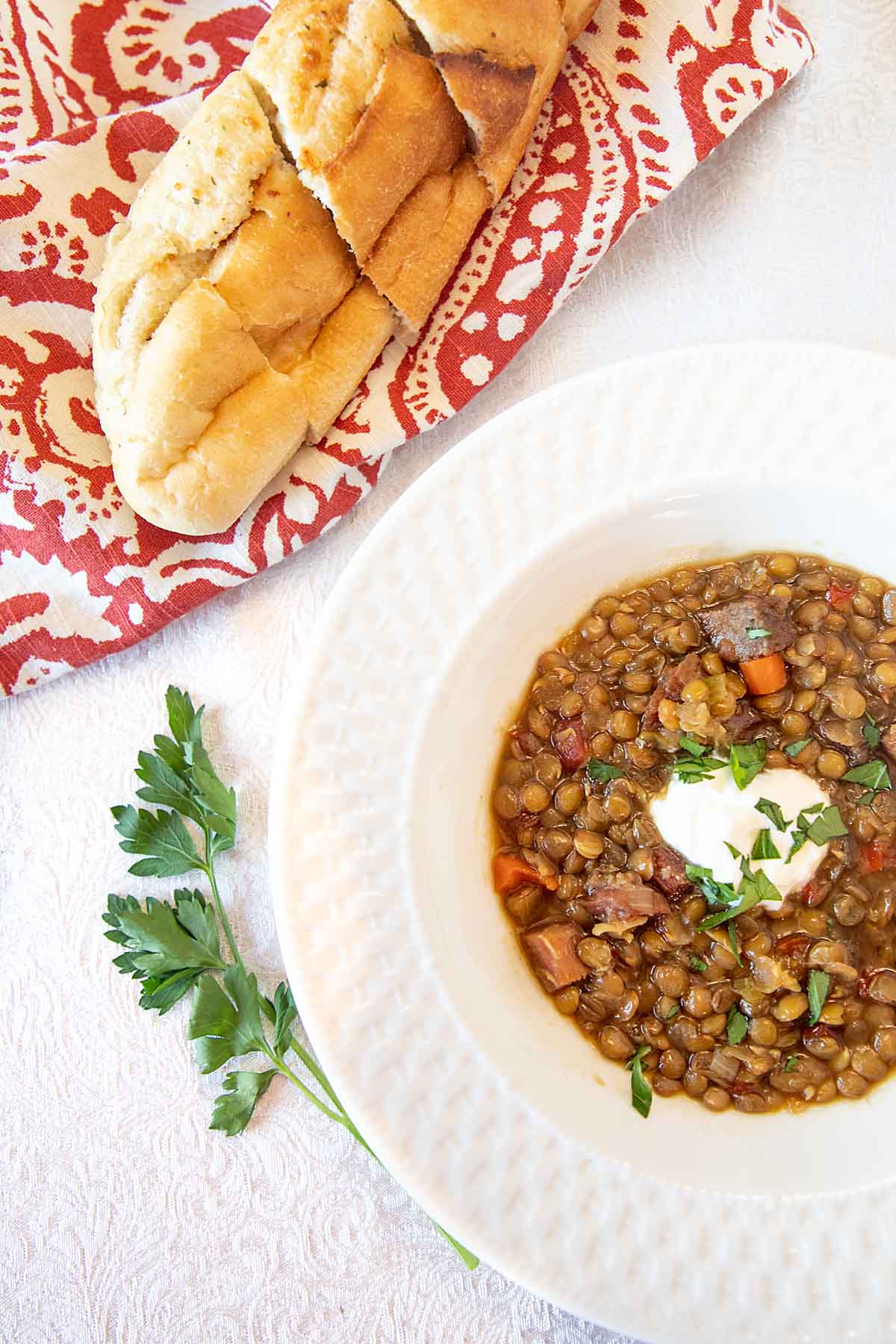 Lentil soup can go one of two ways. It can be the blandest, most boring soup ever. Or it can be a symphony of earthy flavors that nourishes body and soul.
And after a bit of tweaking, I have to say this is more of the latter. It starts with the smoky ham flavor and an almost imperceptible heat from some chilies and in the end, this carrot, red pepper, barely spicy, tomato lentil soup (breathe now) totally rises to the occasion.
And to think I have an old chunk of ham to thank for this, discovered as I prepped freezers for the growing season! Chalk one up to locavore living!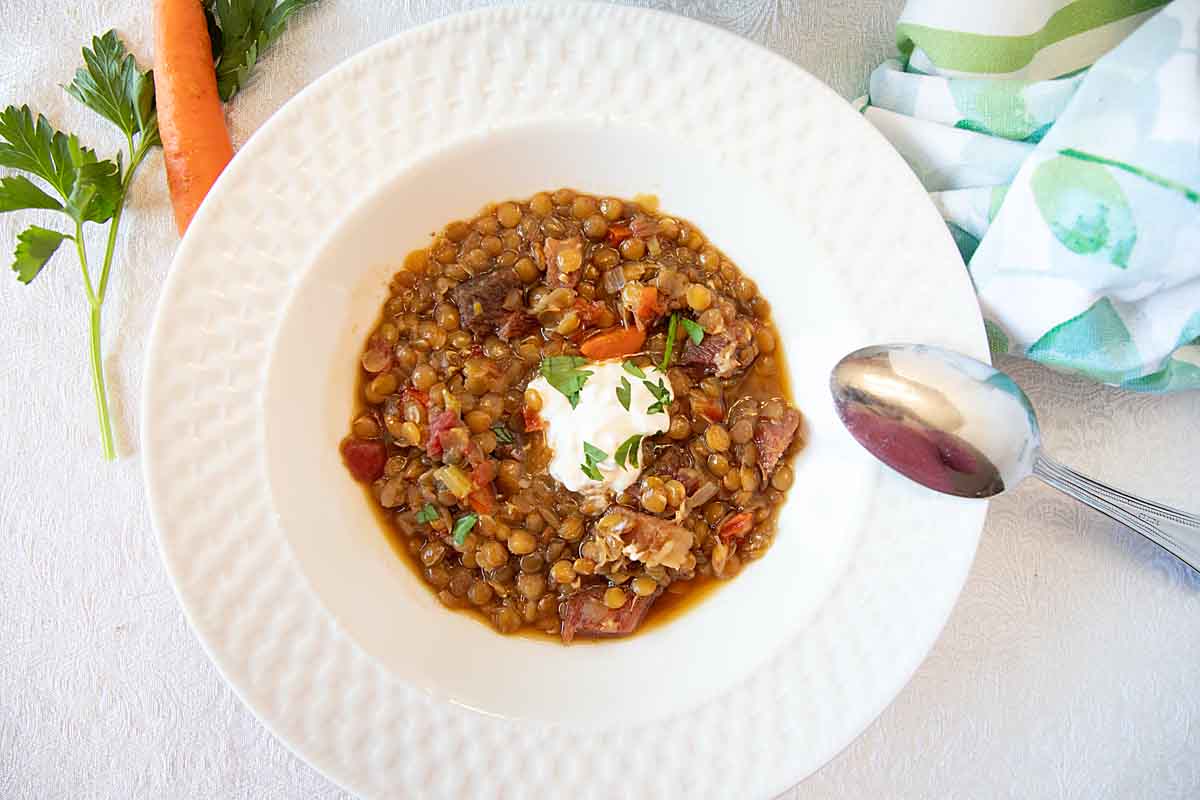 All About Lentils
Nutrition
If you're not familiar with them, lentils are legumes related to peas–and they are a nutrition powerhouse!
Per the Harvard School of Public Health "Lentils are low in sodium and saturated fat, and high in potassium, fiber, folate, and plant chemicals called polyphenols that have antioxidant activity… Lentils also contain slow-digesting resistant starch that delays the absorption of carbohydrates with blood sugar-lowering effects, as well as being a source of prebiotics that feeds gut flora to help prevent digestive diseases."
Count me in!
Different types of Lentils
Lentils come in a wide variety of types and colors including black, brown, red and green. You may even hear of golden lentils which are actually split mung beans (see my Golden Lentils and Rice).
I tested this Carrot and Lentil Soup recipe with brown lentils since they are commonly found in supermarkets. They are known for their ability to retain some shape which is something I like in a lentil soup
The different varieties of lentils do have some variations in nutrition, appearance and texture, but can be used more or less interchangeably. Just be aware that there may be some textural differences and slight variations in cooking time to achieve tenderness.
As an example, red lentils cook more quickly and break down more (aka get mushier) than brown lentils. So if you want to make red lentil soup, they could be added about 10 minutes later, and even then would likely be noticeably softer. For green lentil soup, be prepared to cook slightly longer.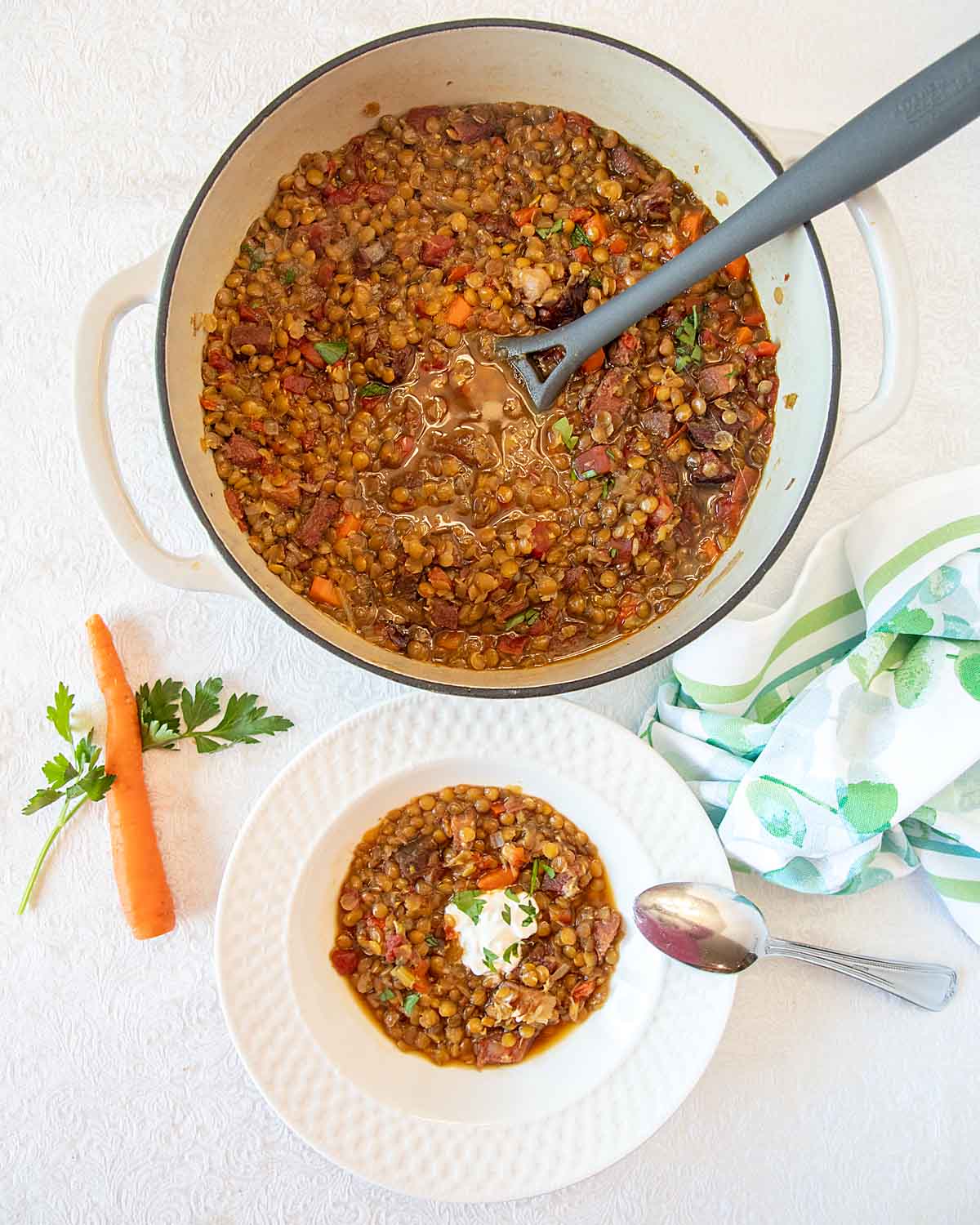 Why You'll Love This!
Carrot and Lentil Soup with Ham has so much going for it! It's:
Healthy. With legumes and vegetables, this is packed with nutrition! Even the ham was naturally smoked and came from an organic pastured pig!
Flavorful. I tend to dislike bland soups and I think I'm the world's only chicken soup hater. But this soup has an earthy goodness and delicious flavor!
Easy and Quick (well, for soup). With under a dozen ingredients and under an hour to prepare, it's a killer quick and easy soup!
Versatile. With the ham, this soup is hearty enough to work as an entrée and also lovely as a first course.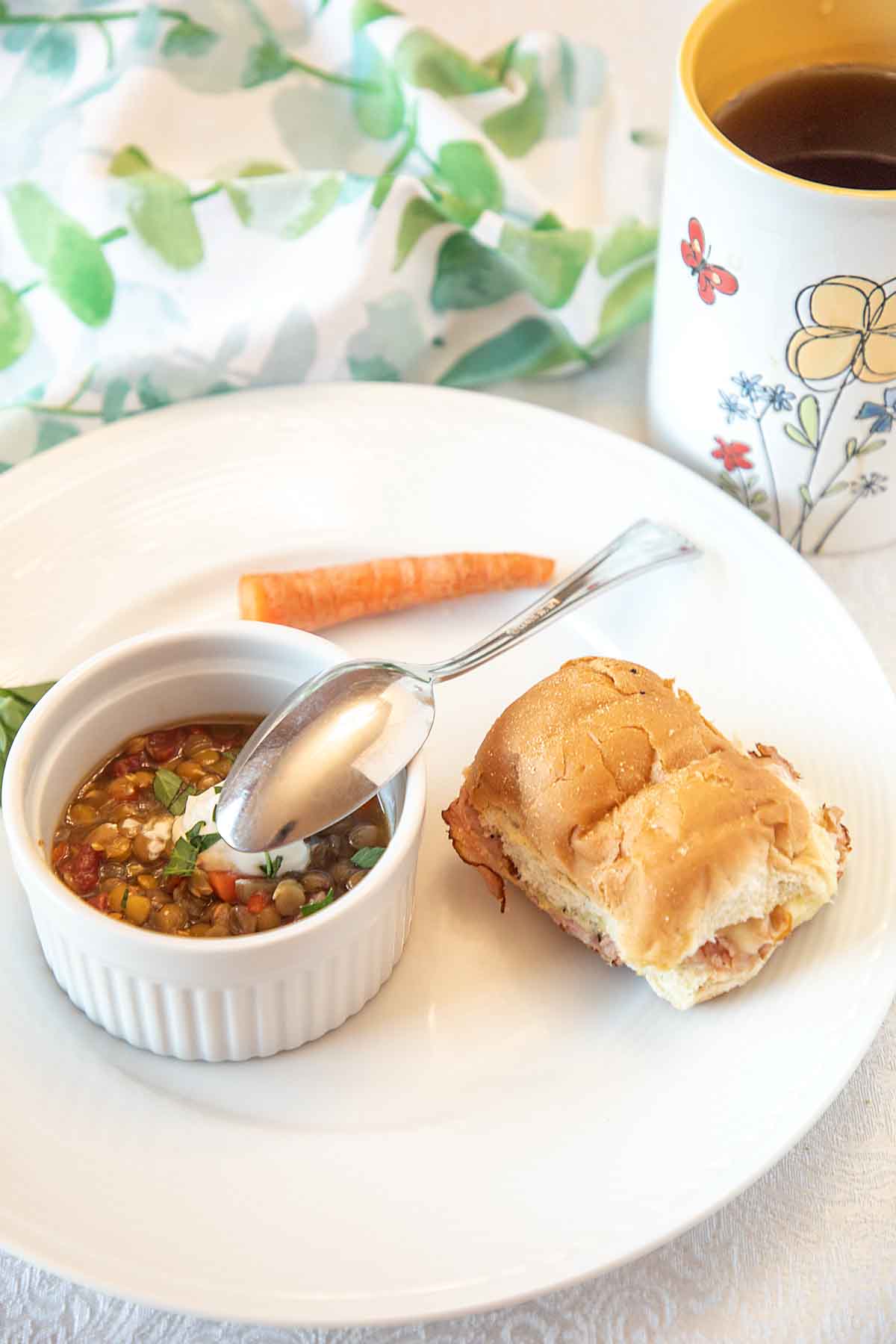 What You'll Need
Ingredients and Substitutions
Oil. This is used for sauteing the vegetables. I used olive oil, but you can use your favorite.
Garlic, Shallots. You can use onions if you don't have shallots
Celery, Red Pepper, Carrots. These add flavor and nutrition.
Diced Tomatoes with Chilies. These add flavor, nutrition and the tiniest bit of spice. You could also use canned or fresh tomatoes and add a minced jalanpeno or a piinch of cayenne.
Brown lentils. You can use your favorite lentil (or what is in your pantry) if your prefer.
Broth and water. I used a homemade chicken broth for the most flavor.
Leftover Ham. This adds flavor and protein.
Special Tools
• No special tools!
Step by Step Directions
Heat oil, then sautee shallots and celery until just tender. Add garlic and cook for another minute.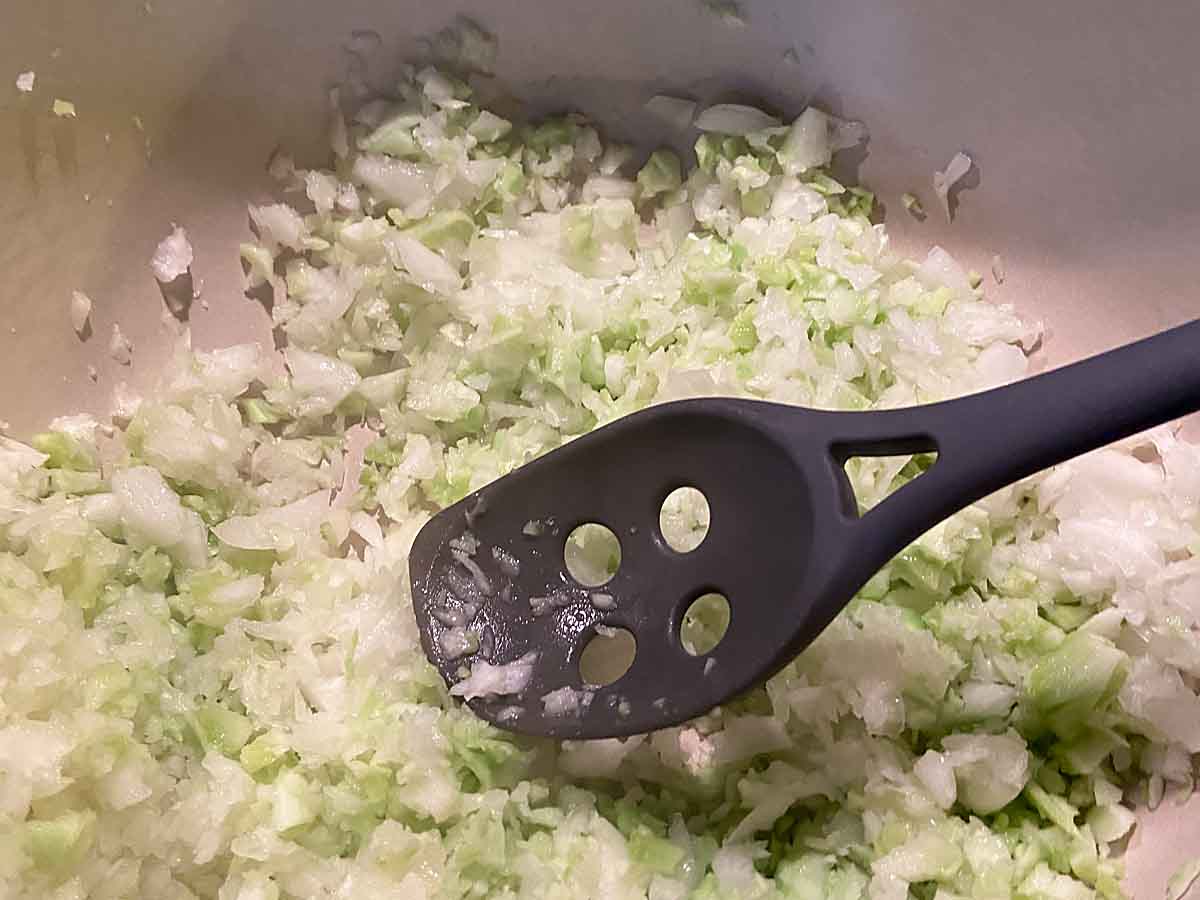 Add remaining ingredients, bring to a simmer, and cook, covered for a half hour.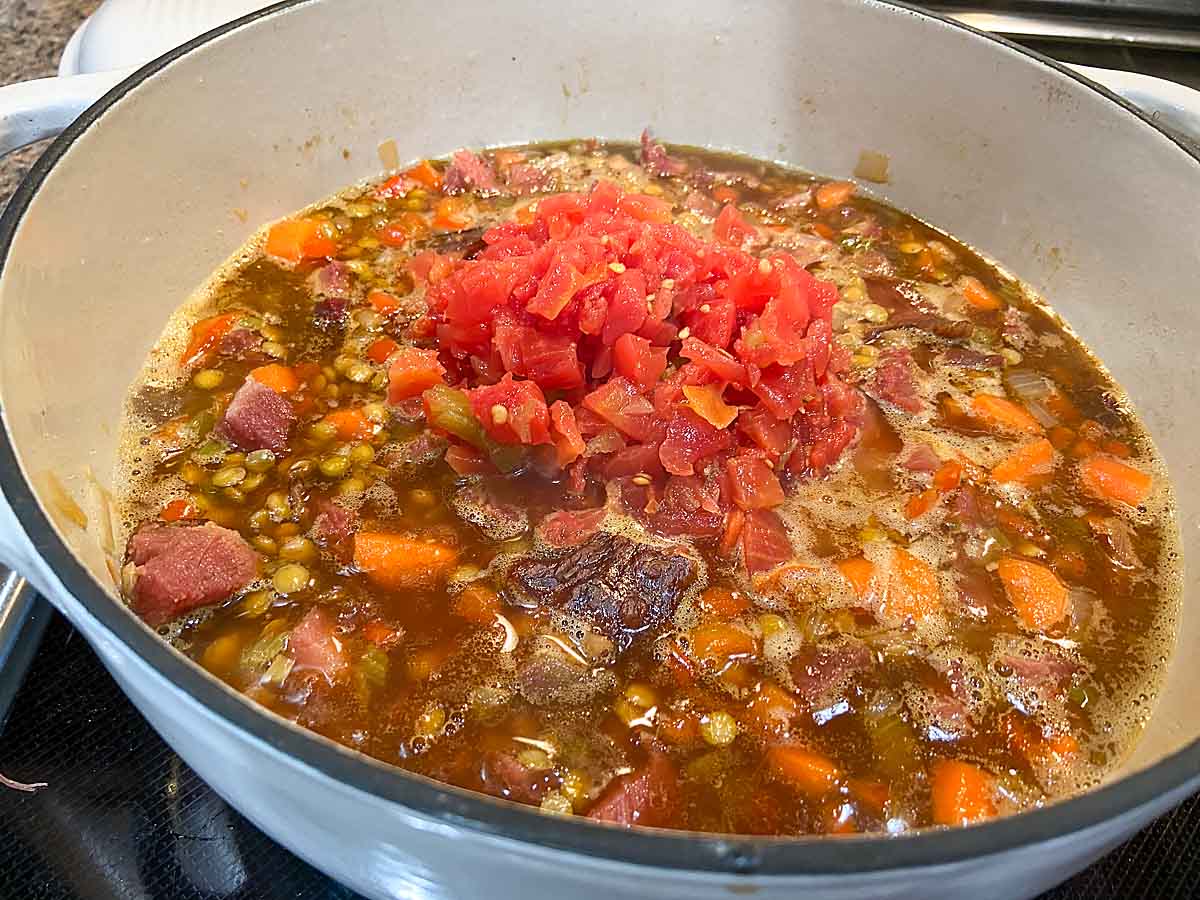 Enjoy.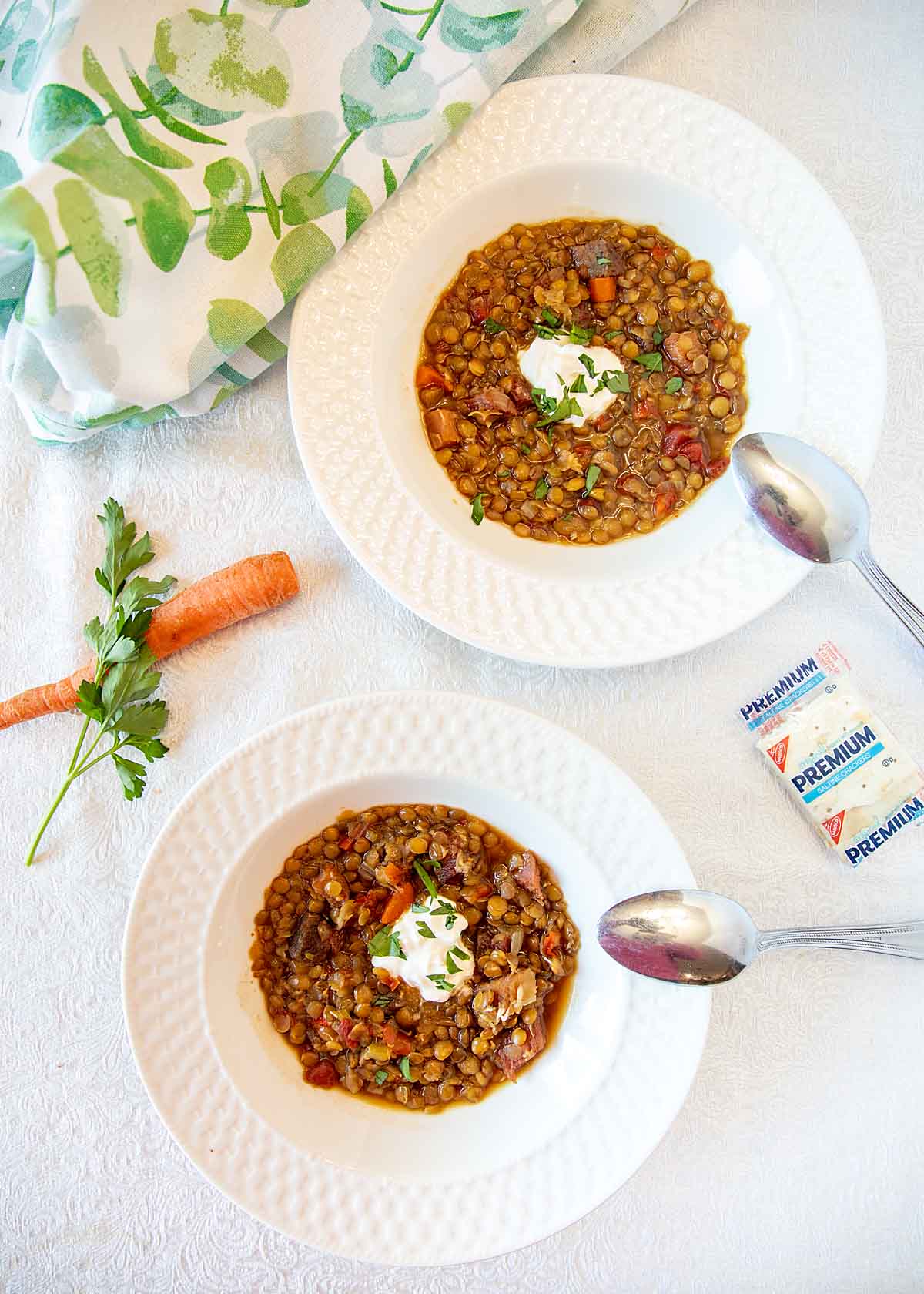 How to Serve
This very versatile soup would be delicious as a first course, and is also hearty enough to serve as an entrée soup. In that case a loaf of crusty bread or a muffin basket is a wonderful accompaniment.
Either way it is tasty and attractive topped with a dollop of sour cream or whole milk Greek yogurt. A sprinkle of chopped parsley is optional!
Of course, for everyday eating, this is perfect served in the classic combination of soup and sandwich (whole or half sandwich) or for lighter eating, soup and salad.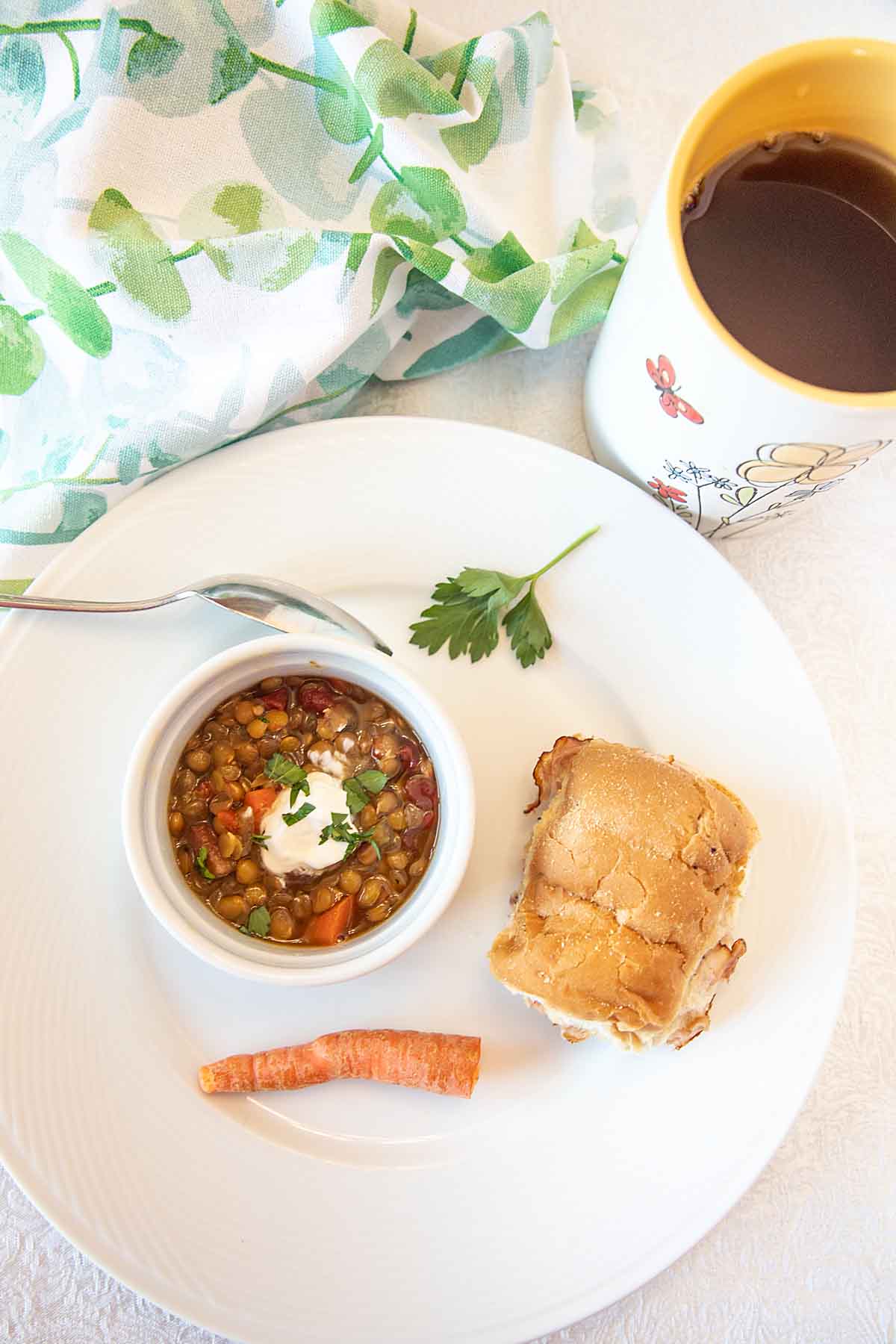 Variations
Can I make this thicker and creamier? While you could add some sour cream or yogurt for creaminess, an easier and more common way to achieve this is to blend up a portion of the soup in a blender, then return it to the pan. Start with about a cup of the cooked lentils (adjust to preference) and don't worry if you get a couple carrots in the mix.
Can I make this vegan? I feel I have to answer this with, "yes, but…" The ham provides a lot of flavor, so if you leave it out you should add additional spices. Consider cumin, smoked paprika and maybe even some miso paste to contribute the umami overtones that the ham adds. And with a little experimentation you should be able to make a delicious vegan soup.
Can I make this lentil soup with a ham hock? A smoked ham hock is pretty much the same as leftover ham, so this should be great! If your hock is fresh, it's a little more challenging because the smoking adds flavor. In that case, add some smoked paprika, to taste.
Or if you'd like another suggestion, I have a wonderful recipe for fresh German Pork Hocks that I can recommend!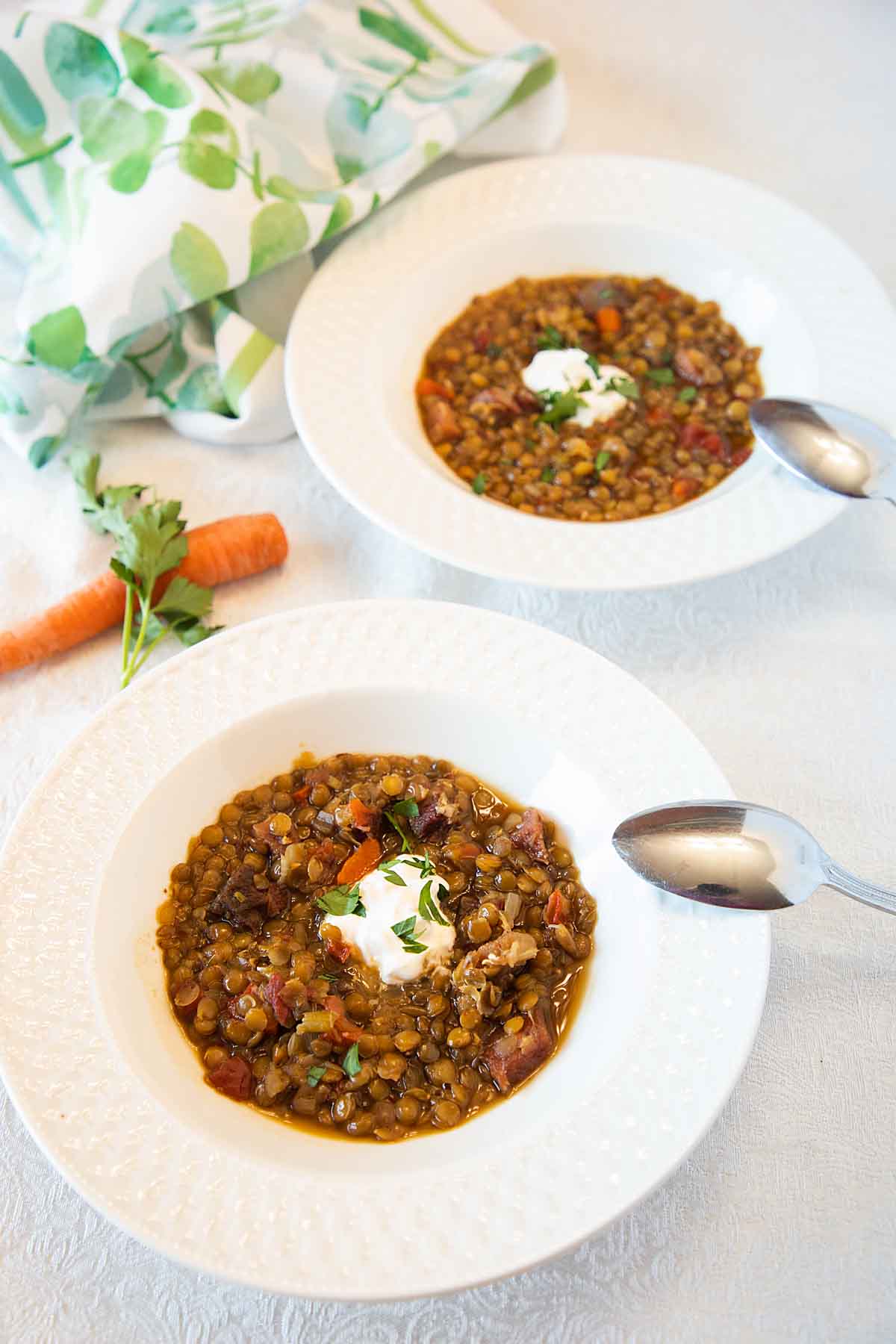 Tips and FAQs
You can make this soup up to a few days ahead of time with no problem. You can also freeze it, though the lentils may soften more. If the soup thickens over time, feel free to add more broth or water so get it back to a more soup-like consistency.
Like most soups, leftover Carrot and Lentil Soup is wonderful. Isn't that half the fun of making soup!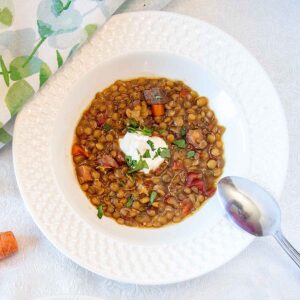 Easy Carrot and Lentil Soup with Ham
Carrot and Lentil Soup with Ham is a tasty first course or main dish soup that is easy, flavorful, nutritious and ready in about an hour.
Ingredients
1

Tablespoon

oil

1

large shallot

chopped

2

stalks celery

chopped

2

cloves

garlic

minced

1

red pepper

chopped

1

cup

carrots

chopped, about 4 medium/large carrots

14

ounce

diced tomatoes with chilies

1 ½

cups

brown lentils

4

cups

broth

1-2

cups

water

2

cups

ham cubes

about 10 ounces
Instructions
Heat oil, then sautee shallots and celery until just tender. Add garlic and cook for another minute.

Add remaining ingredients, bring to a simmer, and cook, covered, until tender, about a half hour.
Notes
For a creamiier soup, you can puree a cup or so of the cooked lentils.
Nutrition
Calories:
268
kcal
Carbohydrates:
38
g
Protein:
20
g
Fat:
4
g
Saturated Fat:
0.3
g
Polyunsaturated Fat:
1
g
Monounsaturated Fat:
2
g
Trans Fat:
0.01
g
Cholesterol:
20
mg
Sodium:
1151
mg
Potassium:
714
mg
Fiber:
16
g
Sugar:
7
g
Vitamin A:
4621
IU
Vitamin C:
36
mg
Calcium:
61
mg
Iron:
5
mg
I am not a health professional and nutrition data is calculated programatically. Accuracy may vary with product selection, calculator accuracy, etc. Consult a professional for the best information.