Confetti Shortbread Cookies
Made with an embossed roller and colored jimmies, Confetti Shortbread Cookies are an easy treat to bring some spring into your life.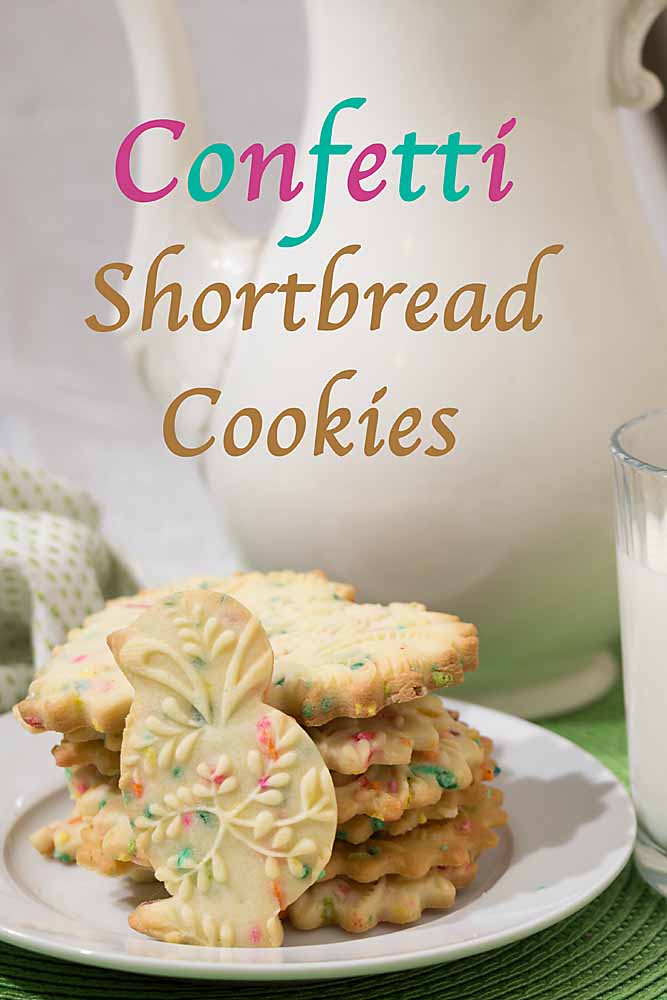 Winter is long. I love it in December but, by March, I'm wishing for warmer days. And with this year's brutal weather, it's even more true.
So, to tide myself over, I decided to make some spring-inspired Confetti Shortbread Cookies. With folk designs pressed in by an embossed wooden roller (cookie stamps would work too), it is a super easy way to make something cute. No artistic skill required!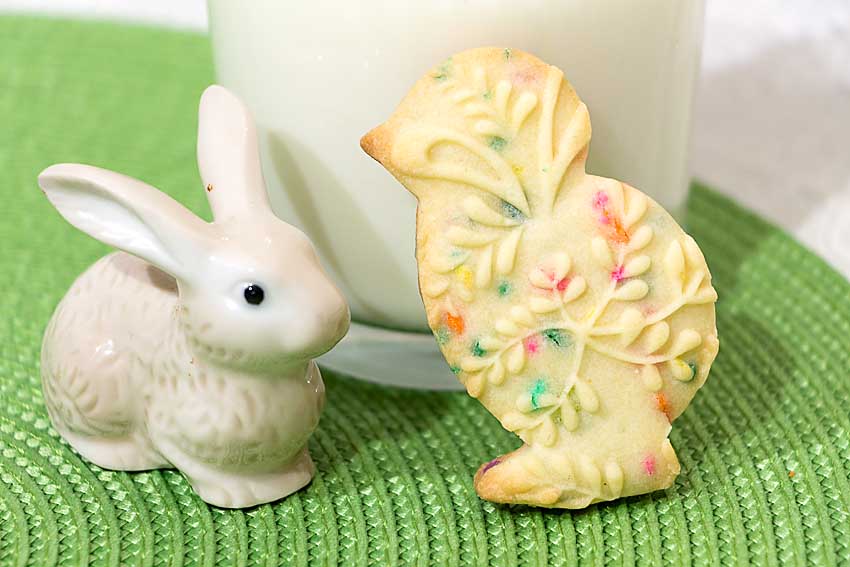 You simply make your cookie dough, chill, roll, cut with a cookie cutter where pattern looks good, chill again and bake. You could even change up your jimmy color to match a holiday. Red white & blue for July 4th?
The biggest challenge was simply not over-browning the cookies. Yup, I'm one of those people who's been known to burn an occasional tray of cookies …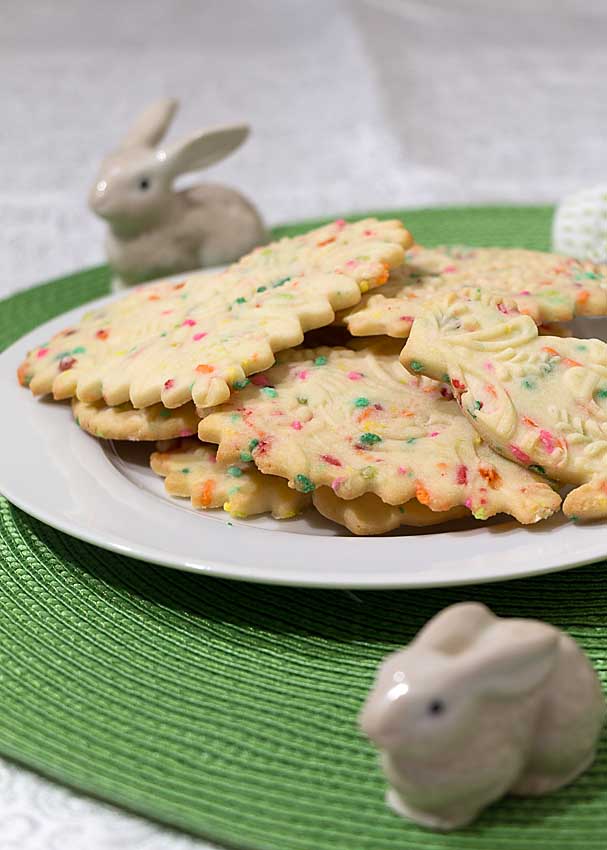 Confetti Shortbread Cookies Inspiration
The inspiration for my Confetti Shortbread Cookies came from the blog La Table de Nana. She used a similar rolling pin to make some seriously cute chocolate cookies (which I still intend to try). I've been eyeing up embossed rolling pins for a while and that was the final push I needed.
The chocolate cookies looked great, but after our seemingly endless days of gloom, I needed to make something brighter. So, I started with the plain cookie recipe on the rolling pin package, modified it to amp up the flavor and added spring-toned jimmies for color.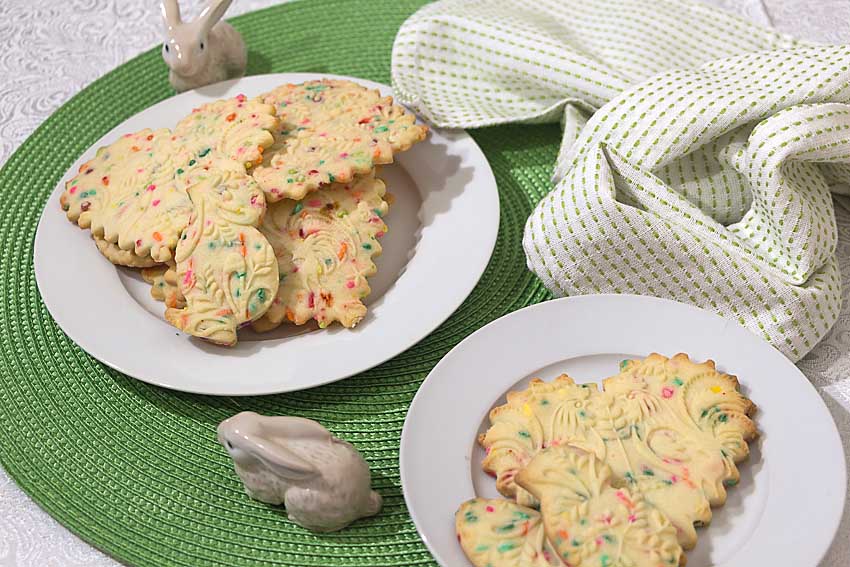 Even my picky daughter was impressed with the Confetti Shortbread Cookies. Like aww, yum, aww, yum…
And if you don't want to invest in the roller, cookie stamps would be a less expensive option.
How to Use an Embossed Roller
Now, the reason I had hesitated to buy the embossed roller was my fear that using it would be difficult. In the end, however, it was easy. Here are some tips that can help things go more smoothly.
Buy a roller with a deep, sharp design. When you bake your cookies, you will lose a little of the imprint sharpness, and you don't want a design that will disappear on you. I paid a little more for a roller from Etsy that had come recommended after reading some Amazon reviews about rollers that didn't work well because they were too shallow.
Use the right recipe. To retain your design, you will need to use a recipe that is less moist and lower in leavening– baking soda and extra butter are not your friends here. Light, puffy cookies won't keep the sharper edges you want.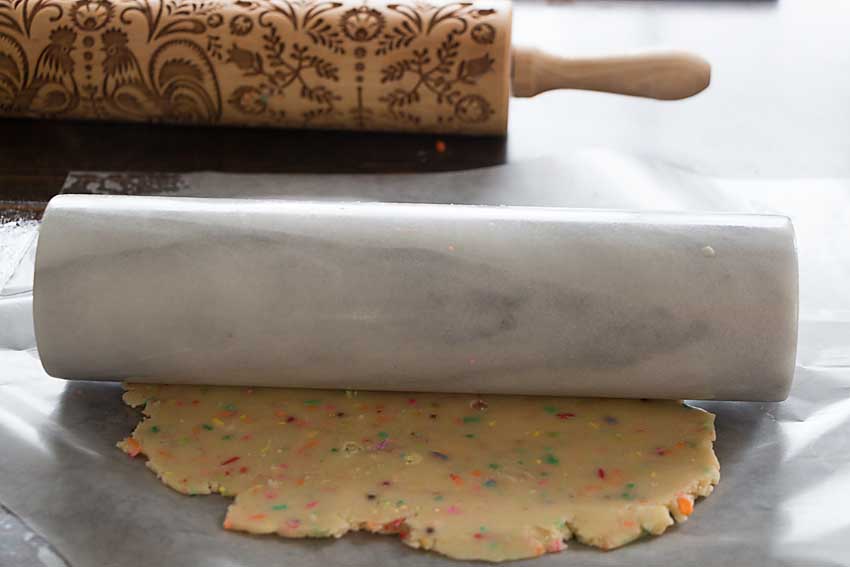 Start with a regular roller. The design on the roller can get filled with cookie dough (see below for solution), so you want to roll the dough out to about ¼ inch first with a plain rolling pin. The embossed rolling pin can do the final roll when you are ready to press in the design.
Use a non-stick spray or brush with oil before use. Again, to help keep the roller clean, as well as prevent sticking, oil or spray it before use, and re-spray as needed.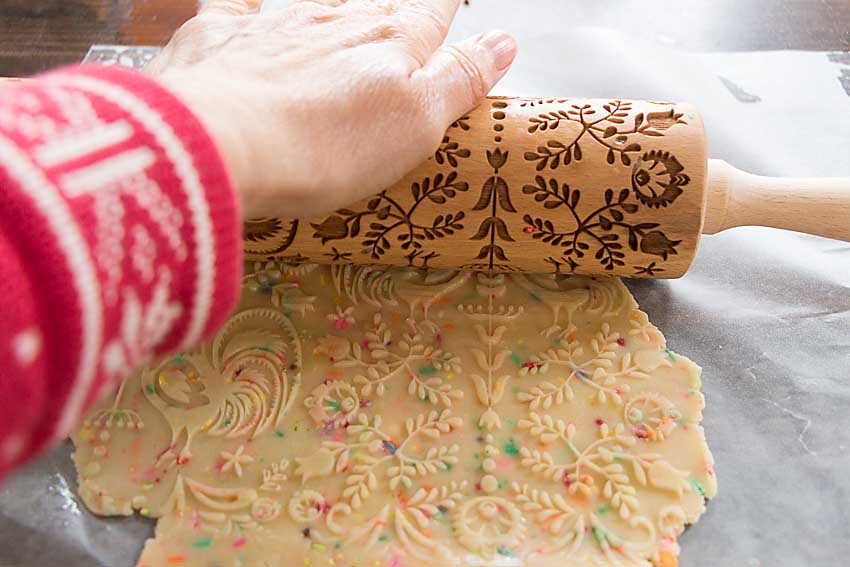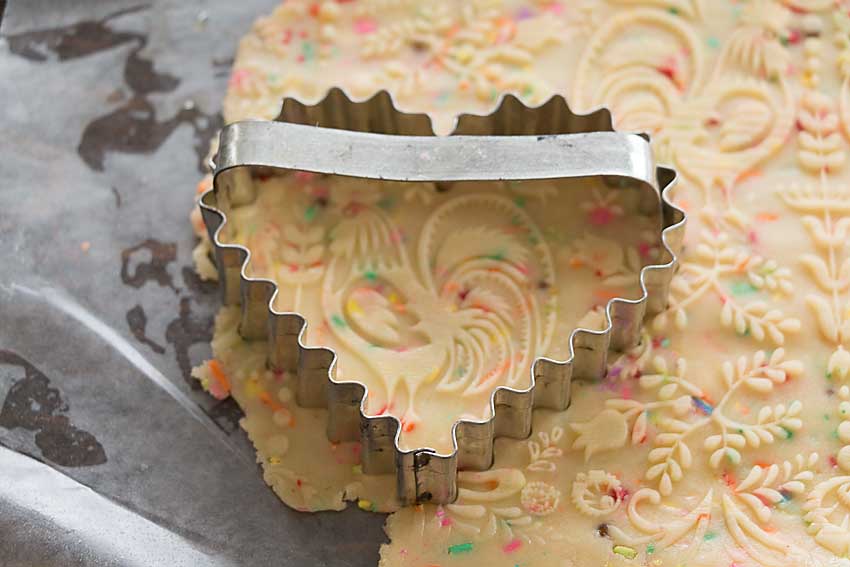 Follow chilling instructions and press hard when rolling. A chilled dough will roll out better, so you will want to chill before rolling. Then after you have cut out your cookies, chill again before baking to help retain the design. The instructions called for refrigerating but (always impatient) I put the coolies on a plate that I set in the freezer for about 10 minutes.
Wash the roller using the sink sprayer, dry, oil. My biggest fear was that the roller would be full of cookie dough that would be impossible to get out. I quickly found that spraying with the sink sprayer at full pressure, knocked out the moist dough very quickly. I then dried and re-oiled the roller before using again or putting away.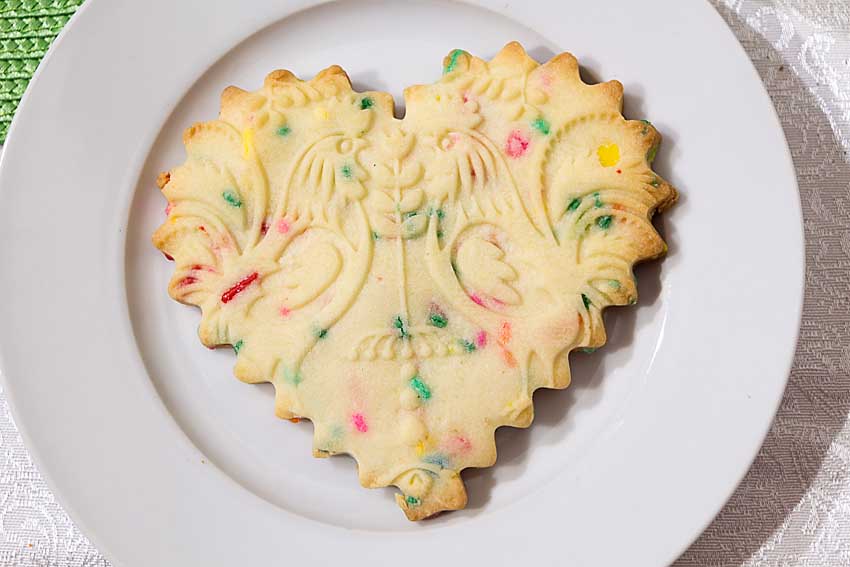 Of course, I have to also mention how versatile this type of cookie is. Besides changing up the sprinkle colors, I have a delicious embossed gingerbread cookie too!
Enjoy!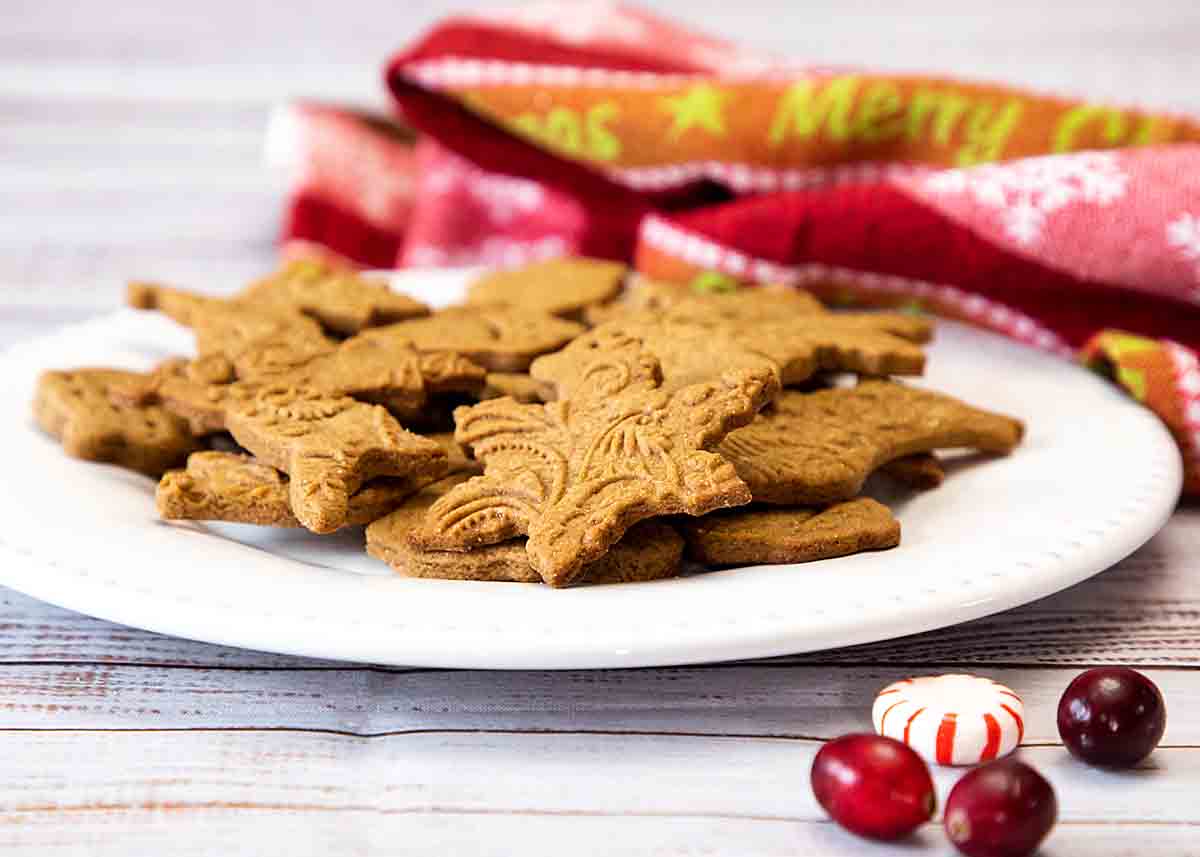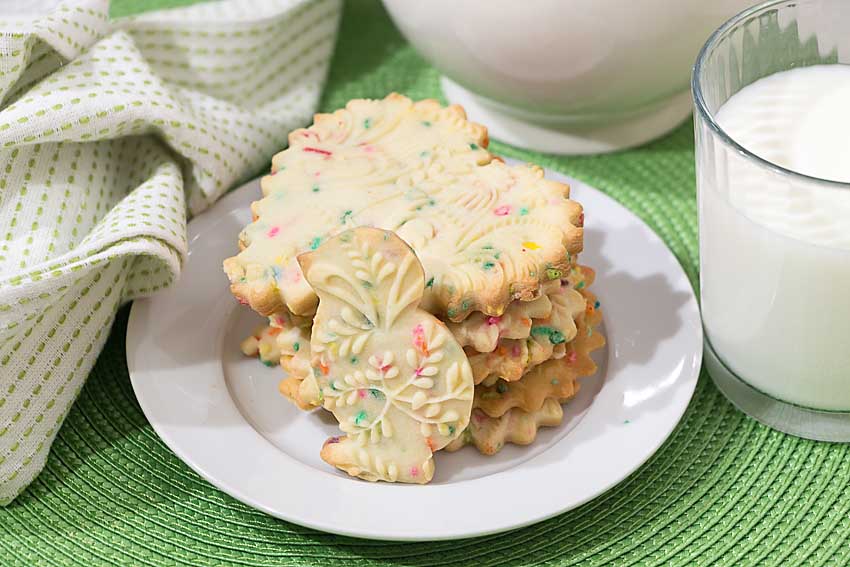 Confetti Shortbread Cookies
2019-02-28 08:39:05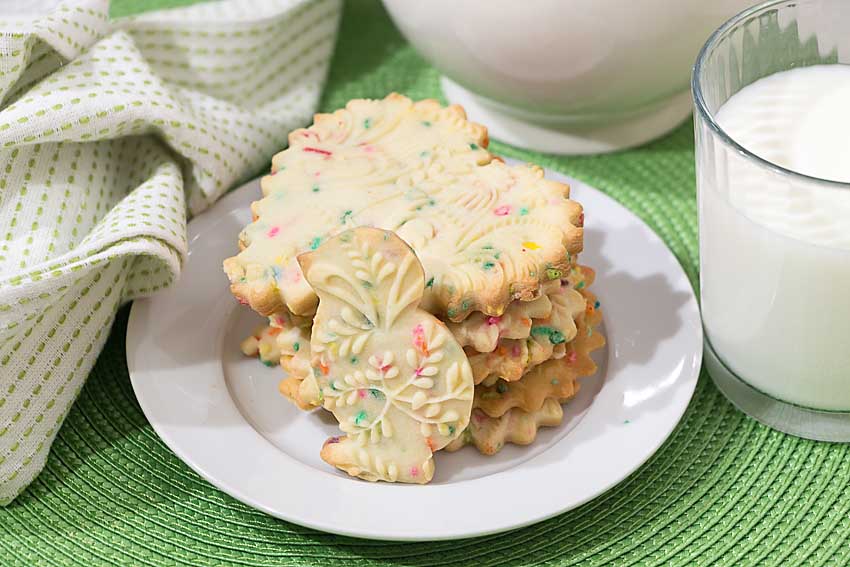 Serves 12
Made with an embossed roller and colored jimmies, Confetti Shortbread Cookies are an easy treat to bring some spring into your life.
Nutrition Facts
Amount Per Serving
* Percent Daily Values are based on a 2,000 calorie diet. Your Daily Values may be higher or lower depending on your calorie needs.
Ingredients
8 Tablespoons butter, softened (1 stick)
1 cup powdered sugar
1 egg
1 3/4 cup flour
1 teaspoon vanilla
¼ cup colorful jimmies
Instructions
Cream together butter and powdered sugar. Mix in egg and vanilla.
Gradually add flour until well combined. Fold in jimmies by hand (a mixer will break them up too much).
Knead dough a few times until it comes together. Chill in refrigerator at least ½ hour.
Roll dough with a standard roller to about ¼ inch thick. When at correct thinness, roll with embossed roller to press in design (this will thin it a little more which is fine). Position a cookie cutter over nice areas of the design and cut out cookies. Chill cookies in freezer for about 10 minutes or refrigerator for about ½ hour.
Bake at 400 F. Start checking for doneness at 7 minutes, then every minute thereafter until cookies are just starting to brown. Cool on wire rack.
Art of Natural Living https://artofnaturalliving.com/