Funfetti Shortbread Cookies, Embossed and Plain
Made with colored jimmies—as embossed cookies or simply cut into squares, Funfetti Shortbread Cookies are an easy and fun!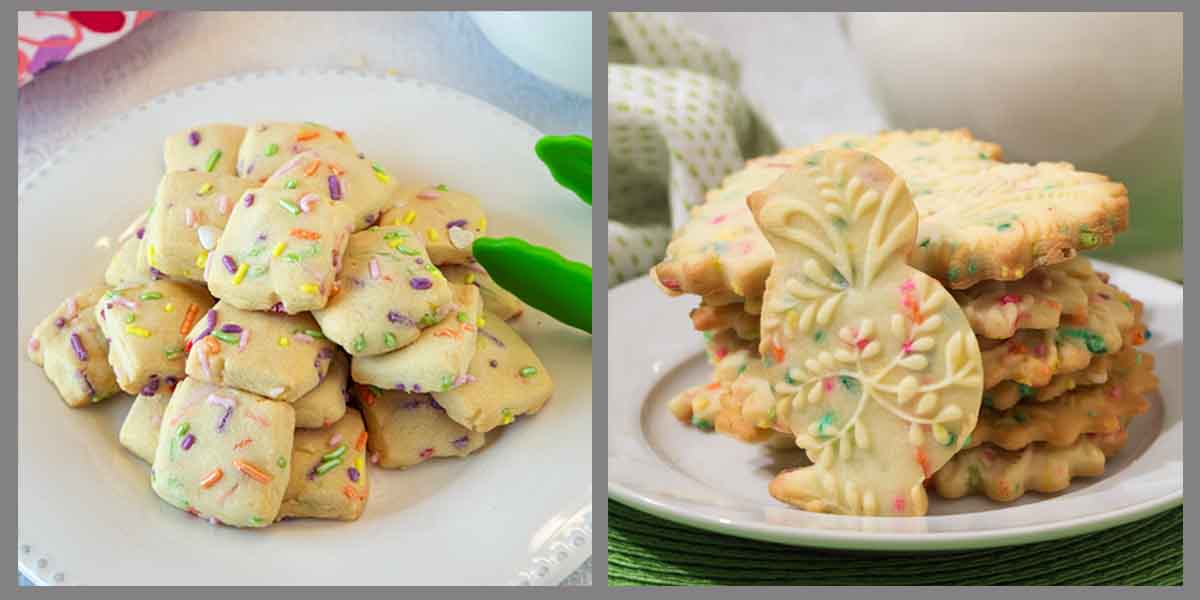 Winter is long—but isn't it fun when spring arrives! To get in the spirit I like to make cute snacks like spring chocolate dipped pretzel rods. And today I'm making Funfetti Shortbread Cookies—two ways!
For the first version, I use an embossed roller, which makes it super easy to create an especially pretty cookie. Even for people (like me) with no decorating skills!
For the second version, I make funfetti shortbread bites—for anyone who doesn't have an embossed roller! 'Cause Funfetti Shortbread Cookies with Sprinkles are too cute to pass up!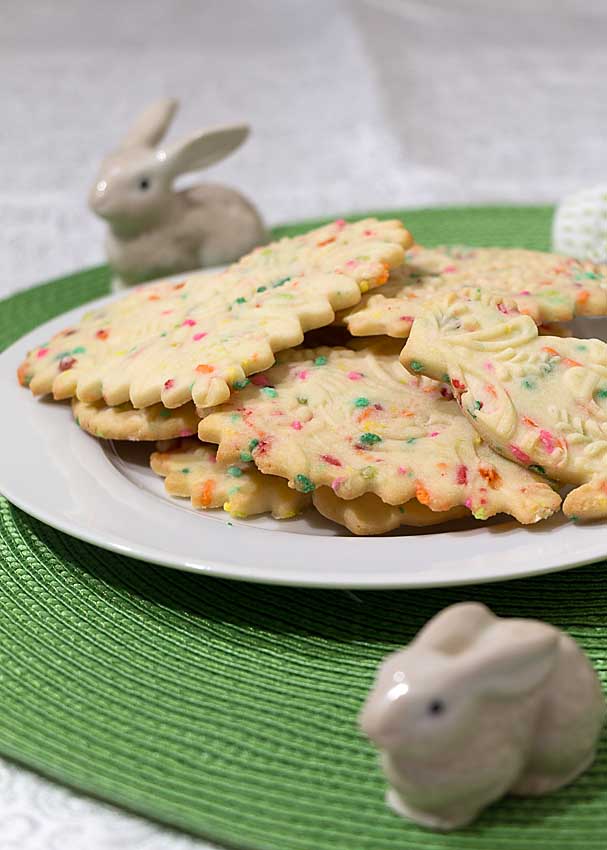 Have You Heard of Funfetti?
In case you haven't heard, Wikipedia tells us that the funfetti phenomenom started in 1989 when "the Pillsbury Company introduced a new type of cake called "Funfetti" cake, a portmanteau of fun and confetti… Confetti cake is a type of cake that has rainbow colored sprinkles baked into the batter" which look like confetti when baked!
Now before long this was being used for more than cake. Thinks donuts, fudge, confetti madeleines and confetti shortbread cookies!
I have heard that people make funfetti cookies with the cake mix too. But these scratch funfetti cookies are so easy, you can probably make them in less time than a trip to the store. And with homemade, you can change the sprinkle colors, go organic, or make any other changes that you'd like.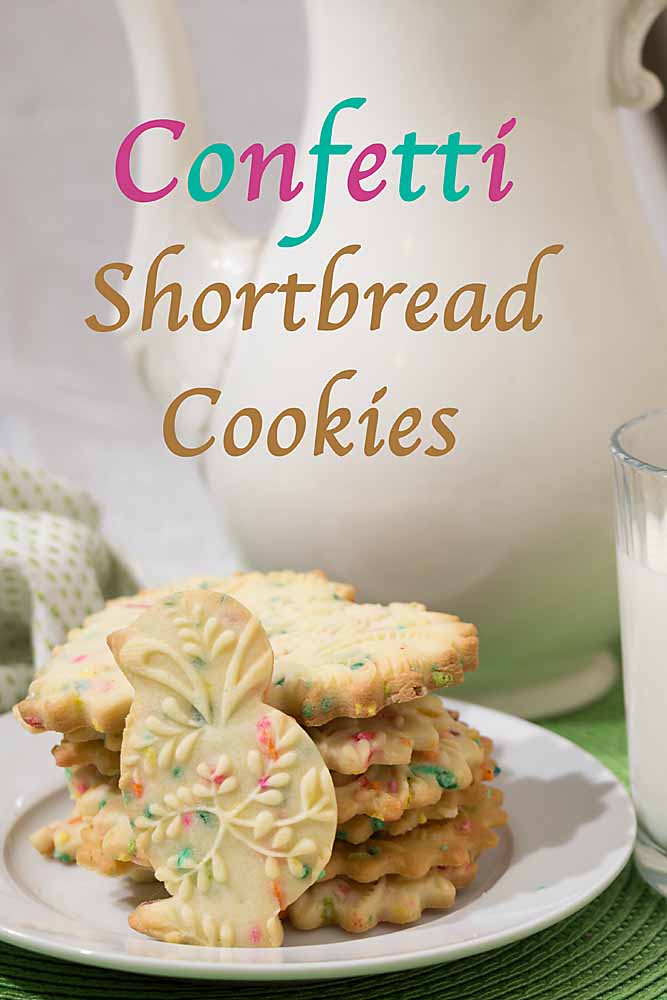 Why you'll love these
Festive. Not sure what it is about sprinkles but they always make me feel happy! And I like to add joy any time I can!
Tasty. Even plain vanilla shortbread is a classic—because it tastes so good!
Impressive (even with no skills!). Want to look like a really talented cookie maker? Look no further than the embossed version!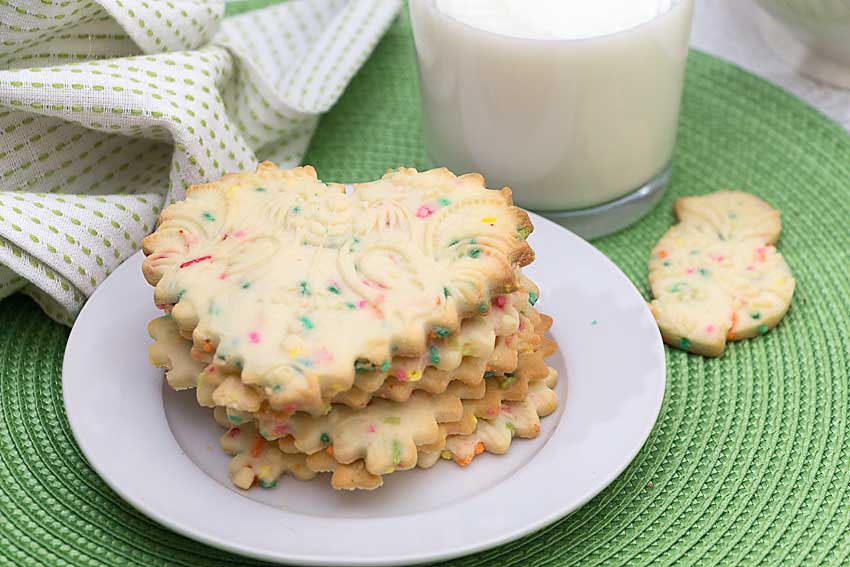 What you'll need
Ingredients
Butter. This provides the characteristic buttery flavor of shortbread and helps hold together the ingredients.
Powdered Sugar. This sweetens the dough and the starch in it helps provide the characteristic melty mouthfeel.
Egg. This is not a typical shortbread ingredient, but it does help hold the dough together and adds richness.
Flour. This provides the main body of the cookie.
Vanilla. Adds flavor.
Colorful sprinkles. Makes these pretty and unique!
Special Tools (for embossed style only)
Rolling pin. This is to do the initial roll out of the cookies
Embossed Roller. This special roller presses in the design.
No embossed roller? Go with the shortbread bites!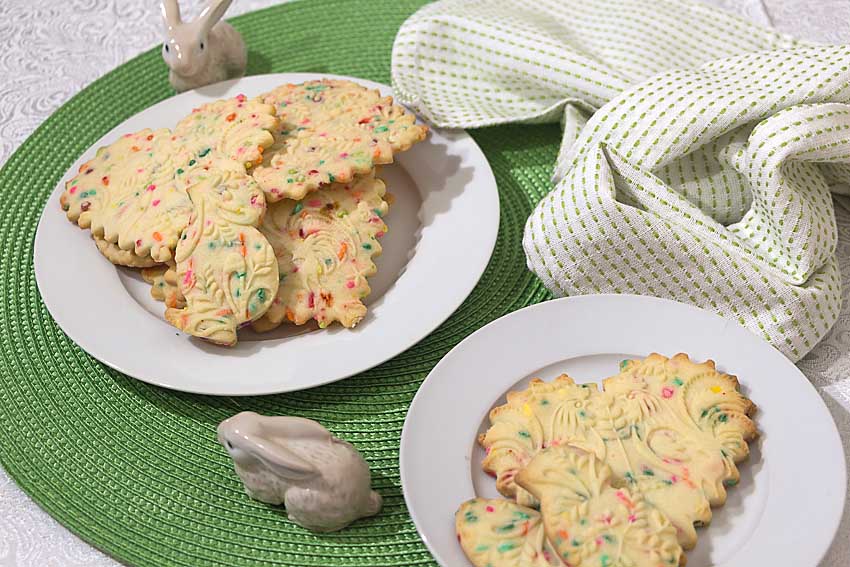 How to Use an Embossed Roller
The inspiration for my Funfetti Shortbread Cookies came from the blog La Table de Nana. She used a similar rolling pin to make some seriously cute chocolate cookies (which I still intend to try). I've been eyeing up embossed rolling pins for a while and that was the final push I needed.
I had hesitated to buy the embossed roller fearing it would be difficult to use. But in the end, it was easy. Here are some tips that can help things go more smoothly.
Buy a roller with a deep, sharp design. When you bake your cookies, you will lose a little of the imprint sharpness, and you don't want a design that will disappear on you. I paid a little more for an embossed roller from Etsy after reading some Amazon reviews about rollers that didn't work because they were too shallow.
Use the right recipe. To retain your design, you will need to use a recipe that is less moist and lower in leavening– baking soda and extra butter are not your friends here. Light, puffy cookies won't keep the sharper edges you want. And because the moisture content of ingredients will vary, add extra flour if the dough is very sticky–it should be slightly tacky, but not sticky.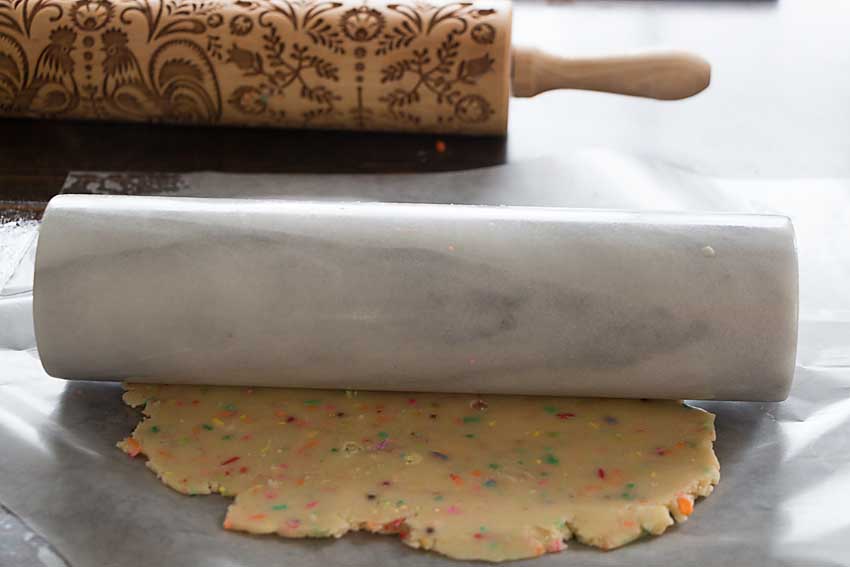 Start with a regular roller. The design on the roller can get filled with cookie dough (see below for solution), so you want to roll the dough out to about ¼ inch first with a plain rolling pin. The embossed rolling pin can do the final roll when you are ready to press in the design.
Use a non-stick spray or brush with oil before use. Again, to help keep the roller clean, as well as prevent sticking, oil or spray it before use, and re-spray as needed.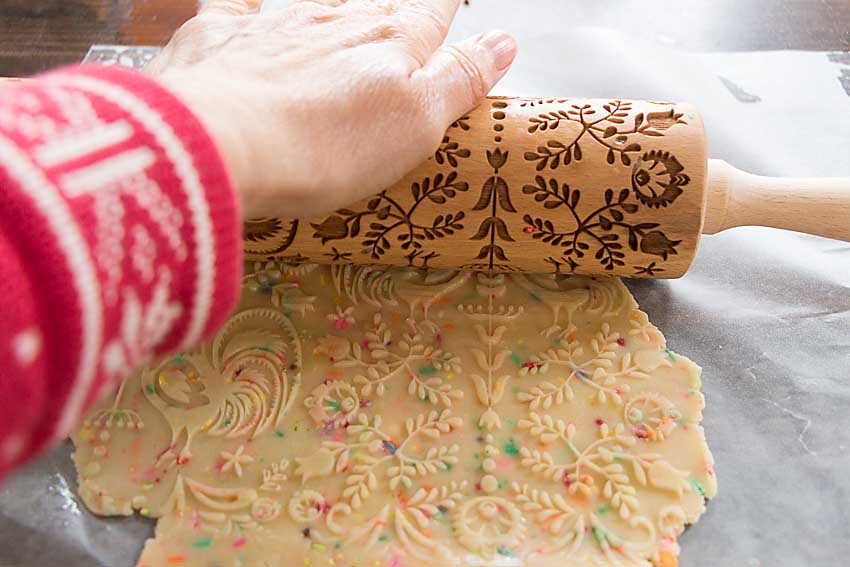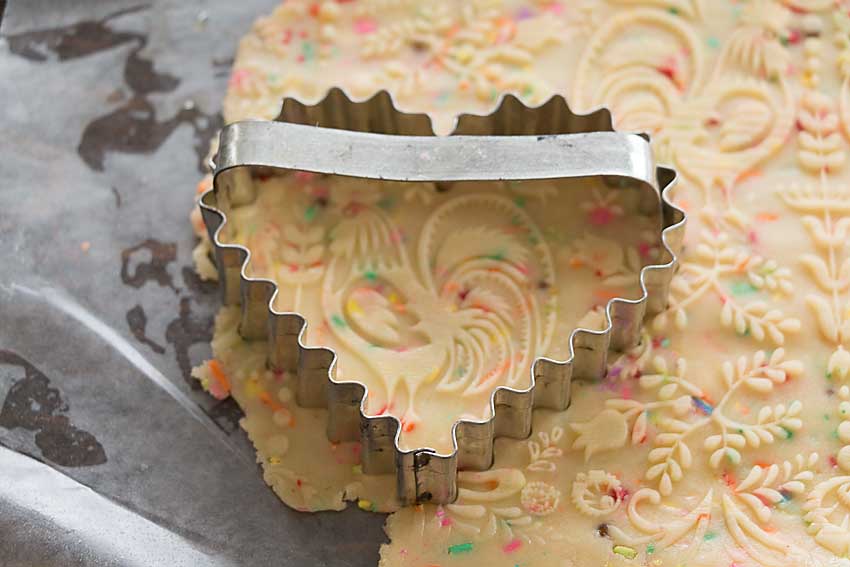 Pre-chill the dough. A chilled dough will roll out better, so you will want to chill before rolling. Press hard when rolling with the patterned roller to make a deep impression.
After you have cut out your cookies, chill again before baking to help retain the design. You can refrigerate for a half hour (or longer) or if you are in a hurry freeze for 10 minutes.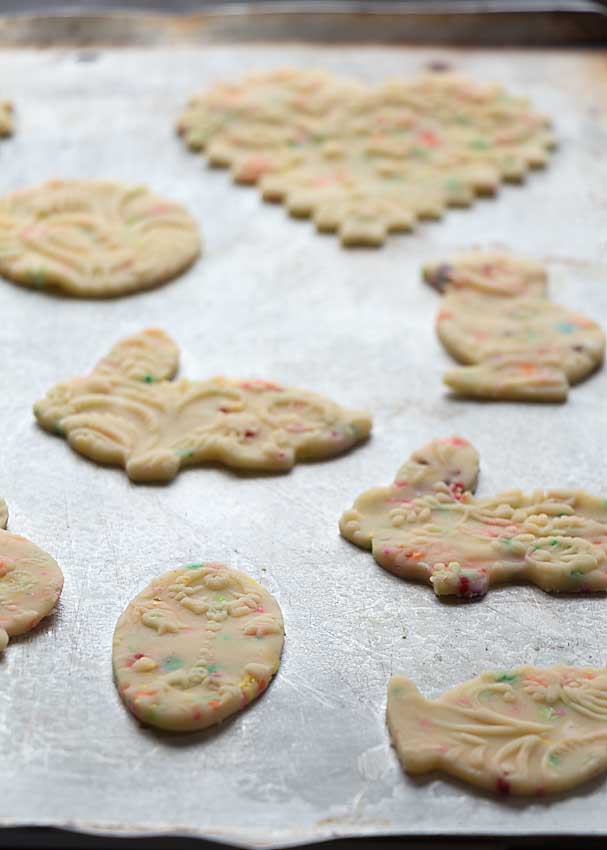 Wash the roller using the sink sprayer, dry, oil. My biggest fear was that the roller would be full of cookie dough that would be impossible to get out. I quickly found that spraying with the sink sprayer at full pressure, knocked out the moist dough very quickly. I then dried and re-oiled the roller before using again or putting away.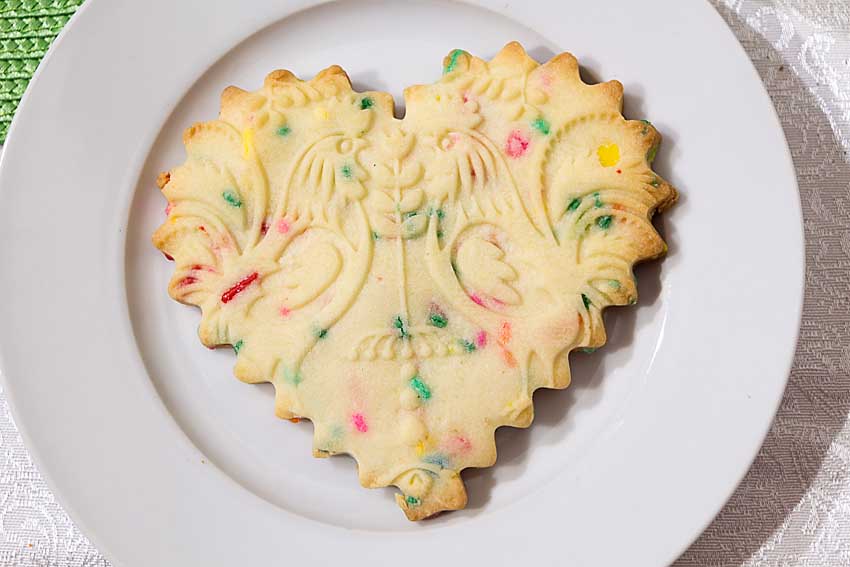 How to make Funfetti Shortbread Bites
For the simpler version, I made bite-sized shortbread squares.
I use the same dough, except I mix only half the sprinkles into the dough and put the other sprinkles aside.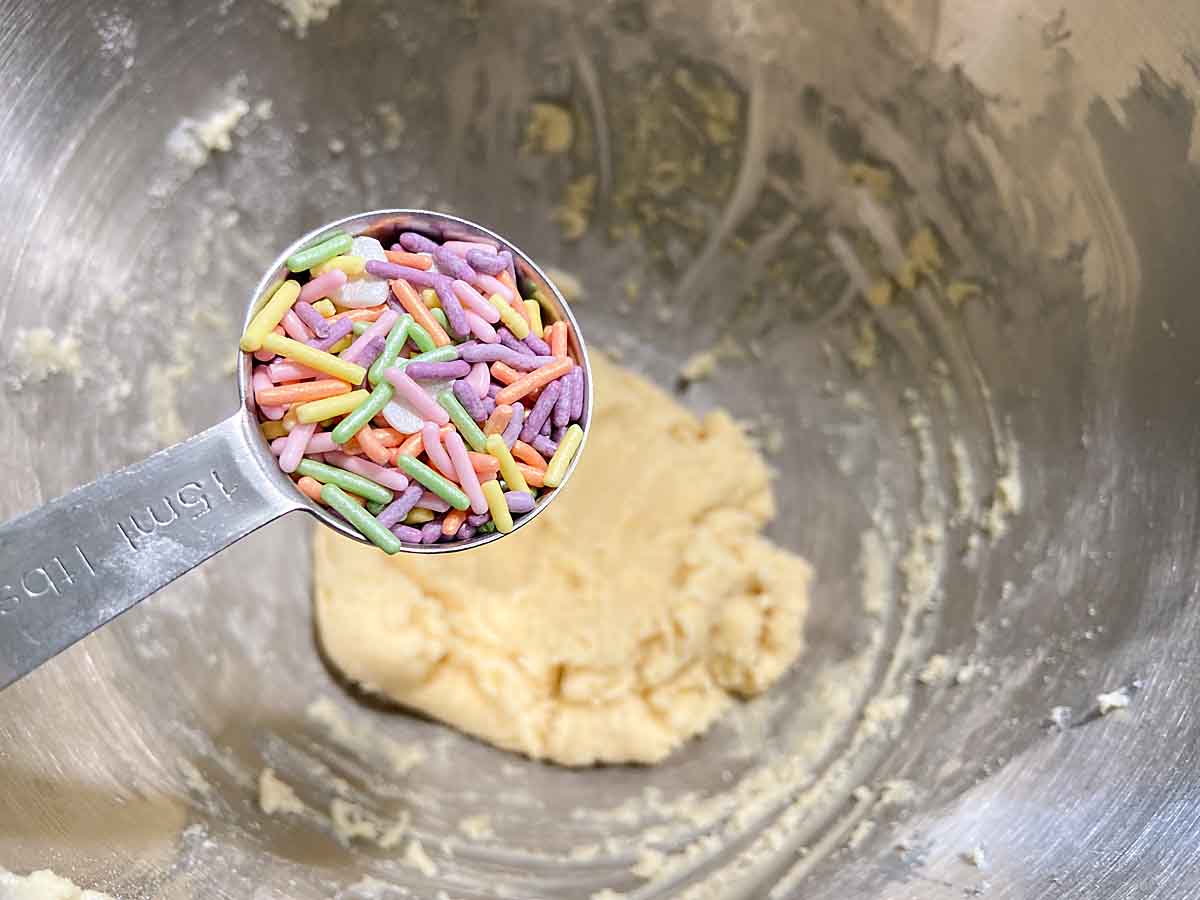 Then I shaped the dough into a 9 x 9 square. To make this easy I lined a 9 x 9 pan with parchment, then pressed in the dough.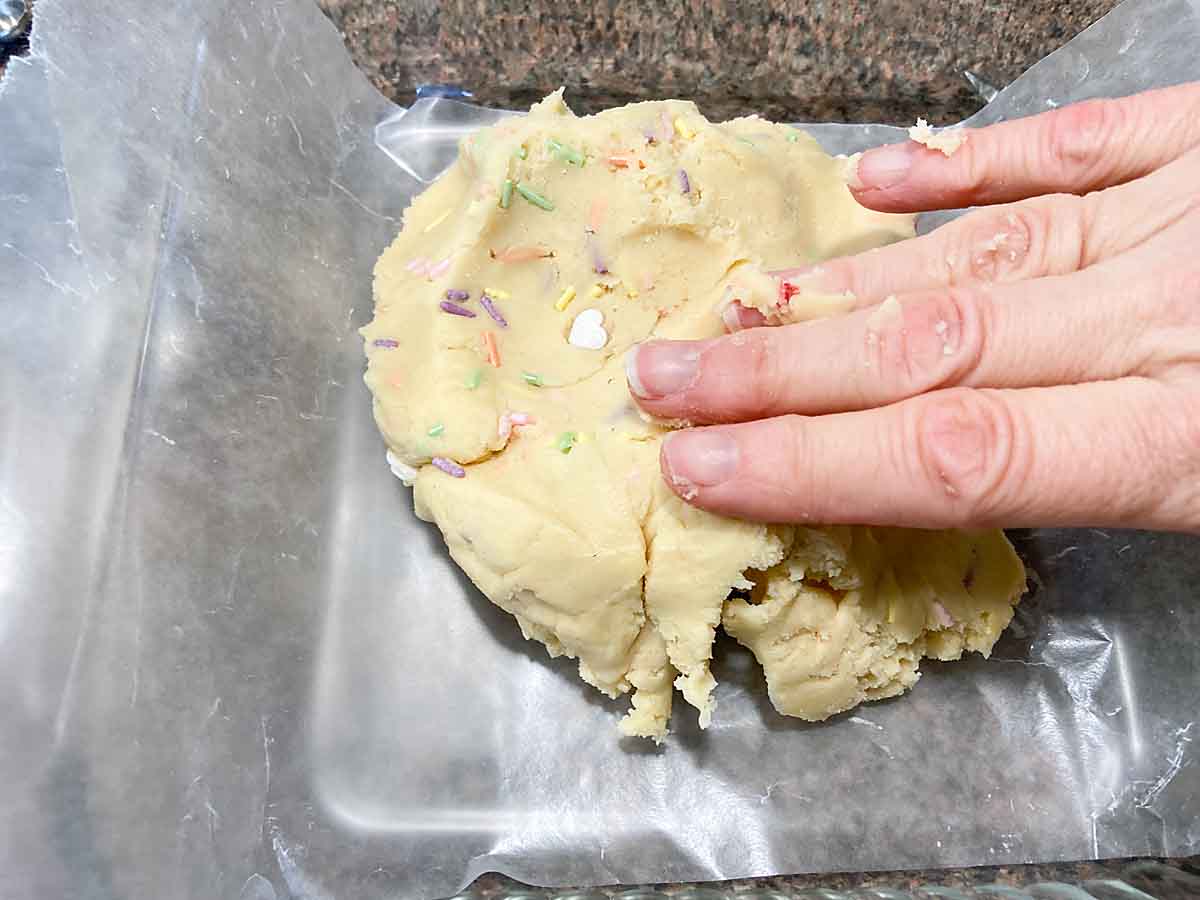 When this was formed, I pressed the extra sprinkles in the top, to make sure we had lots of color showing!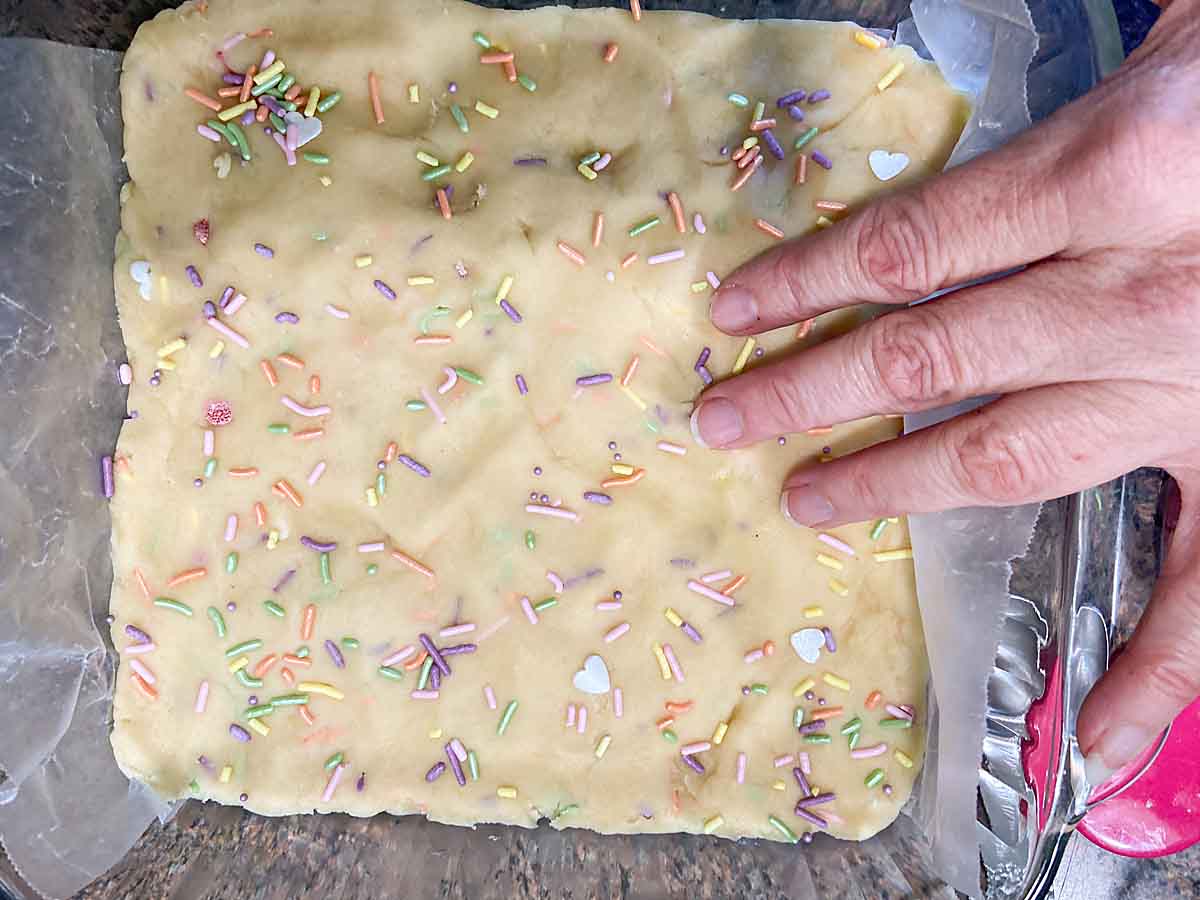 Next I pulled up the dough using the parchment as "handles." I used a long knife to cut the dough into 1 ½ inch squares for a "mini shortbread" recipe.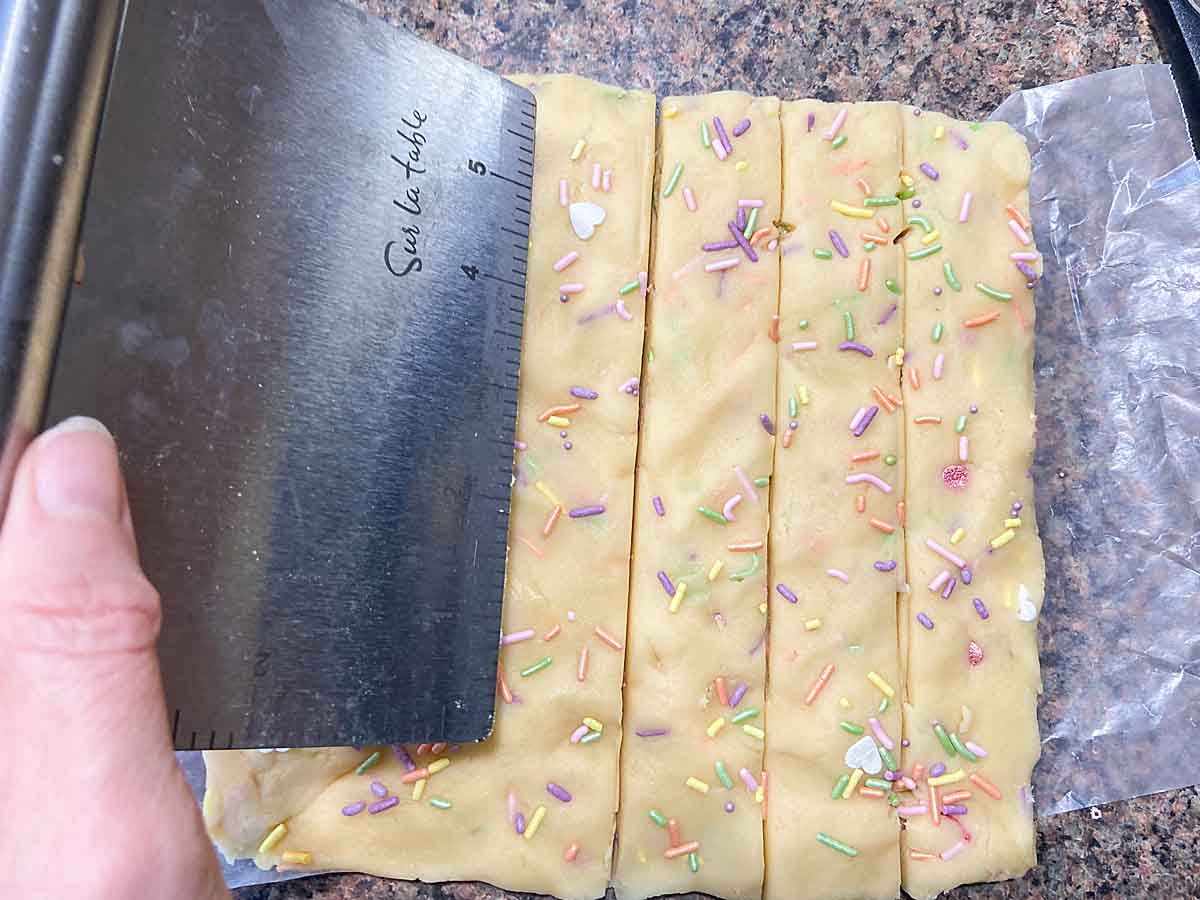 I popped these into the freezer for 10 minutes, then set them on a baking sheet and baked.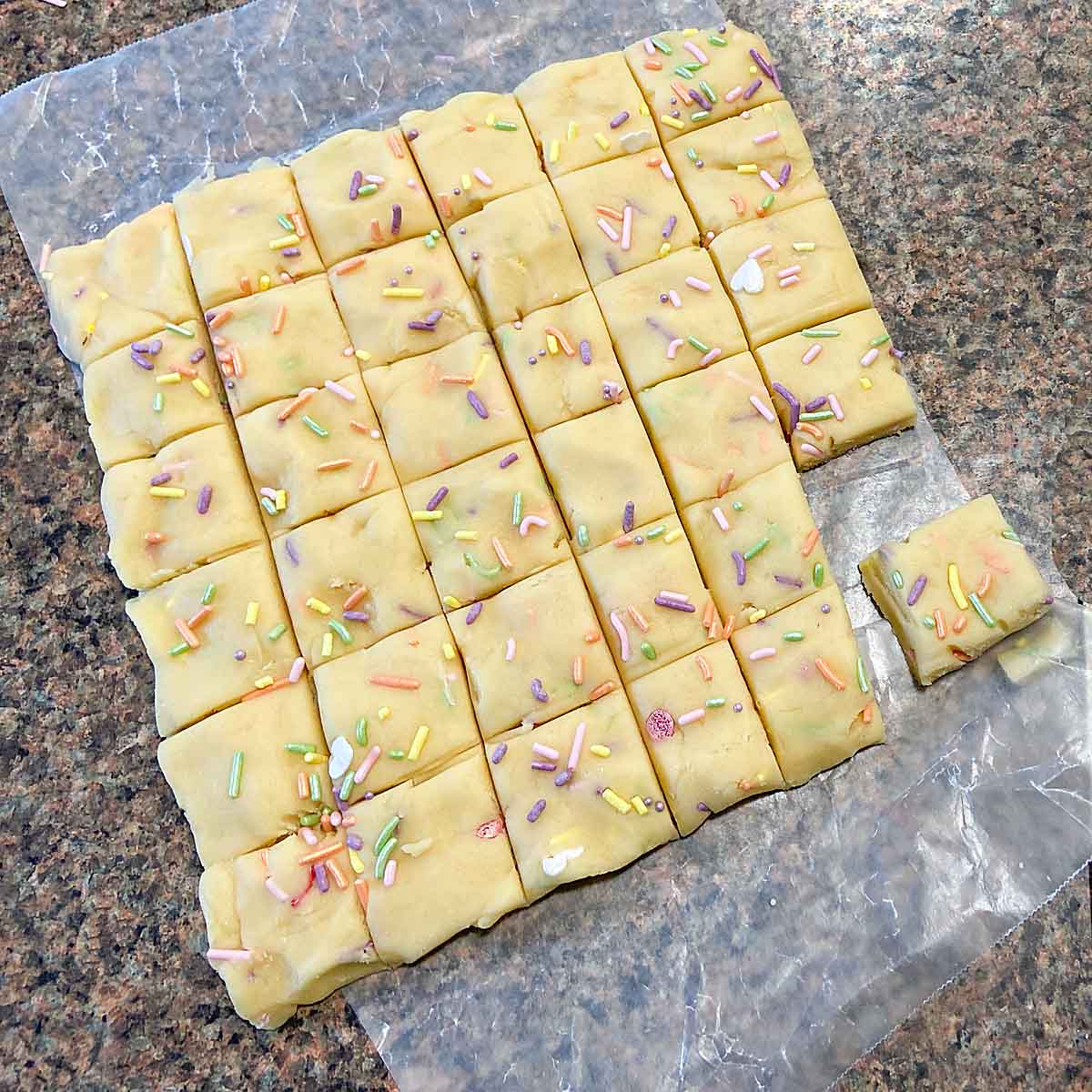 I love the beautiful colors in any shape!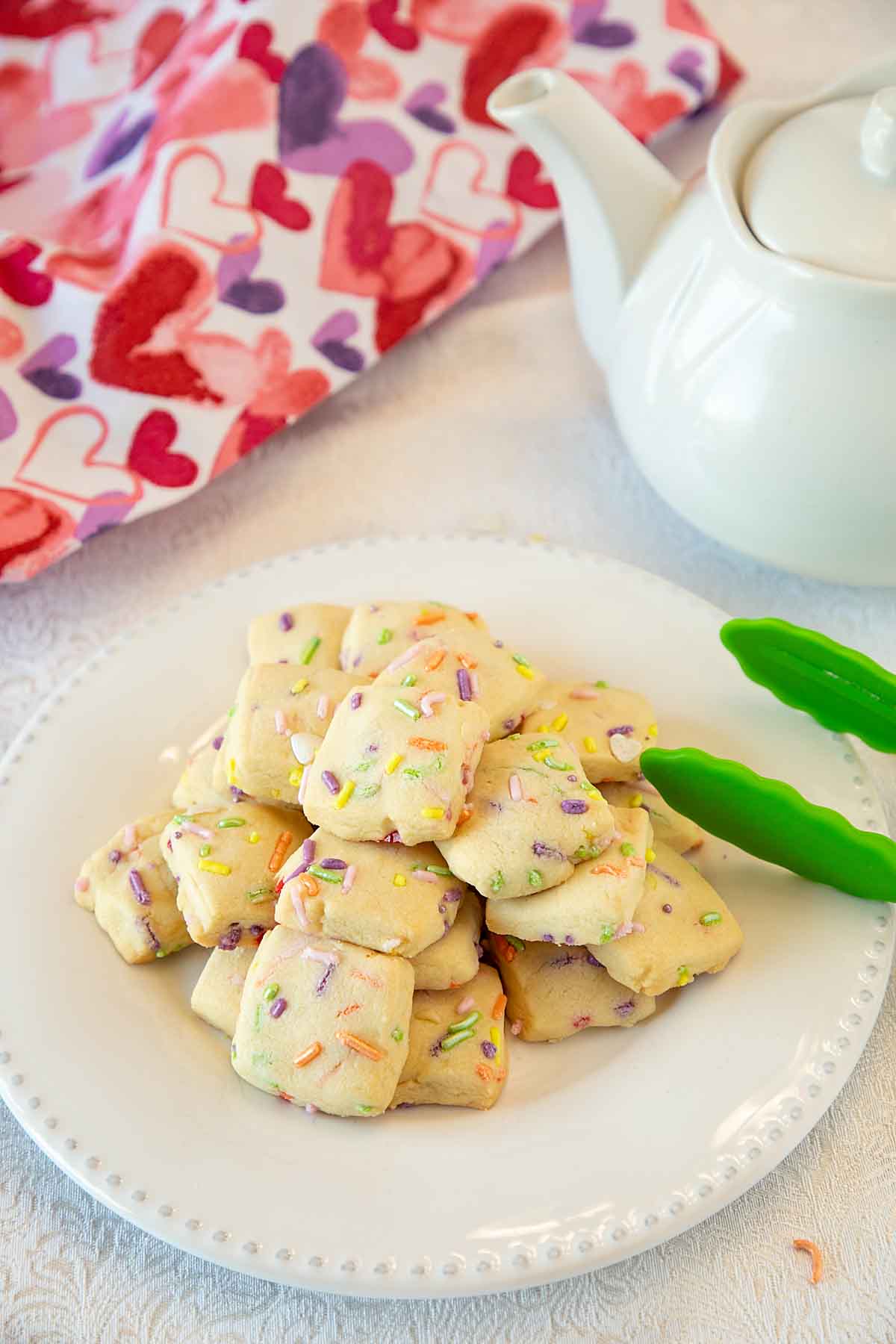 Tips and FAQs
My biggest challenge was simply not over-browning my funfetti shortbread cookies. Yup, I'm one of those people who's been known to burn an occasional tray of cookies!
If you don't want to invest in the roller, but still want to try the fancier version, cookie stamps are a less expensive option. Michaels usually has them in designs for every season.
Because the moisture content of ingredients will vary, add extra flour if the dough is very sticky–it should be slightly tacky, but not sticky.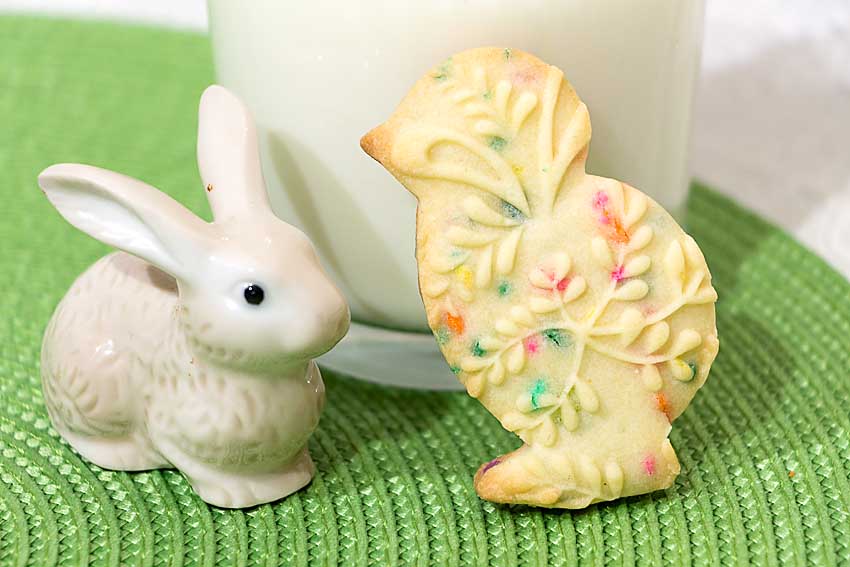 Variations
I have talked a little about how versatile this cookie is. First you can change up the colors to match any holiday or occasion. School colors for a team event? Pink and blue for a baby shower?
Besides changing up the sprinkle colors, you can use the embossed roller with different flavors of dough. You just need to be sure the dough is rigid enough to retain the design, so I recommend using a recipe that is tested for an embossed roller. For Christmas, I love these embossed gingerbread cookies!
Happy baking!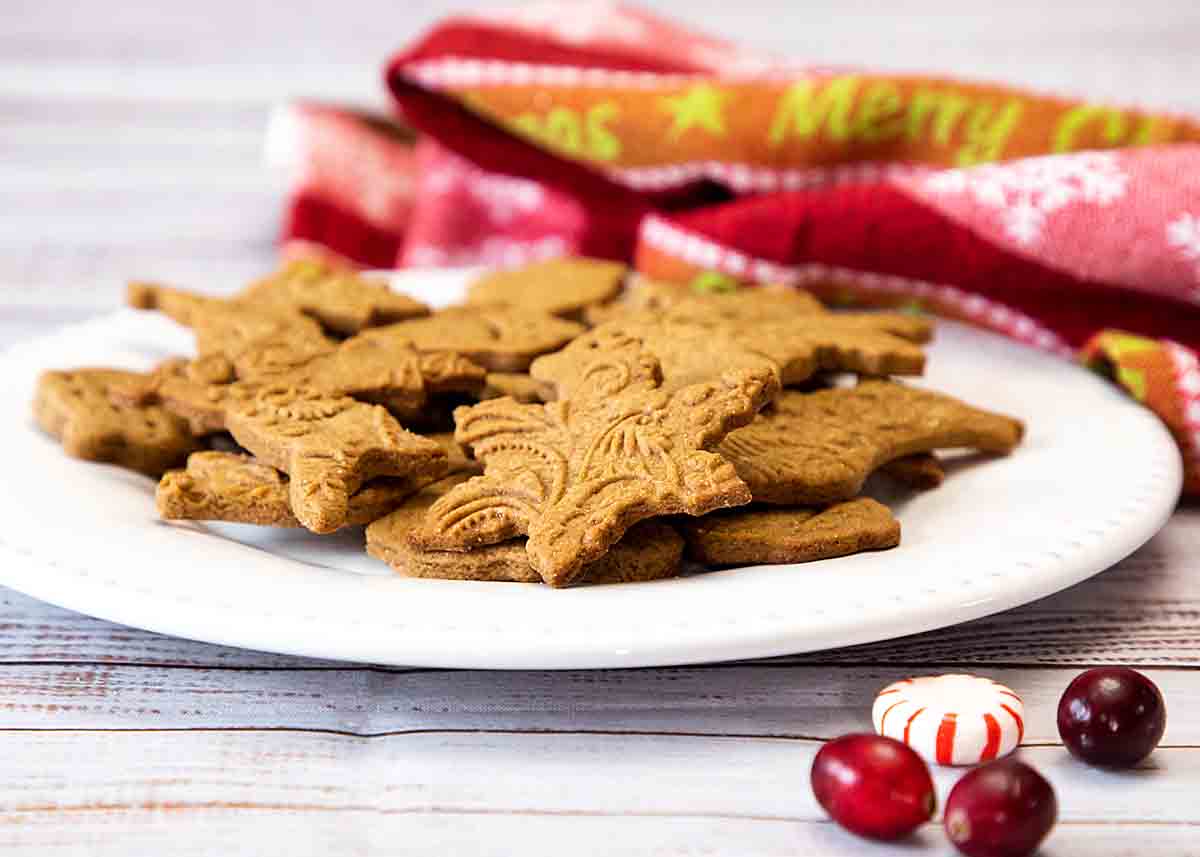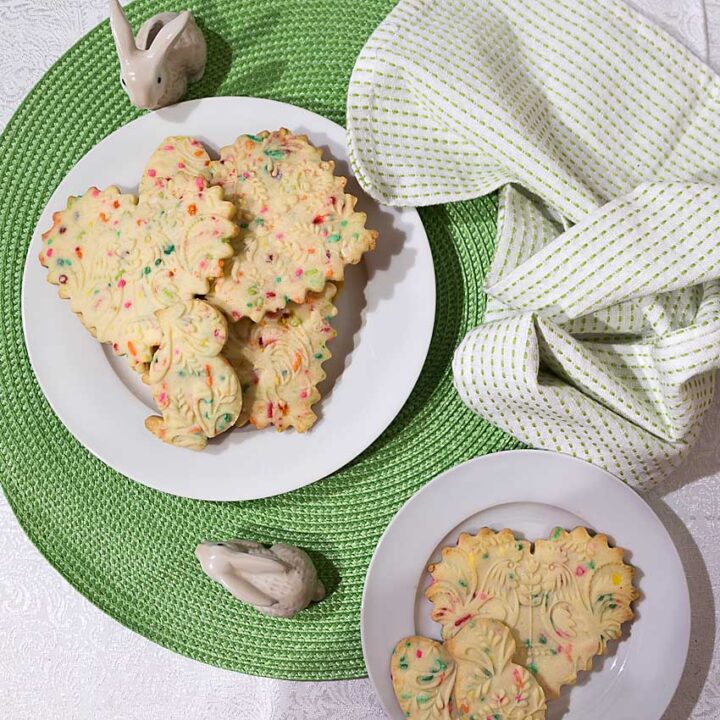 Funfetti Shortbread Cookies (Two Ways)
Prep Time: 40 minutes

Cook Time: 10 minutes

Total Time: 50 minutes

Made with an embossed roller and colored jimmies—or simply cut into squares, Funfetti Shortbread Cookies are an easy treat to bring some fun into your life. 
Ingredients
8 Tablespoons butter, softened (1 stick)
1 cup powdered sugar
1 egg
1 3/4 cup flour (or a bit more if the dough is too sticky)
1 teaspoon vanilla
¼ cup colorful sprinkles
Instructions
See "Notes" below for changes if you make the "shortbread bites".

Cream together butter and powdered sugar. Mix in egg and vanilla.

Gradually add flour until well combined (see note). Fold in jimmies by hand (a mixer will break them up too much).

Knead dough a few times until it comes together. Chill in refrigerator at least ½ hour.

Roll dough with a standard roller to about ¼ inch thick. When at correct thinness, roll with embossed roller to press in design (this will thin it a little more which is fine). Position a cookie cutter over nice areas of the design and cut out cookies. Chill cookies in freezer for about 10 minutes or refrigerator for about ½ hour.

Bake on an ungreased cookie sheet at 400 F. Start checking for doneness at 7 minutes, then every minute
thereafter until cookies are just starting to brown. Cool on wire rack.
Notes
Because the moisture content of ingredients will vary, add extra flour if the dough is very sticky--it should be slightly tacky, but not sticky.

---------

For the shortbread bites version, mix all ingredients as above, but reserve half of the sprinkles and don't refrigerate the dough until after you cut it.

Form the dough into a 9 inch square. Press in the remaining sprinkles, then cut into bite-sized squares. Refrigerate for a half hour or freeze for 10 minutes then bake as instructed above.

Makes 12-36 cookies, depending on size.


Originally published February 2019.