Vanilla Confetti Madeleines
Vanilla Confetti Madeleines are a cross between cookie and cake. They are a perfect tiny treat, especially with pretty pastel sprinkles!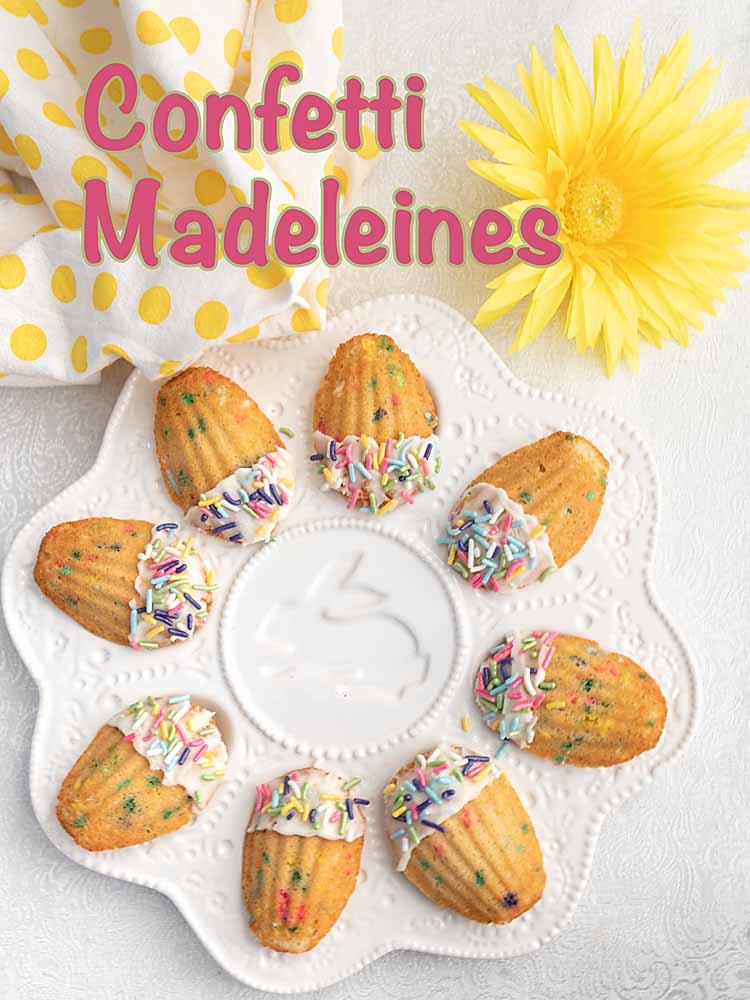 Disclaimer: I received a bottle of (really good) vanilla in exchange for this post.
Who besides me needs a little cheer right now? Between the Covid-19 news and the dreary weather, this isn't shaping up as my favorite spring. At least I can bake something fun.
Happily, Nielsen-Massey (the well-known maker of quality vanilla and other flavorings) came through with a little push. And a new batch of vanilla confetti madeleines was born!
If you've never made madeleines before, you may have heard they are challenging—but really, that's a myth. Because if you follow the directions, they are easy and almost foolproof. I haven't had a single madeleine failure–and I've had plenty of baking failures!
Now you do need a special pan with the characteristic scallop shape for these. But Nielsen-Massy even has an online tutorial on how to use baking molds. It's part of their "Better your Bake" series. Yup, a complete series of quick mini-baking lessons from basic (e.g. how to separate an egg) to intermediate (filling a pastry bag) to more complex (tempering chocolate).
How nice is that, especially now many of us are upping our baking game!
When I watched the baking mold video, I learned I've been prepping my madeleine pan wrong. I've been brushing it with melted butter (which then pooled in the bottom of the mold). Check out the right way here.
Stay Well
The Vanilla Confetti Madeleines were a welcome indulgence in my treat-deprived household. Flavorful, light and airy, the one I had (unglazed) didn't even blow my keto diet.
So if you can't stop obsessively watch news broadcasts, at least you can bake while you view.
Stay well.
Vanilla Confetti Madeleines
Additional Time:
10 minutes
Vanilla Confetti Madeleines are a cross between cookieand cake.  They are a perfect tiny treat,especially with pretty pastel sprinkles!
Ingredients
Madeleines:
1 large egg
1/4 cup granulated sugar
1 teaspoon vanilla
1/2 cup sifted all-purpose flour or pastry flour
1/4 teaspoon baking powder
Pinch of salt
1-2 Tablespoons of colorful sprinkles, season appropriate
4 Tablespoons butter, plus another 1 Tablespoon for the pan
Decorating Glaze (optional):
1/2 cup powdered sugar
1 Tablespoon warm water
1 Tablespoon softened butter
1-2 Tablespoons additional jimmies for sprinkling
Instructions
Using a mixer with a whisk attachment, beat the egg and sugar together on high for 8minutes. The mixture will turn pale and thicken as it beats. After 8 minutes,beat in the vanilla until incorporated.
In a separate bowl, whisk the flour, baking powder, and salt together. Using aspatula or wooden spoon, gently fold half of the flour mixture into eggmixture. When that is mostly combined, fold in the remaining flour. Be gentleto avoid deflating the egg mixture.
Heat or microwave the 4 Tablespoons of butter until melted but not hot. Stir about 1/4cup of the batter into the melted butter and mix until well combined (this willdeflate). Pour the butter mixture into the remaining batter and stir carefullyuntil combined, deflating as little as possible.
Cover the batter and chill in the refrigerator for 30-60 minutes or freezer for 10minutes. Longer is not better because the butter may solidify, and themadeleines will get less fluffy. Do not skip this step.
Using a pastry brush, lightly brush the pan with softened butter, even if you are usinga non-stick pan. This will help create the crisper, "browned butter" exterior.
Remove the batter from the refrigerator/freezer. Taking care not to deflate it, spoona rounded Tablespoon of batter into the center of each scalloped well. Thereshould be enough for all 12 wells and it will spread as it cooks.
Bake for 10-12 minutes at 350 F, turning the pan halfway through if your oven heatsunevenly. The madeleines are done when the tops spring back after lightlypressed with your finger and the edges are turning golden. Invert the pan ontothe counter. Transfer the warm madeleines to a wire rack to cool (yourmadeleines will stick if placed on a plate to cool).
If decorating, mix the glaze ingredients, except jimmies. Add extra powdered sugar or water if needed for a spreadable consistency. Spread some glaze on the wide end of a madeleine and sprinkle glaze with additionaljimmies. Repeat with remaining madeleines.
Eat the same day if possible.
Notes
This makes 12 madeleines, with 1 per serving.
Nutrition Information:
Yield:

12
Serving Size:

1
Amount Per Serving:
Calories:

185
Total Fat:

8g
Saturated Fat:

4g
Trans Fat:

0g
Unsaturated Fat:

3g
Cholesterol:

32mg
Sodium:

90mg
Carbohydrates:

26g
Fiber:

1g
Sugar:

12g
Protein:

3g
Nutrition data accuracy may vary with product selection, calculator accuracy, etc. Consult a professional for the best information.